Are you trying to get more reviews and increase your average star rating?
This blog post gives you 20 useful tips that will help you achieve those goals.
Additionally, you'll learn why reviews are so important, what happens when you start collecting reviews regularly, and what are the most important review sites.
First things first: do you already have an effective tool for collecting reviews?
Trustmary offers a tool for collecting reviews and showcasing them on your website. Read more about collecting new reviews, or sign up for free from the link below.
Now, let's get started!
How to Get More Reviews from Clients?
This section introduces 20 ways in which you can get not only more reviews, but also better and longer reviews.
1. Ask
The most obvious tip for getting more reviews: Ask for reviews!
Just asking will already up the number of reviews you get.
Asking for reviews can involve a lot of fine-tuning, which we will look into in more detail in this article.
2. Remind
Sending reminder emails about the review is a simple way to increase the response rate.
Many customers might be willing to leave reviews, but the moment you ask for them is not suitable.
Automate reminder messages with a tool like Trustmary, so you save time and effort.
3. Create a persuasive request
How you ask for a review matters.
A good and persuasive request has these characteristics:
Personalized: The message should be relevant to the customer's journey and preferably include details about the experience. Such things can be e.g. mentioning the product that the customer ordered. This way the customer knows what they are asked to review.
Friendly: Keep in mind your brand's tone, but strive to request a review in a polite and friendly manner.

Reasoning: The customer needs a reason to leave feedback. There are two tactics that you can use to create a justification for the review request.
Reciprocity: Remind the customer of what they got from you, and how they could "reciprocate" the service.
"We hope you enjoyed the relaxing spa treatment! Would you mind leaving us a Google review?"
"Your sales have increased 15% since hiring me. That's such a great result! Would you like to share that in a review?"
Helping others: If the customer is not interested in helping you, maybe they are interested in helping other customers. Highlight this fact in your review request.
"Your feedback is valuable for us and helps other customers evaluate their purchasing decisions. Leave a review to share your experience!"
Encouraging: Kill all doubts your customer might have. Tell them that writing a review effortless, easy, and only takes a short moment. And make sure this all is true!
See more tips on review requests and copy these request templates.
4. Provide an easy way to write reviews
Most satisfied customers say they would leave a review if they had an easy way to do so.
What is an easy way?
A link or a review form that is delivered to the customer in the right channel at the right time is a very easy option.
The right channel might be email, SMS, social media message, or whatever channel works best for your business and your customer base.
What is not an easy way?
Even the perfect request without a direct link or an instant form is likely not going to work.
It's too much trouble and people don't have time to navigate to the right place to leave your business a review.
5. Send email requests
Email requests are probably the most common form of asking for reviews.
It's easy, as many companies collect their customer's email addresses anyway. It also ensures that you are only requesting reviews from your actual customers.
This is an especially useful tactic for companies that work closely together with their customers. E-commerce brands also find this tactic great.
6. Mind the subject line
When sending email requests, the subject line is the most important detail.
It's the first thing the recipient reads and uses to decide whether the rest of the message is worth reading.
Make sure the subject line catches people's attention and rouses interest.
Here are some survey subject line examples and principles you can adapt to your review requests.
7. Social media requests
If your target audience spends a lot of time on social media channels, it makes sense to request reviews there as well.
You'll need to have an engaged customer base who follow you on social media and are willing to interact with your brand.
Share a link on your Instagram story or ask people to tag you in their own posts.
There's one risk with this strategy. If you share an open link, you might give ideas to trolls to spam inauthentic reviews.
8. Use QR codes
QR codes provide handy review request distribution for businesses that don't collect customer information like email addresses.
Restaurants, museums, other tourist attractions, and local shops are examples of such businesses.
Just print a QR code on a poster or leaflets, and put them on display. Customers can scan the code and easily leave a review.
9. Show existing reviews
Social proof works with leaving reviews as well.
When people see that other customers are reviewing you, the threshold for leaving reviews is lower.
Display reviews in the review requests to boost the response rate.
10. Include CTAs on your website
Soliciting reviews can be done on your website as well.
Showcase reviews on your website and add a CTA "leave a review" next to them.
E.g. Google review widget is an easy way to do so.
11. Ask face-to-face
If you have very close relationships with your customers and meet them face-to-face (even virtually), you could ask them personally.
When a customer promises you to write a review, they are more likely to follow through when you actually send the request.
12. Ask at the right time
Maximize the chances to get a review by asking at the right time.
The right time is depends on your business and what you want reviews on.
In the case of e-commerce, you could ask for reviews on the online store or online purchase itself. It can be done directly in the post purchase emails.
On the other hand, if you want product reviews, you should give the customer some time to use the product before soliciting a review.
13. Leverage the peak-end rule
The peak-end rule is a psychological phenomenon in which people form memories based on the peak moments and the end of an experience.
In a nutshell, if a customer experience starts badly, but ends well, the general memory will be positive after time has passed.
Alternatively, a generally good experience can be spoiled by a one single negative peak moment.
When you ask for reviews in the peak moments, you are more likely to get positive feedback.
It's no surprise that game apps ask for feedback when you win a level, or fitness apps request reviews after you have logged weight loss.
You need to measure customer satisfaction throughout the customer journey and ask for reviews when the metrics indicate peak moments.
This strategy is especially useful for long-term customers that might experience positive and negative moments along the journey.
14. Find your Promoters
A common problem is that companies don't know which customers to ask for reviews and testimonials.
You can of course ask every customer, but if you are looking for more elaborate reviews, you might want to target the requests.
This is best done by conducting an NPS survey. You'll find your loyal customers and request reviews in the same form using conditional logic.
15. Ask relevant questions
Want to upgrade the reviews from "I like this place" to "I give this company 5 stars because the service is always friendly, the products are high-quality, the staff is super helpful, and I really enjoy the atmosphere"?
To get higher quality reviews, you can present the respondents with additional questions and prompts.
It can help many people with coming up content for the review.
Some examples:
Why did you choose this particular rating? / I chose to give X stars because…
What did you enjoy the most about the experience? / My favorite part was…
How would you describe the overall experience? / In my opinion, the overall experience was…
16. Automate the process
Don't let lack of time be a limiting factor.
You don't need any extra time for collecting reviews. You can simply automate the whole process with Trustmary.
When you integrate Trustmary with other tools like CRM, you can create a review and feedback loop that targets the right customers at the right time.
17. Use incentives
Generally, offering incentives for reviews is not needed when everything else works fine.
However, if you are just starting out and desperately trying to gather the first few quality reviews, an incentive might be a good idea.
The incentive can be a small discount, a gift card, or something else that can motivate the respondents and create customer loyalty.
18. Make it fun
Leaving reviews don't have to be dull. If you can invent a way that makes participating fun, you might see unprecedented results.
For example, ask your customers to submit images or videos, or make their review in a poetic form.
You can launch a review campaign or competition. Even a lottery can work.
Come up with a theme for the campaign, and share the best outcomes in your marketing channels.
Of course, you'll have to have a certain brand image to be able to pull this off. And fun-loving customers!
19. Respond to negative and positive reviews
Interact with your customers on the reviews sites. Thank them for their positive reviews to show appreciation and build brand loyalty.
Don't ignore negative reviews, either. It's an important part of your online reputation to respond to them.
All in all, reacting to both positive and negative reviews demonstrates your customer service skills and shows people you care about their opinions.
20. Deserve the good reviews
Lastly, all your efforts to get good reviews are in vain if you are not deserving of them.
Happy customers leave positive reviews. Unhappy customers don't leave reviews or write negative ones.
If you test out these tips and come to the conclusion that you can't get better reviews, take a moment to reflect. Is your service as good as it should be? How about the products? Are you meeting customers' expectations?
Bad reviews are a great source of constructive feedback. Analyze them and find out if there are recurring themes. You'll learn what you have to improve.
Importance of Online Reviews for Your Business
Customer reviews are one of the most useful and crucial marketing tools out there.
1. Reviews Build Trust and Credibility
Consumers trust online reviews much more than your advertisements. To consumers, the opinion of another customer is always more valuable and credible than what the company itself has to say.
It makes sense: would you believe the guy who always brags about how great he is?
Probably not, but you would trust that guy if other people around you said the same.
It's the same thing with reviews.
This is due to the social proof effect. People are more likely to follow the behavior of others if they find themselves unsure about something.
2. Reviews Increase Conversion Rates
If your business has positive reviews to showcase to potential customers, you are more likely to experience better conversion rates.
It's been measured that showcasing reviews on your website can increase lead conversion and sales. See these case studies:
Once again, you can imagine this one as a customer. Would you be more likely to buy from a company that has no reviews, or a company that has a decent amount of positive reviews?
3. Reviews Increase Your Visibility
There are a few ways in which reviews help you with SEO and increase your online visibility.
Reviews on your website offer relevant keywords about your business that people can find on search engines.
People who are considering buying from you are likely to google terms like "experiences of X" or "reviews on X". Reviews offer an answer to those high-intent queries, which Google appreciates.
You can add a review schema on your website, which helps you rank higher and often leads to a higher click-through rate.
Google reviews help you rank higher on Google searches. The more reviews and the better rating, the more you will see benefits.
If you are listed on review sites, you increase your visibility to potential customers who search for relevant businesses on these sites.
When people share their opinions of your business on social media, you get social mentions and can attract new customers from the reviewer's network.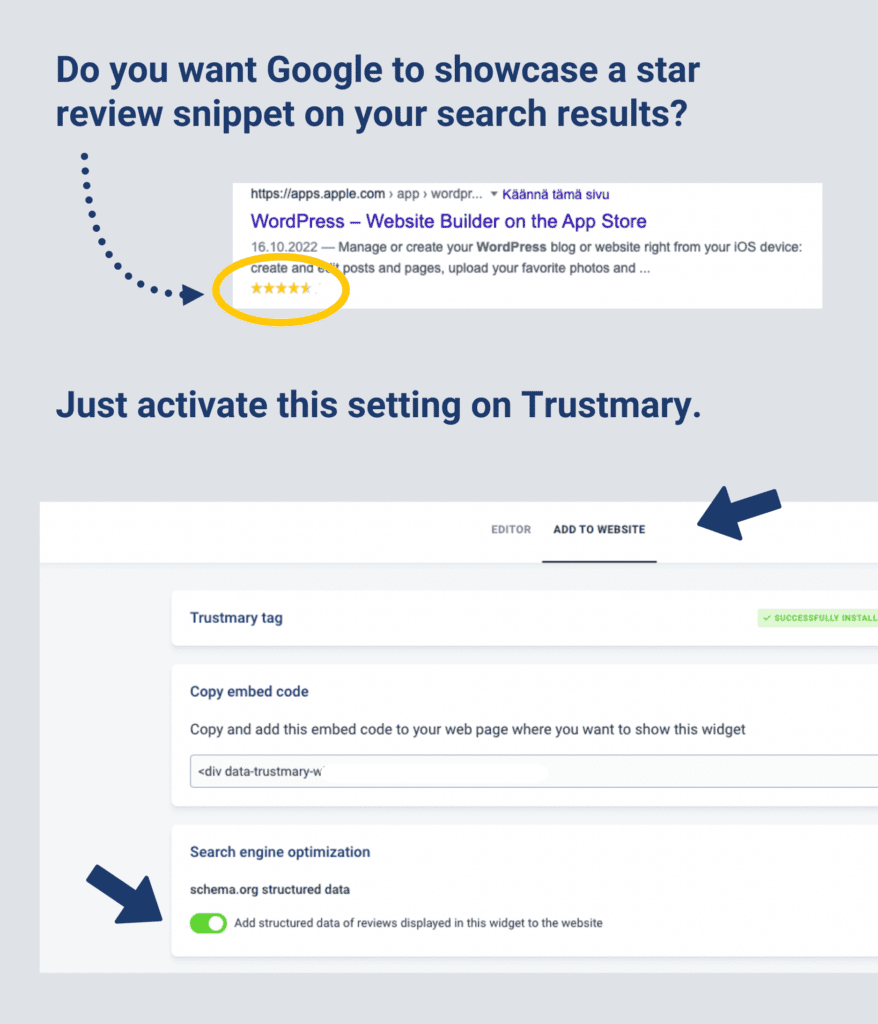 4. Reviews Provide Information
Who would be better at providing relevant information about your product or service than a customer?
Customers often have a different perception of your products and services than you have.
You might not even know what your true value to different customers is. The customers are much better at raising awareness about the benefits of your product or service.
What you might say about your product or service:
"We have an amazing new feature set that allows you to do X, Y, and Z!"
What your customer might say:
"The product is really helpful for us because it saves hours of time each week and the outcome is usually much better than what I could have produced."
5. Reviews Help You Improve
Authentic reviews are a great source of customer feedback.
They let you know what you do well and what you need to improve.
This Happens when You Collect Customer Reviews Regularly
I want to discuss why you should collect reviews.
Someone might think "why should I do anything about reviews, people write them if they feel like it. I'll get them anyways".
Well, here are the reasons you should proactively ask for reviews.
1. You Get More Reviews
This is the obvious reason.
Ask, and you shall receive!
When customers have an easy way to leave reviews (e.g. a review link delivered to their inbox at the right time), they will do it more often.
2. You Get Better Reviews
Most people don't bother writing reviews unless they are extremely satisfied with your service – or very unhappy with the experience.
This leads to a situation where you have reviews, but a large number of them are negative. Even when it doesn't reflect the actual state of your business.
You might have tons of "quite satisfied" customers, who would write a review when asked but are not doing it proactively.
Fix this problem by requesting reviews from all your customers. It will increase the number of reviews, especially from those "quite satisfied" customers, and increase your average star rating.
Additionally, when you create a great request message with a suitable question or prompt, you can get better-quality reviews.
What to do with negative reviews.
When you increase the review requests, you might also receive more negative reviews.
Don't view them as a threat.
Treat bad reviews as a chance to learn and improve your business.
A suitable response to a negative review is key. It demonstrates your customer service skills and might help you turn an unhappy customer into an advocate.
Even if the reviewer in question can't be helped, your response is important for other people who might be reading the reviews.
3. Fresh Reviews Are More Convincing
Over 80% of customers say that reviews must be recent to be trustworthy.
The only way to ensure a constant flow of fresh reviews is to have a system for collecting reviews.
It shouldn't be done in batches just a few times a year – the most effective review system is ingrained in the customer journey and touch points.
4. Your SEO Improves
Reviews, especially ones in Google, are a ranking factor.
When your business gets steady reviews, Google will reward that with better rankings.
Additionally, the more reviews you have, the greater the social proof effect.
When people search for a restaurant on Google maps, they are offered a set of nearby options.
Which one is the customer more likely to choose: the one with just a few reviews, or the one with lots of positive ratings?
I'll leave that open 😉
The Most Important Review Sites
Ok, we know that reviews are important.
But there are so many places where you can have reviews. How to choose the right channels?
Here's a little help for you.
Google
No doubt, Google is the most important review site.
Having Google reviews is beneficial for your SEO, and customers are more likely to find you.
Then, of course, positive reviews ensure people are also willing to buy from you.
Google reviews are especially important for local businesses, such as restaurants, shops, tourist attractions, museums, and so on.
Thus, getting Google reviews should be your top priority.
Depends on your industry
The web is full of different industry-specific review sites.
For example, SaaS companies should definitely be listed on G2 and Capterra, and collect reviews from users.
On the other hand, hotels and travel destinations should be on TripAdvisor.
Salons, home renovation companies, garages, and other brick-and-mortar businesses should look into Yelp (especially if you're located in the U.S.).
Do some research, find your relevant customer review sites, get listed, and start collecting customer reviews.
Your own website
Once you have reviews on different platforms, you can easily import them into your own website using tools like Trustmary.
It's a good idea, as reviews on your website are shown to increase conversions, like sales and contact requests.
Additionally, you'll reap the SEO benefits with review schema markup on your website.
Take a look at the free Google review widget and get started in just a couple of minutes.
Social media channels
Share positive reviews on your social media channels.
Social media can be often underappreciated as a search engine. After all, especially younger generations might use social platforms as a way to find information.
Pair your reviews with a hashtag that helps people find your business. Good choices are e.g. #Xexperiences #experiencesofX #Xreviews.
Reviews make great social media content, but they should be visually appealing.
Luckily, Trustmary makes it easy. In just a few clicks, you can share beautifully designed reviews on social media.
In Conclusion
As we have learned, positive customer reviews have an immense impact on your business: in terms on online reputation, conversion rates, search results, and feedback.
The more customer reviews you have, the better. You can collect them on customer review sites that are relevant to your industry, or gather them with separate forms and use on your own channels.
Getting more reviews requires some planning, but it doens't have to be a big task.
Tools like Trustmary help you automatize the review process and acquire reviews at the right time.
Start collecting reviews for free with Trustmary by signing up from the link below!
Further Reading
FAQ
Why should I collect customer reviews?
Customer reviews are a crucial part of today's digital marketing efforts. When you proactively collect reviews, you ensure you keep up with your competitors in terms of customer satisfaction, online visibility, search engine optimization, social proof marketing, and customer acquisition.
How do you increase the number of reviews?
The key to increasing your reviews is to ask for them more frequently. Encourage customers to leave a review when they have had a good experience with your business. Send review requests via email after the purchase, or gather feedback regularly and ask for reviews from your happy customers. See other relevant tips above.
How do I get more 5-star reviews?
First of all, you need to provide outstanding customer experience if you want to have 5-star reviews. Once that is sorted, make sure to ask for reviews from your customers regularly. Leverage the psychological peak-end rule to catch positive reviews at the right time, and identify your promoters with NPS surveys to ask for their public testimonials.