3. Google Review Widget Plugin for WordPress
The third option is using a WordPress review widget plugin for adding reviews to your WordPress site.
What is a plugin and how can I find it?
A plugin is an add-on program for WordPress that adds functionalities to your website.
You can search for WP plugins here or directly from your WordPress admin panel.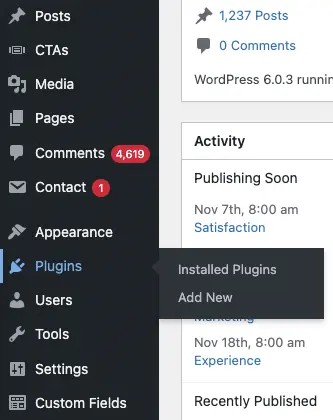 Add Trustmary's plugin by searching for Trustmary, or click here to access Trustmary's reviews and testimonial widget plugin.
Follow these instructions and you will have the plugin set up in no time!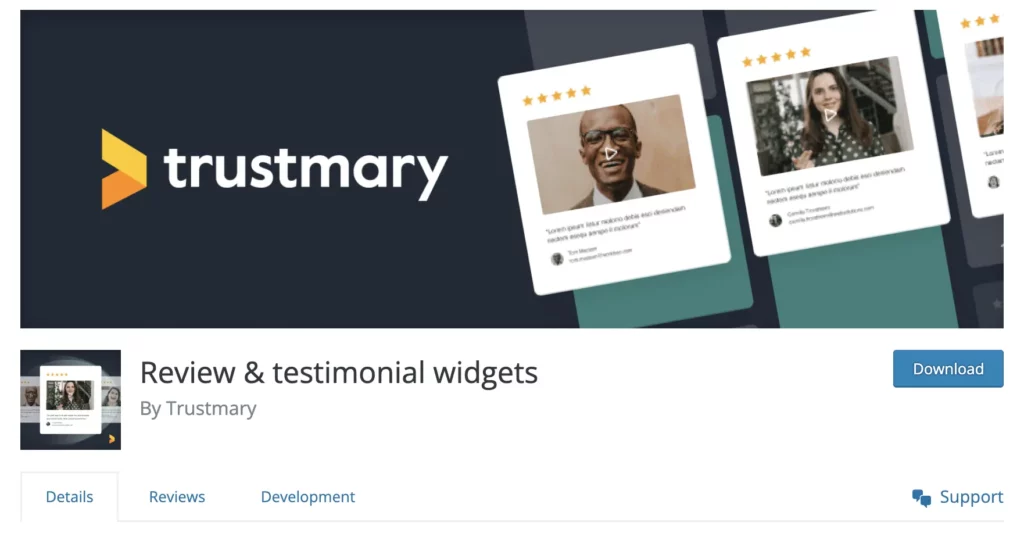 Embedding Reviews
After installing the plugin, you can embed Google reviews using each of the above methods.
You can either copy and paste the HTML code or configure popups for the website.
Benefits of Adding Google Reviews with the Plugin
This solution gets rid of the most challenging part of adding reviews to your website: installing the Trustmary tag.
While adding the tag is not difficult, some businesses might not have access to the head script and require help.
The plugin makes embedding review widgets accessible to anyone.
Additionally, after installing the plugin, you can access all your review widget codes inside WordPress.
This means you don't have to log in to Trustmary and find the widget if you want to add it to a new page.
Of course, you still have to create the new unique widgets in Trustmary.
Google Reviews on Website: 4 Examples
Lastly, I'd like to show you real-life examples of Google reviews on a website.
These three examples are picked among Trustmary users, who have installed a Google review widget on their website.
Each company has given a personal design for the widgets in Trustmary's easy widget editor.
I recommend you click the "Source" link below the image to get a better view of the widget on the actual website! It also helps you see how the widget is fitted to the websites' styles.
1. Clothing Store Google Review Widget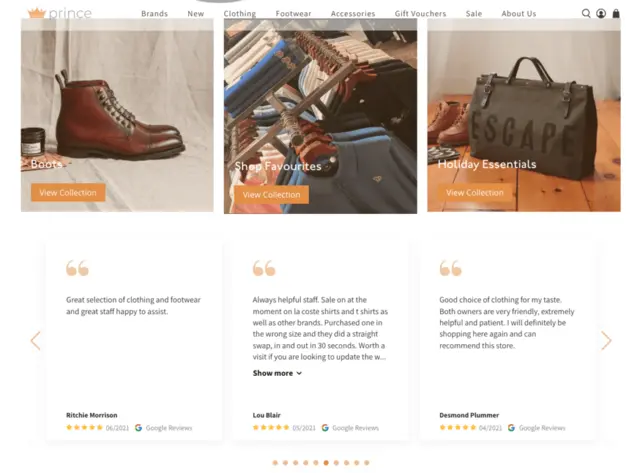 This men's clothing store has created a widget with Google reviews. The colors fit the website's style perfectly and the widget complements the website's design.
2. Photographer Google Review Widget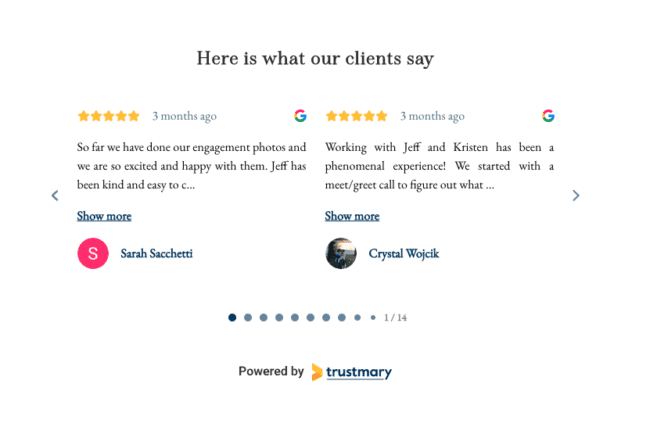 This wedding photographer created a Google review widget with Trustmary and modified the font to fit the website's style.
3. Masseuse Google Review Widget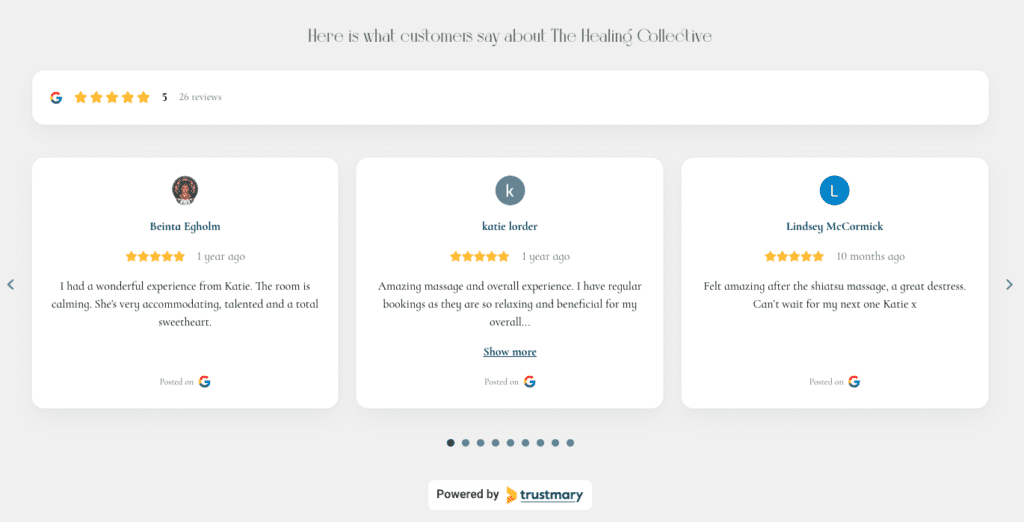 This Shiatsu massage practitioner made the widget their own by personalizing the font and colors. They also feature their amazing 5-star average rating in the widget.
4. Doctor's Clinic Google Review Widget
The importance of online reviews has not gone unnoticed by doctors operating private clinics.
After all, people google doctors in the same way they look for any other new services. And Google treats doctor's clinics just like all other local businesses.
That's why, getting reviews on website is crucial, but also getting great reviews to show up on Google Maps.
I mean, if you see these positive reviews for this clinic and the other clinic you're contemplating doesn't have any Google business reviews, the choice of doctor really is a no-brainer.
At least I'd definitely choose the one that has more reviews!