Is there a thing like Google reviews for doctors?
Well, not in the public sector, but on the private side of this coin the game is really getting competitive.
According to a Stanford University study, "physicians after receiving 5-star ratings would receive 4-8% more patient volume than if receiving 1 star. This result is striking since a physician who is rated on Yelp only has about 5 reviews on average."
The study is very interesting, so have a read at that as well. But let's get back to this now ⬇️
As the digital era continues to shape the way we approach healthcare, it's worth considering the impact of online feedback, specifically Google reviews, on our decisions when it comes to choosing a doctor.
With an increasing number of patients turning to the Internet to share their experiences, understanding the significance of these reviews can provide valuable insights into the quality of care provided by healthcare professionals.
However, keep in mind that creating false reviews can lead to serious consequences, like needing to pay a 100.000 dollar fine as well as losing the credibility in the eyes of the public.
Next, we will explore:
How Google reviews can influence healthcare decisions
The importance of considering this feedback when selecting a doctor
How a doctor or healthcare provider can manage their online reputation
Interview of a psychiatrist on the importance and possible anonymity of reviews
The Role of Online Reviews in Today's Healthcare Landscape
Online patient reviews have become crucial sources of information for patients seeking healthcare services. The opinions shared by other patients play an influential role in shaping their decision-making process.
In plain English: Patients rely on online patient reviews to gauge the quality of care provided by doctors, the convenience of appointments, and the overall patient experience.
For example, positive reviews describing a doctor's excellent bedside manner and attentive staff can help patients feel more confident in their choices.
On the other hand, negative reviews highlighting long waiting times or dismissive attitudes can steer patients away from certain doctors.
Before someone even picks up the phone to call or books a consultation online, they look at the online reviews.
Doctor reviews have become an invaluable tool for patients in selecting the right healthcare provider.
The Growing Influence of Google Reviews for Doctors
Google reviews have become increasingly influential in the healthcare industry.
Why?
Because doctor's office locations are essentially local businesses in the eyes of Google.
How to Find a Doctor
If you need to find a new doctor, you most likely open a search engine and type your location, the type of doctor you need, and possibly even "best".
So, you type in "best oncologist Vancouver" on the Google search bar.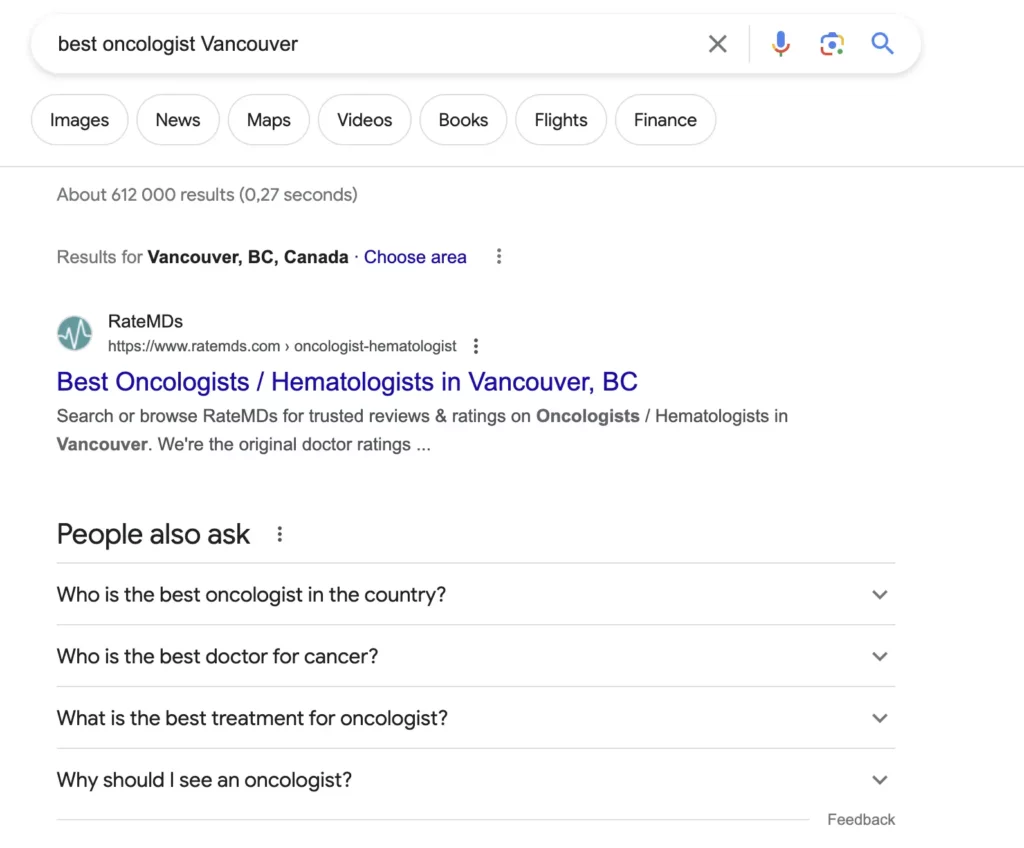 And what you get is doctor review sites and the People also ask featured snippet.
After that you'll see a suggestion to look for more doctor review sites and the featured snippet of local businesses aka doctor's offices.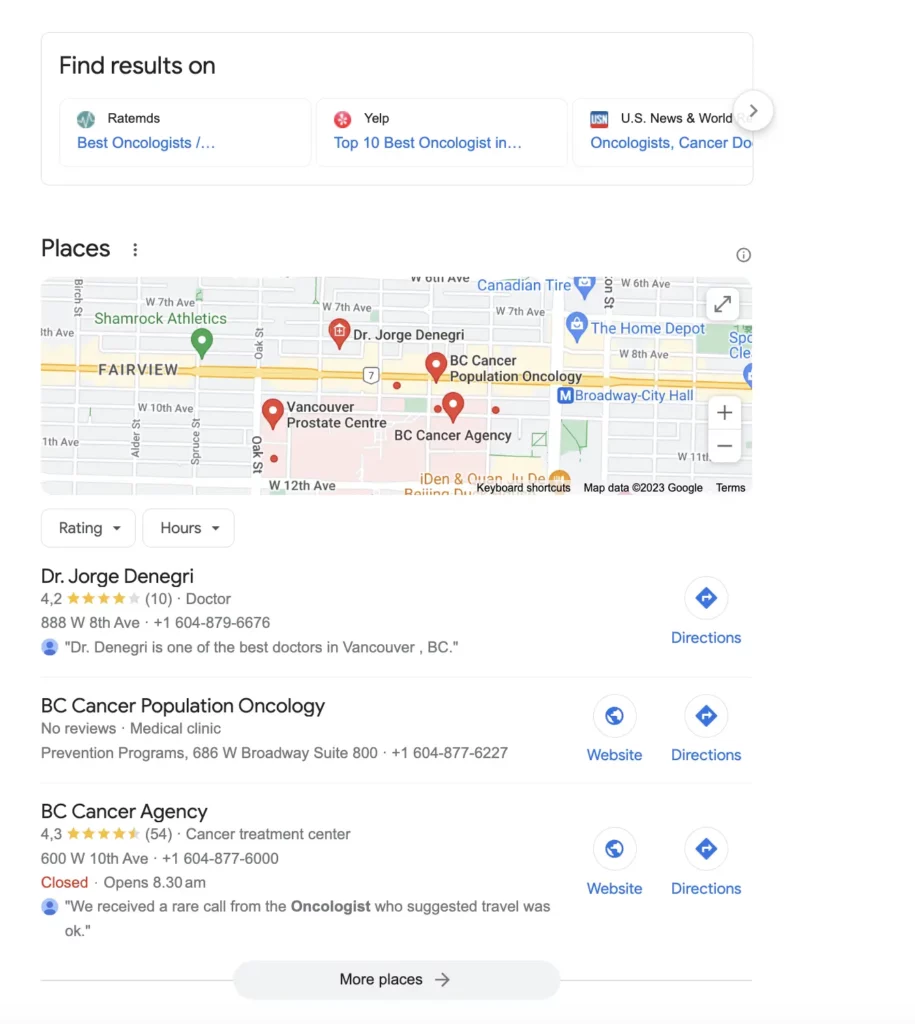 Information Available on the Places Snippet
Address
Number of Google reviews
Average star rating
Open feedback
Opening hours
Link to website (if provided to Google)
Patients now rely heavily on Google reviews to make informed decisions about their choice of doctor. The positive or negative feedback left by previous patients can greatly impact a doctor's reputation and patient acquisition.
For instance, a doctor with numerous positive reviews highlighting their ability to listen and efficient service is more likely to attract new patients than a doctor with negative reviews.
Furthermore, positive reviews can provide reassurance and build trust between doctors and potential patients, leading to increased appointment bookings.
With the growing dependency on online reviews, doctors must prioritize managing their Google reviews to maintain their professional reputation and attract new patients.
Key Factors to Patients Look at When Evaluating Doctors' Reviews
When evaluating doctor's reviews on Google, there are some key factors to consider that can help patients make an informed decision.
Consistency of the Reviews
People look for patterns in the feedback provided by different patients.
For example, if multiple patients mention the doctor's poor bedside manner, it could be a red flag worth considering.
Relevance of the Reviews
Most patients pay attention to reviews from patients with similar medical conditions or concerns as they currently have.
This can provide valuable insights into how the doctor may handle their specific case. By considering these factors, one can gather practical information to help them in their search for a trusted healthcare provider.
Benefits of Google Reviews for Doctors
Informed Decision-Making for Patients
When it comes to making informed decisions about choosing a doctor, patient feedback can provide valuable insights. Online reviews offer a glimpse into other patients' experiences and can help prospective patients assess the quality of care provided by different doctors.
For example, a review mentioning a doctor's promptness in addressing patients' concerns can indicate their attentiveness and dedication.
Similarly, patient reviews discussing a doctor's communication skills can give patients an idea of how effectively they can expect to communicate with their healthcare provider.
By considering a range of patient experiences shared through online reviews, individuals can gather objective information that can support their decision-making process when selecting a doctor.
Enhanced Doctor-Patient Communication
Enhanced Doctor-Patient Communication plays a significant role in the realm of Google reviews for doctors.
By fostering transparent and effective communication, patients can make informed decisions about their healthcare providers.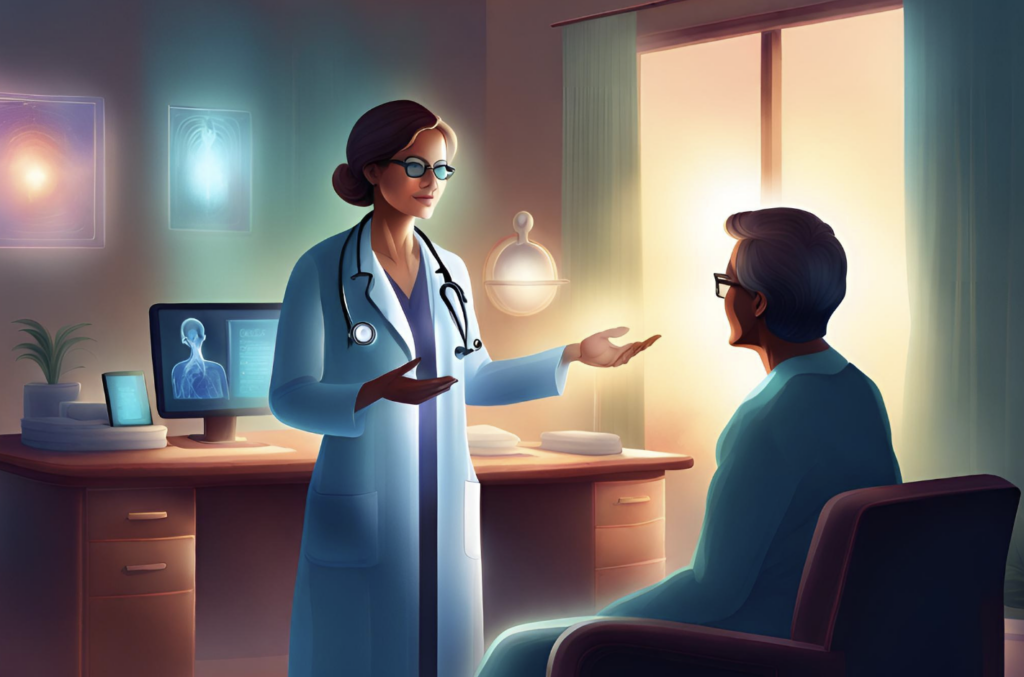 Open lines of communication allow patients to express their concerns, ask questions, and receive prompt responses, leading to improved patient satisfaction.
For instance, doctors who promptly address patient inquiries demonstrate their commitment to providing quality care.
Quality Improvement for Healthcare Providers
Quality improvement is a vital aspect for healthcare providers seeking positive Google reviews. By consistently delivering exceptional care and service, providers can build trust and loyalty with their patients.
For example, ensuring prompt appointment scheduling and minimizing wait times can greatly enhance the patient experience.
Tips for Utilizing Google Reviews When Choosing a Doctor
Look for Consistent Positive Feedback
When it comes to finding the right doctor, one cannot underestimate the importance of consistent positive feedback from patients.
Positive reviews can often serve as an indicator of a doctor's expertise and quality of care. By looking for consistent positive feedback, you can gain valuable insights into a doctor's ability to diagnose and treat various conditions.
It's not just about one or two glowing reviews, but rather the overall trend of positive feedback that should be considered.
This can help you make a well-informed decision and choose a doctor who has consistently provided excellent care to their patients.
Pay Attention to Specific Concerns or Issues
Pay attention to specific concerns or issues when it comes to Google reviews for doctors.
Understanding what patients are saying about their experiences can provide valuable insights into the quality of care provided by a doctor.
Specific concerns or issues mentioned in reviews may include wait times, communication with staff, ease of scheduling appointments, and overall satisfaction.
For example, if several doctor reviews mention long wait times, it could indicate a need for improved efficiency in managing appointments.
Similarly, if communication with staff is frequently mentioned as a concern, it might be beneficial to address any potential communication gaps.
By paying attention to these specific concerns and issues mentioned in Google reviews, doctors can better understand their patients' needs and strive to provide improved care.
Consider the Overall Rating and Number of Google Reviews for Doctors
Consider the overall rating and number of reviews when assessing Google reviews for doctors. These two factors can provide valuable insights into the quality of a doctor's practice.
For example, a high overall rating coupled with a large number of reviews suggests that the doctor has consistently provided satisfactory service to their patients.
On the other hand, a low overall rating or a limited number of reviews may indicate potential issues or lack of experience.
By considering these metrics, patients can make more informed decisions when choosing a doctor based on the experiences of others.
Evaluate the Doctor's Response to Reviews
Evaluating a doctor's response to reviews is a vital part of analyzing online feedback.
By carefully examining how doctors handle both positive feedback and react to negative reviews, patients can gain valuable insights into the provider's level of professionalism and commitment to patient care.
A responsive doctor will demonstrate an understanding of patient concerns, offer clear and concise explanations, and provide solutions where appropriate.
If a patient raises a concern about wait times in their negative review, a well-handled response could include an acknowledgment of the issue, an apology for the inconvenience, and a plan to address the problem.
This type of proactive and understanding response helps build patient trust and confidence in the doctor's ability to meet their needs.
Seek Supplementary Information and Recommendations
When it comes to finding a doctor, seeking supplementary information and recommendations can be helpful in making an informed decision.
Checking out Google reviews for doctors can provide valuable insights from patients who have already visited a particular practice. By reading these reviews, one can gain a better understanding of the doctor's bedside manner, the efficiency of the staff, and the overall patient experience.
For example, you might come across reviews that highlight the doctor's ability to listen attentively or their willingness to explain medical procedures in a way that is easy to understand. This information can be beneficial in choosing a doctor that aligns with your specific needs and preferences.
I Have Google Reviews: What Should I Do with Them?
If your want your medical practice to climb up in the Google search results, add those raving reviews to your website as well!
Why?
Because adding a Google review widget to your website increases the chances of getting your star ratings to those search results as well.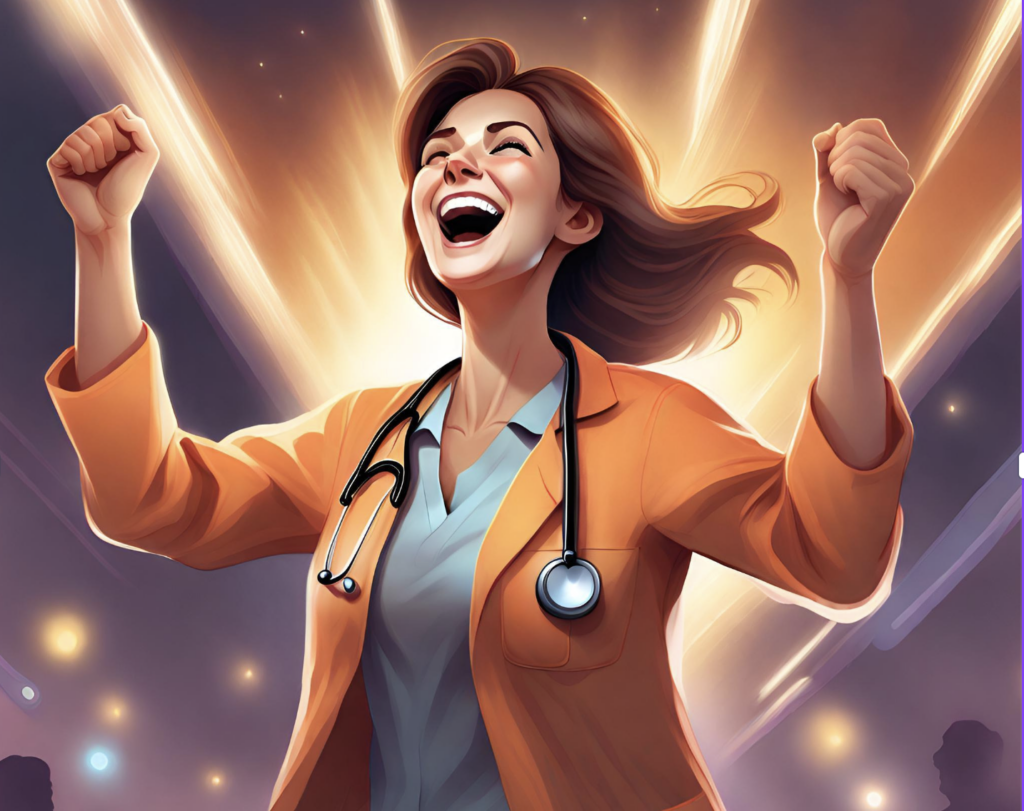 Other Benefits of Adding a Google Review Widget:
Get more direct appointments from your website
Provide valuable information to potential patients
Better chances of getting to Google's first page
Build trust
Highlight quality of treatment and expertise
Positive reviews indicate a doctor's competence, empathy, and ability to build trusting relationships with patients, while negative reviews highlight potential red flags. By analyzing these reviews, patients can make informed choices about their healthcare providers, ultimately ensuring they receive the best possible care.
Use Trustmary's free review widget for doctors to experience the benefits. No coding skills needed!
You can start by typing your Google my Business location below to import existing Google reviews and to embed them to your website ⬇️
I Want More Google Reviews – But How?
If you have a list of your customers' email addresses, you can create and send a review campaign with Trustmary to get more Google reviews.
Type your Google My Business Location below to get started:
POV of Psychiatrist on Importance of Reviews
Dr. Raquel Del Hoyo Mitjans is a registered psychiatrist who offers live and online consultations in Madrid. She is currently using the Doctoralia system, where she can both have reviews and set up an appointment calendar.
At some time in the near future, she's planning on creating her own website, where she has full control over the content and how the page looks. It also enables her to get new customers organically from all Spanish-speaking countries.
Importance of Getting New Reviews Constantly
Even now when she uses Doctoralia, she tries to collect as many reviews as possible, as she knows they are an important tool in getting new customers to trust her and book an appointment.
– Reviews are absolutely necessary. They show potential customers what my approach is like, how successful I've been in dealing with similar cases, and what makes me different from other doctors. It gives reassurance about booking a consultation with a professional they haven't met beforehand, she explains.
Del Hoyo Mitjans considers word of mouth to be one of her most important customer acquisition strategies: People who've had a consultation with her, recommend her to their family and friends.
But this isn't a scalable or controllable tactic, and having online reviews offers a huge opportunity to get online exposure where one can get the attention of thousands of more potential customers.
No Fake Reviews
Even though getting reviews is important, Del Hoyo Mitjans is strongly against generating or buying fake reviews. In addition to being illegal, it can have serious consequences in her line of work.
– Fake reviews are a form of scam. And using them in the healthcare industry is especially wrong and possibly even dangerous, as patients rely on reviews from former patients to decide on which doctor is the best fit for their needs, Del Hoyo Mitjens states firmly.
The only way any new customer can do their research on doctors includes going over their CV and online reviews.
Anonymity Plays a Huge Role
– Anonymity is key for getting good and detailed reviews. Patients need to feel safe that no-one can recognize them personally, Del Hoyo Mitjans explains.
As she works with patients who are struggling with their mental health, she knows that most don't want anyone to know that they even are in therapy.
She thinks this is one of the reasons why getting Google reviews is difficult.
– Google is far from anonymous, so if I even got reviews from my patients, they wouldn't be as specific as they are now. I can't imagine someone writing with their full name and profile picture that "I've been treated by this doctor for schizophrenia, and she's just great", she described.
Another factor influencing getting Google reviews is that her patients might not be tech-savvy, or even have Google accounts.
Get Anonymous Reviews
Google reviews play a vital role in shaping healthcare decisions, particularly when it comes to selecting a doctor.
Patient feedback provides valuable insights into a doctor's performance, reliability, and patient satisfaction.
With the increasing reliance on online research, patients often turn to Google reviews to gauge the quality of care they can expect.
Try Trustmary!
You can collect reviews, and even automate the whole process by integrating the feedback process with your current appointment system.
On the plus side, you can collect patient feedback, and patient testimonials at the same time. The patients decide what they want to say publically, and what they want only you to know.
In addition, you can embed public reviews on your website to boost trust in you.
We even offer the option to manually import reviews from other sources to be used on your website.
Further Reading