Having Google reviews is essential for any business. They help your online visibility and attract customers.
Keeping new Google reviews flowing in constantly is important, as people quickly disregard reviews that are too old.
But reviews don't come for free. Especially the positive reviews from happy customers. You need to keep asking for them proactively.
However, it's important to do it right to avoid coming across as pushy or spammy.
In this article, we'll introduce 6 ways to ask for Google reviews. We also go over the dos and don'ts of asking for Google reviews to help you get more positive feedback while maintaining a professional image.
So grab your notes – let's dive in!
Importance of Google reviews
Google reviews are crucial for businesses as they heavily influence consumers' decisions and are an important ranking factor.
Potential customers often rely on reviews to determine if they want to engage with a business.
A high Google review rating can increase visibility, trustworthiness, and sales.
Alternatively, negative reviews can harm a business's reputation, drive customers away, and decrease sales.
Therefore, businesses should strive to maintain high ratings by consistently asking for and responding to reviews.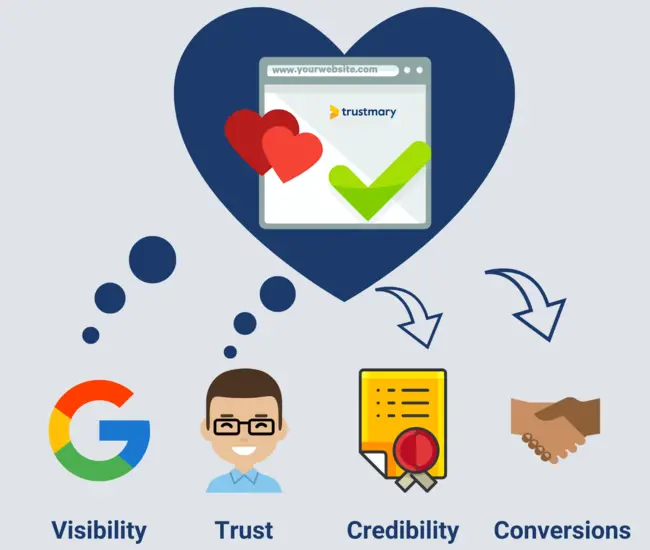 6 Ways to Get More Google Reviews
Let's move on to the tangible strategies you can employ for soliciting Google reviews.
User identification:
1. Optimized review request form
Most customers are willing to leave a review if they have an easy way to do so.
What would be easier than a super simple form that works on mobile, can be distributed via multiple channels, and provides the customer with clear instructions?
The advantages of such a form include:
Fast to fill out.
Easy to use.
Can be sent via email, SMS, or QR code.
Can include questions and prompts that guarantee a well-rounded review and rid the customer of writer's block.
You can even include reviews from previous customers on the form itself for inspiration.
Where do you get one of these magical forms?
Trustmary offers them free of charge up to 5 responses. Sign up below!
2. Email requests
Now that you know there is a form you can use, it's time to find the perfect vessel for delivering it.
The first option is simple email automation.
It ensures that requesting reviews is a seamless and automatic part of the customer journey. It does not depend on whether you remember to send a request or have time to do it. The request will go out to every single customer.
You see, the more frequently you ask for reviews, the better chances you have to receive them.
The key in an email request is a powerful subject line. It determines if your request is opened or ignored.
Craft an amazing title, a brief but friendly message, and include the Google review form link.
This strategy requires that you have the customer's email address. So, it's not feasible for all brick-and-mortar businesses or restaurants, where customers come and go anonymously.
3. Face-to-face
Who could say no to leaving a review if they are asked to do so in a conversation?
If possible, solicit a Google review when you have met up with a customer personally. It can be when you are wrapping up a project, or after a successful support meeting.
Just make sure that you provide an easy way for the customer to leave the review. Send them a link via email or text message to make the task quick.
4. QR codes
What if you don't have the customer's email address nor time or a chance to talk to them face-to-face?
QR codes are a great alternative to distributing a Google review request. They work especially well for open events, fairs, cinemas, restaurants, tourist attractions, and other places where people visit anonymously and freely without a reservation.
Just generate a QR code that leads to your review request form, print it out, and put it in a prominent spot where people can use it.
To make the best impression and evoke more interest, design a stylish and branded poster or flyer for the QR code.
5. Website CTA
People have a lower threshold for leaving a review when they see reviews left by previous customers.
This immediately gets people's subconscious running wild: "If others are leaving reviews, I might as well too." This phenomenon is called social proof.
Therefore, one great way to request Google reviews is to set up a Google review widget that displays your best reviews on your website. Complement it with a CTA button that directs the visitor to leave a new Google review.
If you think adding Google reviews widget to your website is hard, check the three-step process below.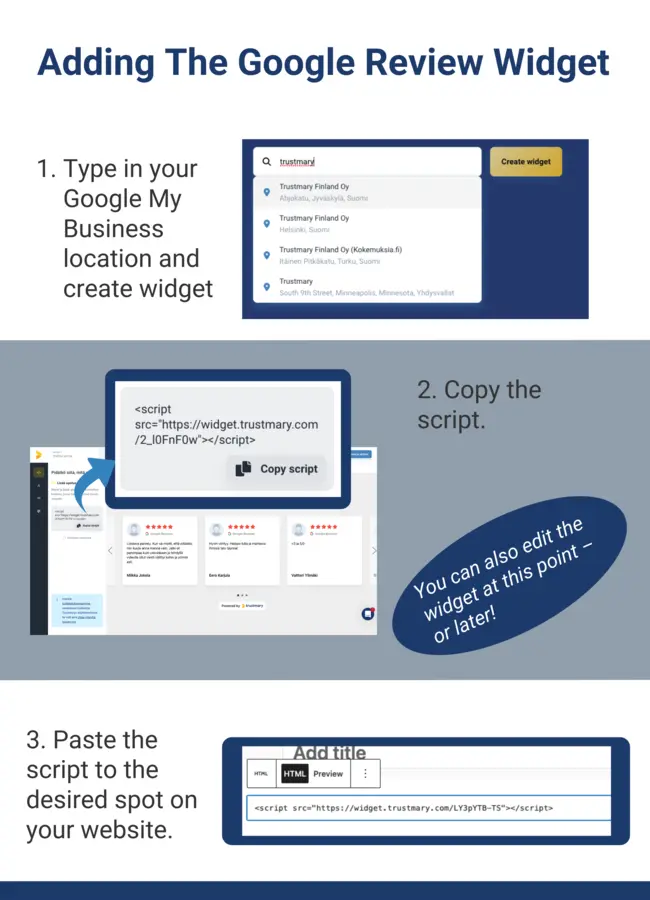 6. Include it in your feedback process
Last but not least: if you have a feedback process in place, include a Google review request as a part of it.
How does that work?
Well, when you send customer feedback surveys, you can add one more step. When the customer leaves a comment or even just a good rating on your feedback survey, you can ask them to paste the same comment on the Google review page.
It's easy – they have already written the comment, and now all they need to do is copy and paste it. You provide a direct link and the whole thing takes around 10 seconds.
Now that we have gone through the ways in which you can solicit Google reviews, we can move on to the finer art of it all.
The Dos of Asking for Google Reviews
These additional tips will help you create the perfect Google review request.
To do it effectively, timing is key. Ask at the right moment when customers are most satisfied.
Personalize your request, and give clear directions for how to leave the review.
Offering incentives can be effective, but they should be for leaving a review, not for a positive review.
Don't beg for reviews or use a generic request. Keep it professional and concise.
Ultimately, consistency is the key to success.
First, let's review some of the good practices for soliciting more Google reviews.
Timing is Everything
Timing is everything when it comes to asking for Google reviews. Happy customers are more likely to leave positive reviews.
It's important to ask customers at a time when they are the happiest with your service or product. If they've just had a positive experience with your business, they may be more likely to leave a positive review.
On the other hand, if they've had a negative experience, it's less likely they'll leave a positive review at that moment.
So, choose the right moment to ask and make sure your customers feel good about the experience they've had with your business.
This could mean asking them immediately after a purchase or after a positive interaction with a customer service representative.
To make sure you are requesting a Google review at the right time, use Trustmary's collection flow.
The first step measure's the customer's satisfaction levels, and the second one asks for a review.
Offer Incentives
Offering incentives is a great way to encourage customers to leave a review on Google. Here are some key points to keep in mind when offering incentives:
Be transparent: Let customers know that they will receive an incentive for leaving a review upfront.
Keep it small: Incentives don't need to be big or expensive. Even a small discount or free item can be enough to motivate customers.
Offer something relevant: Make sure the incentive is something that your customers will find useful or desire.
Don't tie the incentive to a positive review: While you want positive reviews, you should not offer incentives solely for positive reviews as it is against Google's policy.
Avoid incentivizing employees: It is against Google's policy to incentivize your employees to leave reviews.
Use language that incentivizes feedback and not just positive reviews.
Even though incentives can motivate customer feedback, oftentimes it's not necessary. Many customers are willing to leave a review as a sign of gratitude for great service.
Personalize the Request
Personalizing the request means tailoring the message to the recipient in a unique and genuine way. It's important to avoid using a generic request that doesn't show any effort or connection.
To personalize the request for a Google review, use the customer's name and mention a specific interaction or experience that stood out. This shows that the request isn't just a copy-paste message, but a thoughtful request based on a relationship with the customer. It also increases the likelihood of the customer leaving a review because they feel valued and appreciated.
Finally, keep in mind that personalizing the request doesn't mean being too informal or unprofessional. Strike a balance between friendliness and professionalism, all in relation to your brand's voice.
Give Clear Directions
When asking for Google reviews, it's essential to give clear instructions to your customers.
Without specific instructions, customers may feel uncertain or confused about how to write and publish their reviews.
Here are some tips on how to provide clear directions:
Create a step-by-step guide on how to leave a review on Google.
Provide easy-to-follow instructions for leaving a review on all devices (desktop, mobile, and tablet).
Include a Google review link to make it easy for customers to find the correct location to leave the review.
Use screenshots or videos to demonstrate how to leave a review if possible.
Make sure your instructions are concise and easy to understand, without any industry jargon or complicated terms.
You can also use a super simple Google review form that makes the process easy and fast.
The Don'ts of Asking for Google Reviews
Let's move to the other side of the coin: things you shouldn't do under any circumstances!
Don't Offer Incentives for Positive Reviews Only
Seems contradictory to the earlier advice? Not really.
You shouldn't offer incentives just for positive reviews. Rather, be fair and transparent and offer it to anyone who bothers to respond.
Offering incentives in exchange for positive reviews can be enticing, but it goes against Google's guidelines. It can damage your credibility and result in potential penalties from Google.
Instead, focus on providing excellent services and customer experience that inspires customers to write positive reviews on their own.
Don't be scared of negative reviews. They teach you important lessons. And even if an upset customer is being unreasonable in their review, you can respond to it and make everything better.
Don't Beg for Reviews
Asking customers for reviews is important, but begging for them is a big no.
Begging can come across as desperate and unprofessional.
Instead, make sure you give your customers an excellent experience and offer to remind them to leave a review.
Ensure you're not constantly asking the same customer for reviews. It can be avoided when you use smart automation flows that request reviews at the right time.
Finally, don't use guilt tactics to convince customers to leave a review. Ask nicely and accept whatever response they give you.
Don't Use a Generic Request
When you ask customers for a Google review, avoid using a generic request.
A generic request sounds impersonal and is less likely to encourage a customer to leave a review.
Rather than sending a blanket message to all customers, take the time to create personalized messages that show customers you value their opinion.
Address the customer by name and mention a specific interaction or product they purchased from your business. This will make them feel more appreciated and more likely to leave a review.
Don't Wait Too Long to Ask
Asking for Google reviews is all about timing. It's important to ask for a review soon after a customer has made a purchase or received a service.
If you wait too long, not only will the customer be less likely to remember their experience, but they'll also be less motivated to write a review.
The sooner you ask, the more likely they are to leave a review that accurately reflects their experience.
Additionally, if you ask for a review weeks or months later, it's possible that their experience has changed, and they may not leave as positive of a review as they would have earlier on.
So, when it comes to asking for Google reviews, don't wait too long to ask. Strike while the iron is hot and ask for their feedback as soon as possible. This will increase the chances that they'll leave a thorough, positive review that could benefit your business.
Over to you
Asking for Google reviews can be a powerful tool for businesses to attract new customers and build trust.
However, most businesses are not proactive enough. They wait for the customers to write reviews and aren't taking any action themselves. This leads to a situation where only unsatisfied customers are motivated enough (by rage) to leave reviews, and the majority of happy customers don't.
If you want to be effective with your Google review strategy, we got you covered.
Sign up for Trustmary and take control of your review game. Request reviews automatically at the right time, get notified about new reviews to respond to them, and make use of the collected reviews in your marketing.
FAQ
How do I ask customers for Google reviews?
You can ask customer for Google reviews by sending them a link via email, SMS, QR code, website embed, or asking face to face. Find your best strategy based on your business model. If you have access to customers' email addresses, the easiest way to ask for Google reviews is to do it via a review request form that is integrated into your feedback process. That way, you don't even have to think about review requests, and you get them flying in.
Should I provide incentives for customers to leave Google reviews?
You can provide incentives for Google reviews, as long as you do it for each and every review you get. If you only incentivize positive reviews, you are practically bribing your customers and also violating Google's guidelines. That could be met with repercussions. Keep in mind that having only positive reviews is not realistic for most businesses, and your credibility might suffer if you try to rig the reviews.
What is the best time to ask for Google reviews?
The best time to ask for a Google review is after the customer has had a positive experience with your company. Most importantly, you should request reviews early enough so that the customer still has everything fresh in mind.
Can I ask family and friends to leave Google reviews for my business?
In principle, there's nothing wrong with your family's reviews as long as they are genuine. If your family and friends have used your services, of course you can ask for their reviews. But keep in mind that if the only reviews you have are from your family members, they could come across as fake and ingenuine.
How can I promote my Google reviews on my website or social media?
When you have the right tools, promoting Google reviews is easy. Trustmary offers a super easy Google review widget that can be added to your website in a couple of minutes. You can also generate social media posts from your reviews once you have imported them to Trustmary.
Satisfaction survey: