TaitoKatto Oy specializes in all things related to roofs. The company mainly focuses on roof renovations, maintenance, and small installations. It operates in the southern parts of Finland. TaitoKatto uses Trustmary for two main purposes. Firstly, it collects customer feedback and reviews, and secondly, publishes reviews automatically on its website.
TaitoKatto is a young company that was founded only three years ago. It competes for the market share with companies far more known by the general public.
The company is used to taking on extremely challenging projects that other companies lack the expertise for. TaitoKatto focuses on delivering excellent quality and keeps its customers updated during the process through active customer communication.
As TaitoKatto's customers are consumers and housing cooperatives, the company has considered it important to find out what individual customers think about it. It also finds it crucial to showcase these opinions publicly on its website and online in general to increase trust in potential customers.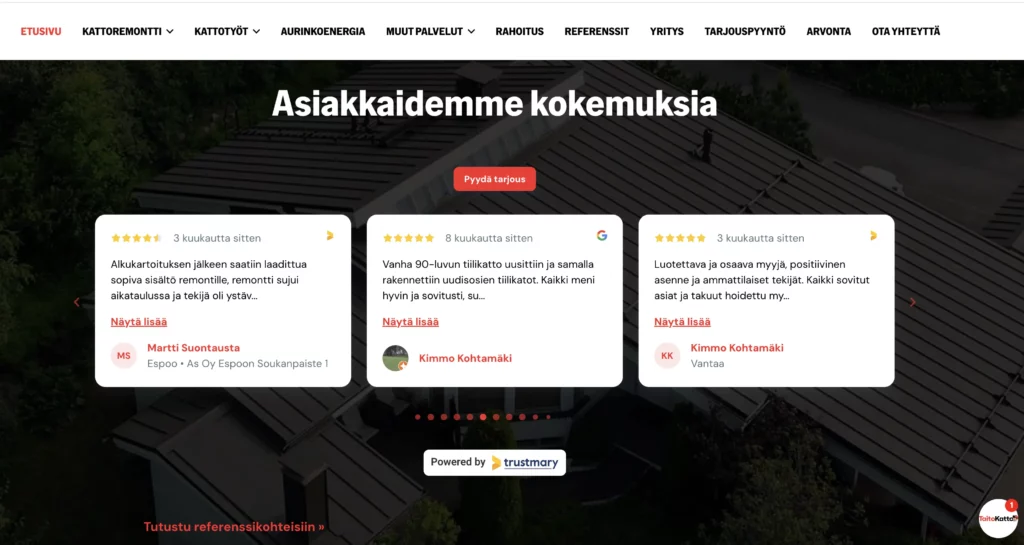 Sakke Ikonen, the Sales and Marketing Director at TaitoKatto, tells us how TaitoKatto constantly gets more customer feedback and fresh customer reviews and adds them to its website with Trustmary.
Reviews as Part of Organic Growth
As TaitoKatto has grown without external funding, the company's founders know that to be successful, customer acquisition needs to happen organically as well.
– We know the quality of our work is top-notch, but we also need to be able to show that to potential customers. Reviews are a great tool for that, Ikonen underlines.
Organic visibility in search engines and search engine optimization have played a central role in TaitoKatto's marketing strategy since day one. Ikonen also considers Google reviews written by existing customers to be essential in convincing potential customers.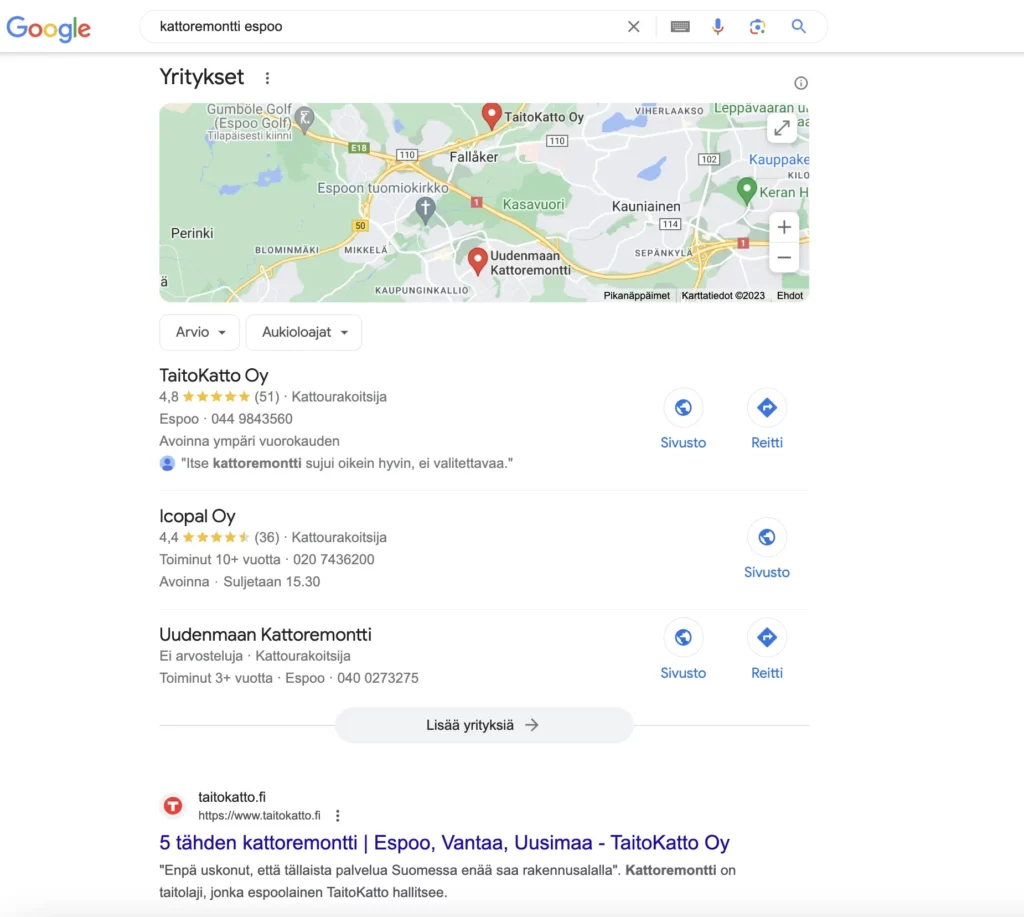 – Our customers find us online. They've told us point blank that they chose us despite our young age solely based on the great reviews we have received, Ikonen says.
Automated Feedback and Review Collection
Because TaitoKatto wants to offer each customer the opportunity to give feedback, it decided to integrate Trustmary with its ERP system, Easoft.
Thanks to the customer feedback survey, the company can measure customer satisfaction and experience to better recognize what it has done well and where there's still room for improvement.
When TaitoKatto marks a project done, the client gets a customer feedback survey after a few days. If they don't respond, they get a reminder with a few days' delay.
This integration removes the need for manual work, saves time, and ensures that each customer is offered a chance to give feedback.
– It was a great decision to integrate Trustmary directly into our ERP. We don't need to spend time collecting feedback anymore, but we can use that time to improve our business based on the gathered feedback, Ikonen highlights.
Branded Review Form Helps Get Reviews
After implementing Trustmary, TaitoKatto collects feedback and reviews with a uniform branded review form instead of asking to leave a Google review when leaving a work site.
Using a review form increases credibility and encourages customers to give feedback.
– We get a lot of positive feedback and customer reviews with Trustmary. Now gathering both is systematic and doesn't put a strain on our staff in any way, Ikonen describes.
All collected feedback is gone over within the company and it has helped it to recognize where it could improve. As Ikonen is responsible for both marketing and sales, he sees many concrete improvements within the survey results.
– Because we put a lot of effort into providing great customer service, we sometimes take on projects that aren't at the core of what we do. Customer feedback has been essential in helping us realize that we should only focus on our core business, and not try to please everyone, Ikonen laughs.
Easy Way to Get Fresh Content on Website
Many marketers struggle with keeping their website content up-to-date.
One aspect Ikonen loves about Trustmary is that while TaitoKatto gets customer feedback and reviews, those are automatically added to the website as well.
That way, the website gets updated with relevant and fresh content with ease.
– Without Trustmary, we'd have old reviews on our website. If I had to update them manually, I'd do that once a year – tops!, Ikonen describes.
TaitoKatto builds trust with its potential customers directly on its website by using Trustmary.
Ikonen would warmly recommend Trustmary to all B2C companies.
– Trustmary is a great fit for all companies that operate with consumers and have the volume to ask for reviews. It's an essential tool for building trust when operating with consumers, Ikonen summarizes.
Use Cases of Trustmary
Key Benefits of Using Trustmary
Less manual work
Branded and credible review form
Easy avenue for customers to give feedback
More customer feedback
More online reviews
Fresh content to the website