Are you looking for a free Elementor Google reviews widget to embed on your website? Congrats, you have found the right place as we will now go over how it can be done.
With Trustmary's free Google review widget, you can add business reviews to your WordPress website in no time.
Psst… you are not limited to only using Google reviews, but you can also import reviews from other review sites!
Guide to Adding Google Reviews with Elementor
Elementor is one of the easiest and most versatile website builders you can use when you want to take your WordPress site to the next level. It allows you to create dynamic content and use themes.
You can even easily add great-looking widgets that can be used to guide your website visitors to get that conversion rate up.
Even though there are many add-ons for an Elementor to be used on your WordPress website, adding a business reviews widget has always been rather challenging – until now.
Let us go over the whole process and key features of the reviews widget together, step by step.
Here is a quick overview of what the process will look like ⬇️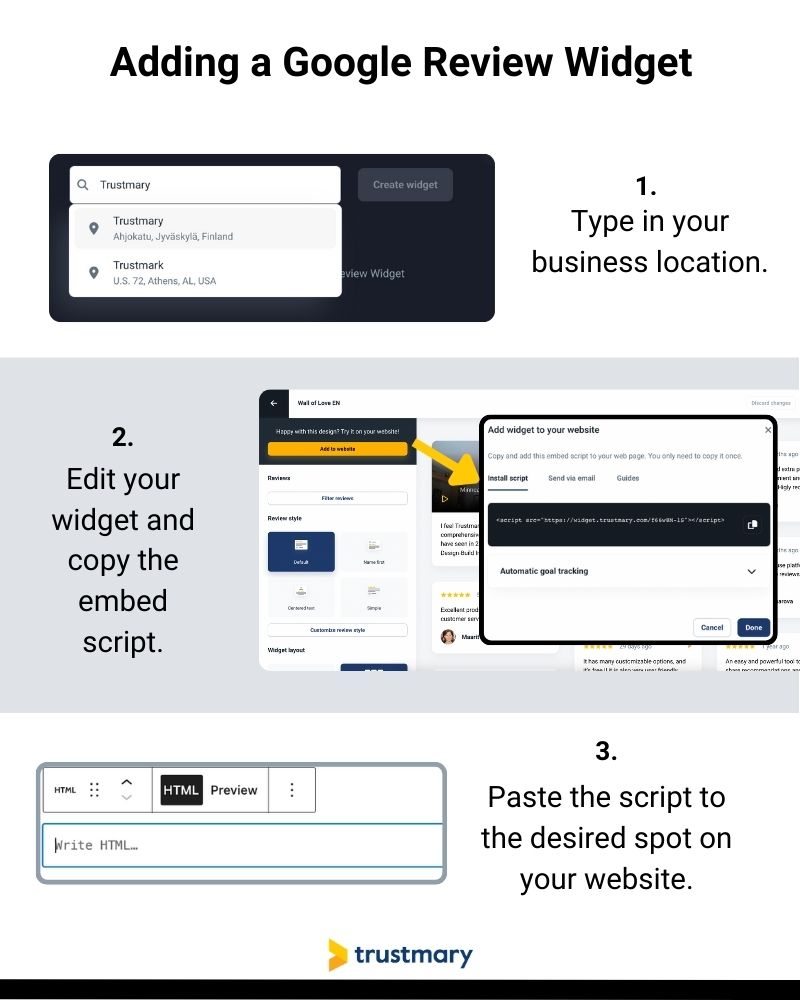 Video Tutorial for Adding Reviews to Website
In case you aren't that comfortable with adding new elements to your website, let us hold your hand through the process. Below's the step by step guide ⬇️
Keep in mind that you can always ask our support team for help if you run into issues.
Step 1: Type in your Google My Business
Type in your Google My Business location to start fetching your Google reviews immediately.
All your business reviews will be imported to Trustmary.
At this stage, you can also fetch other reviews, or just stick to using your existing Google reviews.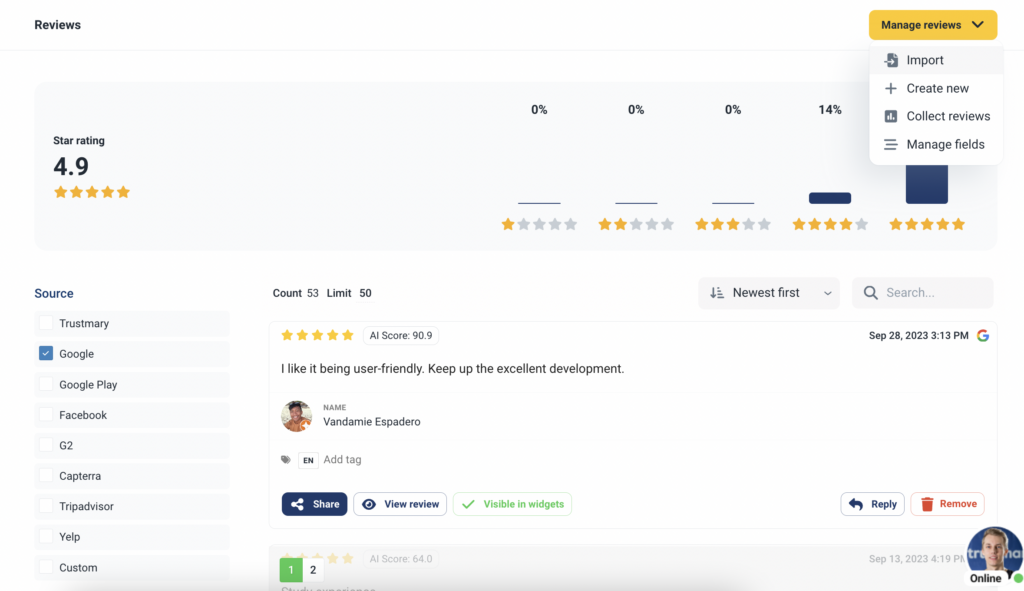 Step 2: (Customize Widget) & Copy the Embed Code
Once you have imported your Google reviews, you have the option to customize the reviews widget.
If you are very eager to get the reviews widget embedded, you can also skip this part for now and check the customization options later on in Trustmary.
You can customize, for example, the following in terms of widget style and layout:
Default card
Chat bubble
Reviewer's name first
Centered text
Review wall
Masonry
Carousel
List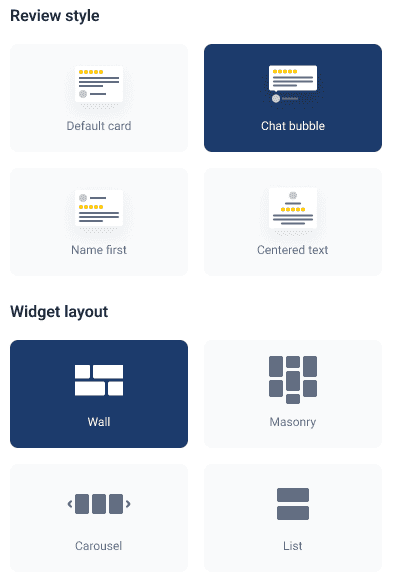 You can find the reviews widget script right next to the Google reviews widget you just created.
Click the "Copy script" button and head over to WordPress so you can embed it.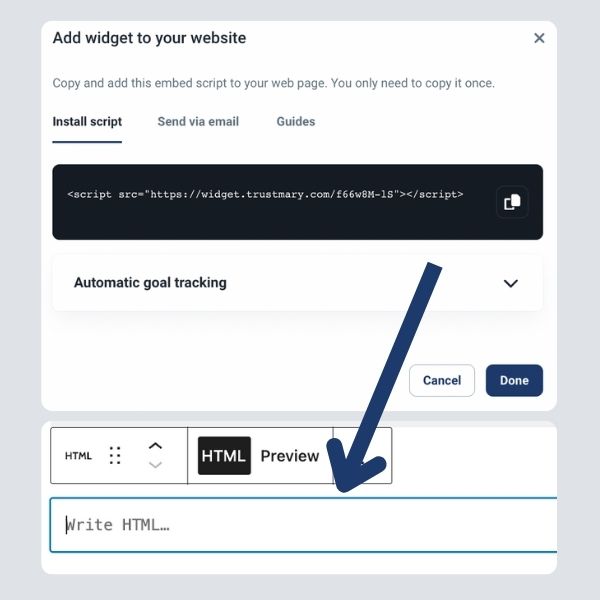 Step 3: Paste the Script to Elementor
This process counts as one step, but let us hold your hand through it.
Go to the WordPress site's dashboard
Click on the "Edit with Elementor" button
Find the HTML element from the elements section in the sidebar
Drag & drop it into your page.
After this, the element's settings are automatically opened and you're greeted with a textbox where you can enter your embed code.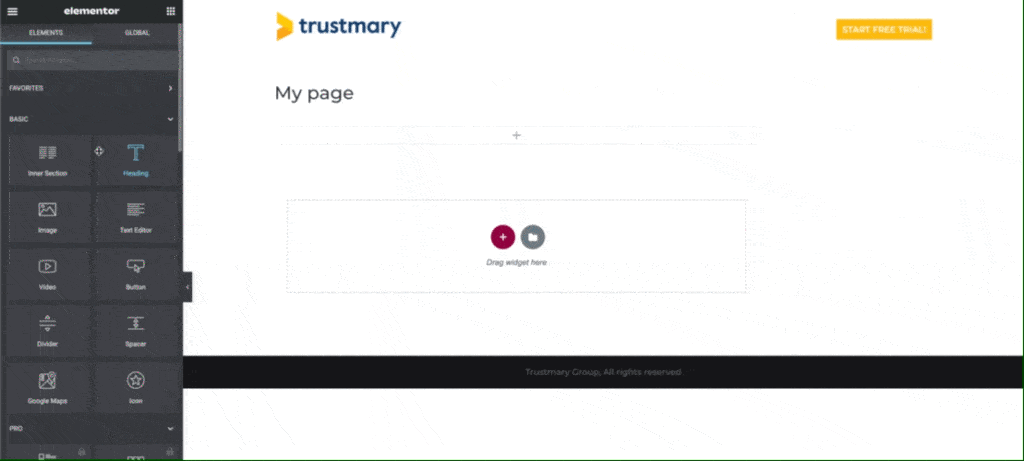 Do not forget to press "Publish" at the bottom of the sidebar to save the changes you made!

A more detailed installation guide can be found in our help documentation.
There you go!
You have now successfully added a reviews widget to your website with which you can display Google reviews.
Why Add Google reviews to WordPress Site
And more importantly, why every business owner should use Trustmary to display reviews on their web page.
Here are three reasons why adding a business reviews widget to your WordPress site will be worth the few minutes of effort.
1. Improve SEO Results with Rich Data
Thanks to Google's core updates and helpful content updates to their search algorithm in 2022, having reviews embedded on your own web page has become increasingly important.
In fact, they might be what makes or breaks your search engine rankings.
You have probably already noticed that when you google any business nowadays, you see its overall star rating next to its name.
If you have no idea what we are going on about, here is an example of what people see when they Google "accountant in Delaware":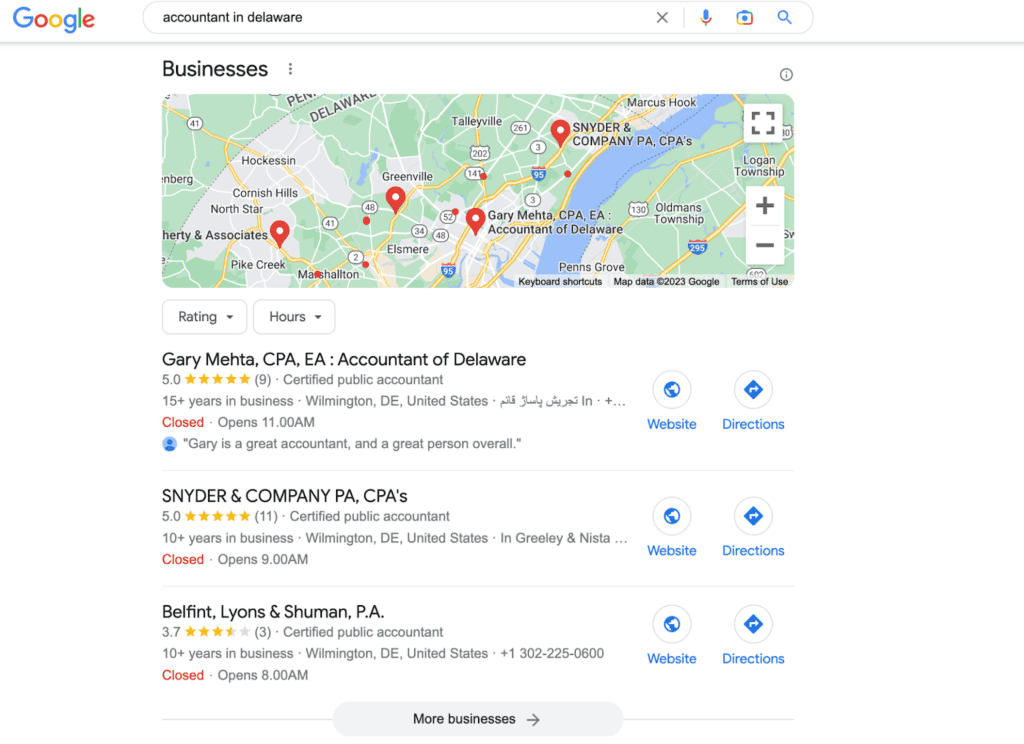 They see:
Overall star rating
Number of reviews
Possible review text
Years in business
Note that the first company on the list is the only one with a review text. The second business listed in this snippet has more reviews than the first one, but Google's algorithm apparently puts more emphasis on the quality than the quantity of the Google reviews left.
Now is your chance to compete for those top-ranking spots both in these snippets as well as in overall search results! Trustmary offers this schema support.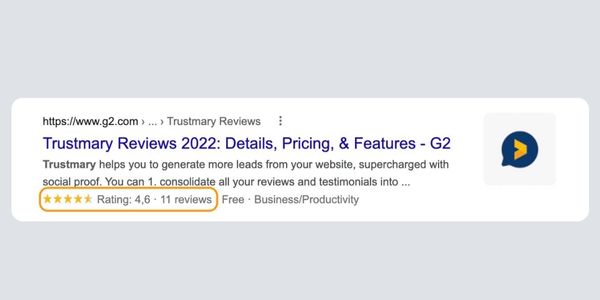 Trustmary automatically includes a review schema markup to your widgets.
It means that your reviews will be indexed and will most likely have a positive impact on your search engine visibility and rankings.
You can check if your reviews are being indexed by using Google's own rich results test.
2. Build Credibility with Reviews
Once you get website visitors to your website, you only have a few seconds to convince them to stay there. The more reviews you can show them, the more likely they are to stay engaged.
By personalizing the website visitors' experience, you have a great chance of lowering the bounce rate. After all, you are providing visitors with the information they relate to!
That is a surefire way to keep them interested for longer.
Additionally, you are proving to everyone that you can be trusted. If dozens or even hundreds of people have already left you a review, you must be a legit business!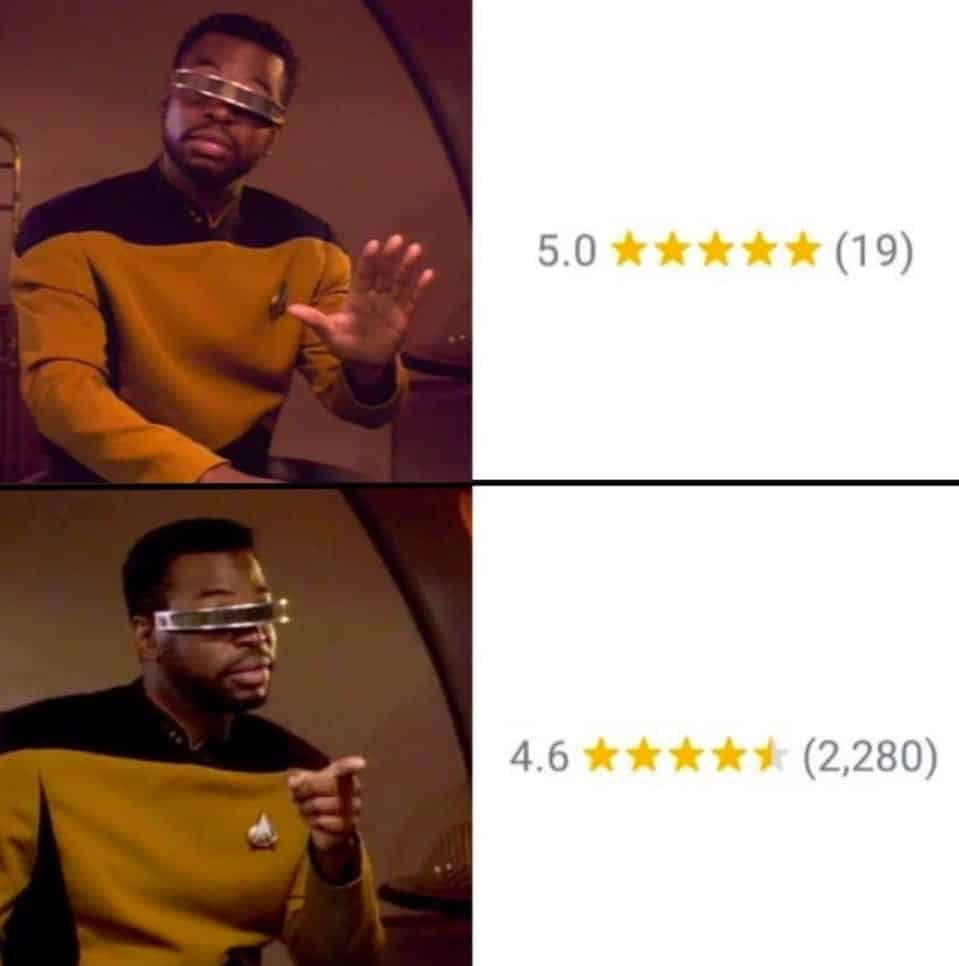 3. Boost Conversions with Social Proof
Social proof is a psychological phenomenon that refers to what we all do unconsciously on a daily basis: We observe and follow what others are doing.
When it comes to purchasing decisions, as much as 93% of people read online reviews before buying anything. They want to make sure that a business is legitimate before they give, for example, their credit card information to them.
However, there are many things you need to consider when using online reviews.
To identify what are the reviews that matter, pay attention to:
Placement
What is shown to whom
Timing
Way reviews are displayed
Only when you get all of these right, you can expect conversion rates to improve!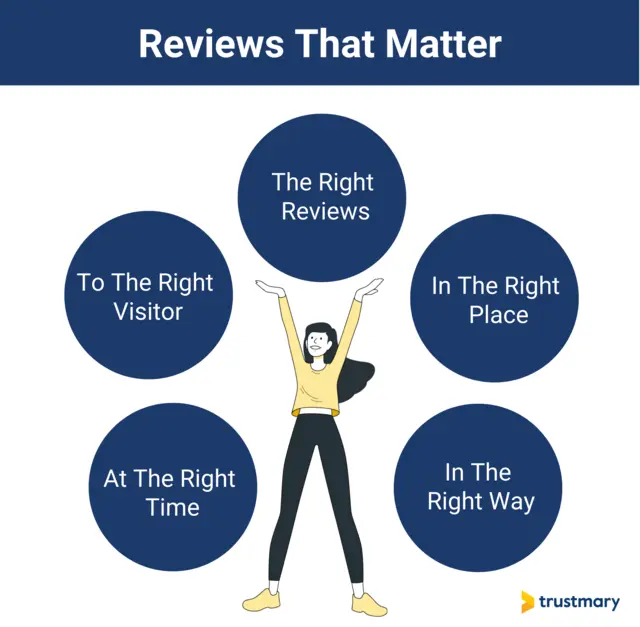 What about Other than Google Reviews?
If you have reviews scattered across many review sites, you are in for a treat.
With Trustmary, you can import them all and use them within the same widget, if you please.
That means that you can showcase your Google and Yelp reviews with the same effort!
You can easily import reviews from:
And even from an excel spreadsheet
In other words, you can use all your existing reviews in the same widget – in an infinite loop!
Customizable Widget Features
Even though you want to grab your prospective customers' attention, it is best to do that with something that fits your brand 100%. And does not stick out like a sore thumb.
Here are some widget features that you can easily modify in Trustmary.
Font
Text color
Text length
Box shadow
Border radius
If profile picture is shown or not
Placement of the widget
Images used
Background color
CTA text
And many more!
Showcasing Reviews Helps Generate More Reviews!
While you display reviews with a widget, you can also enable collecting new Google reviews!
The magic of this is that when visitors see that you have reviews, they are more likely to share their opinions and experiences of your business as well.
When you have already embedded an Elementor Google reviews widget with Trustmary, all you need to do is:
Go to "Customize widget layout" settings of the reviews widget.
Scroll until you see "Overall score" section and toggle on Show overall score.
Then, toggle on "Ask for reviews".
Add review link (in this case, the Google review link).
Customize the CTA button text.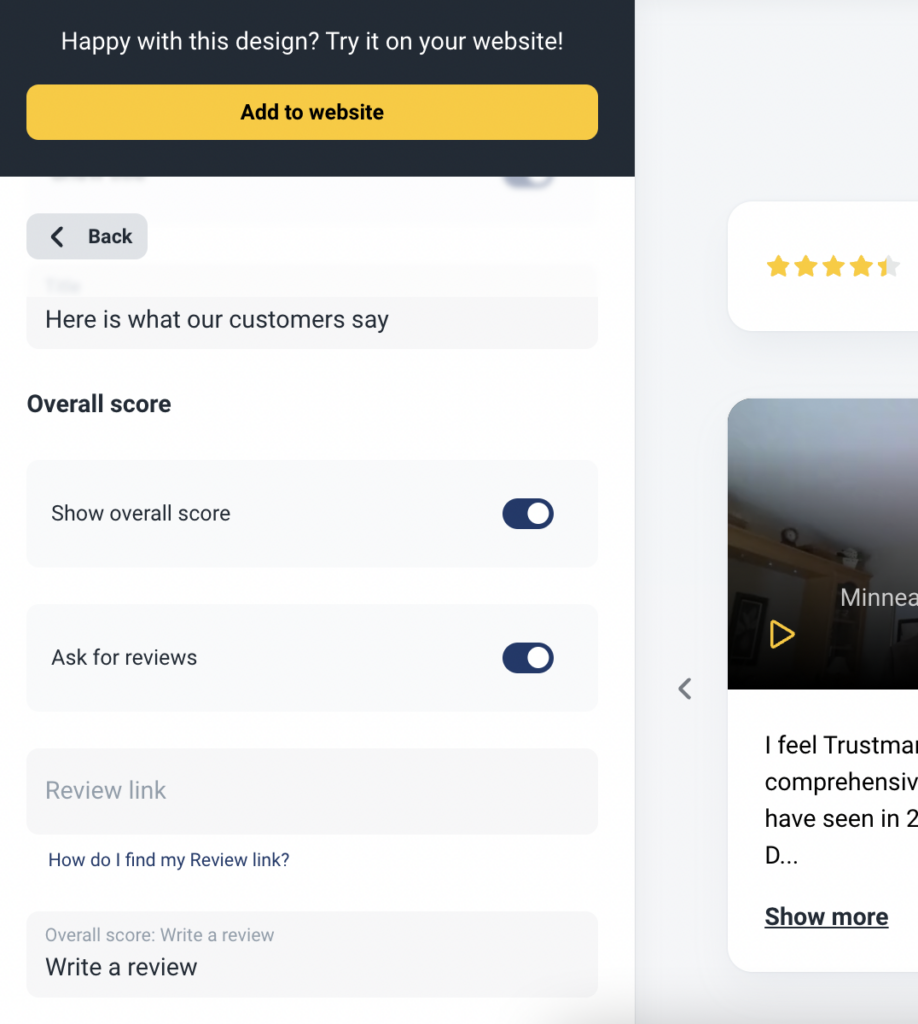 Adding a review box to your website has never been this easy!
Just keep in mind that the best time to embed reviews on your WordPress website was already last week.
So get cracking!
Further Reading:
FAQ
What are the best add-ons for Elementor when building a website?
Trustmary is one of the most useful addons for Elementor, as it allows you to both embed reviews to website and collect more of them.
One widget can be used for free and you can import reviews from Google, Facebook, Capterra, G2, and Yelp, to name a few sources.
What kind of reviewer information should I add to review widgets?
The more specific information you have, the better. Consider adding:
Name of the reviewer
Location
Review date
Reviewer image
Any other relevant details the reviewer share!
How to add Google reviews to websites with Elementor?
That is easy and can be done in minutes. Just use a reviews widget for Elementor.
Log into Trustmary
Import reviews from Google
Copy and paste the review widget's script
You can also customize the reviews widget to match your brand.
How many Google reviews should I add?
A good rule of thumb is to add at least a handful, but we recommend adding them all. They can really impact your search engine rankings while providing strong social proof to potential customers that you're a great company. Additionally, they work just as well as personal recommendations in convincing potential customers to buy from you.
When it comes to reviews, the more the merrier. So, create a strategy to constantly get more Google reviews to keep your review section up-to-date.
Can I add reviews to other websites as well?
Yes, Trustmary's review widgets are compatible with most website builders and CMS. For example, you can add reviews to WordPress, Squarespace, Wix, and Shopify.
Should I hide my negative reviews?
Never censor your reviews! Adding positive reviews to a website is important for boosting user engagement and overall conversion rate, but people will get suspicious if you don't have any negative reviews. So don't hide them all together.
Reviews build trust in potential customers, but only if they seem genuine!