What Are the 7 Strategic Places to Showcase Customer Reviews on a Website?
Proper placement shares the positive experiences your customers have with potential buyers without them having to search for testimonials. By using these seven strategic placements, you'll see how these powerful tools can greatly increase your bottom line.
1. Home Page
Your website's home page is one of the top locations to put all your marketing materials.
Also known as a landing page, this part of your site is likely the most visited page. As such, you'll want to make sure potential customers get all the information they need to make informed decisions when making a purchase.
This page is an iconic location for testimonials because everyone will see the feedback. Whether someone's simply interested in your brand or looking to make an actual purchase, the testimonials are front and center.
Not to mention there are a ton of great places you can share your detailed feedback with your audience.
A slider on the home page is one of the top areas to consider for sharing customer quotes and testimonial examples. With this, you won't take up too much space but still deliver valuable information in a small section.
You can pair the customer quotes with a hero image 🦸 or a call-to-action to bring it to life.
Such a display will capture the attention of site visitors instantly and also guide them to take the action you want from them.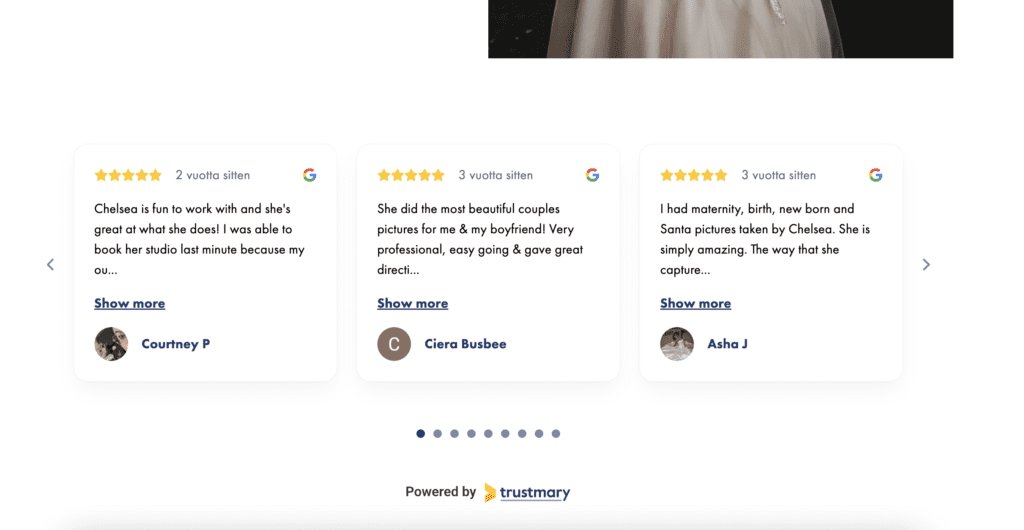 2. Product and Service Pages
Your website's product and service pages are the second most important place to consider putting personal recommendations and customer quotes. These pages are often visited by people interested in seeing what products you have to offer.
If you can share positive feedback with them, it could entice them to put through an order rather than window shop on your site.
Did you know that 88% of shoppers suggest testimonials are equally as trustworthy as personal recommendations from friends and family? 😱
That is why it's essential to put your brand in a positive light on the pages where people can choose to add your services or products to their carts.
One of the most important tips to note when adding customer quotes and feedback on product pages is to place them well. You won't want them to be too large, or they could take away from the product information on the page.
You can create small widgets to showcase customer satisfaction or dedicate a specific spot near the top or bottom of the page to share detailed customer stories.
3. Exit Popups
Exit popups are an essential part of the customer journey, especially if you want to retain a more significant chunk of shoppers.
When someone goes to navigate away from your site, you can program a popup to appear before they close the tab. It could include a prompt, "Are you sure you want to leave? You left something in your cart!"
The purpose of these popups is to get people to second-guess whether they want to navigate away from your site or not.
They have been shown to generate amazing results!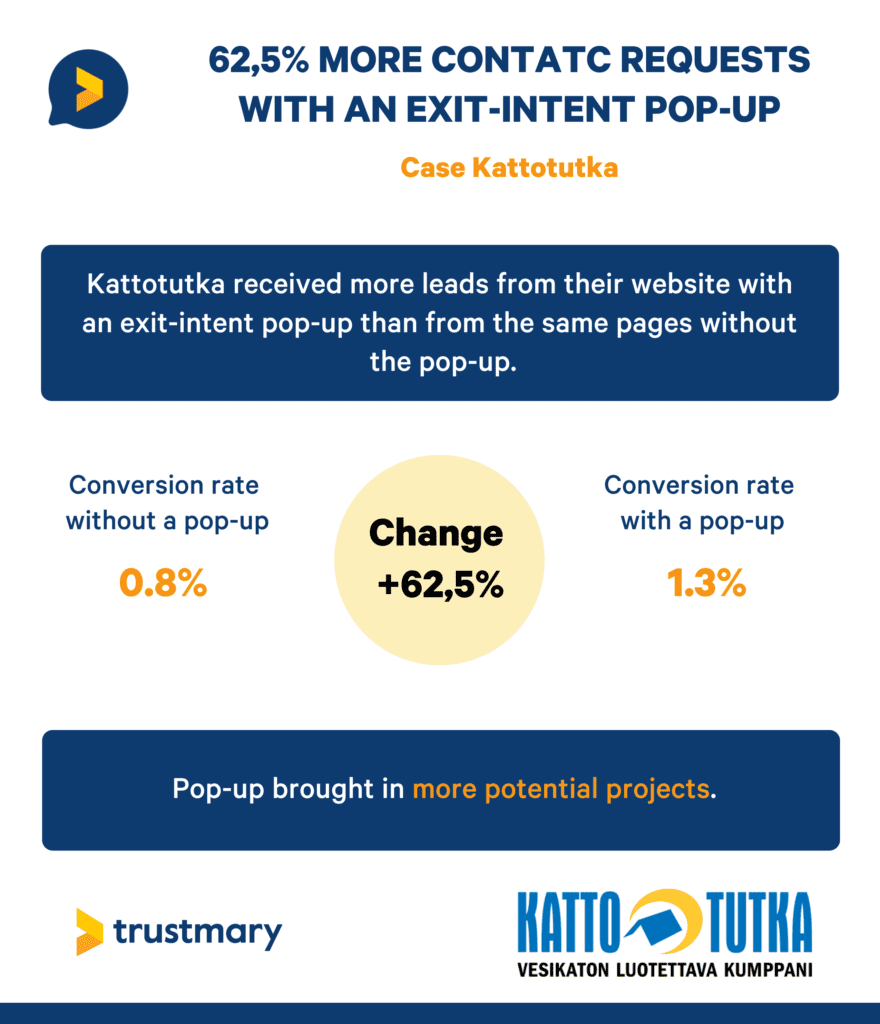 A fantastic customer acquisition strategy in these popups is to include a customer review widget. The widget could showcase customer photos to entice them to make a purchase or testimonials for them to read before leaving.
4. Near Call-to-Action Prompts
Every business website is bound to have call-to-action prompts, as they are another essential part of the sales funnel. These prompts could include encouraging your happiest customers to sign up for your newsletter, add products to their carts, or even visit specific pages on your website.
As its name suggests, a call-to-action is a short sentence that tells your audience what steps to take next, leading them through the sales funnel. That said, you'll want to ensure you show off your legitimate customer feedback near every call-to-action.
Loyal customers will feel more comfortable with their purchasing decisions, while new customers will have additional content to help them buy products. It's another must-have placement that's sure to increase your total number of sales.
5. Testimonial Pages
Content density is essential to note when it comes to building a website.
The last thing any business wants is to design a site packed with reviews and very little product, service, and business information. It can often come across as too "salesy" and unprofessional.
As an alternative, it can be a great idea to create a testimonial page for all of your customer-related fresh content.
On a testimonial page, you can showcase all of your reviews without having to find the perfect placement throughout your whole site. You can add written reviews, insert video testimonials, and even upload photos to act as company reviews.
The best part about testimonial pages is they help to keep your content organized. Customers will know exactly how to get to the page, and you can keep your much-needed social proof in one area.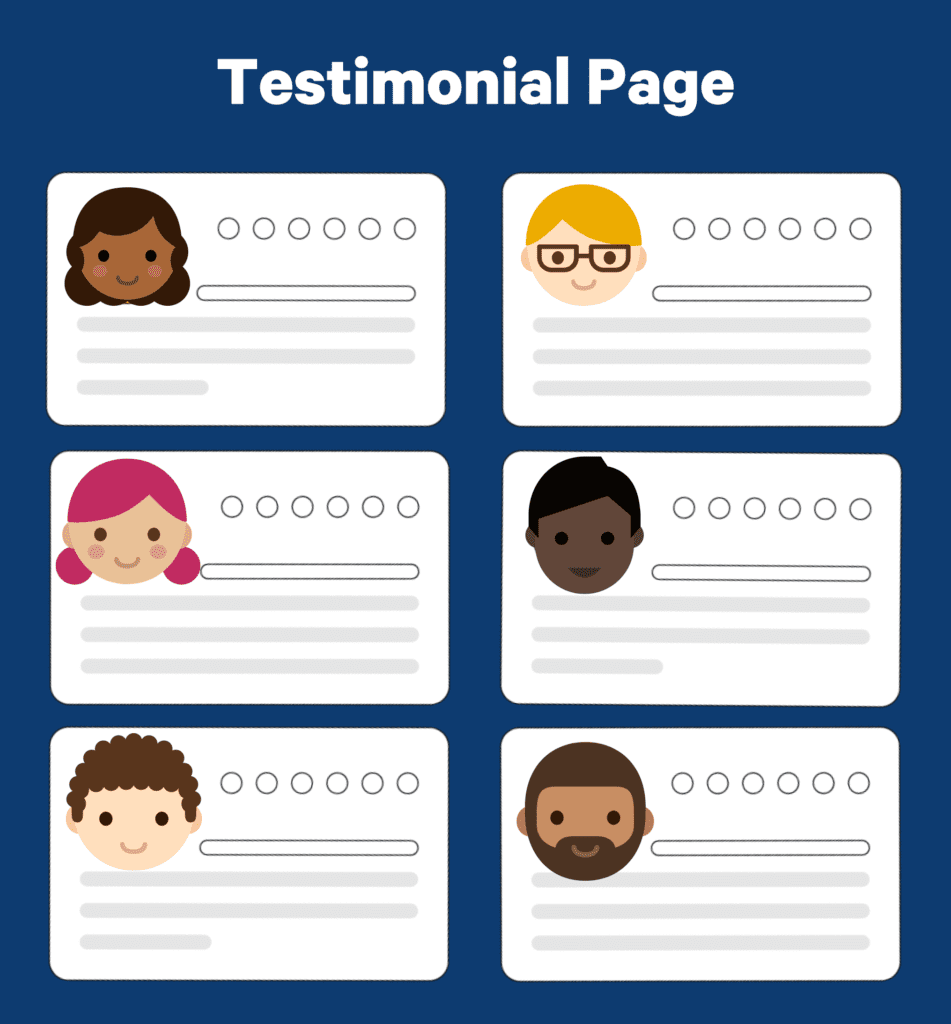 6. "About" Pages
A huge factor consumers think about during the buying process is the type of company they're shopping with. It is where the "About" page comes into play, as it's where they'll learn everything they need to know about your brand.
A well-written "About" page is a massive advantage, allowing you to bring shoppers through your business' journey from its first days to where you are now.
The "About" page is also home to many other valuable details, such as your social media platforms, contact information, and business profile. That said, it can be a great opportunity to add customer reviews.
While your consumers are learning about your business and what you have to offer, they can also read past experiences from your loyal audience who have chosen your services and products.
It's an all-in-one location that gives shoppers all of the most important information before making a purchase. Like the rest of our suggestions where to showcase customer reviews on your business website, ensure you put the reviews in an easily accessible spot.
7. Beneath Blog Posts
Every business website needs a blog as it serves multiple purposes.
A recent study revealed that content marketing is the most successful marketing tactic with a success rate of 20%. As you and I know, blogging is an important part of any content marketing strategy.
Your blog can answer essential questions as another form of customer service. It can also contain review content from happy customers, explaining the benefits your products and services bring to the table.
Above all else, your blog is a must-have when it comes to search engine optimization.
As a trove of information to help get your business ranked higher on search engines, a blog should never be forgotten. At the end of every blog post, adding customer reviews can be incredibly helpful.
As customers read through the content on your site, they can also read testimonials about your brand. It can encourage them to make purchases or larger purchases than they had initially wanted.
Whether you add written reviews or star ratings, your blog posts are a great strategic placement to consider.