4. Actionable Ways to Increase Your Website Conversion Rate
This part will focus on CRO and the nine most effective ways of doing it in the modern digital marketing era.
1. Check Your Site Speed
Be honest: When was the last time you did this? Do it, for example, with Google's PageSpeed Insights. Now. The results will give you a baseline to start improving.
Here's an example how they may look like. The greener, the better.

People are busy and they'll quickly leave your page, if it isn't loading fast enough (= within a few seconds).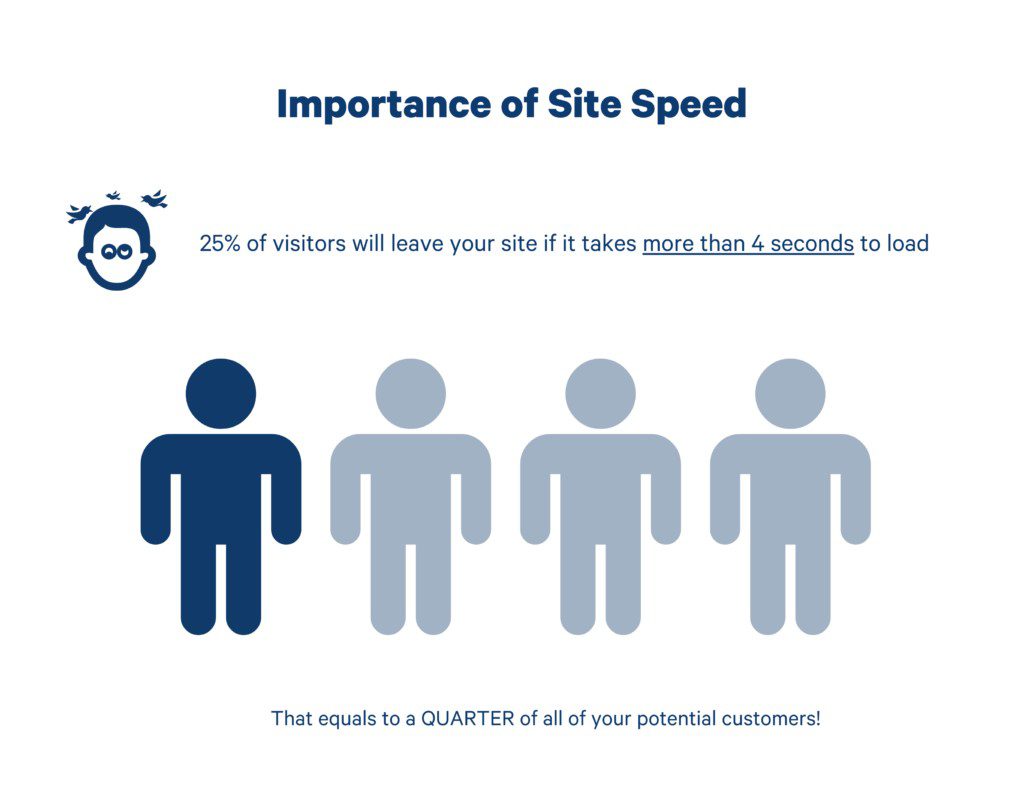 According to research, one in four visitors will leave your site if it takes more than 4 seconds to load. According to Portent, conversion rates drop on average by 4,42% with each additional second of load time during the first five seconds.
So: Optimize your site speeds to get more conversions. Here's one of our blog posts where you can find some additional information on improving site speed.
2. Run A/B Split Tests on EVERYTHING
Sometimes, it's the smallest things that bother us and make us leave a site without buying or signing up for a newsletter or discount code.
Such factors include:
Your headline
Font size
Body copy
Colors and icons used
You can run an A/B split test to test different versions of the same page, while only changing one aspect at a time.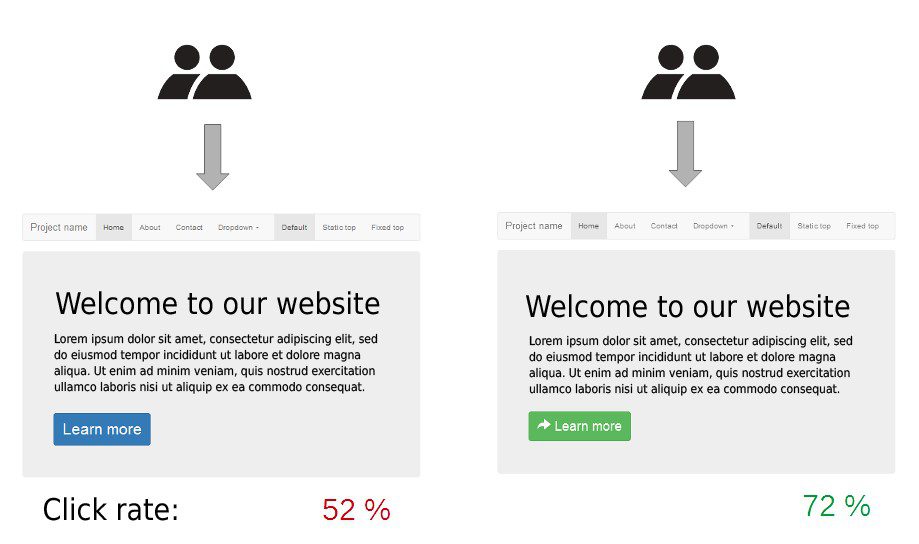 In this example, by changing the call to action button from blue to green an adding an arrow improved the click rate by 20%.
Even though doing A/B tests to each tiny variable might sound like tedious work (because it is), it's still worth the trouble. I'm not saying go through each tiny detail, but it's a good idea to test out at least some aspects which you might have overlooked before. You'd be surprised about which aspects actually make a difference.
What is the smallest and most surprising tweak you made that ended up making a huge difference in your conversion rate? Let me know in the comments.
I'm always baffled at how seemingly random details make a big difference.
If you're looking for an easy tool to do A/B tests, start your free 14-day Trustmary trial.

3. Audit Your Landing Page
As your landing pages are the pages you are directing people to and which are designed to convert visitors into leads, they need to be on point.
Try using an online tool to get a user behavior report of your site to gain insights on what your visitors are doing on your landing page.
Crazy Egg is a nice tool. It gives you a heat map of what the visitors are clicking on or browsing on your landing page.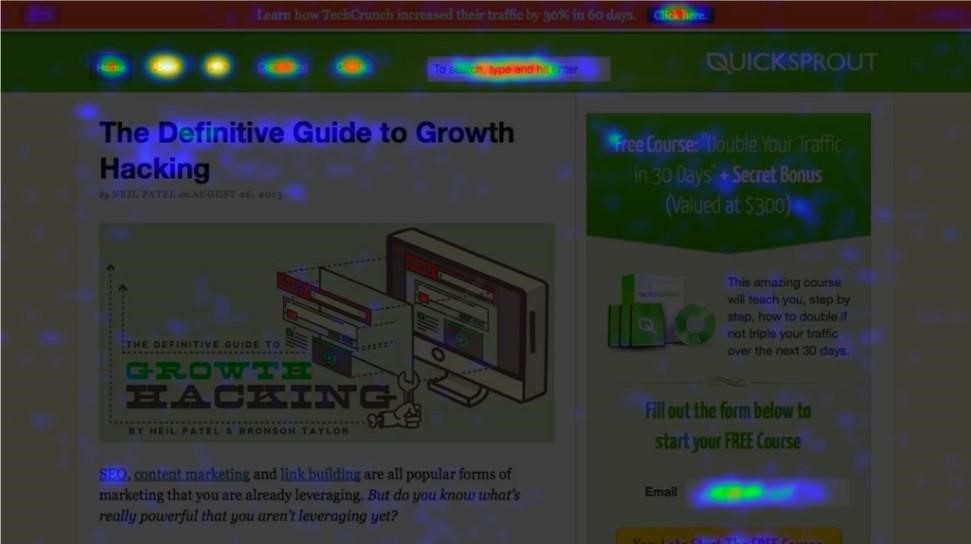 Once you know what they are interested in, you can try to improve conversions by tweaking the aspects you would like them to see.
4. Make Your Offer Clear
Which one sounds more appealing?
If you want, you may get my e-book here.
or
Download my free e-book on conversion rate optimization!
Don't be afraid to be clear about what you have to offer. The clearer your offer is, the more likely the right audience is to take on the offer.
After all, your products or services are developed to fulfill a very specific need. Be clear what that need is and how you are better than your competitors. That will for sure lead in a higher conversion rate.
5. Write a Blog (& Improve It!)
Blogs are a great way to offer your customer helpful and insightful content about your industry and the problems you solve. In addition, your readers can be turned into leads.
However, you shouldn't write a blog just because you hope it might improve your conversion rates. Write one, because you want to help and educate your site visitors. The results will follow. But only if you do a good job with your content.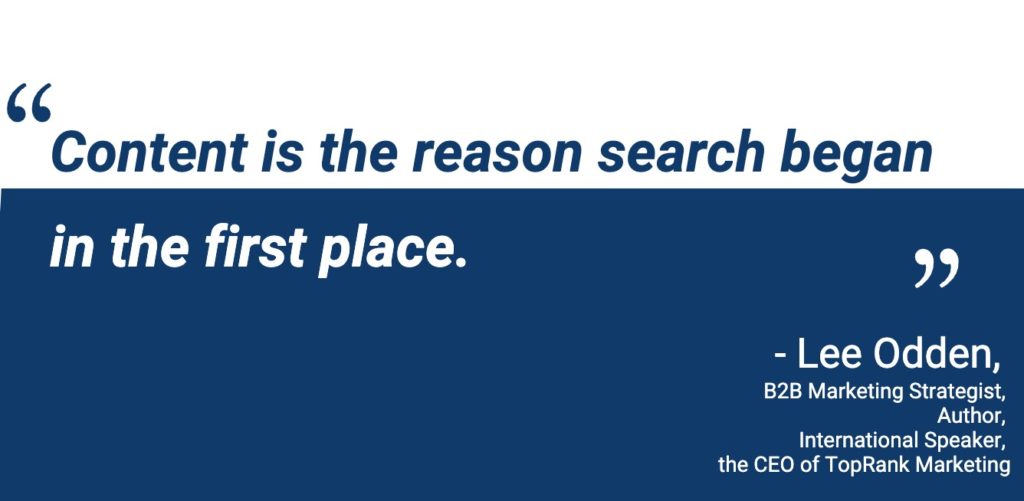 Never forget that "Content is the reason search began in the first place." as said by Lee Odden, who is a B2B Marketing Strategist, Author, International Speaker, and the CEO of TopRank Marketing.
That being said, once you have published some blog posts, you should start tracking how they are performing
Track at least these to get meaningful data:
CTRs – gets you an idea of which types of content generate and convert leads
CVR – lets you know which posts turn visitors into leads or even customers
Traffic source (organic, ads, social media, emails, …)
Even though your CTRs would be through the roof, you need to make sure by tracking CVRs that those readers are becoming leads or customers instead of being just visitors. Once you have a baseline for both these metrics, it's time to start the improvement phase.
How to Get More Conversions from Your Blog
Take the posts with most traffic, but lowest conversion rates and the posts with the least traffic.
Analyze and improve SEO to get more traffic
Update older posts with up-to-date information (it makes a huge difference to the credibility if something was written in 2011 vs. in 2022).
Add pictures, infographics, gifs, videos, etc to make the post easily skimmable (so people see the call to action at the bottom of your post)
Add call to actions and widgets throughout the post to increase conversion rates
6. Call to Action (CTA)
Call to action is a term used in the marketing world that refers to any design element that's purpose is to get the audience to perform a desired action immediately. In other words, to convert.Use CTAs to encourage people to convert immediately.
Some examples of CTAs
Buy now
Visit our site
Subscribe to our service here
Start your free trial
Download a free e-book
Click here
Book a demo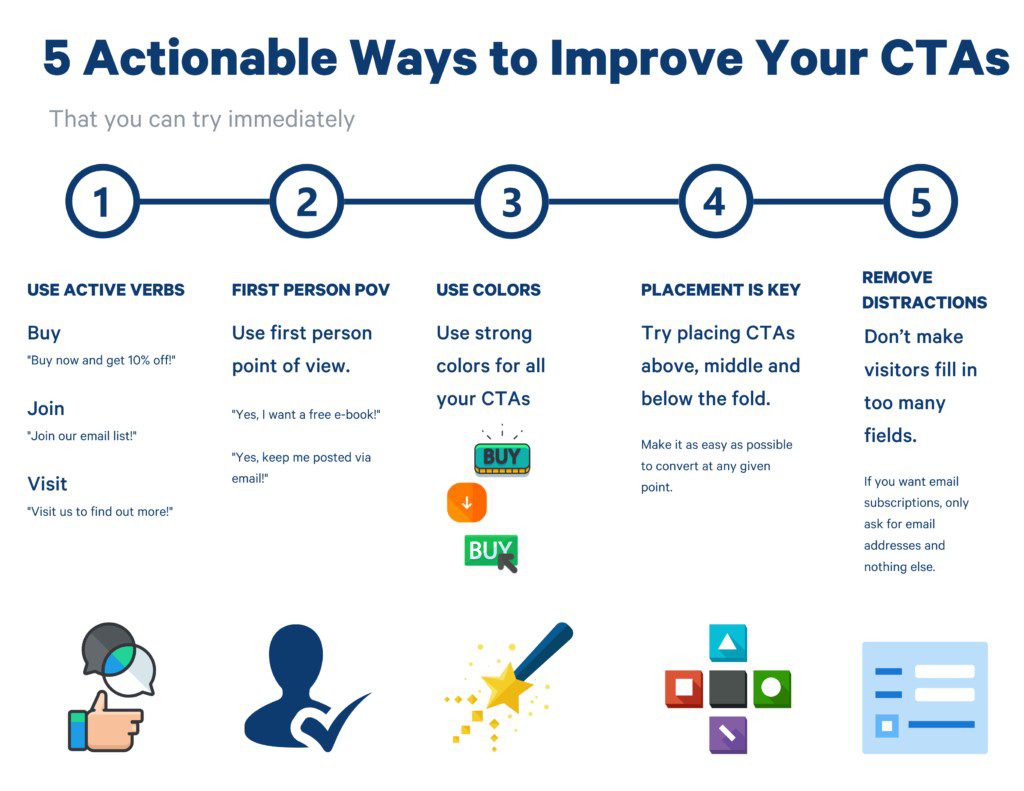 5 Actionable Tips for Improving your CTAs
Use active verbs ("buy", "join", "visit" etc.)
Try to use first person point of view ("Yes, I want a free e-book!" or "Yes, keep me posted via email")
Use a strong color for all your CTA buttons
Place CTAs both above, middle and below the fold (below the fold will most likely get you the most relevant results, but make it easy for your visitors to convert at any given stage!)
Don't make visitors fill in too many fields. (Focus only getting emails, if your aim is to get email signups.)
These are simple tricks to maximize people's engagement to your site. No matter if you have a ecommerce site or a B2B service site, you need CTAs to make people convert.
CTAs may look different in mobile apps and on your mobile website, but they still work all the same.
7.Use Social proof to Build Trust
For people to give you their contact information (or more importantly, money), they need to trust you. The easiest way to improve your conversion rate is to increase your potential customers trust in you.
Start using social proof (=people tend to copy and follow the actions of others) by adding testimonials and reviews from your satisfied customers. Adding social proof to your site is one of the biggest impact factors in terms of conversion.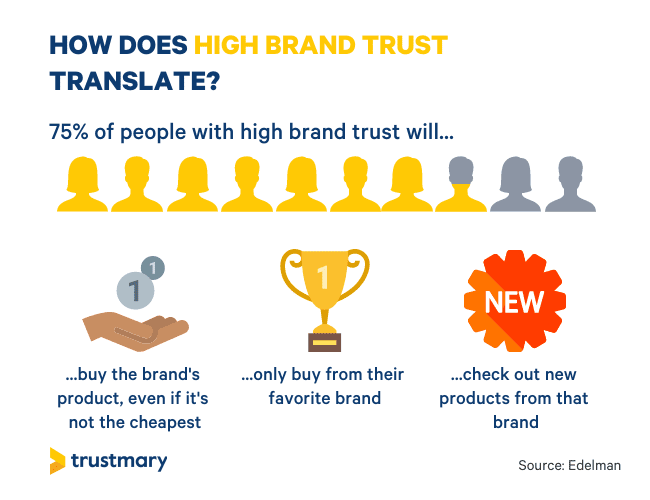 More Conversions with Testimonials (Simple 2-step process!)
Determine your target audiences
Analyze which types of users are coming to your website and from where. Some variables include location, gender, age, source they came to your site from. (Google Analytics is a great tool for finding out these aspects and many more)
Create tailored review popups
People only trust reviews that seem authentic and they feel like they can relate to the reviewer. To maximize your conversions, start showing your target audience reviews they find relatable.
If you are a B2B business, add customer logos alongside with reviews as they increase the credibility even more.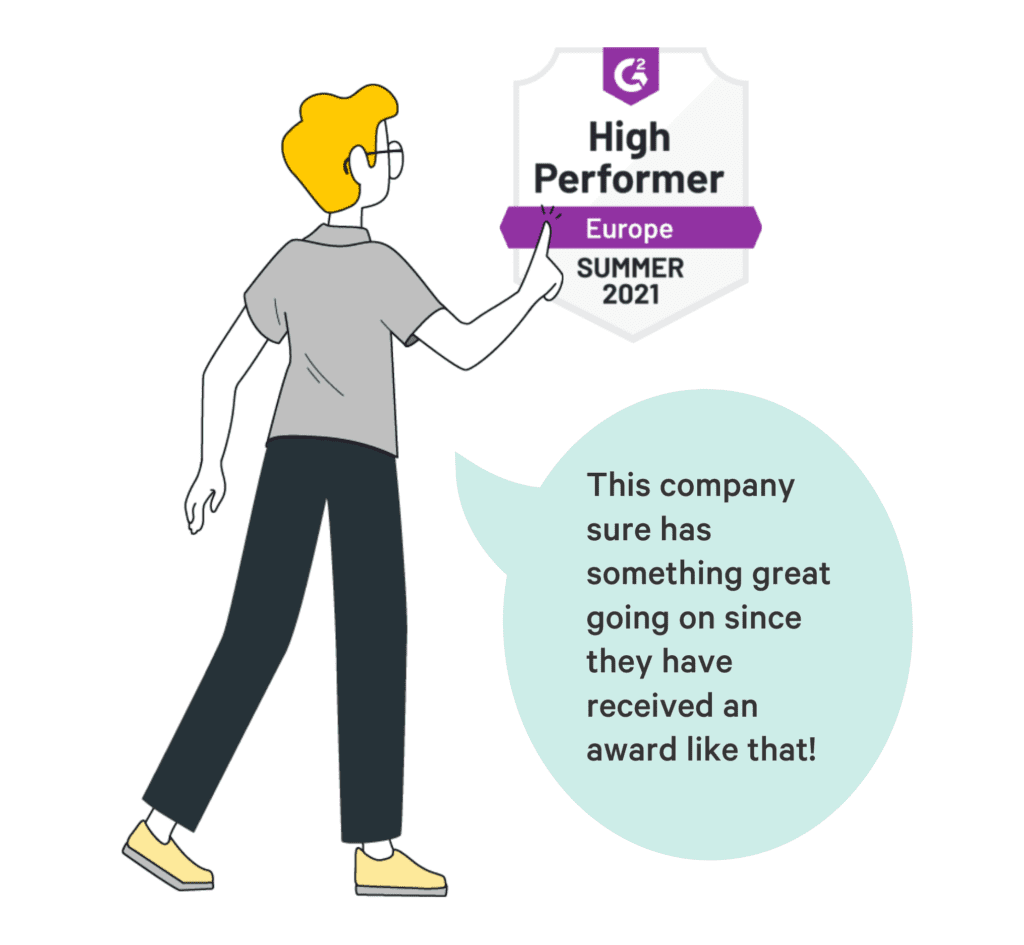 Example of How Social Proof Will Improve Your Conversion Rate
Peter lives in Philadelphia and is looking for a contractor to fix his roof. He googles "roof contractors in Philly" and finds options online.
Company A states that they fix roofs and install windows in Philadelphia
Company B says that they fix roofs in Pennsylvania
While Peter ponders which company he should request a quote from, a review popup from Company B appears on the lower left corner.
"Mike L. from Philadelphia just left us a review: "10/10, these guys really know what they're doing"
Even though Peter was hesitant at first, because company B said that they operate in Pennsylvania and not specifically only in his town, he was convinced after seeing a review from the same city. Peter goes directly to the "contact us" page of company B and fills in his contact information to get a quote from them. Because company A wasn't able to convince Peter in time, they were left without a conversion.
The same model works for all types of websites and services, but is especially crucial for tech companies. Use social proof and reviews to prove that your products or services create value and that you are a trustworthy company in the first place.
Don't Have Reviews to Publish?
If you haven't collected reviews and testimonials yet, start your 14-day trial with Trustmary now.
On top of getting reviews, using Trustmary enables you to:
Publish the collected and on your website (with one click!)
Create and publish tailored review popups to relevant target groups
A/B test which popups work and in which context
8. Build urgency
"Grab yours now! Only 5 products left!"
"6 people are currently viewing the same hotel" (And there's only 2 rooms left with a lower price)
"Sign up before the group is full. Only 2 spots left!"
"You have only 4 days left to claim your exclusive discount code via email"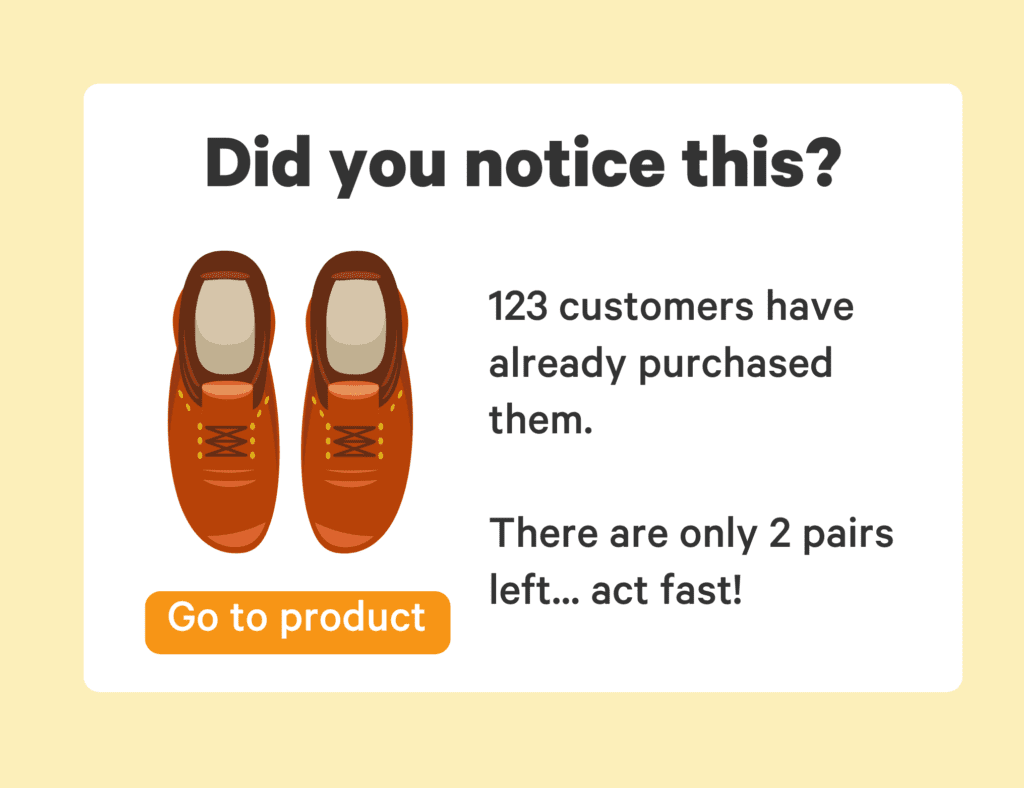 When was the last time you bought something or signed up simply because the offer had a time limit tied to it?
The magic of building urgency is that it makes people scared that they are missing out on something great. Each and everyone of us is constantly looking for the best possible deals. By creating a certain amount of urgency in your offer, you can significantly increase the chances of getting more conversions.
Try to make your offers be valid only a certain time and you'll be surprised how much revenue or results you'll create the closer you get to the expiration day.
9. Remove Distractions
Keep things simple and remove distractions. Make user actions as frictionless as possible.
This doesn't mean that you need to only have a "Buy here" button on your page, but aim to make your design user-friendly. Trust me, your conversion rate tells you exactly what works and what doesn't, so make changes accordingly.
How to Identify Distractions
Review your entire website, page by page
Use heat maps to see what people are doing on each page
Critically evaluate all the links and content you have. (Is it motivating people to convert? If not, it's distracting.)
Do A/B tests to see what effects removing something has
Conclusion on CRO
On the one hand, your website has one goal: Help you sell your products or services.
On the other hand, your website a an effective tool that can help your turn relevant visitors into customers later on, if they aren't ready to buy at that moment.
By optimizing your conversion rates, you'll enjoy the following benefits:
Gain a better understanding of your customers
Maximize your marketing spending
Decision-making is based on marketing data instead of a feeling
Creating a pool of potential customers you can market to (Will help tons, when launching new features or products!)
Improved search performance
Increase customer lifetime value
Lower your customer acquisition costs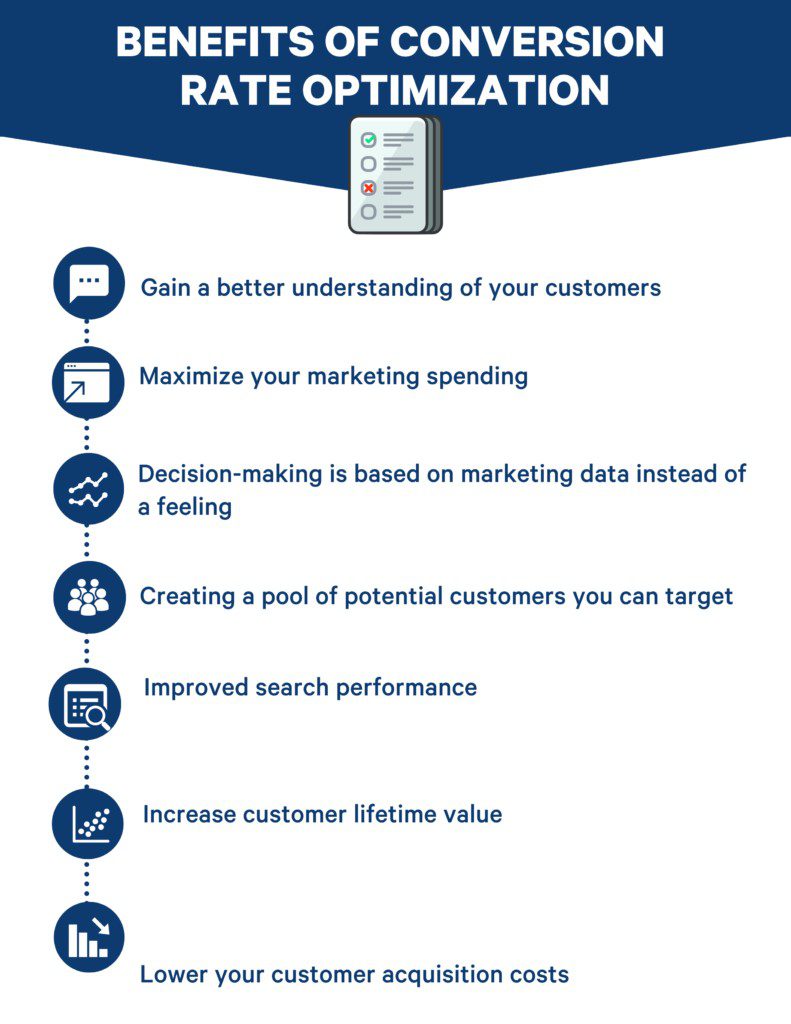 If you're looking for a sign to start making conversion rate records, this is it.