Key Terms Related to Retail Conversion Rate
Let's go over a few central concepts related to retail conversion rate.
Foot Traffic
Foot traffic quite literally refers to the number of people walking into your physical store. You can set up an automated foot traffic counter for this purpose.
Everyone aims for heavy foot traffic, but for some, that's just not possible. If your daily visitor numbers aren't that high, don't worry. We'll go over a few ways to lure in potential customers.
Customer Experience
Customer experience plays a central role in increasing the number of sales. The term refers to how people feel they were treated at your store.
The following aspects influence the in-store customer experience:
Queue lengths
Behavior of staff members
Store layout
Easiness of finding what they wanted
Visuals of the store
Background music
Level of background music
Cleanliness
Free samples or refreshments offered
Accepted payment methods
To get a better customer experience, you'll need to nail down most if not all of the aforementioned aspects.
Retail Conversion Rate
To put it very simply, the retail conversion rate is a measure of how many people that came to your store actually bought something.
It's usually stated as a percentage.
Retail Conversion Rate Formula
Calculating the conversion rate for your store is easy.
Take the number of store visitors within a period and divide it by the number of purchases made during that period. Then multiply it by a hundred to get the percentage.
So, if 1,000 people visit your store in a single day, and 100 of them bought something, you'd have a conversion rate of 10%. (100/1000 x 100% = 10%)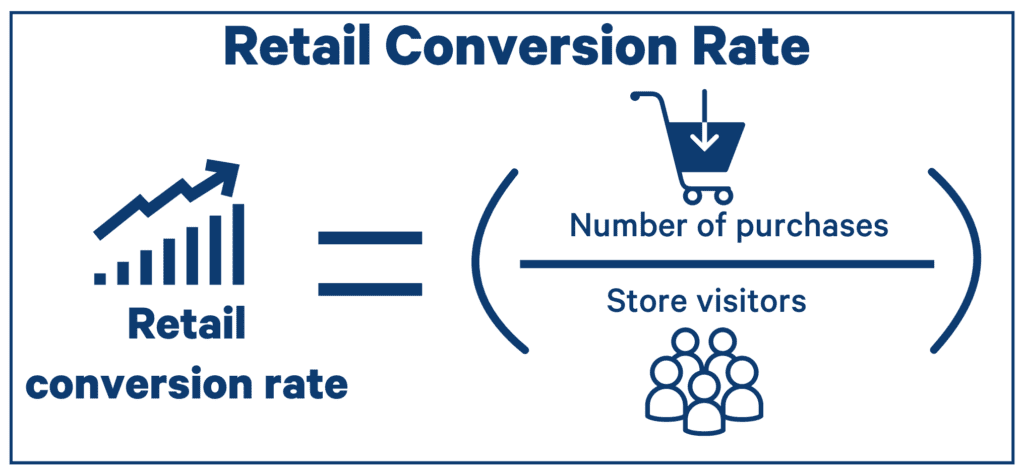 Today we're going to run you through step by step how to measure your conversion rate, and how you can use it to make improvements to your business.