How To Measure Customer Experience?
Connecting customer experience with business results is the key to any successful company. But, to do that, we must learn various ways to actually measure the customer's experience.
These metrics are divided into two categories: quantitative and qualitative. We'll go through these categories in the following section.
8 Quantitative Metrics
Quantitative metrics are defined by a set number that represents the results. These numbers offer general facts.
Furthermore, they help showcase the change from one strategy to the other.
The following are eight of the most common quantitative metrics.
1. NPS
Net promoter score (NPS) provides an insight into customers' perceptions of your business. This percentage can range from -100% (not recommended at all) to +100% (recommended to friends and family).
It is measured using a practical and straightforward question, "How likely are you to recommend this business to a friend or colleague?"
The scale ranges from '0' being least likely to '10' most likely.
People who answer between 0 – 6 are known as detractors.
The ones who answer 7 – 8 are passive and not included in the calculation.
Lastly, people who answer 9 – 10 are called promoters.
NPS is the difference between the total number of detractors from the total number of promoters

Read our NPS, and how do you measure it? for more details.
2. CSAT
Next, we will look at CSAT or customer satisfaction. This score represents customers' satisfaction regarding a specific experience.

CSAT works wonders as an in-the-moment measure. Thus, it can be broken into individual questions that focus on specific areas of services.
Compared to NPS, CSAT offers an insight into what the customers think about your services right now.
The following is an example of a CSAT survey.
3. CES
The Customer Effort Score measures the effort customers exert to get desired outcomes. It includes ordering a product or speaking to a customer service representative.
The usual question in CES is, "how easy was it to solve your problem today?"
NPS and CSAT give us an average score. However, CES provides a distribution. It helps identify customers who had no trouble going through your services effortlessly.
Furthermore, it can also help identify people who struggled. Thus, you can pinpoint customers who might need a more personal touch to solve their problems.
Here is an example of gathering CES scores.
CES helps you identify complicated processes in your services. A complex process can introduce friction, which customers don't appreciate. Streamlining the process can help negate that.
94% of customers going through an effortless experience are likely to repurchase. In contrast, only 4% of those who went through a high level of effort will come back to the same brand.
Heres a quick over-view of the pros and cons of the three metrics.
NPS focuses on customer loyalty
CSAT is used to understand the level of customer satisfaction
CES is a transactional metrics that indicates how much of a struggle a customer has to go through to get their issue solved.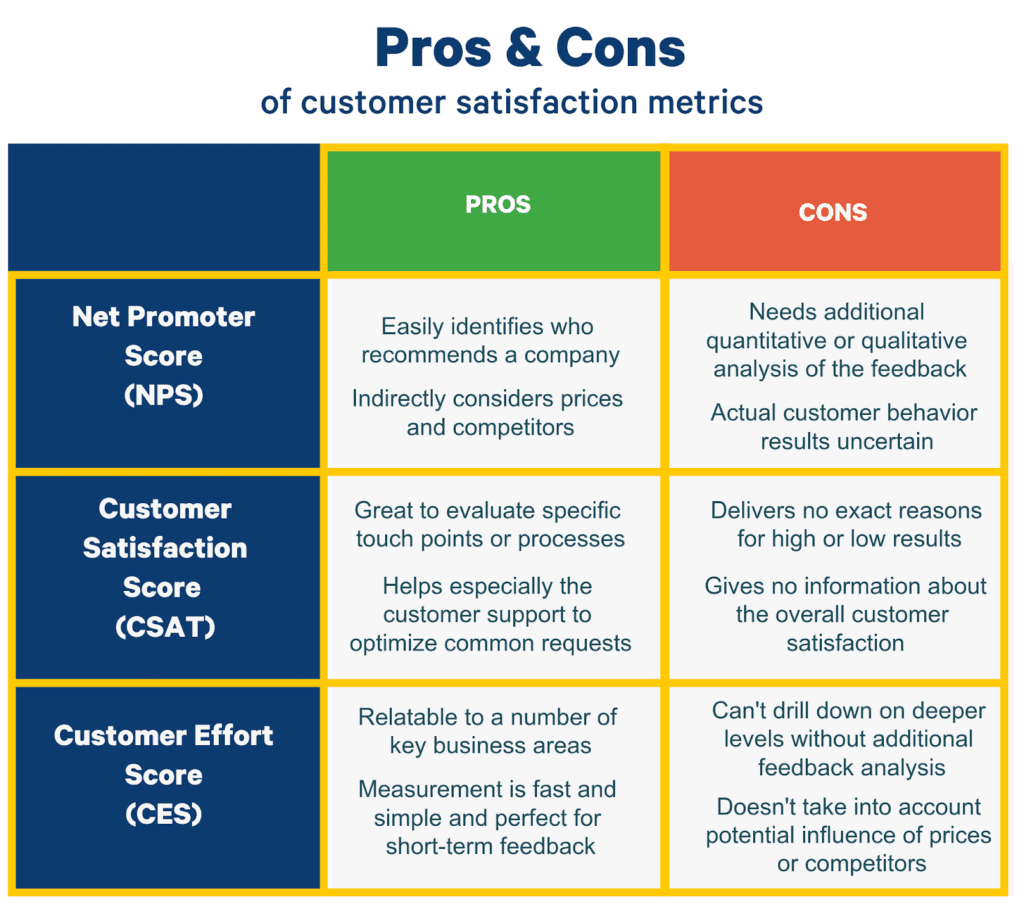 4. Customer Retention Rate
The customer retention rate is linked with customer loyalty. It helps analyze the number of customers that stayed with the brand over a period of time.
According to a Temkin Group study, loyal customers are five times more likely to repurchase a product or service. They are also more likely to forgive shortcomings. Furthermore, they are four times likely to refer and seven times more eager to try a new product or service.
Customer retention rate is also linked with customer churn rate, which we will look at in the following section.
5. Customer Churn Rate
Customer churn rate is the percentage of customers who cancel their subscriptions.
Calculating the churn rate is straightforward. Just divide the number of customers lost by the total number of active customers for a given time frame.

When measuring the churn rate for subscription-based companies, defining what it means to lose a customer (churned) is crucial. For example, if a customer has not continued their subscription within 90 days, they may be considered 'churned.'
6. First Contact Resolution
The first contact resolution rate shows resolved tickets within a single response. The higher this number, the better.
A high first contact resolution rate gives you an edge over the competition. It means that your team and process are running efficiently.
Yet, that is easier said than done. Customers might want extra information or have follow-up questions.
Working with your team to plan proven replies that can help increase the first contact resolution rate.
An example of such responses could be, "Is there anything else I could help you with?"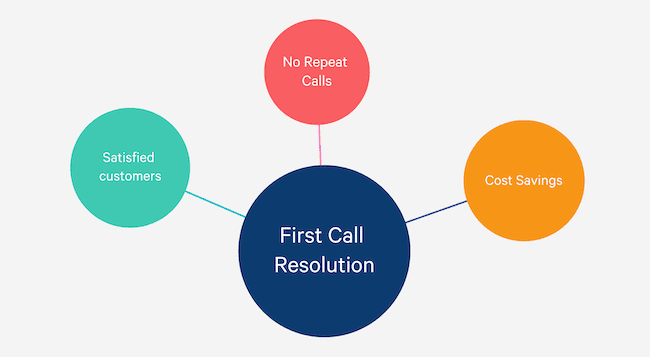 7. Average Resolution Time
A reply is not a resolution. Simply making contact isn't enough to resolve the issue at hand.
The average resolution time is the time it takes to resolve the customers' issues. This time should be as low as possible to allow your team to handle many clients.
One way to decrease the average resolution time can be to share knowledge with your customers. Thus, allowing them to do their research and come up with solutions.
Another way can be to train your team with effective responses which help resolve the issue in the least amount of time possible.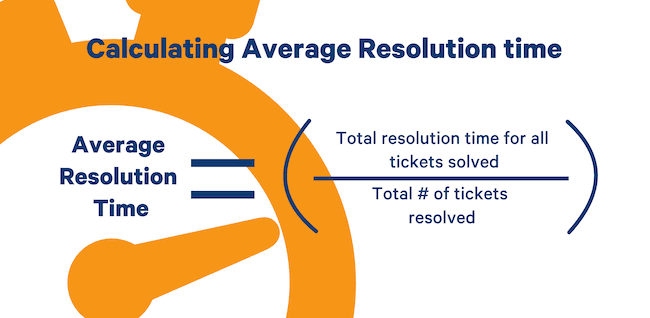 8. Customer Referral Rate
The customer referral rate compares total sales with sales due to referrals.
For example, if your referral rate is 5%, that means 5 in every 100 purchases come from referral programs.
This metric relates to the customer experience and can be linked with NPS.
NPS promotors will refer your product and services to their friends and colleagues. Hence, increasing 'promoters' can increase referral purchases and positively impact your profits.
In summary, quantitative metrics help you see the numbers behind the customers' relationship with your brand. Furthermore, they can also help you predict various changes in revenue.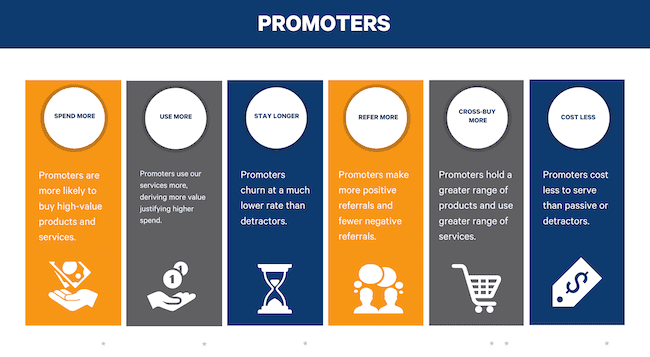 5 Qualitative Metrics to Try
Numbers are well and good, but if you want a complete picture of the customer experience, you need qualitative research or feedback.
Qualitative metrics help customers express their thoughts and emotions in words. They help understand parts of the experience the customer appreciated and parts that weren't too pleasing.
The following are five ways you can collective qualitative customer experience data.
1. Observation
Observing the customers allow you to notice their behaviors. Furthermore, you can identify factors and patterns in your service that affect those behaviors.
Carefully observing the interaction between a client and the business can help you figure out specific points of concern. Moreover, you can also become aware of features that seem to please your customers.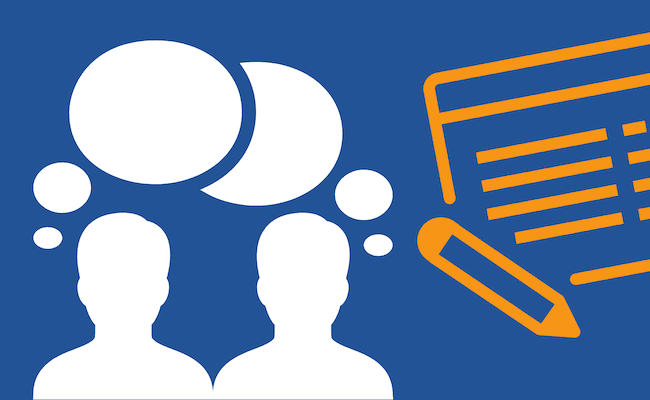 There are five rules when it comes to customer observation. I have provided a brief description of each.
Ordinary
Attentive
Accurate And Objective
Timing
Debrief And Analysis
Ordinary
The observer must keep an open mind and notice the normal reactions of the customers. They often hold more value than surprise reactions.
Furthermore, paying attention to details can highlight something that bothers the customers. Hence, you can cater to potential pain points and increase customer satisfaction by offering preventive solutions.
Attentive
To be attentive means to gather the information that is coming from the customers without judging. It can be easy to analyze and miss important details.
An easy way to achieve better attention can be to assign roles before the session begins. For example, one person can lead the session. At the same time, the other person is the silent observer and focuses with complete attention.
Accurate And Objective
Remaining accurate and objective can help you notice the what, when, where, and how people behave in certain situations.
Furthermore, to remain accurate in the observations, you must leave your pre-conceived notions at the door.
Timing
The timing of an event can have a great impact on the customer. Thus, observing what is going before, during, and after the event can be vital.
Furthermore, it can be helpful to remain patient. People often react differently when they know they're being observed. They need some time to open up and relax.
Debrief And Analysis
To fully use the potential of observation, it should be followed by a debriefing session. This session will bring the observers together to share and analyze the observations.
That being said, reflecting on the observations over a couple of days helps reach a deeper understanding.
Adhering to these five rules will help make your observing sessions much more productive.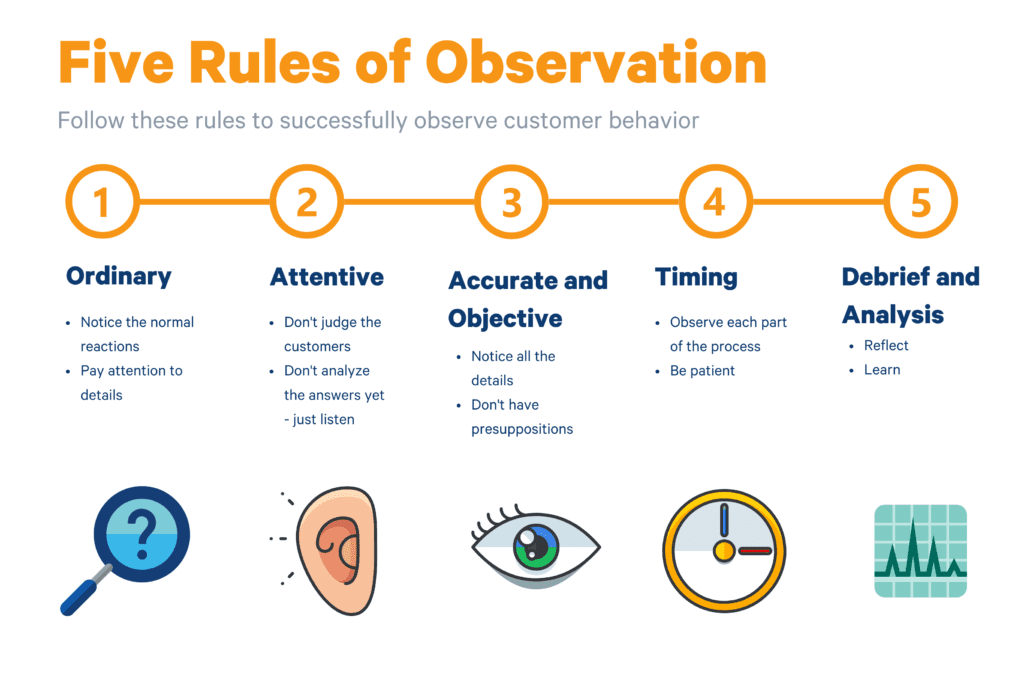 2. Interviews
One-on-one interviews can give the customers a feeling of individual attention. When interviewing a customer, it is important to focus on the right questions.
There are many types of questions you can ask. However, the right questions will circle five main areas. These include:
Expectation Fulfillment
Feelings And Emotions Experienced
Ease Of Doing Business
Creation Of Strong Memories/Stories
Future Loyalty
Expectation Fulfillment
Fulfillment of expectations can lead to customers being truly pleased with the brand. Hence, it can be vital to know about these expectations beforehand. Some questions you can ask in interviews can be:
How did your experience and expectations differ?
Were all your expectations met?
Were any expectations exceeded/not met?
Feeling And Emotions Experienced
Asking your customers questions about feelings and emotions can help them explain their experience.
These questions can be formed as:
What did you feel when…?
Did you feel valued as a customer?
How would you describe your emotions while interacting with our team?
Pro Tip: You can use the feelings circle to help customers pinpoint their exact feelings and emotions.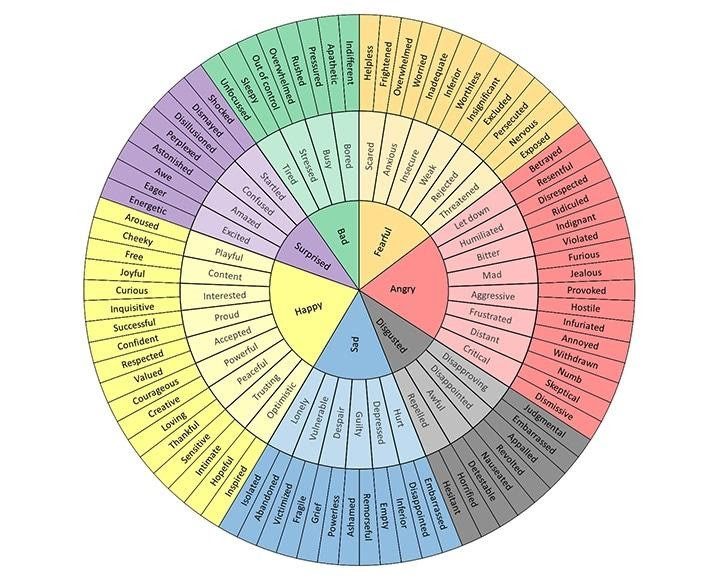 Ease Of Doing Business
This parameter links to CES. While discussing the ease of doing business, you can invite the customers to make suggestions.
Below are some examples of how you can do so:
Do you feel our website is easy to navigate?
How easy/hard was the process of ordering the product/service?
How can we improve the process to make it easier for you?
Creation Of Strong Memories/Stories
Creating strong memories allows the customers to form a deep connection with the brand.
Asking questions about stories can help fortify them in the customers' minds.
Some questions that can help you do that are:
What are some highlights of your experience?
Did you share the experience with your friends/family/colleagues?
How would you describe this experience to your friends and family?
Future Loyalty
The question regarding future loyalty is linked to NPS. Some brands have modified the NPS question so that it reflects actual past recommendations.
Thus, the question becomes:
"Have you recommended us to family/friends/colleagues?"
Furthermore, you want to ask questions that allow customers to explain their experiences. 'Open-ended questions,' more on that later, can be a potent tool in an interview.
3. Open-Ended Questions
Open-ended questions allow customers to talk and explain their thoughts, emotions, and experience.
Furthermore, they can even make suggestions that can help you improve your current strategy.
Open-ended questions begin with the following words: why, how, what, describe, tell me about…, or what do you think about…
The following are some examples of open-ended questions.
Why are you likely to recommend this product to your friends/ colleagues?
How can we improve your satisfaction with our company?
What do you think about this product?
Tell me about the experience you had when dealing with company X
What do you think about the new marketing strategy of company Y?
The answer to these questions can be long and carry much detail. Thus, it is vital to analyze these answers and look for trends, common points, recurring positive/negative themes.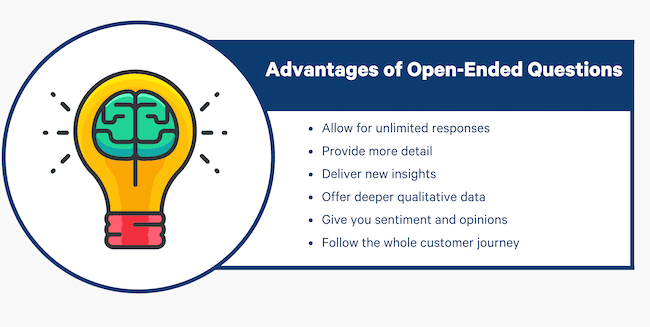 Pro tip: you can collect feedback from customers with the help of chatbots!
4. Surveys & Questionnaires
One-on-one interviews can lead to customers spending the entire interview focusing on one question. Furthermore, they are limited in scale.
There are times when you want the customers to answer multiple questions. That is where surveys and questionnaires can help you out.
Surveys help ask a series of questions quickly. You can think of questionnaires and surveys as conducting interviews on a larger scale. Thus, it can be an effective tool for gathering huge amounts of customer feedback.
The following list shows the many types of questions you can use in your surveys and questionnaires:
Multiple Choice Questions
Likert Scale Questions
Matrix Questions
Dropdown Questions
Demographic Questions
Ranking Questions
Image Choice Questions
Click Map Questions
Multiple Choice Questions
These questions offer many choices of answers. They are simple and easy to use for customers as they only need to pick the most suitable option rather than think of an answer.

Likert Scale Questions
Likert scale questions are used to judge the customers' opinions and feelings. These questions give the respondents a range of answers, for example, "not at all likely" to "highly likely."

Matrix Questions
Matrix questions allow you to ask a host of different questions that have the same response options. A series of Likert scale questions can combine to form matrix questions.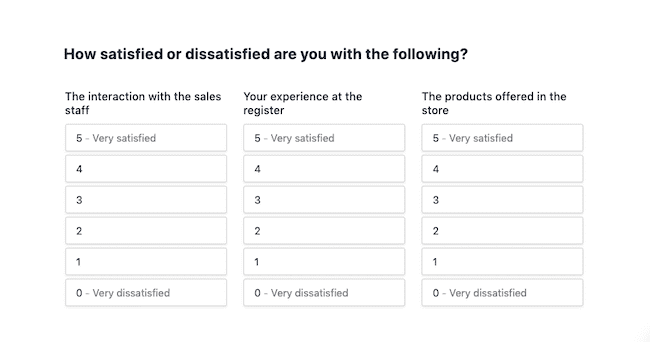 Dropdown Questions
Dropdown questions are basically multiple-choice questions that don't overwhelm the customers.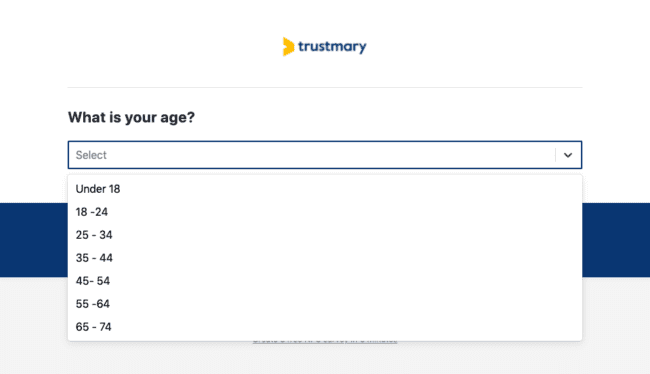 Demographic Questions
Demographic questions help create customer profiles. These questions can be powerful tools to segment your customers w.r.t. their age, gender, occupation, relationship status, etc.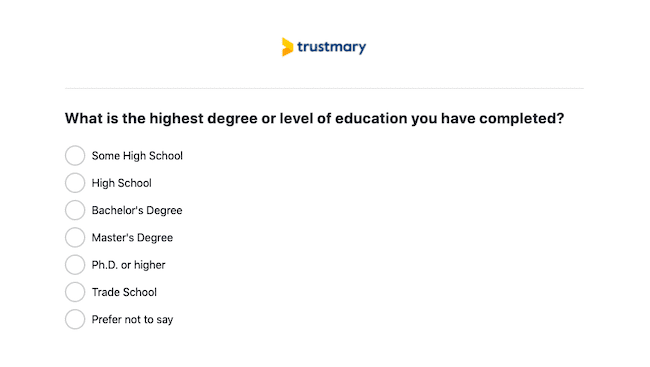 Ranking Questions
Ranking questions can be ideal to understand customer preferences. However, they do require that customers are aware of all the choices offered. Furthermore, they can be a bit time-consuming.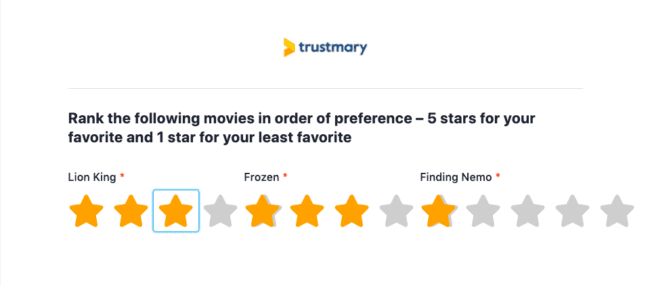 Image Choice Questions
Customers answer these questions by selecting an image. Suppose you want customers to vote on various potential logos for a new product. In that case, an image choice question will be perfect as the customers can view and choose the image that appeals to them.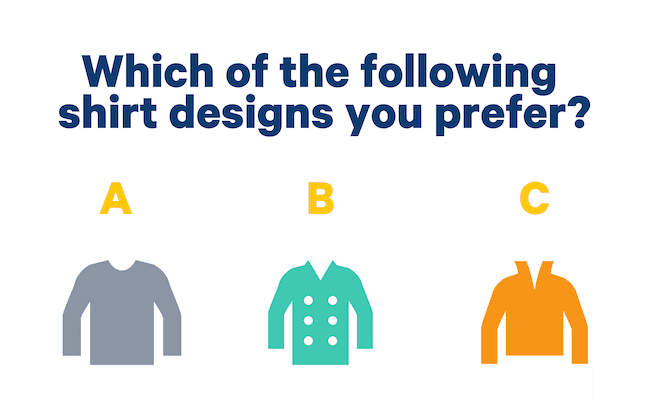 Click Map Questions
A click map question asks customers to click on a specific part of the image. For example, showing the product packaging image and asking customers to click on the part intrigues them.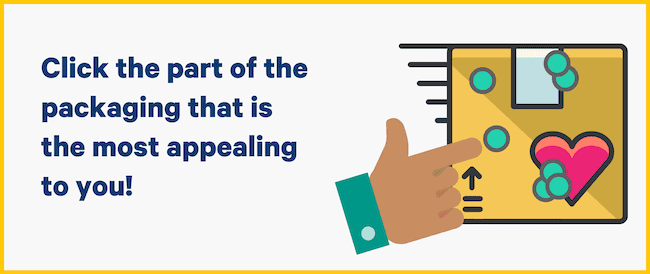 SuperValu is a good example of a brand using questionnaires and surveys to collect feedback. They conducted discussions with 12 customers twice a month to reflect on the price, quality, service, and ad promotions.
The feedback was used to enhance the planning procedure of store managers.
5. Focus Groups And Customer Insights
Lastly, let's talk about focus groups.
Focus groups are composed of individuals chosen based on demographic analysis. They have a common trait that allows them to come together and discuss the brand/product/service.
A moderator helps keep the discussion on track while generating as much information about the specific topic. It will be helpful to note that the moderator should not introduce personal bias.
After the focus group has concluded, the collected information is analyzed. The analysis can help recognize spaces for new products or services.
You can compile the data from the group process in a day. Whereas compiling data from surveys and questionnaires might take weeks.
Focus groups allow companies to study a limited sample size of potential customers. It allows them to observe patterns and behaviors that can represent the masses in general.
Furthermore, it allows brands to predict customer reactions before launching their products/services. Thus, it can help save millions of dollars.
The fluidity of focus groups allows you to gather data about specific topics or the overall customer experience.
Thus, you can design groups that offer insight into customer service representatives' performance.
Moreover, healthy interactions within the group can lead to recommendations and suggestions. These suggestions can help the company deliver an enhanced customer experience.