5. 9+1 Ways for Reducing Churn in 2022
When you've understood the importance of keeping your existing customer base as happy as possible and to lower customer churn rates in the long run, you're on the right path in growing your business.
Here are nine actionable ways for preventing customer churn.
1. Measure Churn and Do Customer Churn Analysis
Measuring churn will give you the data you need to make sure you are doing well and growing as a business. Simply looking at new customers in doesn't mean a thing, if your customer churn rates are skyrocketing.
By regularly looking at the customer churn data you'll be able to spot trends and to become better at predicting customer churn. This the key to be able to retain customers before they leave. It's so much easier to retain customers than to convince churned customers to come back once they've decided to leave.
2. Focus on Providing Exceptional Customer Service
In most cases, it's enough if you just give good customer service to your current customers. Do aim to go above and beyond, as your best customers bring you an astounding 14 times the revenue than what a somewhat dissatisfied customer.
3.Retain Existing Customers > Getting More Customers
Focusing on customer loyalty is KEY. And don't forget brand loyalty. How are you making sure you are creating added value to your customers AND that they think so too? Here's a quick read on increasing customer loyalty.
Returning customers are 60-70% more likely to buy from you than new customers. Don't forget to think about your CAC as well.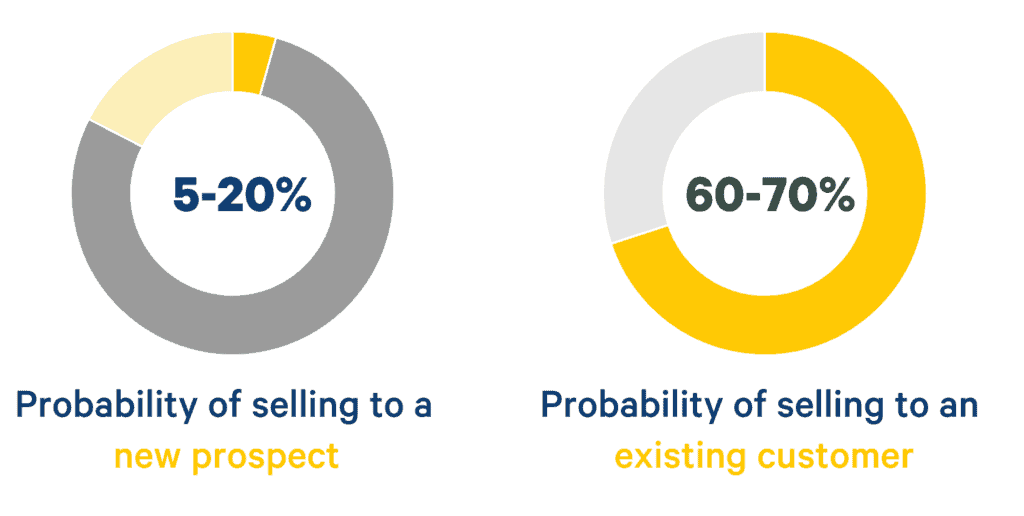 4.Increase Customer Lifetime Value
Your goal is to create recurring value to your customers.
How well are you succeeding in offering this
for your existing customer base
for new customers?
Here's hard data on you should focus more on creating more value for existing customers: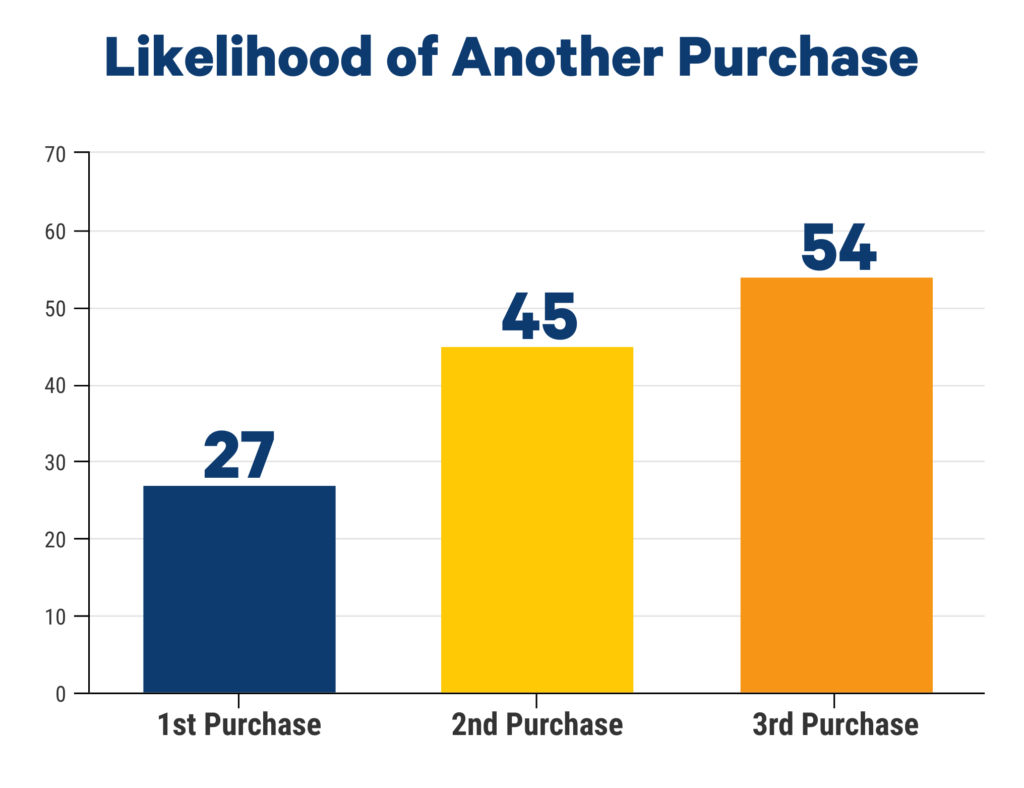 After a customer has purchased something from you once, there's a 27% chance that they'll buy from you again.
After the second purchase they are 45% likely to come back
The odds keep on rising, as if they come back again, the odds for another purchase climb up to 54%
5. Constantly Measure Customer Satisfaction
The major benefit of constantly measuring your customer satisfaction is that you are aware of what your customer think about you. Measuring customer satisfaction will help you identify which actions you should take today to stop losing customers.
If you aren't already measuring customer satisfaction levels on a daily or weekly basis, start now. Get started in less than five minutes with our free trial.
Did you know that the customers how gave you a 7 or 8 out of 10 (Net Promoter score) are the most at risk customers to leave you?
Figure out who these 7s and 8s are, and you can make them happier before they churn.
6. Identify Customers That Need Your Help
If your existing customers are feeling that they aren't getting their money's worth from you, they'll become a number in your "churned customers" statistics. To prevent this from happening, ask for customer feedback.
You need to know what's broken in order to be able to fix it. This is not just about trying to reduce customer churn, but more about recognizing on identifying the key hurdles within your customer base during their customer lifecycle.
Another way to identify which customers you should focus on helping is by developing a customer health score. A lot of brands, especially SaaS companies, use a customer success platform to track things like product usage, support tickets, engagement with emails, NPS & CSAT scores, in one place. With all of that data together, you can create a formula to represent how 'healthy' or 'at-risk' each of your customers are. For example, if product usage or NPS drops, it detracts from the score. If it falls below a certain threshold, your team can proactively reach out to offer help.
7. Apologize for Poor Service
We all make mistakes daily. That's guaranteed. Customers churn when they feel like their opinion or experience isn't important. One simple and effective way to reduce customer churn is to apologize for any mistakes made.
5 step Foolproof Formula for Apologizing
Listen to what your customer has to say. Don't interrupt!
Count to five before answering.
Don't start explaining yourself, but simply apologize
Ask how you could make the situation better
Do your best to make their wishes come true
If you succeed in making their wishes a reality, you are actively reducing customer churn rate.
However, sometimes customers churn even though we've tried our hardest. That's okay. But by using this formula to handle tricky situations, you're significantly increasing the chances of your customers sticking around.
Focus more of your marketing efforts on your existing customers. As you've already created a loyal user base, why not make them more engaged.
Points to consider:
Are they aware of your new products and services?
Tell them how they can benefit even more from using your services
Write customer cases with data that can help others to succeed better
Do you have a customer loyalty program?
Here's a real-life example:
I bought an Oura ring in January 2019 and I've used it daily to this day to track my sleep, activity and general readiness scores.
Oura recently announced their 3rd generation Oura-ring and sent all the 1st and 2nd generation ring owners a personalized code to get 50€ off their purchase. In addition, they offered a lifetime membership to their app if you place your order using the discount code during the next 14 days.
To people unfamiliar with Oura, the use of their app has been free until the launch of this 3rd generation ring. For new users, it'll cost monthly 5€ = 60€ annually.
Needless to say, I placed my order for a new ring without much hesitation. Why?
I felt that they are interested in keeping me as a customer when they offered this exclusive deal to me instead of new customers.
If they would've announced "Here's our great new ring! Buy it here! Oh, and btw, you'll now have to start paying us an additional 60€ every year to get to see the data the ring saves" I would've thrown my ring away immediately and never become one of their customers again.
Instead, they engineered a genius plan to increase customer retention, to get pre-orders and to minimize customers lost.
Bravo Oura, bravo.
How could you do something similar, when you launch a new product or service to reduce customer churn?
9. Treat Your Customers as Actual Human Beings
No matter if you're a SaaS company, do B2B or B2C, every single one of your customers is a real human being. And they want to be treated as such.
Always treat your customers how you'd like to be treated. Furthermore, talk to them like they are humans. Even though you might feel that you serve companies, not individuals, remember that there is always actual individuals who use your products and services.
And the most obvious of them all as a bonus.
Constantly ask for customer feedback, and DEVELOP YOUR PRODUCT OR SERVICE ACCORDINGLY
No-one will use a product that isn't creating them value (anymore). This is also one key elements of product led growth. When was the last time you stopped using something as it wasn't quite your cup of tea anymore or just stopped creating any value for you?

If you want to stop losing customers, start measuring your customer satisfaction with NPS today. Begin your 14-day free trial for Trustmary here.