B2B Customer Loyalty – How is it Different?
When it comes to types of customer loyalty programs, you can put all of them in two big categories – B2C and B2B customer loyalty. Customer loyalty will likely fall when you use B2C strategies to boost your B2B customer retention rates. How come? That's simply because the B2B landscape is unique, and the purchasing decision process often includes several decision-makers.
It calls for changes in customer loyalty strategy, approach, execution. To do it, you need to understand what makes B2B customer loyalty specific. Today we are going to analyze B2B customer loyalty and help you understand how it is different compared to B2C customer loyalty.
Customer Loyalty Is Important in Any Business
Customer loyalty is one of the most important ongoing business strategies one can implement. It is important in any business and across industries. It benefits a business in terms of the increased value of a retained client and boosted customer engagement.
The chance of selling to a new customer is 5% to 20%, whereas selling to an existing customer is 60% to 70%. Also, an average B2B company generates up to 30% of its total revenue from existing customers.
Statistics are compelling in terms of customer engagement too. Almost 30% of B2B clients are fully engaged, and up to 50% of companies have been using the same vendors over the last five years.
B2B Customer Retention Strategies
Net Promoter Score is the most used metric to measure customer loyalty. However, it only works when you use it regularly. In other words, sending out an annual NPS survey to all customer isn't nearly sufficient enough.
Every company should start off their retention strategy building by first measuring their starting point.
By tracking NPS regularly (=at least once a quarter), you can enjoy the following benefits:
Collect feedback
Identify happy customers
Identify unhappy customer (and get the chance to prevent them from churning!)
Use NPS in marketing to increase trust in your brand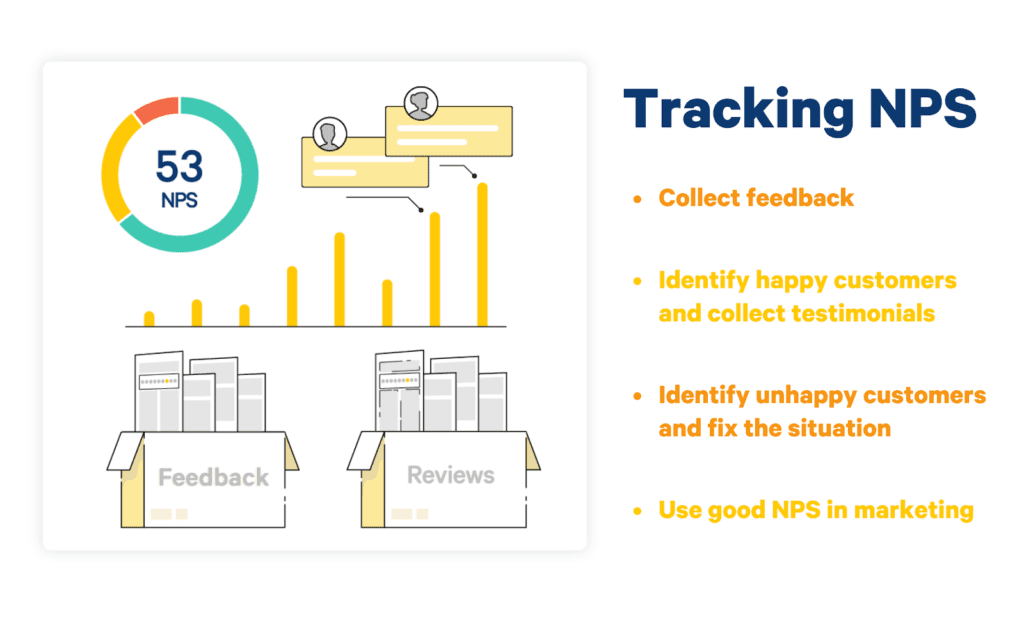 If you think that sending out NPS surveys more than once a year is a lot of work, think again. You can integrate Trustmary directly with your CRM (Pipedrive, HubSpot, and many more) and decide on triggering events that automatically send the surveys.
You can only focus on the most important part: Analyzing the results and improving your B2B retention strategies and overall customer satisfaction.
Loyalty Programs in B2B
Loyalty programs in B2B and B2C share the same goals – maximize the revenue, help retain as many customers as possible, and encourage repeat purchases. But when we take a birdseye view on the entire landscape, 4 B2B loyalty programs in particular rise up as the most frequently used ones:
Tiered incentives – often a point-based system where clients are rewarded points for every purchase. When they pass certain thresholds, the clients win bonus incentives.
Co-marketing and support activities – partnering with your client to reach more clients and get more exposure
Referral programs – offer incentives to clients to bring potential clients to your doors
Transaction-based discounts – businesses offer discounts based on the transaction value for the current or future purchase (often in a limited time window)
It's Important to Analyze Buying Patterns of Each Client
In the B2B landscape, not only is every industry unique but so is every client. Customer loyalty will likely fall when you don't factor in the individual buying patterns of each client.
A loyalty program that works for some other company may not work for you. Why? Because you might not have the same client base.
You should always analyze the buying patterns of each client.
It can help identify certain patterns which you can use to reverse engineer the best loyalty program for your client base. Revisiting each client's buying patterns on a quarterly or yearly basis can help you identify changes in time and make appropriate adjustments to your loyalty program to keep it relevant.
Key Players to Target
In B2C, there is often only one purchasing decision-maker – the customer. However, in B2B, things start to be somewhat complicated. In most cases, you will be dealing with several decision-makers. For a loyalty program to work, it has to be attractive to the key players. The primary goal is to identify the common key players in your niche. Customer loyalty will likely fall when you fail to do it.
Since a client is a company, it will have unique purchase decision dynamics. It would be a good time to research your clients to discover their unique purchase decision dynamics and identify key players. Your loyalty program should target these people to ensure repeat business.
Value Proposition is Essential
What makes clients choose to stick with you? Besides the common factors such as the quality of products and services and customer services, the value your customer loyalty program brings plays a vital role too.
A value proposition is very important in the B2B niche. The value a program offers should be the one that you can afford, and, at the same time, one that differentiates you from the competition and helps make your clients want to stay with you.
Find out about Trustmary's value proposition by booking a meeting!
Analyze Each Business Thoroughly
Customer research is essential in both B2C and B2B environments. The information you gather can help you create a customer loyalty program that reflects your clients' expectations. There are several things to focus on during the process:
Purchasing dynamics within an organization
Key decision-makers
The frequency of purchases
The role in the supply chain
Partnering with the clients is another customer loyalty tactic you can often see in B2B arrangements. It is a great way to share your resources with your clients and propel your business forwards. For instance, you can run a co-marketing campaign.
This strategy is excellent in terms of reaching more clients, building trust with your clients, and establishing your company as a leader in the niche.
Immediate discounts for purchases is a proven customer loyalty strategy one can find in both B2C and B2B landscape. B2B-oriented businesses face one common challenge – successfully encouraging the clients to join the loyalty program membership. This type of reward is very attractive, and it allows businesses to enable clients to choose how they want to benefit from it.
For instance, a client can receive an immediate volume discount for purchase. However, they don't have to use it right now. Maybe they are planning a bigger purchase in the future, and they can save the discount and use it then. That's a great tactic to engage clients and facilitate repeat business with them.
Different Tiers of Incentives
To motivate the B2B clients to purchase more, businesses often use tiers of incentives, which basically translates to the "you buy more, you gain more" methodology. As the client's purchasing volumes increase, you can offer them more valuable rewards.
Businesses usually do it by attributing points for each purchase.
The goal of the different tiers of incentives is to reinforce repeat purchases. It can also help businesses competing in the B2B market to cut through the noise and attract new clients.
However, for the system to work, even the most basic membership has to offer some type of valuable reward, such as a significant discount on the next purchase.
Conclusion
B2B customer loyalty is similar to its B2C counterpart.
However, it's different enough that B2B customer loyalty will likely fall when you don't custom-tailor your program for the B2B landscape.
Now that you know what makes it different, it will be easier for you to come up with a B2B customer loyalty program that will resonate with your clients. Get inspired by these three customer loyalty strategies that are proven to work.
FAQ
What causes B2B customer loyalty to fall?
Customer loyalty will likely fall if you copy a strategy from someone else. What works for them, doesn't necessarily work for you. Get to know your customers and what makes them tick! Then adjust your B2B customer loyalty strategy accordingly.
What are B2B customer retention strategies?