Are you using Pipedrive as your CRM system? Did you know that you can easily gather testimonials directly with Pipedrive? You just need to integrate Trustmary and Pipedrive, and enjoy the automatic process.
Keep reading, if you want to know how it is done!
We will first discuss the benefits of the integration, and then go over how to set the automation step by step. After that we will look at how to gather reviews and testimonials through Pipedrive.
Benefits of the Integration and Automated Requests
Sending testimonial and review requests manually is time consuming and prevents you from doing your more productive tasks.
It might feel tempting to just not collect them at all – but they are also an important part of measuring customer satisfaction and good opportunities to leverage your clients' positive experiences and use that in marketing.
Luckily, we have a solution for you. Just connect your Pipedrive CRM system to Trustmary, and set specific triggers that make the contact information of your clients automatically move to Trustmary.
When you integrate Trustmary and Pipedrive, you can
Send automated emails with testimonial and review requests.
Set triggers so that the request is always sent at the right time.
Move information between Pipedrive and Trustmary.
If you are currently only sending requests to some customers, you can do the same with every single customer after you have installed the integration.
The only thing you have to do is to follow the steps of this guide. After that, the requests will be sent while you do your normal tasks in Pipedrive. The requests will not require any attention from you again, unless you want to edit what you're asking.
See the story of the recruiting company aTalent, which managed to collect significantly more reviews from customers, thanks to automated requests.
How to Create Trustmary Automation in Pipedrive – 8 Simple Steps to Follow
Have you not installed the Trustmary app in Pipedrive yet? Do it through the Pipedrive marketplace first. After that is sorted, follow these 8 easy steps to create an automation.
1. Find a Pipedrive deal and open the integrations page.
Click the Trustmary settings button on the drop down menu.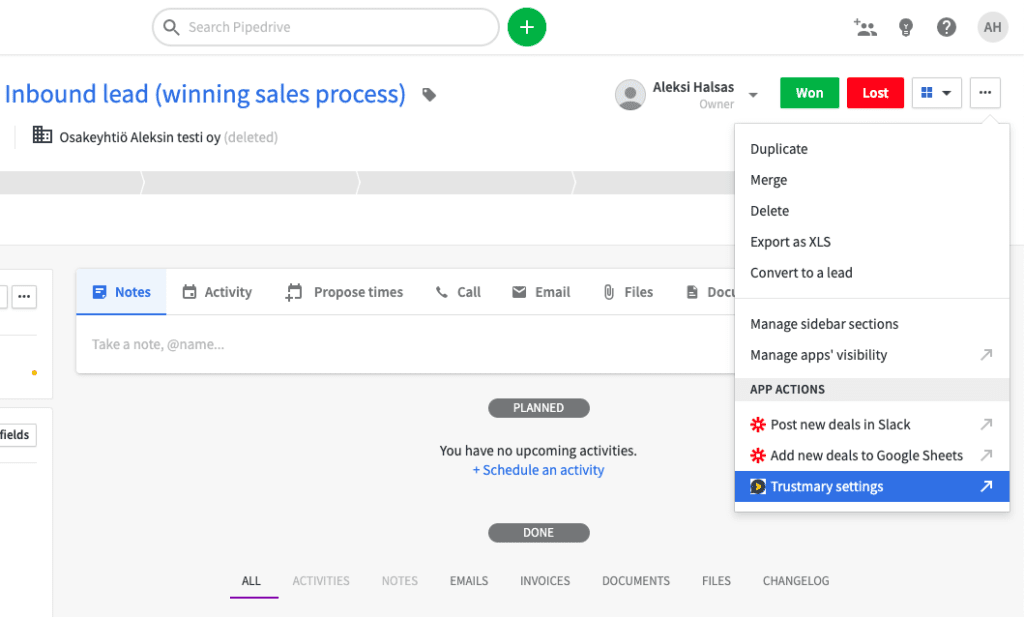 2. Now that you are in Pipedrive integrations, open the Settings tab.

3. In the integration settings, click on the Get API-key button to open Trustmary's developer options.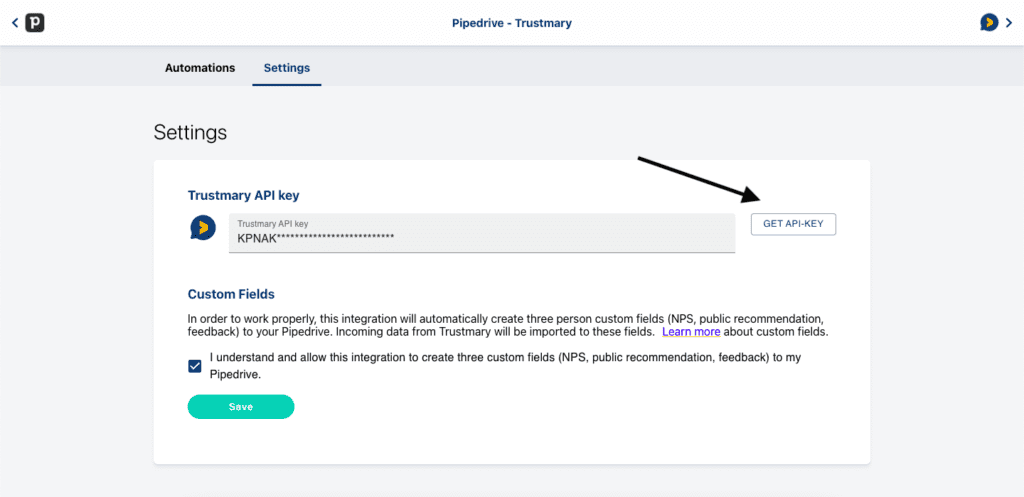 4. Once in the developer options, find the API-keys section and click Add new.
This opens up a window in which you can first name the API-key to distinguish it from the others, and then copy the key itself.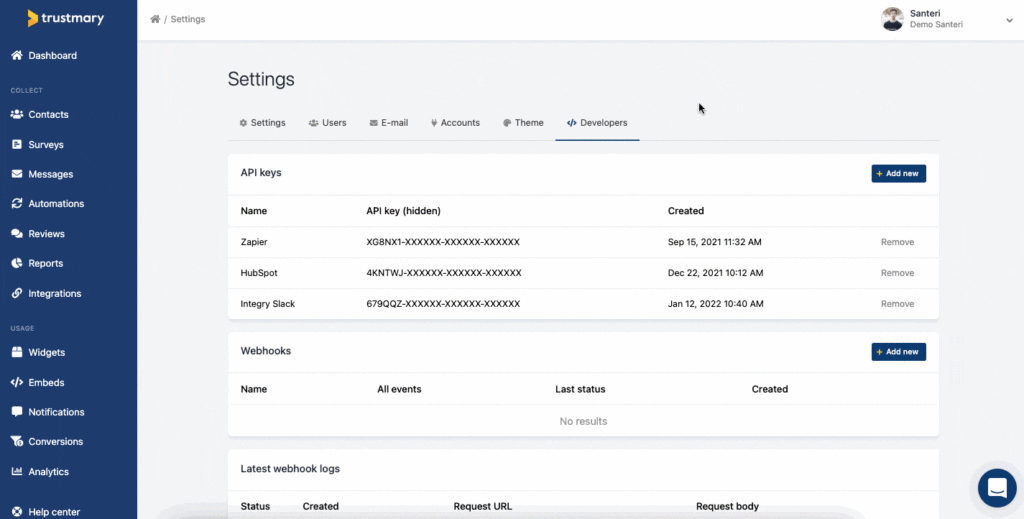 5. Now, jump back to the Pipedrive integration settings and paste the API-key into the text box.
Remember to check the box allowing the creation of custom fields, and click Save.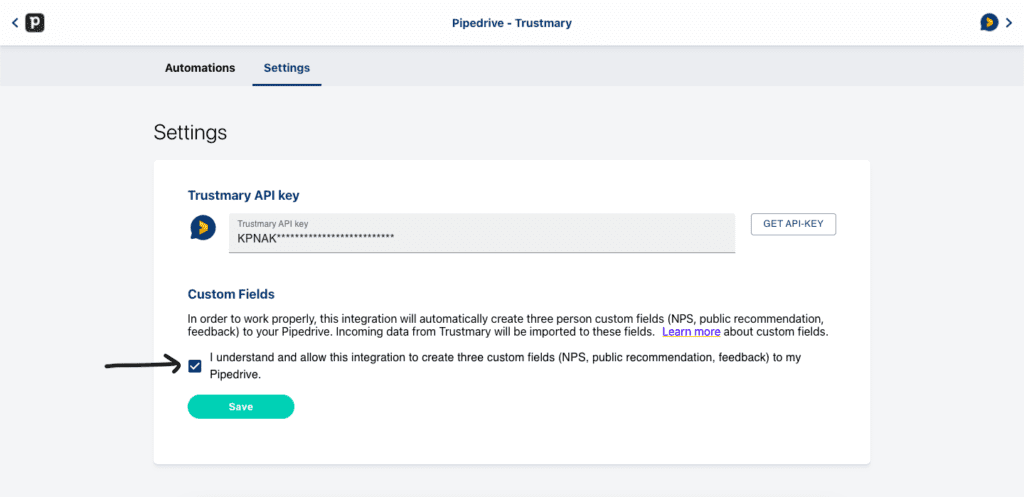 6. Navigate to the Automations tab and click on the Create New Automation button.

7. Now you get to create the actual automation.
First, select stages or filters from the top right, depending on which you would like to use as the trigger of the automation. Then, select the filter or stage type from the Pipedrive side of the automation, and the filter/stage itself. Lastly, select the list you want to add the contact information into from Trustmary's side of the automation. After you're done, click Save.
8. After the setup you should see your automation in the automations tab of Pipedrive integrations.

Now you know how to create automations in Pipedrive's Trustmary app. Let's move on to discuss the best filters and triggers to use when you want to collect testimonials and reviews.
Review vs Testimonial: Definition
Before we move on to see how to send testimonial and review requests, we need to make one thing clear: What's the difference between reviews and testimonials?
This is important, as you want to set different triggers for asking for a review or a testimonial.
Review is a piece of your customer's mind: that can be positive or negative, whatever your customer is feeling. Usually a review is a short text or a rating.
Any customer is a good candidate for giving reviews, which are essentially feedback that you can use to improve your product, customer service, and more.
Testimonial is a positive endorsement from a happy customer who was satisfied with your product or service.
A good testimonial is like a small case study. It tells more about your customer's journey and how you helped them overcome certain challenges.
With Trustmary, you can easily create written or video testimonials.
Testimonials and reviews are important for lead generation and marketing, as people trust other customers' opinions and experiences more than company salespeople or paid advertisements.
Let's see what triggers you can use to collect testimonials and reviews.
Triggers to Use and When to Ask for Testimonials and Reviews
Here are the Filter types and some examples of Deal stages you can use:
What triggers should you use then? What is the best stage of the sales pipeline for requesting testimonials?
When you are gathering testimonials, you need the customer to have experienced your service first.
Keeping that in mind, you should not send the request right after the first meeting or immediately after closing a deal.
| | | |
| --- | --- | --- |
| Triggering event in Pipedrive | Survey type | Timeline |
| First meeting | CSAT (how helpful was our meeting) | Right after it |
| Deal won | Testimonial request | Two weeks |
| Any contact with customers (customer service, meeting held, …) | Review (CSAT/CES/star rating) | Right after |
| Becoming a customer this year | NPS | 4 times a year |
Instead, set a trigger for the automation that sends the request some time after you have won a deal. Depending on the product or service you are offering, the time could be a few weeks, months, or even longer.
After the set time is over, your customer's contact information is moved to the chosen list on Trustmary and an automated email with the request is sent immediately.
Reviews, however, can be collected earlier if you wish to receive feedback about customer service, first impressions and the sales process.
Send a review request after having a meeting with your client. This will give you information about customer satisfaction and lets you react to changes in the long run. You can use one of these 3 best examples of testimonial request letters, in case you're unsure how to word the request.
The next two sections will introduce a few examples of automations that you can copy.
Gathering Reviews with Pipedrive
Here's a quick demonstration on how to automatically transfer contact information for tracking customer satisfaction after meetings.
As you can see, there are three automations in the above image.
First automation is triggered when your customer makes a deal with you.
Second and third automations are triggered when you have had a meeting with your client.
You can customize the triggers and filter types to what best suits your sales process, but these are good starting points.
Trustmary has many tried and tested customer review templates you can choose from!
Gathering Testimonials from Pipedrive
Let's take a closer look at how gathering testimonials from Pipedrive is really done.
Transferring Customer Contact Information from Pipedrive to a List in Trustmary
Here we have an automation that is triggered when a deal is in the Follow-up stage. When that condition is fulfilled, the customer contact information is moved to the chosen Trustmary list.
When the deal in question is moved to the Follow up deal stage in Pipedrive, you can see that the customer's information appears on the list.
Building an Automation and Adding the Message
You can create a new automation in the Automations tab.
To create an automated request, choose Add to contact list as the trigger. Choose the list that you wish to move the contact to.
Add a new step and choose action Send message. Click the green Create new message button.
In the Choose survey menu, choose your testimonial survey template (in this example, NPS survey is used).
Check your language setting, send type and Save and continue. In order to edit the message, do not select a message template.
Open the message editor, and edit your subject and message to your liking.
When you are done, save the message and Publish the automation.
Now you have your automated testimonial request! When you take a look at the chosen list and go to the Contacts tab, you can see whether the automation is completed on your customer.
Answering the Survey
This is the message that your automation has sent to your customer. When the customer opens the survey, they can first give a NPS rating and then decide whether they would like to leave a public testimonial in written or video form.
Keep in mind that this is just an example: you can customize your questions, question types, messages and length of the survey as much as you like.
If the customer consents to leaving a public comment, it will be automatically moved to your testimonial page.
Gathering Video Testimonials with Pipedrive
Are you aware that video testimonials convert much better than written testimonials?
See for example these statistics about video testimonials:
By integrating Trustmary with Pipedrive, you can offer the opportunity to give video testimonials.
Principle of gathering video testimonials in Pipedrive is the same as with traditional written testimonials, so you can just refer to the instructions above.
Using the video testimonial tool is just as easy and effortless for your customers as for you.
Most importantly, you save money when you don't have to hire professional video production teams or travel to the customer.
How to Use Testimonials Gathered through Pipedrive
Once you have gathered testimonials, you can showcase them on your website.
Trustmary lets you automatically add new testimonials to the designated testimonial page, testimonial pop-ups or testimonial slider.
You can place testimonials on multiple pages on your website, and don't forget to add calls to action next to them to seize the opportunity of luring in new potential customers.
You should check out these 7+ tips for using customer testimonial videos in marketing and 6 examples of great testimonial pages that generate sales.
Be prepared for increased sales and conversion rate, as testimonials are an effective way to leverage social proof. Some of our clients have experienced great improvements in their conversion rate with testimonial pop-ups: such as a 37% increase in subscriptions and 62% more leads.
You can also learn more about your customers and improve your customer service and product.
For example, see how Office Recycling managed to save money and effort while collecting valuable information about their customers.
Conclusion
Gathering automated reviews and testimonials with the Pipedrive integration is an easy way to save money, time and effort while getting to know your customers.
You can customize the triggers that send automated testimonial, review, and survey requests to your customers.
Once you have collected testimonials, you can automatically drive them to your website with Trustmary.
Sign up for a tree trial to learn more about gathering testimonials with Trustmary and Pipedrive.
FAQ
Can I collect testimonials in Pipedrive?
Yes, you can collect testimonials in Pipedrive by installing the Trustmary app. See Pipedrive marketplace and search for Trustmary. The app is easy to install and use.
How can I automate testimonial requests in Pipedrive?
Install the Trustmary app from Pipedrive marketplace.
Open Trustmary app settings, get the API key and paste it into your Pipedrive integrations page.
Go to Automations and create new automation.
Design the triggers, filters and conditions for your automated action (e.g. When a deal has been won).
Choose Add to contact list as your action, choose the right Trustmary list and create a message with the link to your testimonial survey.
Now you have an automation that sends a testimonial request email automatically according to the conditions and triggers you have set.
See more detailed instructions above.
How can I use the gathered testimonials?
Trustmary lets you automatically add the gathered testimonials to your website.