Ways to Use Customer Testimonial Videos in Marketing
You can use customer video testimonials in several ways and the best use in marketing. Videos have a 95% retention rate which means people who watch a video remember as much as 95% of it as compared to the text where they only remember 12%.
Using videos for marketing is the best thing you can do as your audience is more likely to remember and retain video content. This is why you should use customer testimonial videos in marketing.
Here are the best tips and techniques for using testimonial videos in marketing.
1. Landing Page
There isn't any better way to use a customer testimonial. Using it on a landing page can significantly boost conversions as it will be used as proof that your product works. Using videos on a landing page increases conversion rate by 86%.
There are multiple ways to use a customer testimonial video on your landing page:
Use it to generate leads.
Use it to persuade visitors to buy your product.
Or, use it as a random testimonial that simply boosts your credibility
The best way to implement social proof to your website is to use branded testimonial widgets!
What this means is that you can use customer testimonial videos at multiple stages of the sales funnel. You can use it for awareness and to develop an interest in your product (at the top of the funnel).
And it can be used towards the bottom of the funnel to generate sales by converting leads into sales.
It all depends on the content of the testimonial. You're the judge here.
Ask yourself how to best use a video on a landing page and where to use it in the sales funnel?
At any given time, you'll be having multiple video testimonials that you can use differently for different landing pages. You can, of course, use multiple videos in a single landing page under Customer Testimonials heading.
Test and see what type of videos work best for what type of landing pages. There are no restrictions and you can use videos in any way you like. However, the content of the testimonial should be relevant to the landing page. It should support the purpose of your landing page.
For instance, if you're discussing 5 major benefits of your product on the landing page, the customer testimonial video should talk about the same benefits and not others. You can use a single video where a customer talks about 5 product benefits. Or, you can use 5 different videos with a detailed explanation of each benefit.
A customer review video on your landing page is your best marketing tool. Do use them.
By using Trustmary, you can embed all of your testimonials as widgets to your landing pages. We have a library where you can choose from ready-made-templates and embed them with no coding.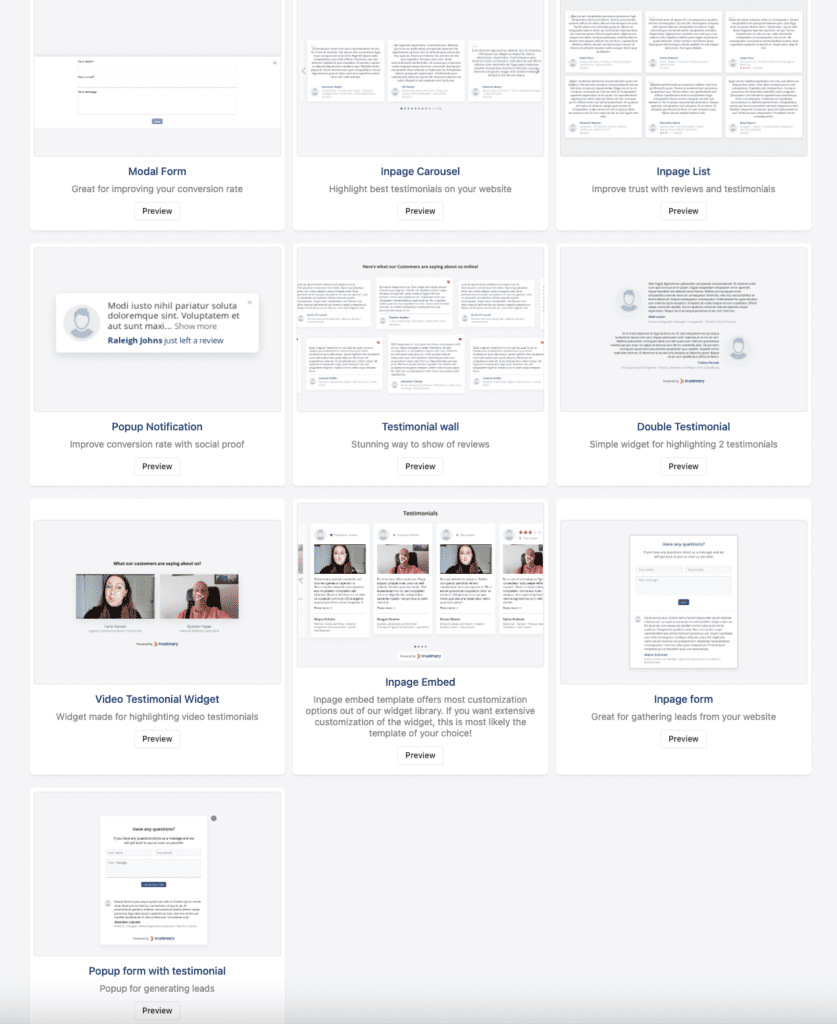 2. Social Media
Social media is used extensively. Almost half of the world's population uses social media actively. This is the reason why businesses and marketers are crazy about social media marketing. And this is why you should use customer testimonial videos on social media.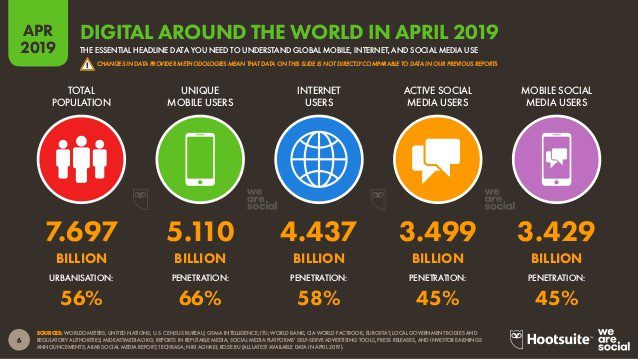 You can reach your target audience easily if you publish customer testimonials on the right social networks. How about posting customer testimonial videos on Facebook?
Here is a video testimonial posted by Life BEAM on its Facebook page.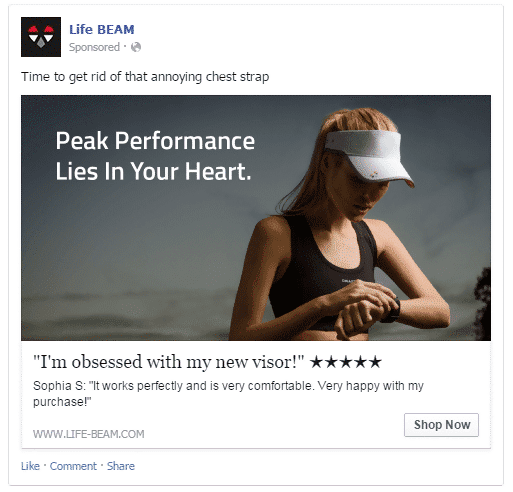 It can either be posted as an image or as a video.
How about publishing a customer testimonial video on Instagram every week? Or, you can share videos on LinkedIn if you're in the B2B industry.
Think of Instagram, Twitter, Snapchat, and all the other social networking platforms. You can publish video testimonials on all of these sites. What's important is that you add a link to an appropriate landing page with the testimonials so as to generate leads.
Posting a customer video testimonial on a leading social media platform is more than enough to improve brand awareness and to drive targeted traffic to your website. However, posting on your business social media accounts will mean that the video will be seen by your followers only. They're already following you and most of them might be your existing customers, so sharing video with your followers isn't always a good idea.
In order to show customer video testimonials to your target audience, you should run an ad campaign on your preferred social media network (e.g. Facebook, Instagram, Twitter, LinkedIn, etc.). The ad, in this case, should be short and persuasive.
It'd be best to tweak a customer testimonial before running an ad. Maybe, try adding product details, a powerful headline, and emotional triggers to make sure it converts.
Running a social ad for a customer testimonial video without editing isn't always a good idea, so proceed with caution.
Here is an example of a video ad by Dove that went viral.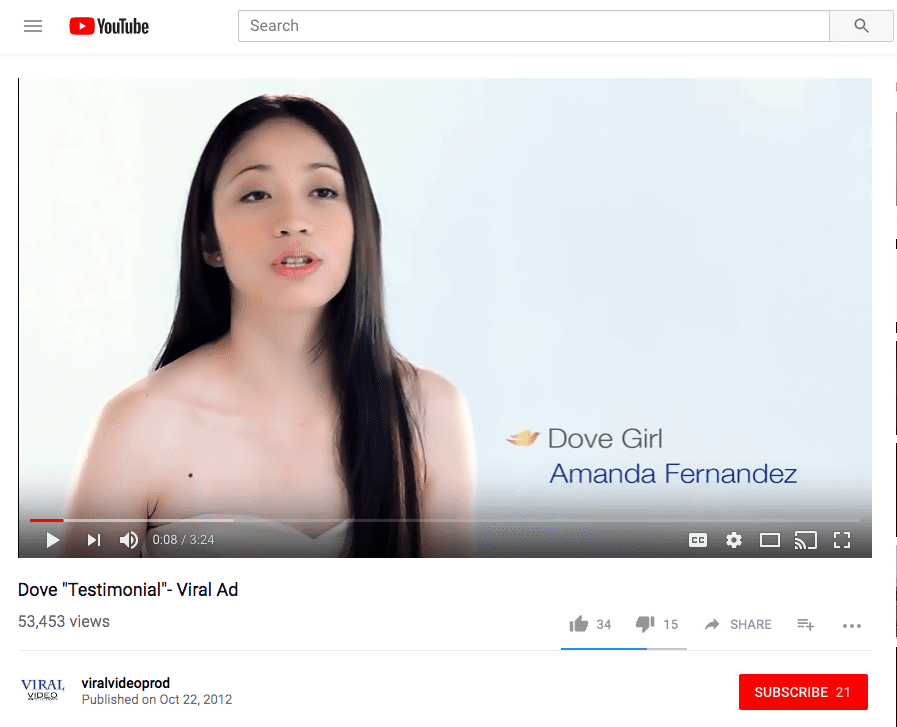 It's a combination of multiple customer testimonials with a powerful script.
You don't have to use testimonials alone rather you can always edit them and make them better. The idea is to use them for marketing and not just to show-off.
Satokausikalenteri used Trustmary to collect video testimonials from customers and have since used them in social media ads with great success.
3. Write a Case Study
Why not convert customer testimonial videos into individual case studies?
Each testimonial is a full-fledged case study that helped a customer solve a problem. What's better than sharing the exact method in a step-by-step case study with your audience so they can get inspiration?
Each customer testimonial is a success story and should be treated as such. You can create a full-fledged case study for each testimonial. This works best in the B2B service industry. For instance, if you have achieved awesome results for a client, you can create a detailed case study that covers all the aspects in detail and share it with your audience.
Statistics show that case studies help in the conversion and acceleration of lead generation in B2B. While videos are exceptionally great in convincing people to take action but a customer testimonial video doesn't provide in-depth information. It doesn't answer all the questions.
This is where case studies do the work.
For instance, a customer might share experience about a travel agency, how it helped him travel to 4 different countries in less than 10 weeks, and how professionally everything was handled. But it doesn't answer questions related to how much it cost, how easy the procedure was, what were the hurdles, what features travel agency didn't offer, etc.
A case study provides answers to all the steps which makes it easier for readers to replicate. And this is why it's essential that you convert your best video testimonials into in-depth case studies and share it with your ideal customers.
Here is an example.
Sumaya Kazi lost 50 pounds with intermittent fasting and she shared her complete case study with results and photos on Medium. She shared her diet plan, what she ate, and everything else that anyone can use for weight loss.
Her guide has 1,500K+ views, she has been interviewed by Megyn Kelly on Today Show, she has 47.9K followers on Instagram, and her post has received 10.8K claps on Medium.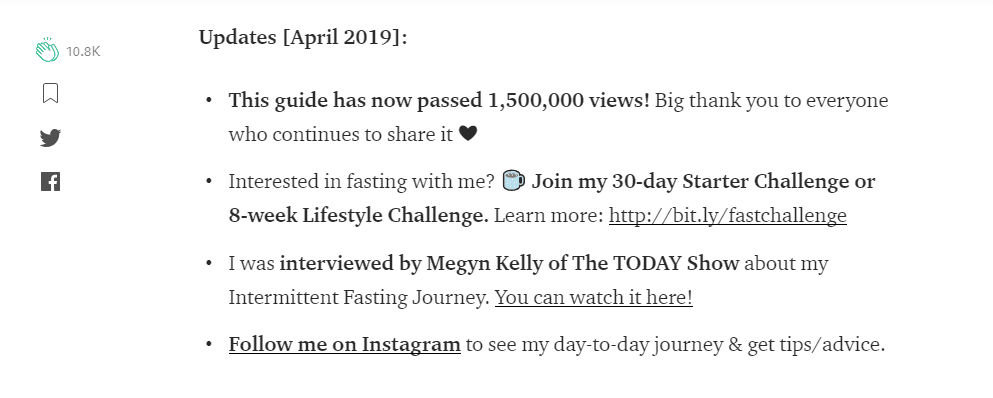 That's what a case study can do to your business.
Convert customer testimonial videos into case studies, write in-depth actionable guides, and publish them on your website.
Follow these steps to convert a customer video testimonial into a powerful case study:
Step #1: Choose a Customer Testimonial Video
Not just the video but it means you have to choose a customer who has used your product (or service) for good enough time.
The customer's interaction with your brand and product needs to be for a prolonged duration and the customer needs to be very satisfied. This means you have to carefully review all the testimonials to find the best ones.
Make sure the customer testimonial you choose has ample evidence that your product works. The customer should have experienced great results. This is what you can use as evidence in the case study.
Step #2: Seek Permission from the Customer
You need to take permission from the customer for writing a detailed case study based on their testimonial and the results they have experienced.
Not all customers like sharing their results even if they had shared a video testimonial so you need to make sure you select multiple videos in the first step. Also, let the customer know that you'll need additional information.
Get inspired by our three best examples of testimonial letters to figure out the style that works for you!
You need to offer the customer with perks and benefits for being part of the case study. No matter how happy a customer is with your product, nobody likes sparing time and sharing personal information for no reason.
Offer your customer with benefits and perks as compensation to their time. For instance, you can share gift cards, free samples, discounts, etc. A mix of multiple perks will work best.
Clearly mention all the essential details in the permission letter. Get over the phone with the customer before sending the permission letter. Seek permission over the phone first.
Be clear and open. Don't hide anything. If you notice that the customer is reluctant, move on. Don't push customers. You don't want your case study to be taken down once you have spent resources on its publication.
So make sure the customer is willing rather happy for the case study.
Use a written permission letter and get it signed by your customer. It's essential.
Step #3: Write Your Case Study
Start by transcribing the video testimonial. Use existing data and customer records for the write-up. Conduct an interview with your customer to get more details for the case study.
The customer video testimonial is normally a short video that isn't too detailed. A case study, on the other hand, is very detailed and actionable so it will need more information from the customer.
Follow these best practices when writing the case study:
Write a catchy title that clearly states the results achieved
Write a short yet persuasive summary of the case study
Start your case study by highlighting the problems customer faced
Mention how your product or service helped to solve these problems
Clearly mention before and after results and success
Use visuals and images as much as you can to support what you're saying
End with a powerful conclusion and a CTA
Step #4: Publish and Promote
Publish the case study in the form of a PDF and promote it. The best place to promote your case study is with the same customer's video testimonial. Use the case study as a lead magnet.
Ask viewers to download the complete case study after they have watched the video testimonial. For instance, if you're sharing the video testimonial on your Facebook page, add a link to the case study in the description and with a strong CTA. This will help you generate leads at no additional cost.
Besides, you can use the case study as a lead magnet on your website, publish it as a blog post, share it via email, and send it to bloggers and influencers.
The more you share it, the better.
4. Email/Newsletter
Video testimonials provide you with a great opportunity to engage with your subscribers and bring them back. Not all the subscribers are active buyers and they belong to different funnel stages.
Those who haven't purchased from you yet, send customer testimonial videos via email and persuade them to become customers.
You don't have to necessarily send a link to the video or embed it, you can create a compelling short story around the testimonial.
Sending a recommendation from someone who has used your product has a different impact than you praising your product. Such an email campaign can prove to be a turning point for your business.
Follow these best practices when sending testimonials via email to your subscribers:
The video testimonial should be relevant to email content. For instance, if you're suggesting a product to subscribers based on their recent purchase, insert a testimonial of the product you're recommending.
Don't spam. Don't overdo. Sending too many testimonial videos is a bad idea.
Focus on email subjects. Make them appealing and relevant to the video you're sending.
Refrain from embedding videos within the email rather send links. Embedded videos aren't user-friendly and might not play on all devices. Add a link to review video.
Make emails personalized and the videos too. Sending a testimonial video of men's shoes to females is a bad idea. Focus on personalization.
5. Create a Blog Post
Blogging is the top priority of the marketers as blog posts drive organic traffic. Blogs are rated the 5th most trusted source of information.
Why not create a blog post around customer testimonial videos?
You can use a case study as a blog post or you can create a blog post around testimonials – your choice.
Of course, you have to be creative here. You cannot just use the transcription of the testimonial as a blog post. Or, simply publishing video testimonial as a blog post won't deliver value to the readers.
Here are a few ways to create a blog post around a customer testimonial video:
Use video in a blog post to refer to a specific feature the customer has emphasized in the video. This will make your blog post trustworthy and credible.
Create a post featuring the testimonial. Add more content, add value, and make it informative (instead of promotional) for the readers. Video testimonials are often considered promotional, write an informative post to reduce the promotional effect.
Create a roundup post featuring several customer testimonial videos.
Create mini case studies from video testimonials and publish these case studies as blog posts. You can insert the video within the case study.
Use video testimonial links as CTAs. Better yet, create banners and insert them in your blog post and other parts of the website. Link banner ads to the testimonial videos.
The best thing about using customer review videos in blog posts is that blog posts drive organic traffic. And it gets easier to showcase testimonials to organic traffic. A customer testimonial video residing on your landing page or YouTube channel doesn't drive any traffic so your best bet is to use a blog post.
Send traffic from blog posts to your sales funnel and generate leads.
6. Website
Your website is one of the best places out there to showcase user video testimonials. It is the first place a potential customer will visit so you need to make sure you have evidence reviews and testimonials spread across your website to persuade first-time visitors.
Here are a few places on your website where you can use customer testimonial videos:
Home page
Landing page
Sales page
Sidebar
Home Page
Your website's home page is the best place to showcase video testimonials. The home page is the first page that the majority of the visitors see. Showcasing a powerful customer testimonial video right on the homepage is a perfect way to impress visitors.
Here is how 99designs showcases a testimonial video above the fold as soon as you land on your website's homepage: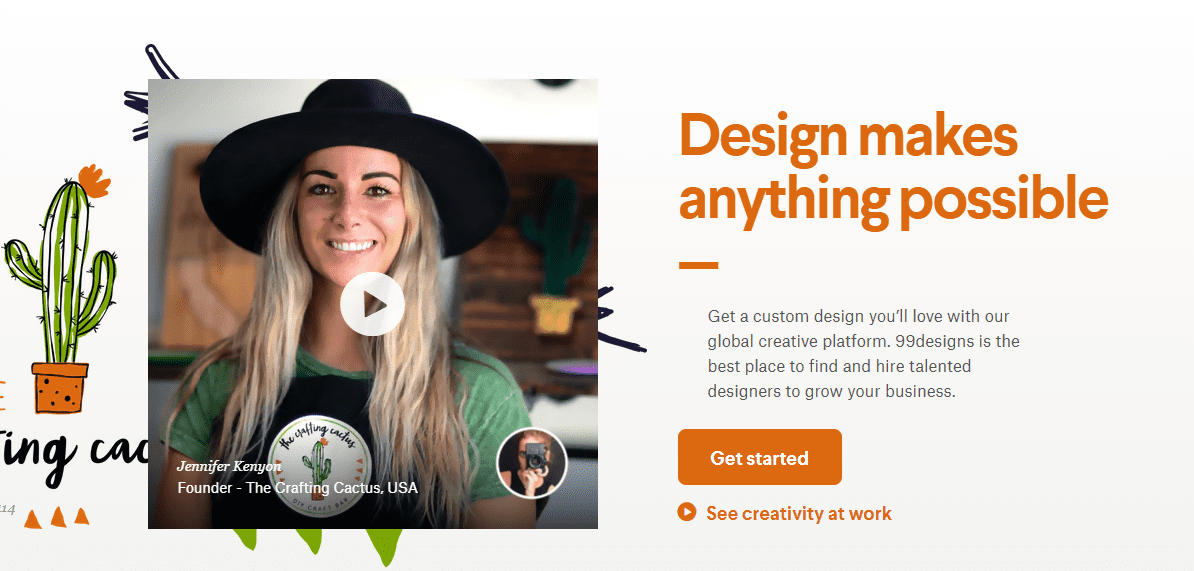 You can use video testimonials above the fold or towards the end of the homepage. You have to test different variations and places and see what place gives you the best results.
Testimonial Page
You can create a dedicated testimonial page on your website. You can add all the customer testimonial videos on this page. A lot of brands are using this technique such as HubSpot, Zendesk, Codeacademy, Shopify, and others.
You can promote your testimonial page on social media, via email, in blog posts, case studies, and in any way you like. When you create a testimonial page, you have to update it regularly. This means you'll have to have a system in place where you ask customers for their video testimonial.
You have to record new videos every week you have something new to add on the page every week. Not adding new testimonials can backfire as it gives the impression that your brand isn't getting any new reviews from customers.
And it's natural.
When your testimonial page isn't updated in 6 months, your customers will assume you're either not interested in doing business or you aren't getting good reviews.
Before you create a testimonial page, have a clear strategy for recording, managing, and updating video testimonials and your testimonial page.
Don't ignore the page once it has been created.
Here's how Music Flow Academy has perfectly executed a video testimonial page with Trustmary's video testimonial tool: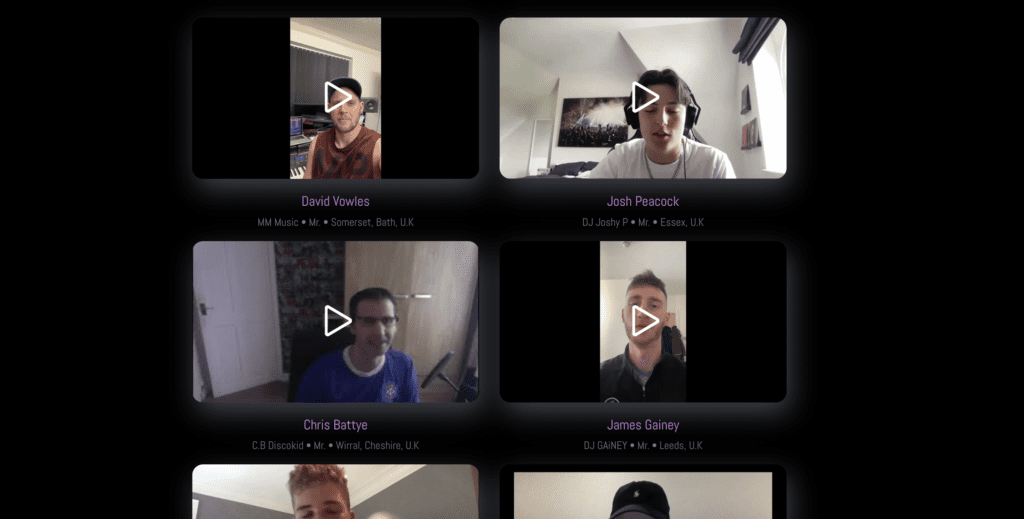 Sales Page
Customer testimonials work best on the sales page. They increase conversions on a sales page by a whopping 34%. There isn't any better place than a sales page for testimonials and reviews. This is the page where decision-making is done and the right testimonials can help potential buyers in the decision process.
Adding testimonials on a sales page boost trust and credibility. It shows readers how your product has helped existing customers and how it can be of help for them.
The best thing about adding video testimonials on a sales page is that you don't have to promote videos specifically because your sales page is already promoted. All you have to do is add videos and send traffic to your sales page, that's it.
Sidebar
If you're using a sidebar on your website, it's a great place where you can put testimonials. There are tons of plugins for WordPress and other CMSs that let you add testimonials in the sidebar.
The sidebar is visible all the time irrespective of what page a visitor is on and this is what makes it a great place for testimonials.
7. Video Streaming Sites
Video streaming sites like YouTube and Vimeo are home to millions of videos and that's where you can publish your customer testimonials. YouTube is your best bet.
YouTube has more than 2 billion logged-in users a month who watch more than a billion hours of videos every single day. It is the world's second largest search engine and the second most visited website in the world.
Publishing your testimonials on YouTube will bring organic visitors to your website. You can add a link to your website or any landing page in the video description. You can promote your videos, add CTAs, and share them with your audience.
The best thing about YouTube is that you can build a community and reach out to a new audience. Not all people use Google to find what they're looking for. Those who prefer watching videos will perform a search on YouTube. This is where you stand a chance to reach millions of people every single day.
And YouTube is just one streaming website, there are tons of others. You can publish customer testimonial videos on all the leading video streaming sites such as:
YouTube
Vimeo
Dailymotion
Metacafe
Veoh
The Open Video Project
YouTube, however, should be your top priority. You'll have to create a YouTube channel to publish videos, acquire subscribers, and build a community.
Here is how to create your own YouTube channel:
Create a YouTube channel using Google account by clicking here. Follow the instructions and finalize your channel.
Add channel details and optimize it. Channel optimization will help your target audience find your channel using relevant search terms.
Update the About section of your channel. Add a link to your website, social media accounts, and any other links you want people to visit.
Add a banner and profile image for your channel.
Start uploading videos. When you upload a video, you need to optimize it by adding a relevant title, description, tags, and category. Title and video description are the two most important optimization factors. Keep title and description unique and relevant. Add a link to your website or a landing page in the video description. Keep it short but persuasive.
You have to maintain your YouTube channel. Add new videos regularly and engage with the YouTube community. It's essential for your channel's growth.
Similarly, you can publish videos on other video streaming sites too. A single video can be published on unlimited sites. The more sites you cover, the better.
Customer testimonial videos are generally perceived as promotional. If you'll upload videos as-is on YouTube (and other sites), it's highly likely that people won't interact with them. Your ideal customers don't search for testimonials rather they search for a solution to their problem.
So uploading testimonials without editing and being creative is a bad idea.
What you should do is teak videos and make them informative. Better yet, you can create informative videos that address a genuine customer problem and insert a testimonial video somewhere in the video strategically.
This will work better and your videos will drive organic traffic.