Satokausikalenteri: Video reviews to aid customer's purchase decision
Satokausikalenteri has been using Trustmary for a long time, especially to gather feedback and recommendations. The recommendations have played a key role in the effectiveness of the Satokausikalenteri's advertising. With the new features Trustmary has launched, Satokausikalenteri has also started to use Trustmary's software to collect video reviews and utilize it.
Video reviews with Trustmary
The most significant benefit of using Trustmary has been the collection of video reviews. Satokausikalenteri is a great example of a company that gets a lot of positive feedback from their customers. Due to this, customers have also been ready to submit video reviews when asked and given a small incentive. The video reviews have then been utilized both on the website as notifications and in advertising. Here are some examples of video reviews received by the Satokausikalenteri:
(They are in Finnish but you get the idea.)
Using video reviews on the website
As said the video reviews that can be seen above and other video reviews have been utilized both in advertising and website. On the website the video reviews have been utilized as seen below, with small notifications on the bottom left corner.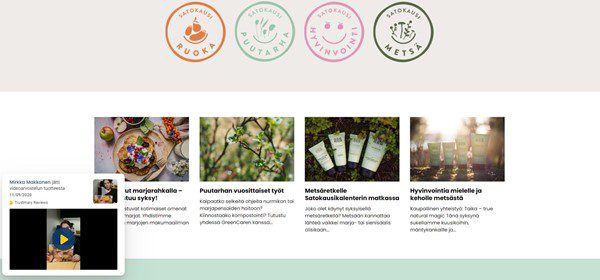 Video reviews clearly also provide useful information for the potential customers, as those who hae seen a video review have been significantly more likely to buy product than a comparison group that has not seen them.