4 Social Proof Examples to Inspire You
Here are the best concrete social proof examples from the internet to inspire you so you can do even better to persuade your audience.
1. Video Testimonials
Video testimonials from customers, celebrities, experts, and social media influencers provide your business with some of the best social proof. Videos are authentic, mainstream, and trustworthy. Video testimonials are very common and are used by brands of all sizes. Here are a few inspiring social proof examples of video testimonials:
HootSuite
Herschel team has shared this HootSuite video testimonial which is a perfect example of expert social proof. Herschel followers and other small brands struggling to use social media for growth will inspire from this testimonial and will end up using the same tools.
Not only that they have talked about HootSuite but the testimonial shows Herschel team using HootSuite practically and how it has helped them with growth.
Glaston
Glaston concentrates on providing their customers with machinery, technology and expertise in making outstanding glass.
This customer testimonial showcases their machine, its uses, and the benefits to potential customers. The testimonial targets a specific audience effectively. The customer shared their complete story, how the machine helped him, and discussed the major benefits of using the machine.
Notice that the video testimonials are professionally recorded. These types of testimonials boost brand image and are appealing. If your budget isn't cut out for high-end video productions, you can create amazing video testimonials using Trustmary's video testimonial software.
2. Quotes
Quotes or text testimonials are the most popular testimonials among marketers for the fact that they are extremely user-friendly. It's hard to convince a happy customer to come to the studio to record a video testimonial for your company. Sharing a simple text testimonial is straightforward.
Your customers can send these through email or using a tool like Trustmary testimonial tool for texts. It lets you collect testimonials easily and quickly for your business.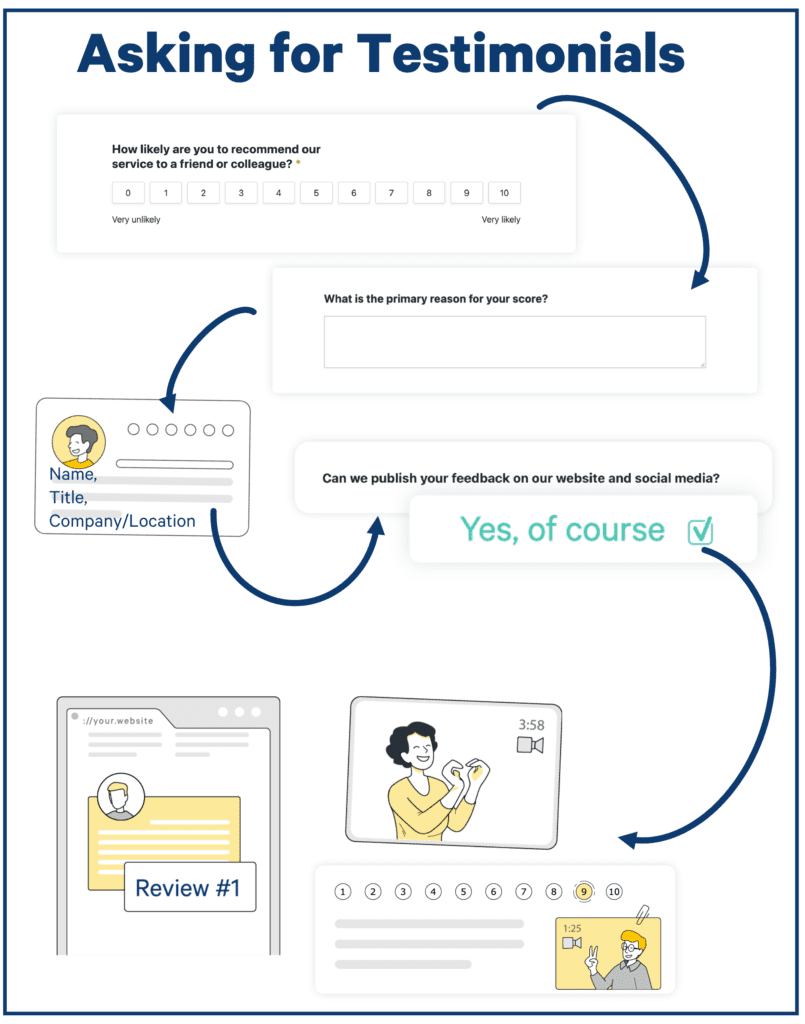 Here are the most inspiring social proof examples of text testimonials:
Staria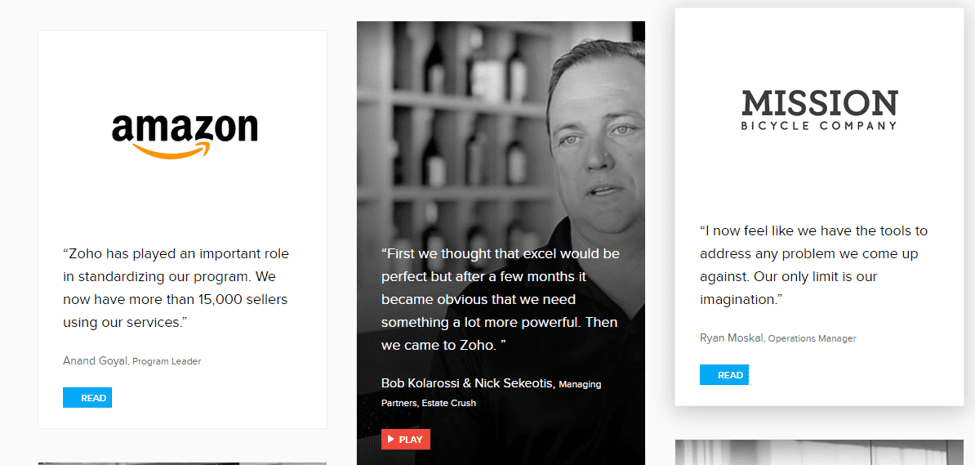 Zoho has created a customer testimonial page where it showcases both text and video testimonials from its customers. These are very detailed testimonials (rather case studies) that are available to download in PDF. The testimonial doesn't just quote the customer, but it shares the complete story and background.
Kidizen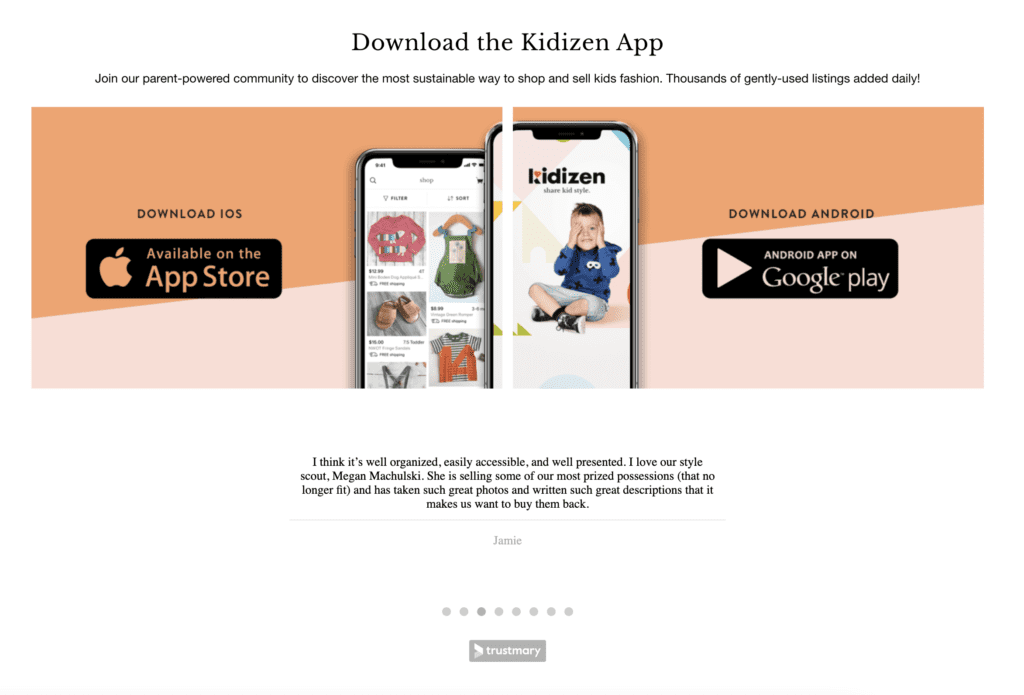 Kidizen features customer testimonials on where they matter the most: Near a call to action. The quotes have been collected using Trustmary and embedded to the website with a testimonial carousel.
The names of the customers are shared which makes these testimonials verifiable. It is a perfect approach to sharing quotes from customers. Make these verifiable by sharing customer photo, link to social media account, name, company, designation, and other details.
With Trustmary, you can also import existing reviews from Google and Facebook.
3. Customer Reviews
These are reviews or ratings that are usually published on third-party review sites such as Yelp, Google Maps, and others. If you want to get star-ratings from these sites, you have to get your product published there.
Once you start getting reviews, you need to share them with your customers via email, on social media, your website, and other channels. Here are the best customer review examples:
Payoneer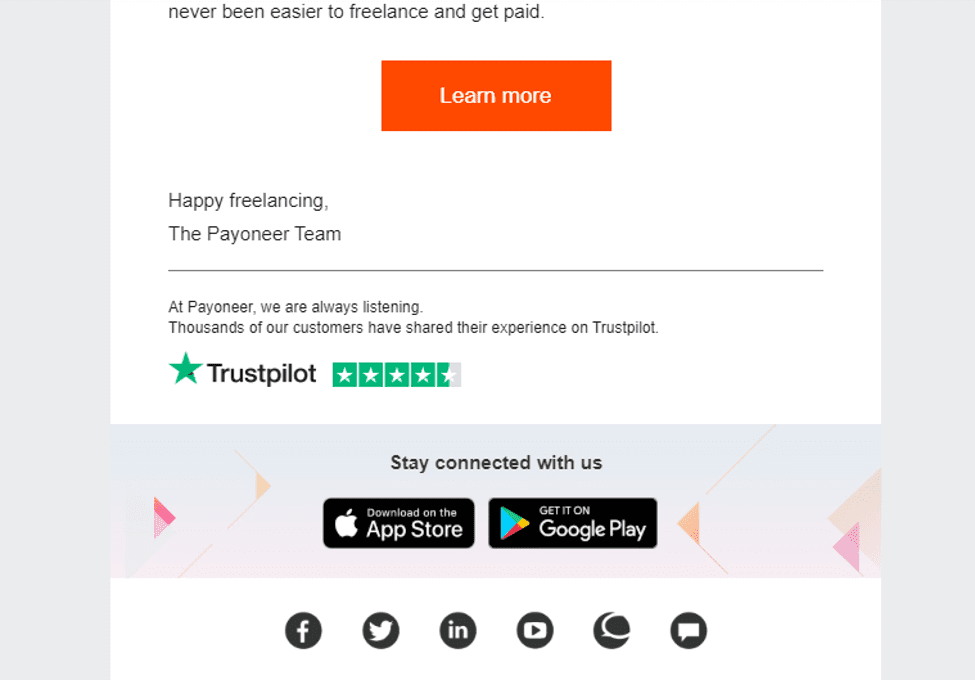 Payoneer has embedded its Trustpilot rating in the email footer that it sends to its customers. This rating shows how popular Payoneer is among customers. It is a perfect way to share ratings and reviews with your potential customers via email.
Hyve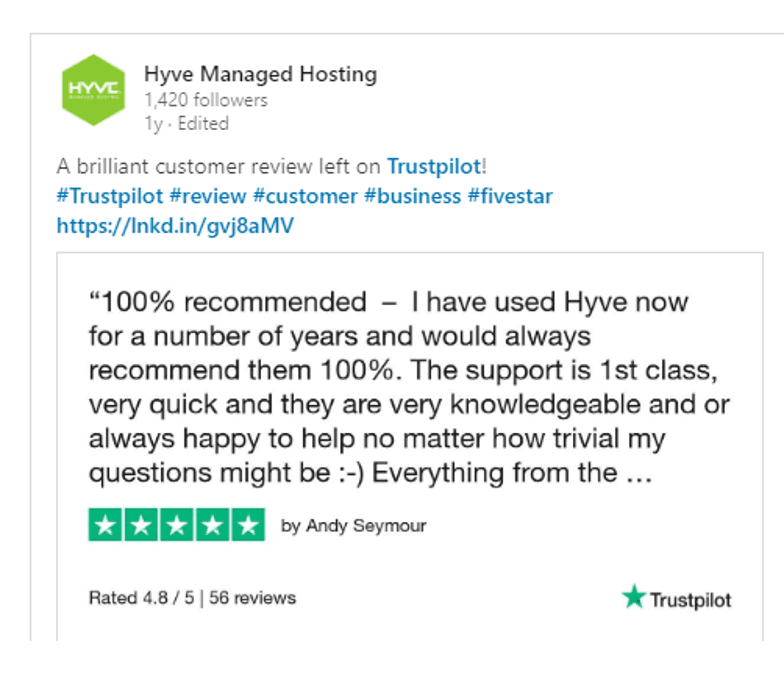 Hyve shares customer reviews from Trustpilot on its LinkedIn account. It is another perfect social proof example of how to use customer testimonials and ratings to persuade potential buyers to take action. It's a simple yet effective technique of sharing customer reviews from various review sites with your audience. Simply share reviews on all your social media accounts.
4. Celebrity Endorsement
Nothing works better than celebrity endorsements because they have a huge fan following which brings your product and brand in the spotlight almost immediately. Imagine a celebrity with over a million followers shares an image of your product. You'll love it, right?
Though expensive celebrity endorsements are the best social proof examples out there. Here are the ones that will inspire you:
Samsung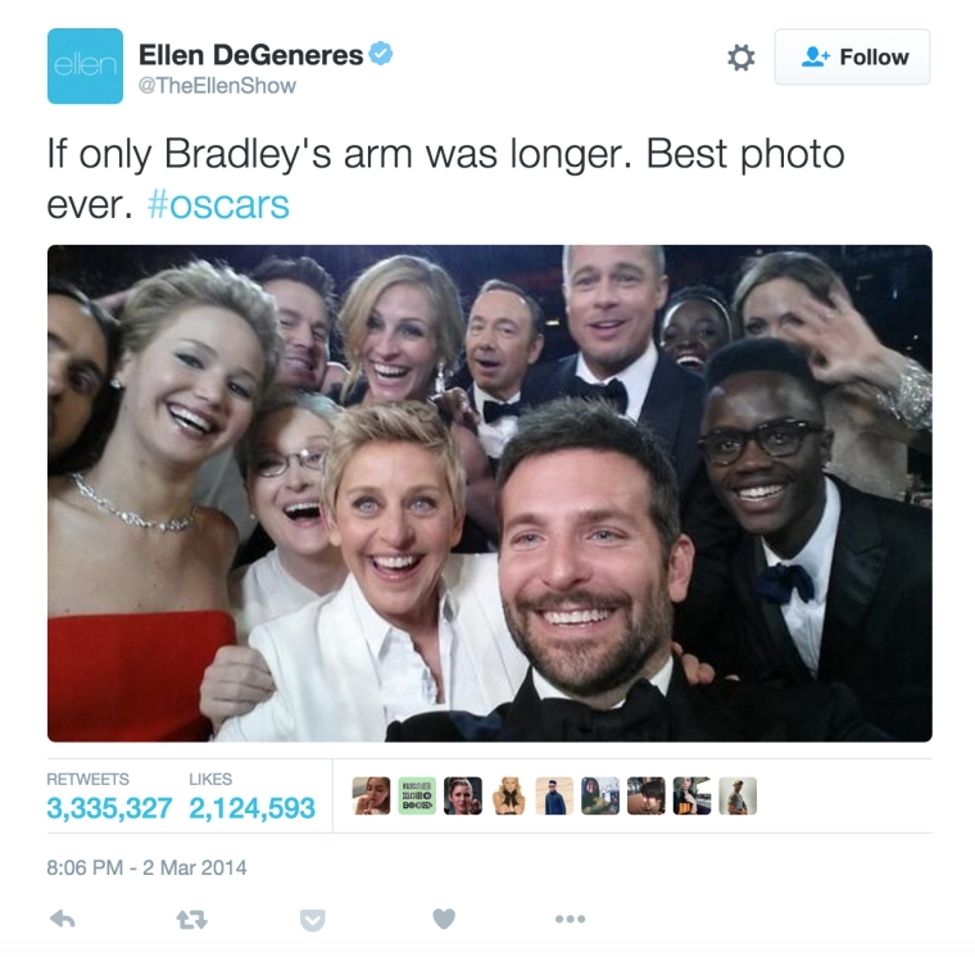 Ellen Degeneres used Samsung Galaxy Note to take the selfie. The tweet received more than 3 million retweets in just two days. Samsung was the official sponsor of the event so everyone noticed that the selfie was taken from a Samsung smartphone.
Amazing, right?
Revlon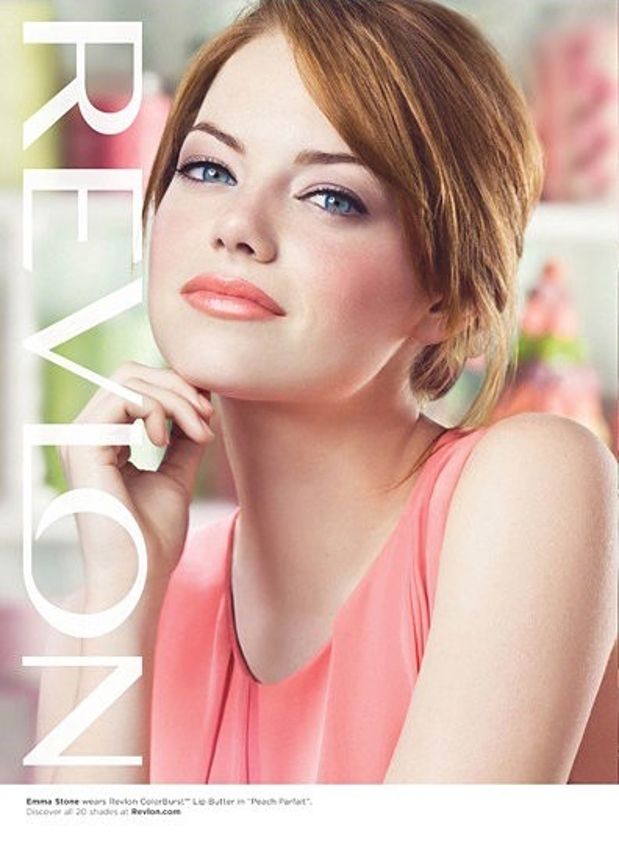 Revlon is known for its celebrity endorsement campaigns. Emma Stone is wearing Revlon products, and this will surely make Emma's fans to buy and use Revlon products. The endorsement doesn't necessarily mean talking about the brand or sharing a quote but a picture with a product is more than enough.