How to Get User Generated Content?
The right way to get user generated content depends a lot on what kind of business you have.
If you sell tangible consumer products, videos and images of your customers using and endorsing your products is a great way to engage your audience.
However, if you offer services, customer testimonials might be a better form of UGC.
Get creative and read these tips for inspiration!
1. Organize A Contest
What would be more effective for acquiring user generated content than organizing a contest?
Offer great prizes, organize a voting, and remember to give praise for the finalists!
The prize should be accommodated to the effort that the users need to make for the content.
If you are asking for a simple selfie, the prize doesn't have to be that big. On the other hand, if you are expecting full-blown works of art, you should offer great enough incentive.
Think about what kind of prize would be suitable: money, products, visibility, fame… You name it!
Remember to set clear rules for the competition and really think through how you want to receive the submissions.
Are you expecting so many entries that your email would clog up with them?
Will you set up a completely new address for the submissions?
Would it be better to let people post in their own social media accounts?
On which social media platform?
Etc
2. Set Up Your Own Hashtag
If you don't know yet what hashtag means, here's a short summary: it is a word that helps you identify and filter content on social media. Yes, it's marked with that # sign.
For example, if I were to share this blog on social media, I could use #UserGeneratedContent to identify and connect this piece to other similar content.
Whoever would search content with this hashtag, could at some point come across this piece of content.
You can create your own hashtag simply by informing your audience that they should add it into their social media posts.
After that, you can easily find all posts that are identified with the hashtag.
Remember to be specific and mindful about the use of hashtags.
We will see examples of this later on in the blog, so stay tuned!
3. Ask for Testimonials
Reviews and testimonials are an easy way to include your customer's voice in the marketing strategy.
In testimonials, your satisfied customers tell about their positive experiences with your brand. It can be in written, video, or audio forms.
You might think that getting testimonials is difficult and requires a lot of work. That is out-dated information, my friend!
With a testimonial and feedback survey tool like Trustmary, you can automatically send feedback surveys and testimonial requests to your customers.
You will get marketing permission for the testimonials, so that you can use them publicly.
4. Ask for Users' Stories
People like to talk about themselves and their experiences.
Ask your audience to share thoughts about an important and emotional topic, relating it to their own experiences.
This strategy is especially useful for NGO's, or companies that want to address societal issues in their campaigns.
It helps you build your PR and comes across as less salesy.
5. Encourage Video Content by Offering Incentive
Many shopaholics would love to make a review video of products they have purchased.
In fact, "haul" videos are very popular on Youtube. In these videos, users show what they purchased and tell their opinions about the products.
Bigger brands get these videos without asking, simply because consumers love the products.
If you are only starting out, it might be worth it to offer free products to customers in exchange for visibility on their Youtube channels.
Here's an example of how Son de Flor asks for user generated pictures and videos: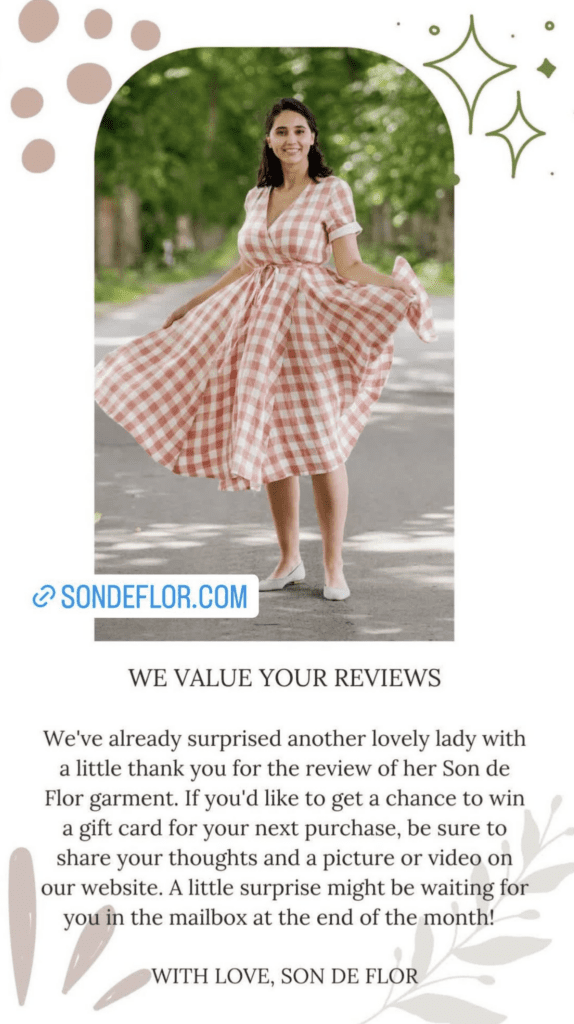 How does this differ from influencer marketing, though?
Well, it is a gray area. If you offer products, gift cards, or money in exchange for content, it's basically paid advertising.
However, there is one big difference between influencer marketing and user generated content: influencers review and use products for living, while regular consumers do not.
6. Make A Case Study
Hello there, B2B folks. I haven't forgotten about you.
Your clients are very interested in what kind of results their peers have reached with your help.
Showcase these results by making them into a case study. Create both written and visual content that you can use in different contexts.
See tips on making great B2B customer video testimonials.