Client Testimonial Examples from Different Fields
Different businesses have different target audiences, which means they need different tactics to feature testimonials.
Here are 5 examples of effective testimonials in various fields.
This is your chance to learn from others!
Real Estate Client Testimonials
Real estate is a competitive field, and you need to stand out from the crowd with glowing customer testimonials.
Check out this example, where a young couple speaks about how great their realtor was.
The video seems to be DIY, but it works nevertheless.
Once you have collected a video testimonial like this, you can pick snippets from it to use in other contexts, such as quotes and images.
Imagine a picture where the couple signs the papers and there is a quote "I highly recommend Monica. I don't think we would have been able to do this through a different realtor!"
Client Testimonials for Attorneys
If you are an attorney, you need to be able to cater to the client's needs and speak the same language (literally and figuratively!).
You can try to assure the potential client about your ability to do so all you want. But what really makes a difference is when an actual customer says so.
For example, Goosmann Law Firm understands how important it is to have endorsements from real customers. They showcase written reviews from existing customers.

The above testimonial tells in detailed manner how this law firm and the individual lawyer has helped the client to succeed.
In case you already have some great reviews on review sites, such as Google, you should add those reviews to your website.
Did you know that there's a review widget for lawyers?
Well, technically it's suited for any business, but especially lawyers can benefit from having customer reviews embedded on their site.
Patient Testimonials
For healthcare professionals and medical products, gathering client testimonials from patients has previously been challenging, to say the least.
Many people are afraid of dentists or worried whether their doctor will truly listen to them. In these cases, it's important to have proof that you are good with patients and provide friendly service.
Patient testimonials can be very emotionally persuasive, especially when there's a professional production team behind the scenes of a video testimonial.
Check out this almost cinematic piece:
However, you don't need to hire a team of professionals to get customer testimonials. You can simply let Trustmary do the work for you.
How to Get Patient Testimonials
Place a QR code on your front door which takes to a review form
Use email to ask for a review within a few days asking if the problem was solved
Ask for their experience after 2-4 weeks of their visit
Send a reminder after a few days
There are many ways to ask for testimonials and customer reviews from existing customers.
However, the most effective way is to use Trustmary's review request campaigns.
We've done all the thinking and heavy lifting for you. You just need to decide on which review site you need more reviews to, and we'll take care of the logictics.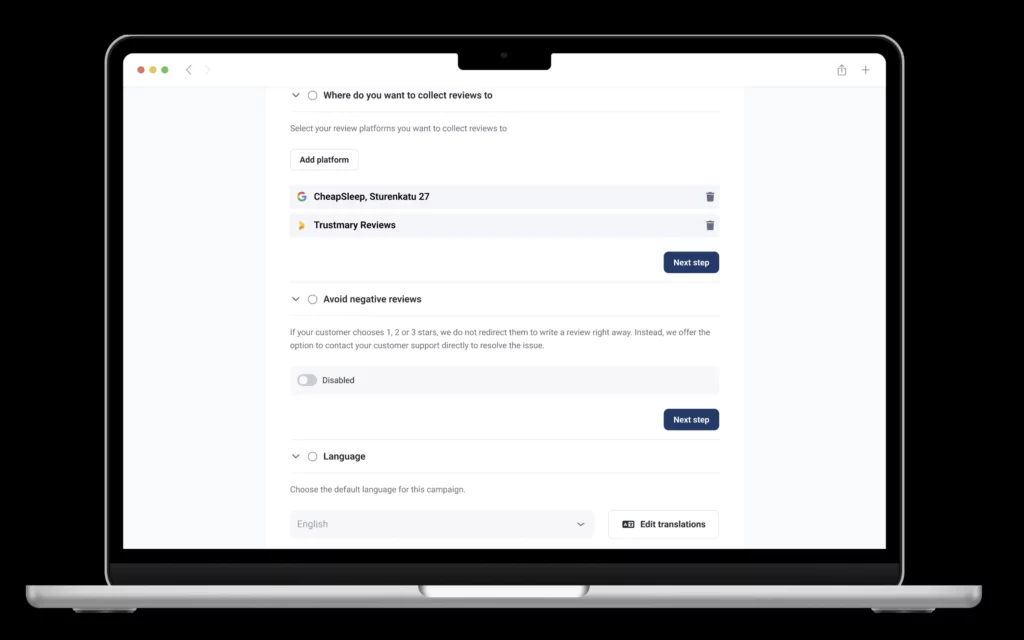 Many customers would love to tell their full story, if someone would just ask them to.
Start your first review and testimonial request campaign by typing your Google my Business location below
Fitness Testimonials
Fitness testimonials often highlight changes in appearance and showcase a before and after picture.
However, you can employ different tactics, like PT Louise Cornish has done on her Instagram account:
It includes a quote from a happy customer of her running program, and a suitable picture. The quote highlights how the customer feels, rather than how her body has changed.
In the caption, Louise has added a more thorough explanation of the program, so that even casual browsers can learn about what she does.
The picture captures the attention of the potential customer, and the caption tells them what the image is all about.
Also, gym owners benefit from reviews on their websites just as well.
Audio Testimonial for Moving Business
Audio testimonials are not as popular as the other forms of testimonials – at least not yet.
However, they can be very effective and also easier to get than e.g. video testimonials, where clients have to show their faces.
Additionally, you can pair the audio with visual elements like an image. See this example from a moving company called Bust a Move: