Survey Data Analysis
So you narrowed down the questions you wanted to ask. You used the latest software to distribute the online survey. Data has started coming in. It is time to analyze the results.
This section is all about finding the best way to analyze the data gathered from surveys. By the end of this chapter, you will learn various ways to analyze data best-suited to your business. We will cover: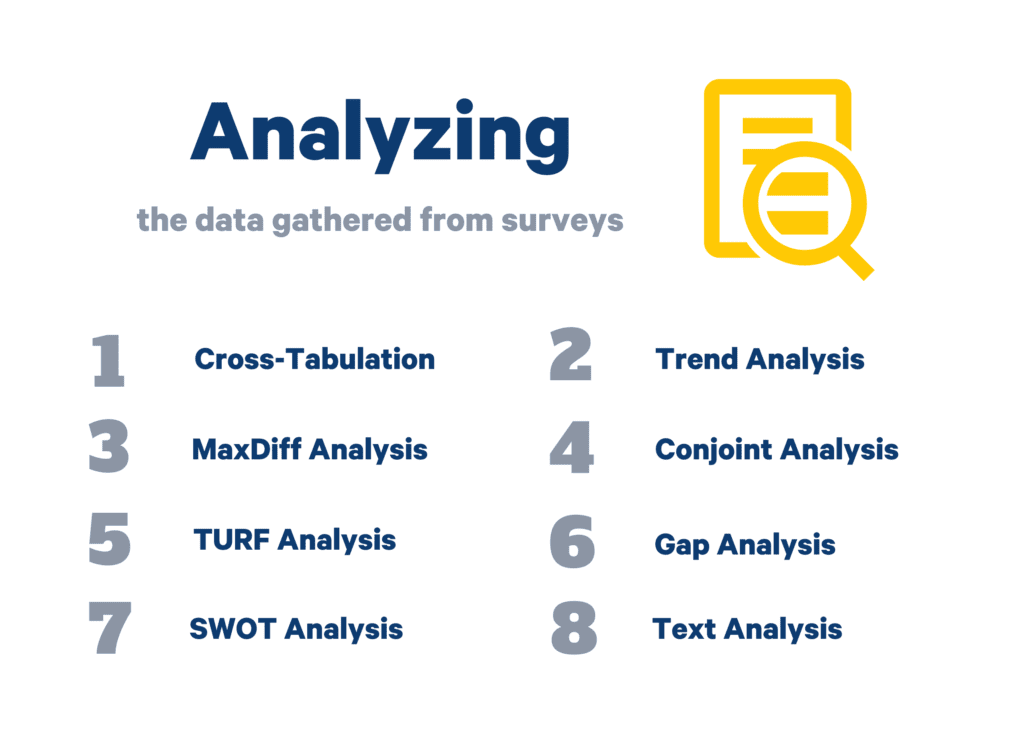 Cross-Tabulation
Trend Analysis
MaxDiff Analysis
Conjoint Analysis
TURF Analysis
Gap Analysis
SWOT Analysis
Text Analysis
Let's begin.
Cross-Tabulation
Cross tabulation is a quantitative method that analyzes the relationship between two or more variables. It is a great tool that helps manage large quantities of data while uncovering insights you might have missed.
Trend Analysis
As the name suggests, trend analysis allows you to look at data over a long time. Thus, it helps observe any trends that might show up.
This analysis can be perfect for observing upcoming threats and opportunities
MaxDiff Analysis
Also known as the best-worst scaling, the MaxDiff analysis allows you to observe the relative preferences of customers.
A MaxDiff with 4 to 5 items to rank is easy for customers to answer. Furthermore, it helps the customers narrow down on their most valued preference.
Conjoint Analysis
This method aims to collect multi-level preference data. Furthermore, it helps get to the heart of the customers' preferences about your products and services.
There are various types of conjoint data analysis, each with unique uses. Some of these types are:
Choice-based
Adaptive
Full profile
Rating or ranking
Menu-based
TURF Analysis
Total Unduplicated Reach and Frequency or TURF analysis determines the numbers of customers reached via a communication source.
It asks questions like: "What will the obtainable market share be if we launch product x?"
Gap Analysis
The 'Gap' in gap analysis refers to the distance between the actual and expected performance.
The gap analysis tells you about your level of business compared to industry standards at a strategic level. However, it can also give insight into the current state of performance compared to your business goals at an operational level.
SWOT Analysis
If you are looking for an analysis method that helps determine the company's competitive position, opt for SWOT analysis.
This method highlights fact-based strengths, weaknesses, opportunities, and threats of the organization.
The goal is to build on the strengths while nullifying the weaknesses. Furthermore, you should keep an eye out for opportunities while monitoring threats to your organization.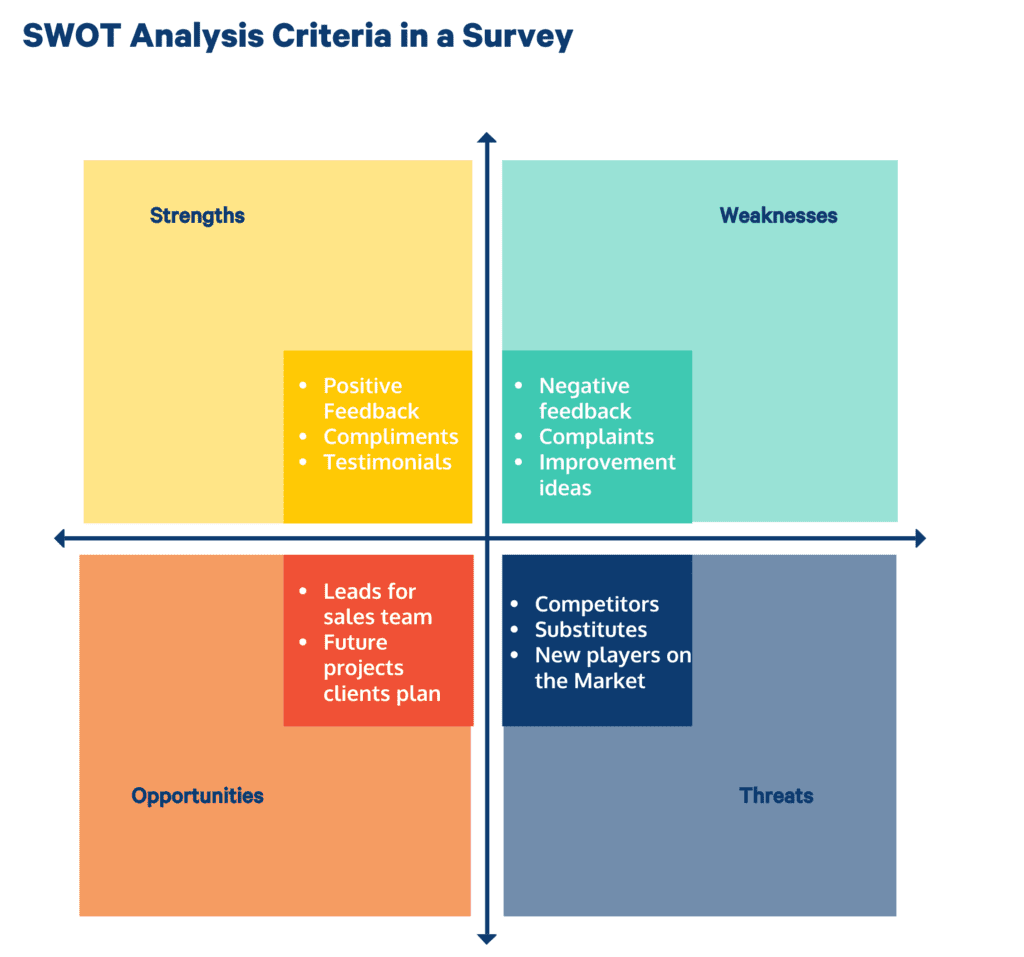 Text Analysis
Text analysis can help you bring order to a huge amount of data set. One of the most popular and visually appealing ways is using word clouds.
However, there are other ways, such as coding (converts words to numbers) and tags (filters specific terms).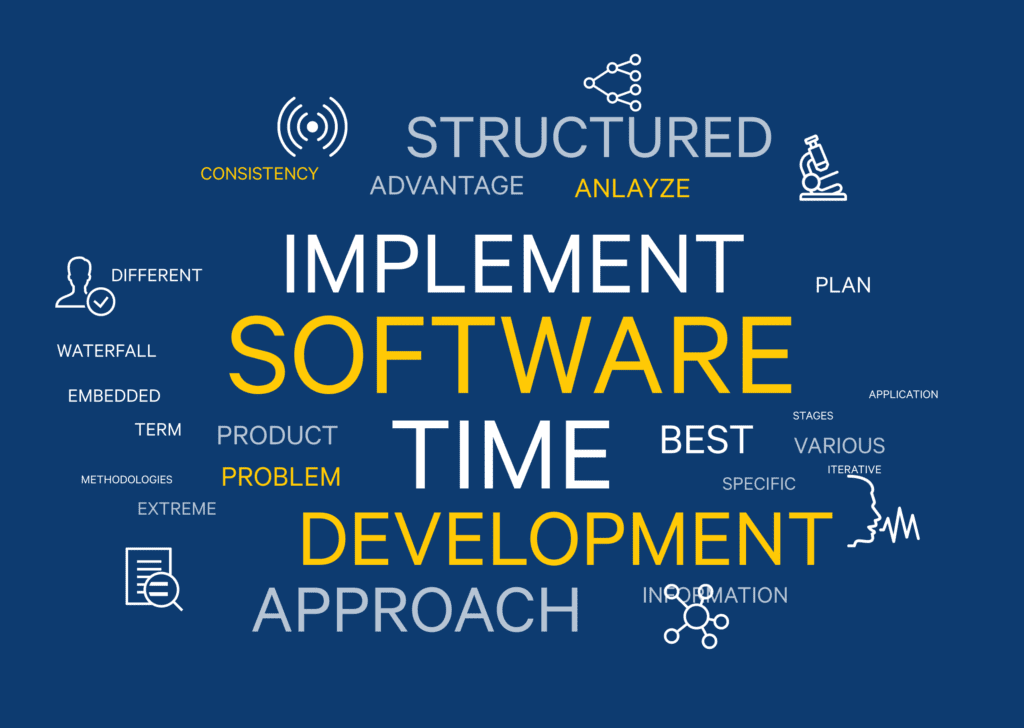 Beware These Survey Biases
In order to get actually mindful results in your surveys, you need to bear in mind that there are factors that might affect them.
We brushed on some of the earlier, but here's a more comprehensive explanation.
Survey bias refers to different factors that distort survey results.
Sometimes it has to do with the survey itself: maybe it's confusing or maybe it leads respondents on in an undesirable way. Other times, it has to do with the respondent's personal circumstances: maybe they are not willing to answer, or maybe they don't complete it all the way through.
It's important to note that you cannot fully avoid survey biases. They are always present. However, you can interpret your results better when you are aware of them.
Here are a couple biases you want to pay attention to:
1. Non-Response Bias
Non-response bias occurs when people don't answer your surveys.
It might be cause by one of the following reasons:
No interest in your survey
Your survey is too long and people don't complete it
The survey is confusing, which prevents people from completing it
Technical problems
Forgetting to answer
Don't want to answer, for a reason or another
The implications of non-response bias might be that your results do not accurately represent the sample group's actual opinions. It's problematic especially if the survey is intended for a set group.
Example: you want to find out what your family members think about the cake you baked for grandma's birthday. You send them a survey to rate the cake, and you get a shining review – but only a few answers.
You think you are the best baker ever, but the reality is that most family members skipped the survey because they didn't like the cake, but also didn't want to upset you.
(And then there is aunt Margaret who didn't know how to open your survey link on the new fancy smartphone, and cousin Jack who was too busy with the punch and forgot about the whole thing).
Take time to analyze if there is a specific group of people who skip your survey.
Things you might try to fix non-response bias:
Send reminders/ask again
Offer incentives for respondents
Make the survey more interesting
Offer different ways of answering the survey (pen and paper for aunt Margaret)
Check for any technical issues and confusing questions
2. Question Order Bias
Sometimes, the order in which your questions and answer options are presented can affect the answers, and lead to biased results.
For example, people are more likely to choose options that are higher on a list (especially if they are not very engaged to answering your survey and want to just get it over with).
Additionally, one question might guide the respondent's thoughts in a specific direction. If you first ask what the respondent's favorite holiday resort is, and next you ask where they would like to travel next, it might well be the same answer again.
In contrast, if you first ask where they would like to travel, and only after it ask about their favorite resort, the answer might be less guided.
To avoid question order bias, you can try shuffling the questions and response options.
3. Sampling Bias
You might majorly bias your survey results if you don't pay attention to the quality of your sample group.
If you only choose people who represent one group or opinion, you will get answers accordingly. In this case, you can't confidently say that this is what all people think – it only represents the opinion of a specific group.
Things that affect sampling bias:
Too small sample group
Demographically limited group
Only asking from people that have already made their stance clear about your research topic.
It doesn't mean you should always try to include everyone in the sample group: not at all. It's important to choose the right representation for your surveys.
But keep that in mind when analyzing the results. If you conduct a customer survey about the quality of your company's customer service, but only send the survey to one customer service agent's clients, you won't learn what customer service looks like in your company. You will find out what people think about this particular person.
4. Acquiescence Bias
Acquiescence bias is a phenomenon when people agree with your survey excessively, without actually agreeing with you, or answering "yes" even when it contradicts the previous answers.
There can be different causes for it:
The respondent doesn't actually think about the responses but wants to just quickly complete the survey, thus always choosing the same option.
Respondent wants to save your face (some cultures are more adamant about it than others).
There is no "in the middle" or a neutral option to choose, so they choose the affirmative even though they don't have an opinion.
The same can go the other way: someone might answer with "no" or disagree. These biases can also be described as extreme response biases.
5. Neutral Bias
The opposite of acquiescence or extreme response bias is the neutral bias, in which people always choose the middle or neutral option. Something along the lines of "not agree or disagree", "I don't know", "I don't have an opinion".
It might happen for the same reasons as above, but also because they genuinely have no opinion about the issue.
You can easily avoid neutral bias by not including neutral answers, but then you will drive yourself into the direction of extreme response bias.
This further proves that you simply cannot completely avoid survey bias.
Key Takeaways from This Section
Cross-Tabulation allows you to examine relationships between two variables
Trend Analysis gives you a comprehensive look over an extended period.
MaxDiff Analysis helps you see customer preference with ease.
Conjoint Analysis is a wonderful technique to understand what your customers value.
TURF Analysis helps increase efficient deployment of new products and services.
Gap Analysis can be used externally or internally to compare your current position with the market or expected position.
SWOT Analysis is ideal for an overall look at your company's internal factors.
Text Analysis is perfect for compiling raw data into neat structures.
You need to be mindful of how you arrange your surveys in order to get legitimate results.