Top 9 Advantages of Online Surveys
Here are the main advantages of conducting surveys online in 2022.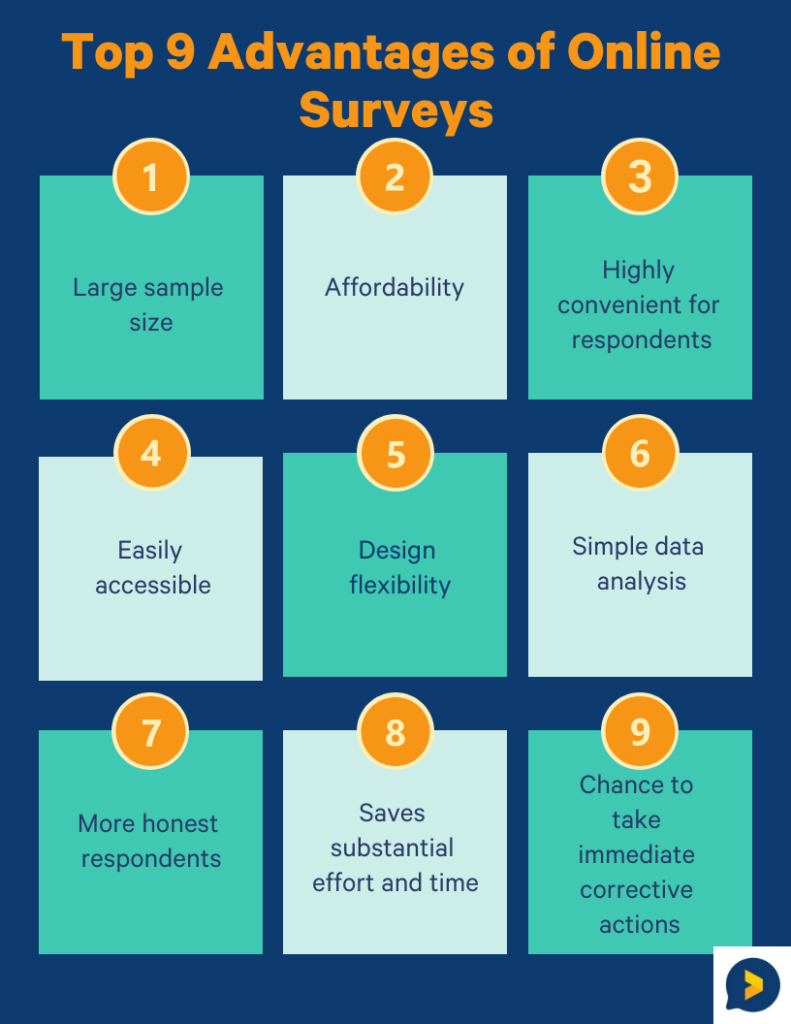 1. Large Sample Size for Market Research
Before an online survey was an option, the only way to gather data was to ask customers one by one for their feedback about your services, products, and company. Today, data collection is easier than ever. These surveys have an enormous reach, much bigger than most other data collection methods.
Gathering data manually can take forever and small samples aren't very accurate and specific. Online surveys, on the other hand, can test hundreds, if not thousands of participants and reach subjects from every corner of the world.
Depending on the range of your business, the purpose of your surveys, as well as your goals with the survey research, you can use them to collect reliable data in a very short time.
When we say 'larger sample size', it's important to mention people who would otherwise be unable to share their feedback with traditional methods. These include people that are far away or people with a visual or hearing impairment. For them, it's much simpler to fill out an online form and share their experience, which is very important to learn for you as a brand.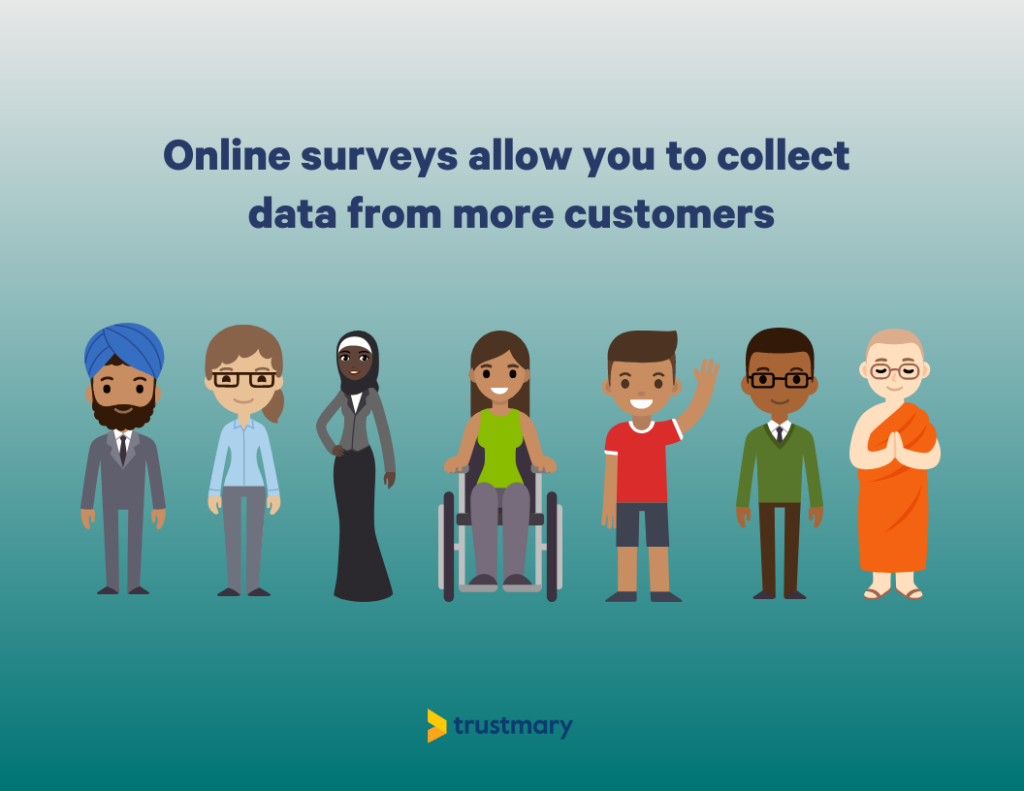 2. Affordable Method of Gathering Data
Collecting data can cost a fortune and take forever if you do it the old-fashioned way. Thanks to surveys, you don't have to spend a fortune on this any longer. These types of surveys are not conducted in-person, which saves money on travel, doesn't require hiring interviewers and more.
With the emergence of survey research online, things have changed significantly. You don't have to print out the forms, travel to customers that leave far away, etc. All you need to do is invest in a smart survey maker tool like Trustmary, customize your forms and design your survey questions, and send them out – all at half the cost!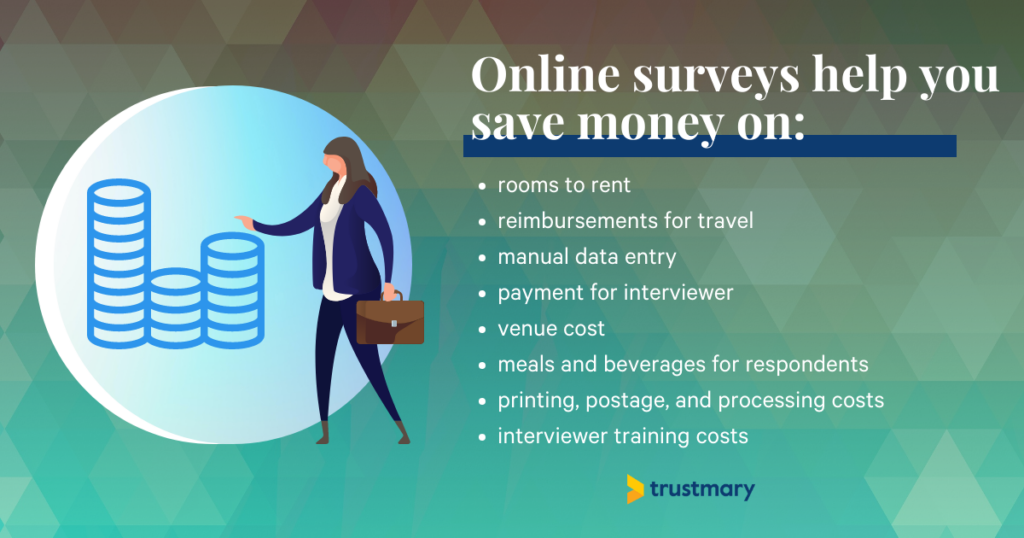 3. Highly Convenient for Respondents
In-person surveys don't offer much flexibility and convenience to the respondents. They have to talk to the interviewer in a set time, answer questions fast, and complete the interview within a set timeframe.
With surveys conducted online, respondents enjoy a lot of flexibility. They can decide whether or not they want to complete them, when they want to complete them, and think about the questions for as long as they need to.
In other words, when you send your surveys online, you are allowing respondents to pace themselves at their convenience. This leads to more accurate, well-thought responses from respondents that are relaxed and not at all pressured.
4. Easily Accessible
Now that we all have our smartphones on us most of the time, filling out surveys is very accessible and convenient. When you send out your mobile surveys, you are giving respondents the option to open and fill them out when they feel comfortable. They can do this on their work break, before going to sleep, or while they commute to the workplace.
Ease of accessibility equals more convenience for the respondents, which can positively affect the quality of the data you collect.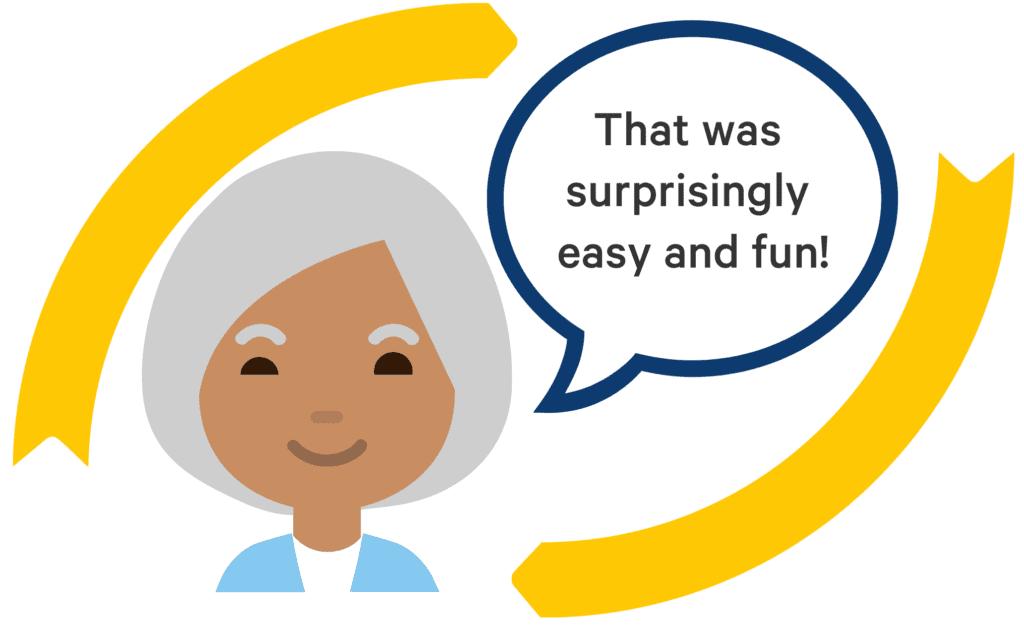 5. Design Flexibility
Thanks to amazing tools like Trustmary, you can design, customize, edit, and program surveys in any way you want. You can create layouts, pick different fonts and sizes for the questions, add all sorts of visuals to your surveys, and much more with an easy-to-use survey-maker.
The more attractive you make your surveys, the better.
Since surveys online are flexible with the design, this allows you to create different types of surveys with ease. Depending on the customer journey stage and your goal in terms of survey research, you can create and send NPS email surveys, create CSAT or CES surveys, and ask open- and closed-form questions in mixed online questionnaires.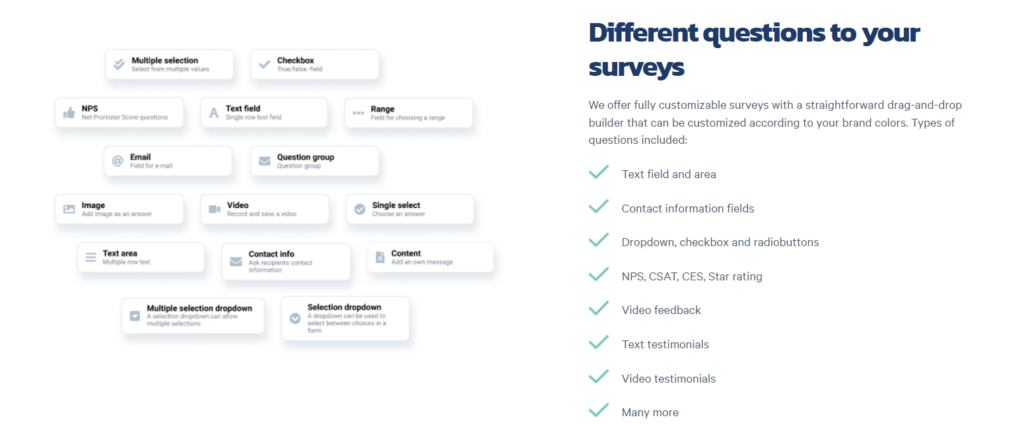 You can customize and edit just about everything from the order of your questions to the colors and design. You can even automate the surveys to change based on the respondents. For example, your survey can skip questions based on the respondent's answer to the previous question.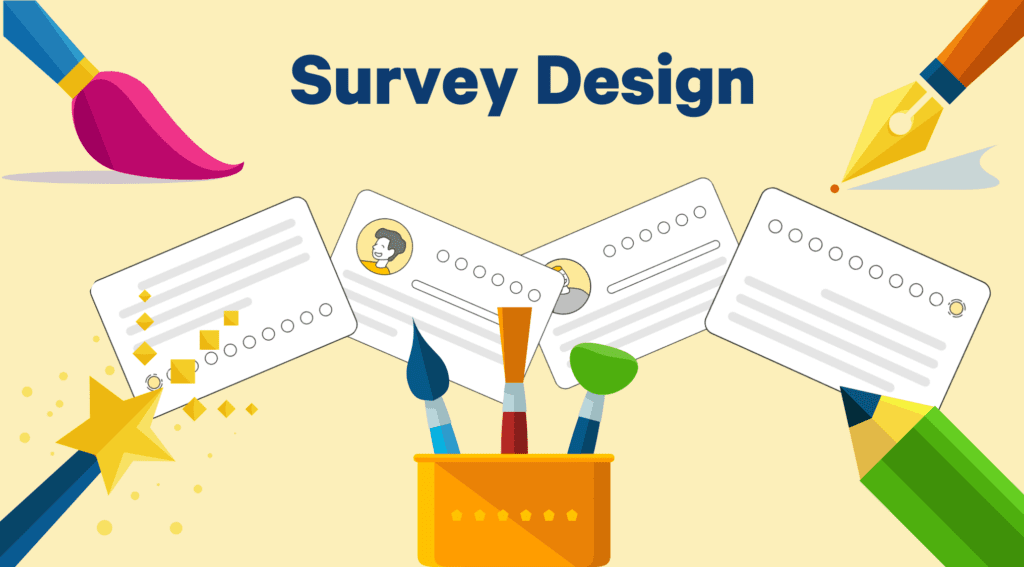 6. Simple Data Analysis
Compared to qualitative survey research techniques like interviews and focus groups, sending out surveys online makes analysis much simpler.
Surveys often provide quantifiable data, especially when they include closed-form questions. Once you perform your survey research and collect quantitative data, analyzing it is pretty straightforward. In addition to data gathering, you can use a variety of tools to analyze the survey data and determine the statistical significance, validity, and reliability.
What used to take researchers hours to analyze now takes only minutes, all thanks to artificial intelligence and technology-driven market research.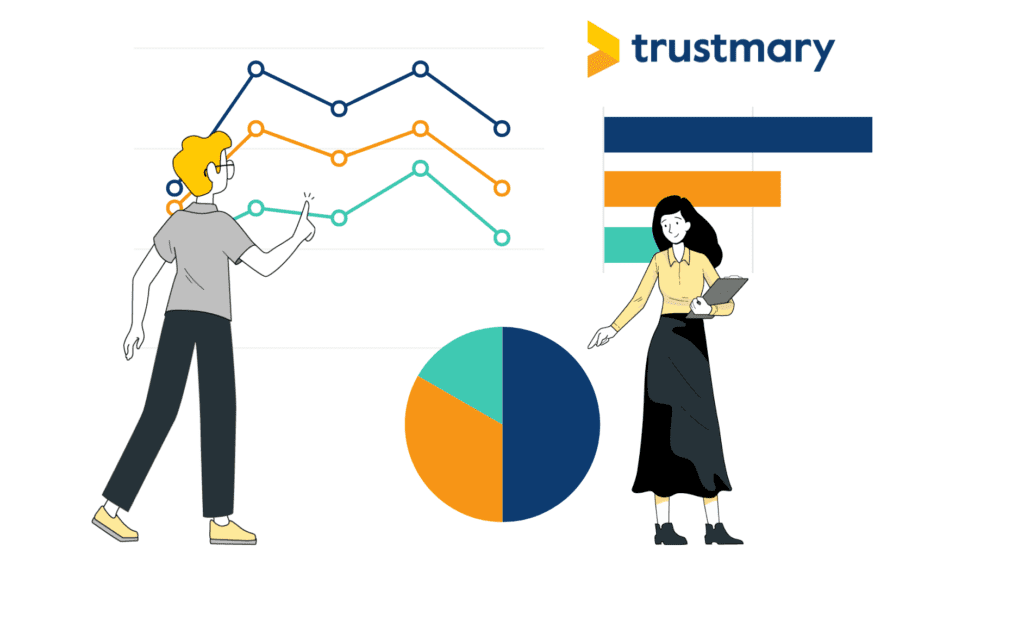 7. More Honest Respondents
When you interview someone in person, there's basically no anonymity even if you keep their name out of forms and documents. When you send out anonymous surveys or give respondents the option not to share their identity, you are making this much more convenient for them.
Honesty is the most important part of data collection. When asked directly and without anonymity, people can clam up and offer dishonest answers, sometimes intentionally and sometimes because they are very stressed.
If you want to get honest answers from your respondents, this type of survey research is of tremendous help.
8. Saves Substantial Effort and Time
Survey research conducted online is not only cost-effective but also time-efficient. You won't have to manually ask every person all of the questions and wait for their answers, note them down, copy them, and go through them to come up with actionable data.
Online surveys take less time and effort in every way. They are easier to design, easier to conduct, and easier to analyze. It suffices to say that, by performing this type of survey research, you can dedicate your time to other tasks or even create more surveys to use for your brand.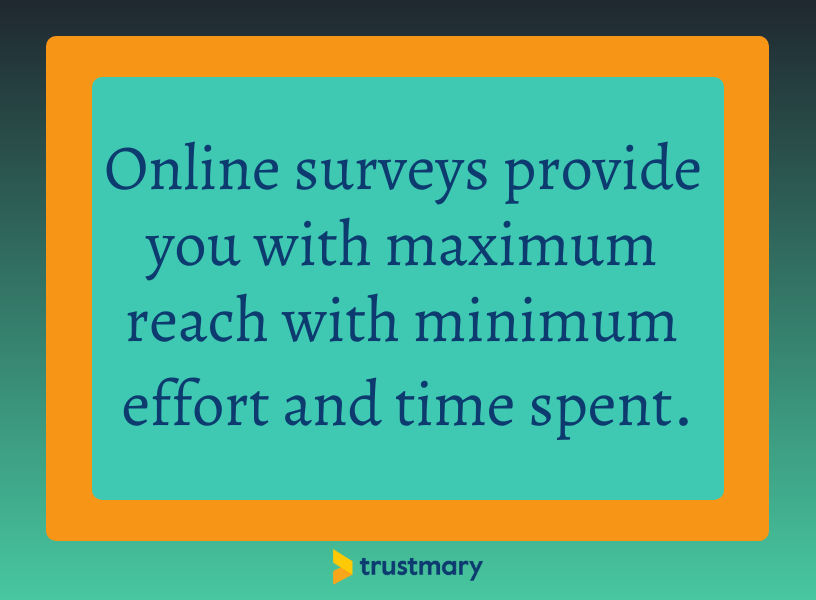 9. Chance to Take Immediate Corrective Actions
Survey invitations are not pushy. Your customers get the opportunity to decline to answer them. They can take all the time they need to answer, and skip any question they dislike. They can access the surveys at any time and from any device they prefer to use.
This is a great deal of flexibility and convenience which, of course, leads to higher customer satisfaction. Since you can conduct them rapidly and analyze the results fast, you can take immediate corrective actions and fix the issues of your customers.
Not only will respondents learn that your brand cares about their opinions, but you can utilize their individualized answers to win back customers you might have lost, as well as improve your service.