This is the first part of a three-part blog series. The second part tells you how to connect CRM and Trustmary and use them to automate the gathering of testimonials. The third part presents real-life results that our client has reached with this advice.
Many businesses have difficulty with utilizing the full potential of customer feedback. Trustmary's Onboarding Specialist Petteri Puumala gives his best tips on how to use customer feedback in marketing as well as business development. He also tells how to manage the process with a CRM system.
Petteri Puumala has worked at Trustmary for two years, and has learned to know the software inside and out.
When he first started in the sales team in 2020, he was especially interested in how the software works.
This prepared him for his next position as the Onboarding Specialist.
As an Onboarding Specialist, Petteri helps clients to use the full potential of Trustmary efficiently.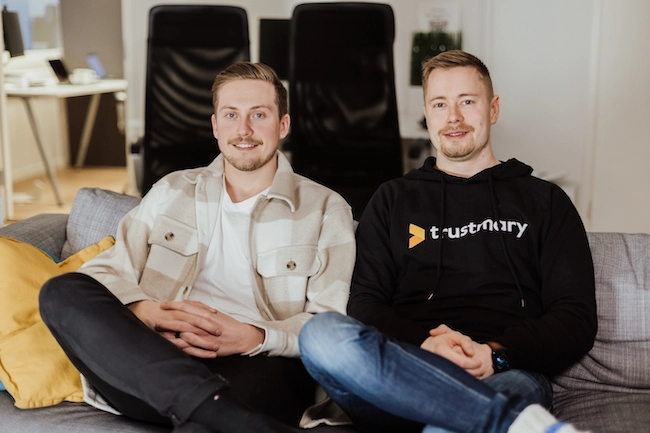 – In the meetings with customers we aim to improve the use of the software. We think about how to make sending surveys smoother and create automations inside the software. Sometimes we even integrate Trustmary with other systems like CRM or eCommerce platforms, which makes the feedback process or part of it fully automated, Petteri says.
– Once the feedback process is in order, we start planning the use of the testimonials that are gathered with the surveys. From time to time we upgrade the customer's software plan to get more features.
– Additionally, we try to raise the response rate by fixing the survey contents and figuring out the best communication channels for the surveys. Of course we also want to figure out the ideal way to use testimonials.
The goal is to build a functioning flywheel for the customer.
What Is a Flywheel?
– Briefly explained, flywheel is a circle of continuous value production, where actions follow each other over and over again, Petteri summarizes.
For example in the case of Trustmary, flywheel means that acts of gathering feedback, gathering testimonials and utilizing testimonials follow each other.
When a customer implements Trustmary, the first step is to optimize the process of gathering feedback. That helps with developing internal processes and monitoring customer satisfaction.
In the next phase, happy customers are asked to provide a public comment about their experience. This way it is possible to use testimonials in marketing.
Thirdly, the testimonials are displayed on the website and in social media for other potential customers to see.
Testimonials from satisfied customers build trust towards the business. The authentic customer testimonials show whether the business really fulfills their value proposition.
After this, the flywheel begins a new round. Testimonials generate new customers, who in turn give feedback and possibly testimonials.
Trustmary makes sure that fresh testimonials are always on display, and old ones are taken down. This way there is no old information visible.
– Testimonials are the priority, but constructive feedback is also valuable. It is important to find one's weaknesses. That way business can be improved and the unhappy customers can be turned into promoters, Petteri adds.
What Is the Best Way to Utilize Flywheel?
According to Petteri, many customers already follow the flywheel thinking with Trustmary. But some customers execute the process only partly.
– Many times gathering feedback is not seen as a continuous process, and the real-time information about customer satisfaction is missing. Sometimes the process works, but then information is stuck inside the organization. The feedback might be compared to previous results and used in improving the business, but oftentimes its potential for marketing and sales is not fully realized, Petteri says.
This is where Trustmary helps close the loop. The existing feedback process can be complemented with the help of the software.
This way the feedback will never remain implicit "tacit knowledge" but positive feedback is turned into a visible part of the marketing and sales process – public testimonials.
A CRM system can help with gathering feedback and targeting it to specific processes.
What Is CRM?
CRM stands for Customer Relationship Management. It can be coordinated with different CRM systems like Pipedrive or HubSpot.
– CRM should be used because it allows you to document all customer data, which makes managing customer relationships much easier. It ensures that all employees have access to the same information about customers. When the system is used systematically, it stores all information about the customer interactions like purchases, contacts with customer service, meetings, and notes about each event, Petteri sums up.
– CRM can also make your day easier, as all work tasks are visible in the system. Once you add different automations and connect it with other systems, you can have significantly less manual work, he adds.
Trustmary can be integrated with many CRM systems, which means that you can largely automate the process of gathering feedback.
When you transfer the feedback responses from Trustmary back to the CRM, you can follow the customer satisfaction of each individual customer. You know what is going well and how to improve their customer experience.
Target Feedback to Certain Processes
When the right triggers are set to CRM, you can ask for feedback during many different touchpoints. This gives you testimonials regarding multiple areas of the customer journey.
– Someone might want to give a testimonial for the customer service or support even if they don't like the product or service per se, Petteri clarifies.
Targeted feedback and testimonials are useful also in the case when a business offers multiple products and services, and they have different sections on the website.
– Imagine a scenario where someone comes to the website and looks for information about product or service A. They don't need to see testimonials that talk about product B, he continues.
Expert's Tips on Implementing CRM
Petteri has seen what kind of effects a well-planned CRM use has had on customer relationship management. Here are four tips that he recommends following when you implement a CRM system.
1. Import Existing Customer Data to CRM
When you first adopt a CRM system, bring all possible existing information about customers into the system.
You have all information in the same place where everyone can see how the customers are doing.
– This way the customer success team has the exact same data about customers as the sales have, and so on. This prevents problems caused by tacit knowledge, Petteri clarifies.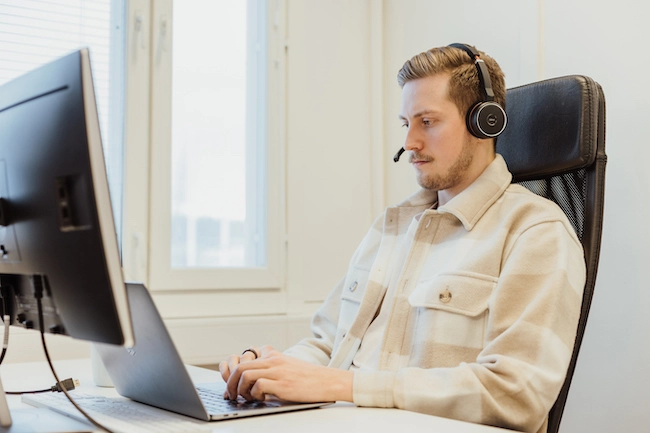 2. Define Important Processes and Activities
Figure out the important touchpoints that your business has during the customer journey, and turn them into processes and activities in the CRM system.
Activities are e.g.
phone calls,
meetings,
purchases,
technical support, and
other possible contacts with customers.
– I recommend using as many activities as possible. They can be used as triggers in automations, such as sending feedback surveys, Petteri advises.
3. "CRM Discipline"
When you implement CRM, everyone should know the importance of using it correctly and actively, and commit to it.
– There needs to be clear rules for the use of CRM so that everyone knows what to do. You document everything in there: phone calls, meetings, lost and won deals, et cetera.
4. Modify According to Your Needs
The same recipe is not suitable for all businesses. That's why you should feel encouraged to modify the system to fit your business model.
You can create as many new activities and processes as needed.
Pay attention to the suitable time for collecting feedback and testimonials. Sometimes the feedback can be collected right after a purchase, while other times the customer needs some time to use the product first.
Let's Recap
If you want to create a functional flywheel for your business, consider implementing a CRM system and connecting it to Trustmary.
When the flywheel works, the acts of collecting feedback, testimonials, and using them to acquire new customers follow each other and form a continuous loop.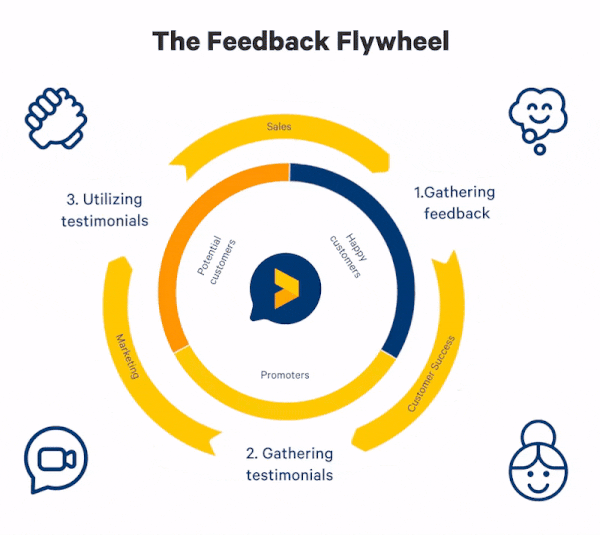 CRM helps you to organize your customer management into processes and activities, which are the baseline for creating automations.
Trustmary's automated feedback surveys help with following customer satisfaction and improving the business. They also allow you to collect public testimonials that can be used in marketing campaigns and managed directly from the Trustmary app.
Additionally, you can transfer the results of feedback questionnaires back into the CRM. This helps you to compare the progression of customer satisfaction of each individual customer.
If you are not using Trustmary yet, book a meeting with us and let's get it sorted for you!
If you are already a customer at Trustmary but you need help with optimizing your flywheel, contact Petteri or book an appointment directly from his calendar.
FAQ
Flywheel is a model that illustrates continuity of processes and repetition of actions. For example Trustmary's feedback flywheel has three parts: gathering feedback, gathering testimonials, and utilizing testimonials. These three stages support and follow each other continuously.
How can I use CRM in gathering testimonials?
When you use CRM systematically and integrate it with Trustmary, you can easily automate the process of gathering feedback and testimonials. CRM also allows you to target feedback surveys to certain customer touchpoints. You can e.g. send an automatic feedback survey after a meeting with a customer and get real-time feedback on the interaction.
How do I integrate Trustmary with my CRM system?
Integration is easy to do and only takes a moment. Stay tuned for the second part of the blog series, where we give more detailed instructions for integrations and creating automations. You can also look for instructions here.