9 Typical Likert Scale Questions
Now that we have a better understanding of what areas Likert scales cover, let's look at some typical questions.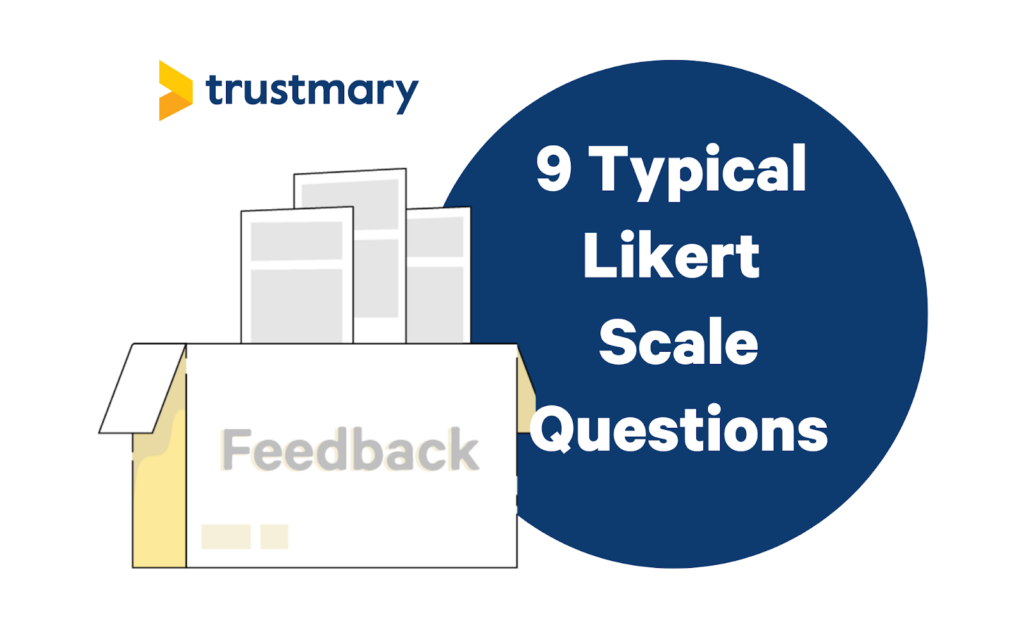 For clarity, we have divided the questions into nine different sections
1. Customer Service Satisfaction Survey
For a customer service satisfaction survey, choose the liker scale survey questions so that they clearly point to the customer service situation.
Avoid generic questions like "how was your experience today" or "how would you rate our business". Stick to something like the example here:
How satisfied are you with the quality of our customer service?
Very Unsatisfied
Unsatisfied
Neutral
Satisfied
Very Satisfied
2. Product Satisfaction Survey
Customer satisfaction regarding the product is extremely helpful information. It can guide you in the product development process and helps you differentiate between product satisfaction and customer service satisfaction.
How satisfied are you with the product/services?
Very Unsatisfied
Unsatisfied
Neutral
Satisfied
Very Satisfied
3. Product Features Importance
Software companies, hear this.
If you want to learn more about what your customers really need from you, ask them about the importance of each feature. It will help you discover sentiment levels regarding detailed product information.
How important are product features to you?
Very Important
Important
Neutral
Unimportant
Very Unimportant
How important is the automatic tagging feature to you?
Very Important
Important
Neutral
Unimportant
Very Unimportant
4. Likelihood to Recommend
Likelihood to recommend reveals a great deal about customer satisfaction. While you can use a 5 point Likert scale to measure it, there's also a specific tool for it: the Net Promoter Score.
Here's an example of an NPS survey:
And here's how it would look like as a 5 point Likert survey:
How likely are you to recommend our product/services to a friend or colleague?
Very Likely
Likely
Neutral
Unlikely
Very Unlikely
Pro tip: if a customer states their willingness to recommend, why not let them? With Trustmary, you can create surveys that turn positive feedback into public testimonials.
5. Customer Service Expectation
Inspecting how customers viewed customer service in relation to their expectations reveals more than just the level of customer service. It tells you how highly customers think of your brand in the first place.
Think about it like this: when you don't expect anything from a brand, you are satisfied with a lower level of customer service. On the other hand, if you enter a premium store, you might expect a very high level of customer service. If they fail to provide it or only offer average service, you might rate them low on this survey.
To what extent did our customer service meet your expectations?
Exceeded expectations
Met expectations
Neutral
Did not meet expectations
Did not receive service
You might also present another type of question here:

6. Quality of Product
Collecting data on what customers think about the quality of your products and services is crucial. It helps you see if people regard your brand of high quality or not.
If you reach high points in a survey like this, you might want to consider if your prices could be increased a little bit… People are willing to pay more for premium!
How good is the quality of our product/services?
Excellent
Good
Fair
Poor
Very Poor
7. Ease of Use
If your product is difficult to use, it might prevent people from continuing their business with you. You must tackle this issue immediately.

How easy is it to use our product/services?
Very Easy
Easy
Neutral
Difficult
Very Difficult
8. Price of Product
Of course, price plays a great role in purchase decisions. Here's a question you might want to ask when doing market research:
How important is the price of the product/services to you?
Very Important
Important
Neutral
Unimportant
Very Unimportant
And here's how you can find out if you offer the adequate price or not:
The price of the product/service matches the value.
Strongly agree
Somewhat agree
Neutral
Somewhat disagree
Strongly disagree
Notice what I did here: you can flip the script and instead of asking questions, you can present statements and measure the level of agreement that customers have with the statements.
9. Time it Took to Receive Product
Sometimes, the problem is not with your product or brand. Customer experience and satisfaction are effected also by things like shipping.
You should know what your customer's stance about shipping is, so that you can make sure you are collaborating with the right partners.
How much time did it take to receive the product/services?
Very Quick
Quick
Neutral
Slow
Very Slow
When creating your Likert scale questionnaire, keep a few key things in mind.
Decide on the purpose of your survey. What are you looking to find out from your respondents?
Consider the different levels and intensities that you want to measure.
Choose the questions that will best help you reach your objectives.
Once you have decided on the questions, it is important to be clear and concise in your wording.
Make sure that the questions are easy to understand and answer.
Finally, decide on the number of answer options (scale points). Too many or too few answer options can impact the reliability of your Likert scale data.
Five is often a good number of answer options for Likert scale responses. But why, though?
The answer to that question is in the next section!
If you are content with your learning this far, why not start creating your surveys immediately? Start a free trial for Trustmary's survey maker.