How to Collect Customer Testimonials for Marketing
So how can you support your marketing efforts with great testimonials?
This is a no-brainer, really: by incorporating client testimonials into your marketing materials.
Here are 4 areas you should explore before getting started:
What type of testimonials you should collect
Who you should ask to provide testimonials
When you should ask for testimonials
How to ask for testimonials
1. What Type of Testimonials You Should Collect
Video Testimonials
The popularity of video content has increased massively in recent years. Conversion rates for video are also crazy high.
Cisco reported that 82% of global internet traffic will come from video in 2022.
84% of marketers say video has helped them generate leads in a recent study by Wyzowl, and
78% of marketers said that video has directly increased sales.
It's not hard to see why testimonial videos are so effective.
Video testimonials are more personal and engaging. What's more, they get across important social cues such as emotions, gestures and facial expressions.
Studies show that after three days, your prospects will have retained an average of 65% of what they watched, compared to retaining 10% of what they only heard.
One downside of these kinds of customer testimonials could be the time and effort it takes to gather the feedback, edit and upload.
While this may be the case, the high engagement and conversion rates are worth the effort in the long run. For example, Ruokaboksi was able to get more registrations with video reviews.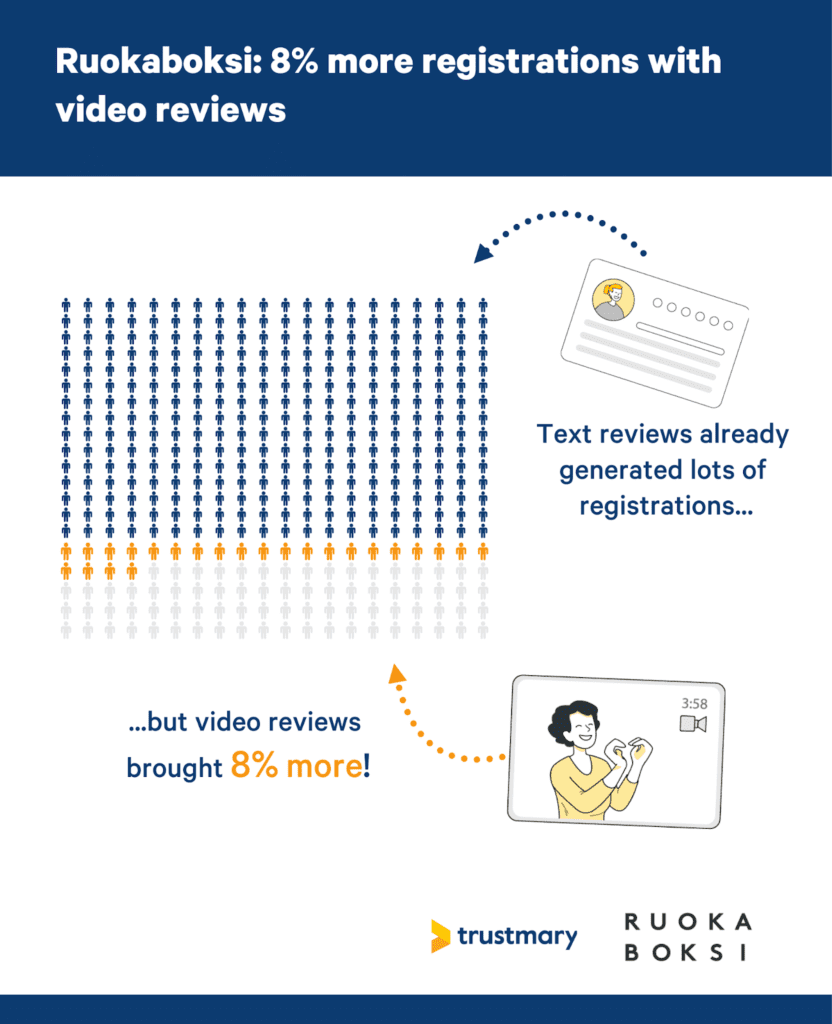 Think of it this way:
How valuable is one registration for your business?
How much more revenue could you create, if you could increase your monthly conversion rate for registrations by 8%?
Let's take an imaginary situation, where your conversion for registrations is 75,4% when using text reviews. With video reviews, you could get that to 81,4%. Depending on your monthly traffic, the opportunities lost might be huuuuge.
When you factor in the value of each registration, you can start to see why you need to make sure you're losing as little opportunities as possible.
| | | | |
| --- | --- | --- | --- |
| Monthly traffic | Registrations with video reviews (81,4%) | Registrations with text reviews (75,4%) | Opportunities lost |
| 1.000 | 814 | 754 | 60 |
| 5.000 | 4070 | 3770 | 300 |
| 10.000 | 8140 | 7540 | 600 |
Written Testimonials
The easiest to collect, a written testimonial can be submitted via a simple form or even in an email.
Written testimonials can be used in a variety of written marketing materials like your homepage, brochures and on social channels.
But while collecting and displaying written testimonials is easier, they are also easier to manipulate or fake.
Anonymized reviews in particular, are seen as less trustworthy – defeating the purpose of collecting and displaying the feedback in the first place!
Audio Testimonials
Much like video content, audio testimonials allow customers to tell their story in their own words.
Easy to record and share on your marketing channels, audio testimonials sit firmly in between written and video testimonials in terms of difficulty to collect and utilize for your purposes.
Audio testimonials are also easy for users to consume, as they can be listened to almost anywhere.
2. Who You Should Ask to Provide Testimonials
As testimonials are a statement of customer satisfaction, your existing customers will be the best source of positive feedback.
Your satisfied customers are more likely to want to provide a positive review or share their success stories – 67% will consider leaving a review after a positive experience.
Looking through your NPS data to find Promoters, or your sales data at how much money a customer spends, are good ways to identify your best customers
3. When You Should Ask for Testimonials
As a rule, you're more likely to get a positive testimonial if you ask when customer satisfaction is at its highest.
Consider your customer journey.
When do your customers feel most satisfied with your brand?
When they've completed the sales process,
When signing up for a repeat purchase or an upgrade,
When referring your product or service to a friend or colleague.
Identifying these moments in the customer experience will give you clear touchpoints to engage with your target audience.
4. How to Ask for Testimonials
I'm going to let you in on a secret.
Not many people actually like asking for testimonials.
Some think it's overstepping the mark. Others cringe at the idea, while many fear the customer saying no.
Luckily, we have some tips to help you ask for positive testimonials in a non-cringe inducing, boundary-pushing way, that'll get you positive testimonials that you can use.
Set the Tone
Be clear, polite, friendly and firm. That might seem like alot but there's really not much to it.
Be clear about what you want from them.
Be polite and friendly in the way you ask.
Be firm in what you need and when you need it.
Here's an example of how a request for a testimonial could look:
"Hey Marco,
I enjoyed working with you to get this deal over the line.
I wondered if you would be happy to provide a testimonial about your experiences that we can use when we're talking to new customers about the service?
All I'd need is 20 minutes of your time to film you answering a few questions about how we worked together and what you loved about the service.
Would you be available on Friday to have a chat?
Thanks a lot.
Humaira"
Pro tip: Focus on creating a clear email subject line for your testimonial request. It should also be as personalized as possible!
Make it Easy
The easier it is for your client to provide feedback, the more likely that you are to get it.
A pop up after they've referred a friend, or a link to your testimonial page at the bottom of your email, helps to turn customer attention to giving a review when they are most satisfied.
It also shows them that you value their time.
Plus, prompt questions or examples of customer testimonials you've already got, can those who want to respond, but just don't know how.
If you're doing this by yourself, walk through the process and make sure it's as friction-free as possible.
Alternatively there are plenty of helpful tools you can use to streamline the process.
For example, Trustmary's helpful review widget can be set up in minutes to start collecting and incorporating testimonials to your website.
Close the Loop
Congratulations!
Your client has been kind enough to provide a glowing review. What's your next step?
If you answered anything along the lines of 'rush off to get it up on the website', you'd be wrong, my friend.
The first thing you need to do is close the loop. Aka. respond to their positive reviews!
Thank your customer for their time, and their testimonial. Explain again that the testimonial will be used to support marketing activities, and make sure you have explicit consent.
WARNING: Customer Trust is Hard Won, But Easily Lost
UNDER NO CIRCUMSTANCES SHOULD YOU CREATE FAKE TESTIMONIALS FOR YOUR BRAND.
This is important so I'll say it one more time. Fake reviews = bad.
A study from Gartner found that, "83% of consumers refuse to do business with brands they do not trust. To build trust, brands must focus on exhibiting transparency, warmth, honesty, and reliability."
The moment that prospective customers find out that you've faked reviews, asked friends to create testimonials, or have even incentivized testimonials poorly, your credibility is shot.
You even risk causing longer lasting damage to your brand's image.
Remember it's quality, not quantity that counts.
Instead, maximize the impact of a few great testimonials to support your marketing strategy.