9 of the Best Social Proof Podcasts Worth Listening To
So you want to know about how you can use social proof for your business?
Well, you've come to the right place.
The best social proof podcasts provide real life examples and helpful hints and tips that you can use to leverage social proof.
We've outlined 9 of the best social proof podcasts for you to subscribe to:
Customer-Led Growth by Trustmary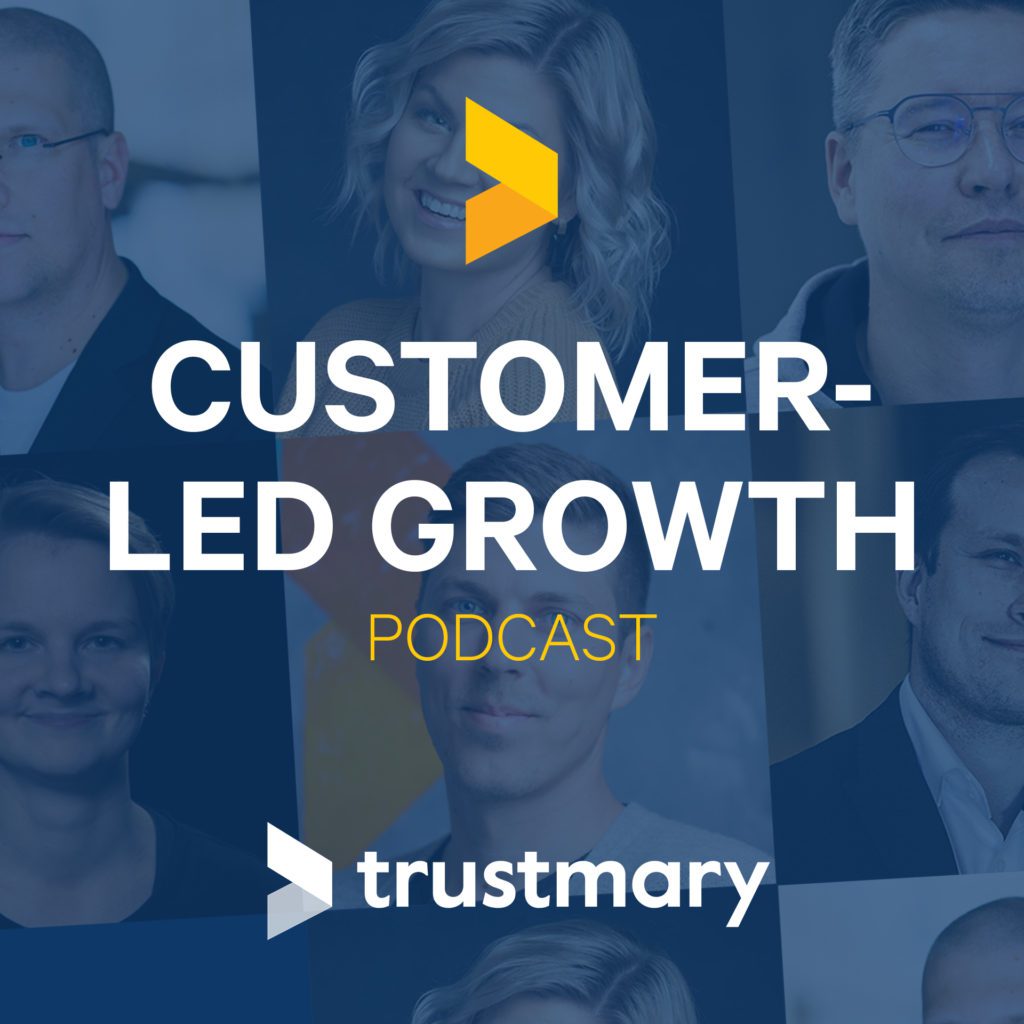 Trustmary's podcast concentrates on three main topics:
Using social proof in sales
In each episode, Trustmary's CEO Johannes Karjula or CMO Arttu Haho talk with a different expert from a specific field who shares their insights to all listeners.
Few Examples of Topics Covered
The Social Proof Podcast is hosted by David Shands, Entrepreneur. David has been an authority in the entrepreneurship arena, helping individuals make the transition from their job to their dream.
Along with Donni Wiggins, David interviews memorable entrepreneurs from leading companies to help small businesses build, market, and monetize their ideas.
With talented business leaders like Alphonso Dreher from AirBNB and Brett Berish from Sovereign Brands Group sharing their insights, this is one podcast not to be missed!
Our favorite episodes:
Episode 24: Marquel Russell – Breaking The Buyers Defense
Episode 30: Willie Moore Jr. -Creating Influence Through Inspiration.
And from the same team behind the Social Proof Podcast, comes The Brain Picker Podcast.
Capitalizing on the loyal community from the Social Proof Podcast, hosts David Shands and Donni Wiggins open access to live coaching sessions for small businesses in the US.

Pick the brains of two leading small business coaches and learn about how to build your business in these live workshops.
Listeners can even apply to take part in the podcast and pick the brains of David & Donni themselves!
Our favorite episode:
Episode 3: A Mission Driven Business
Social Proof is a podcast all about influence: "In a world where anyone can call themselves an influencer, we dig into what makes certain people so compelling."
Social media and influencer marketers Beth Stephens, Charlotte Banister and Nate Patterson are joined by special guests, from CEOs and founders, to authors and influencers, to dig into what it means to build a personal brand and develop social proof.
For the lowdown on what it means to have real influence, build personal brands and have social proof, hit the subscribe button!
Our favorite episode:
Episode 13: Rebelle Founder Shannon Siriano Greenwood on Finding Your Wolfpack
Sam Shepler hosts the State of Customer Storytelling podcast which explores all things customer advocacy and customer marketing.
Interviewing some of today's top B2B marketing leaders, such as Russ Somers from Lytho and Ty Magnin from UiPath, each episode takes a fresh perspective on how to drive more revenue faster with high-impact customer stories.
Our favorite episodes;
Episode 18: The Fastest Way To Build Trust and Get More B2B Sales
Episode 12: Turning Buyers' Pain Points into Relatable Video Stories
"Getting noticed is not about being famous, it's about showing up at the right time in front of the right people. This is also known as Social Proof."
Reporter Kelsey Stewarts dives into the stories of successful business owners to give listeners the tips and support needed to build your social proof.
Episodes bust myths about owning a business and cover helpful tips for entrepreneurs, all while helping small businesses build social proof.
Our favorite episode:
Episode 4: Social Proof Success Live with Maleeka Hollaway and David Wright
"This is not your average marketing podcast."
If the science behind great marketing is your thing, then Nudge is the social proof podcast for you.
Phill Agnew packs each 20-minute show with practical advice from marketers and behavioral scientists on how to use consumer psychology to grow your business.
Nudge is fast-paced but still insightful with real-world examples that you'll be raring to try out!
Our favorite episodes:
Episode 4: How social proof reduces theft and doubles sales
Episode 73: Why we can't stop following the herd
If you're after a straightforward, no nonsense podcast that delves into insights from marketing's brightest minds, then look no further.
Social Minds provides real case studies, genuine experts and actionable insights from the world's biggest brands.
Hosts Eve Young and Calum MacLeod interview leading marketers, with a social media marketing slant.
Our favorite episodes:
Episode 164: Don't Feed the Trolls: A Linguist's Guide to Navigating Verbal Abuse Online
Episode 181: Don't Fear the Feedback: Why Reviews Are Your Most Neglected Essential
This social proof podcast is all about brand fandom and how to build it.
Each episode features a conversation between host Robi Ganguly and an industry leader. Together they explore what creates fans and how businesses harness the power of fandom to drive revenue, and much more.
Our favorite episode:
Episode 1: How does customer feedback create better products? Why do mission-driven brands produce loyal fans?