Video Creation Process – Step by Step
Creating videos can be a fun process, but constantly producing highly-engaging and original content can feel daunting.
Here are Kelley's tips on how to succeed in creating original content for TikTok.
Phase 1: Idea
Coming up with original ideas should be viewed as a passive process.
– I often get a great content idea when I'm talking with someone. I have a running idea list on my phone for my personal handle. For the B2B account, I need to create a spreadsheet of ideas and for that I usually do brainstorming sessions to come up with bunch of ideas at once, he explains his process.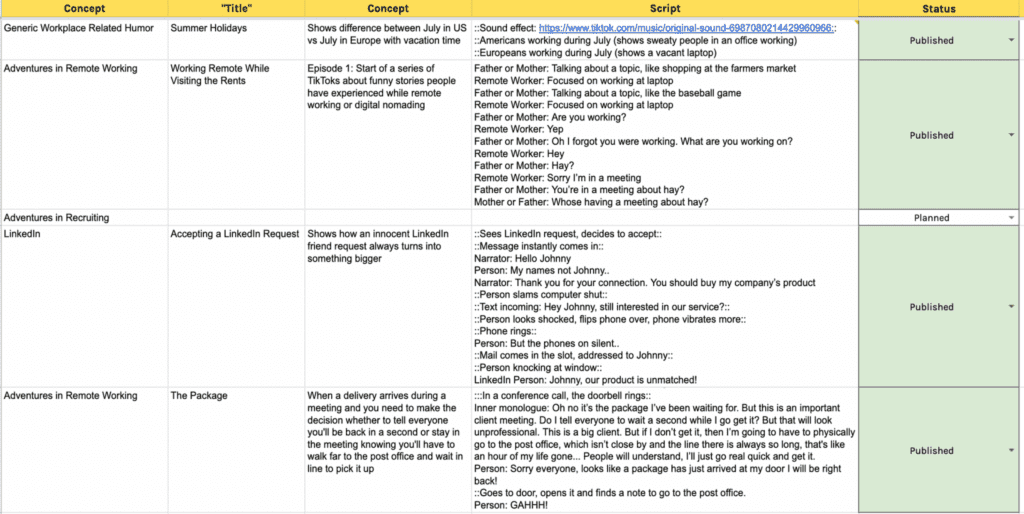 Phase 2: Script, film, edit
The actual fun part begins by creating a script for the video.
– I like to first create the script and start filming and editing right after that. Depending on the video, this can take anything between one to four hours, Kelley says.
Kelley recommends everyone to use external software for filming and editing instead of the native one in TikTok to avoid getting their video watermarked. That way, the content can be repurposed across different media. This enables you to also use the trending sounds of a specific social media platform.
– For the B2B account, I need to submit all videos for review. However, I typically don't film more than one video at a time. It keeps the whole look and feel authentic and home made, he continues.
Phase 3: Interact
For people that aren't that familiar with doing social media, this is a part that often gets overlooked. If your video content performs well, you need to take time to engage with your audience.
– Whenever I've posted anything, I log off from the app afterwards and don't log back in the next six hours. I check the view count from a browser, but only to see how the video is doing. After at least six hours have passed and I've got all the organic views and comments possible, I start to engage with my audience by answering to each comment. It really helps to get you even more views, likes and comments, Kelley describes.
Kelley also reminds to keep track of when your content gets the most engagement. Try to aim your posts to those times to get even better results. He usually posts Friday afternoons, because that's when people unwind from the week by scrolling content on social media.
Time Spent in Total
Creating original content, posting and interacting can take anywhere between three to six hours on average. Kelley estimates that for each 200K views you should book around two hours to interact.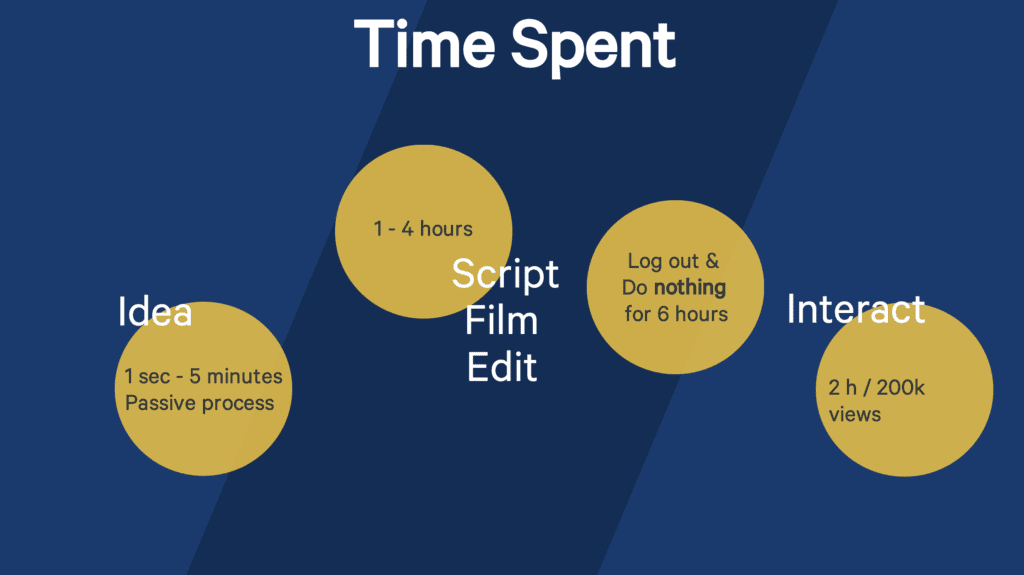 Now that we've covered how to create original content for Tiktok, let's move on to what going viral means and how you can do it.