User-Generated Content as Social Proof
In B2B business, the most important endorsements probably come from users who have positive experiences about your product or service.
Happy customers can provide social proof through user-generated content (UGC). UGC is any content that the user a.k.a. customer creates regarding your brand. It can be featured on your website and social media, or on separate platforms.
Some examples of social proof that is generated by users are
Customer reviews
Testimonials
Social media posts
Case studies
While reviews and social media posts might be more unpredictable in terms of their content, testimonials and case studies are a great and more controlled way to collaborate with satisfied customers and showcase social proof to new potential customers.
Review
Customer reviews are a great way to leverage the wisdom of the crowd, especially if your product or service is great and customers enjoy it. Reviews can also boost your appearance in search engines.
Reviews are often featured in designated review sites like Google, TripAdvisor or Yelp. They can be as short as a star rating, or include a few sentences. You can also include reviews and ratings on your brand's Facebook pages and your website.
Reviews are most effective when there are many of them: most customers read several reviews before making a decision about a purchase.
The numbers show that reviews have a great impact which can affect the purchase decision in a positive or negative way.
What if I receive a bad review?
Fear not! Even if you receive bad reviews, you can turn them to your advantage.
Rewiev Trackers' 2022 report shows that industry leaders have higher response rate and shorter response time to reviews. The most successful brands in each industry answer significantly faster than the industry average.
The report also suggests that people will not trust brands that sensor reviews. Having a few not-so-great reviews make your company appear more honest and transparent.
After all, anyone could just buy reviews, so having only overbearingly positive experiences looks suspicious.
Testimonial
Testimonial is a type of social proof that is pleasant for you and your customers, and impactful for visitors.
Unlike review, testimonial is usually rather positive than negative. That makes sense, since companies request testimonials from happy customers and showcase them on their own website, where visitors can see them.
A testimonial can be written or even in a video form. In a testimonial, the customer can show their face, name, title and workplace. This creates a more trustworthy effect than an anonymous review.
Ask for a testimonial from a well known expert to harness expert social proof for driving your sales and swooning your visitors. A celebrity testimonial can have the power to reach a larger audience.
Would you like to start collecting customer testimonials right now?
With Trustmary customer testimonial software you can ask your satisfied customers for written or video testimonials, and incorporate them in your website.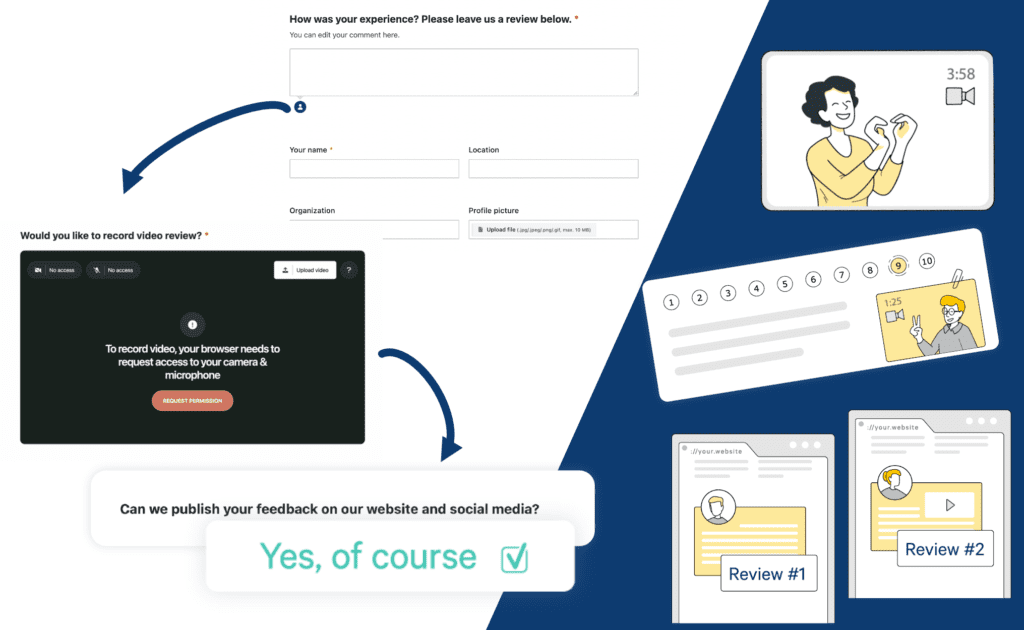 Social Media Post
You can ask your customers to post about their experiences on their own social media accounts, such as Facebook, Instagram, Twitter, and others.
Ask your customers to tag you in their posts, to use a specific hashtag and to let you share the content in your own social channels.
In case your customer happens to have lots of followers who also belong to your target audience, their Instagram posts might work as well as influencer marketing. The difference is that their endorsements come from the heart.
In a best case scenario you gain new traffic, more followers and a public stamp of approval for your products and services.
If you get extra lucky, your hashtag might even trend and majorly boost your recognizability. If you manage to stir up conversation, you might even get coverage in the traditional media.
But how to make sure that customers will post about you? For example, you could organize a contest. Stay tuned for an example later in this article!
Another way is to simply make so good content that users want to interact with it and continue the conversation. Also, make sure that the content is easy to share on various platforms.
Additional idea: if you have a celebrity in mind that could be of interest in your industry, why not ask them to make a guest post on your social media?
Case Study
Case studies are almost like next level testimonials. You collaborate with your customer to create their story and showcase how your product or service helped their business.
The case study can be featured online on your page, your social media, or in printed form like brochures.
Your website visitors will be dazzled by a case study about your most well known customer, but they are also interested in how you have helped companies that are similar to theirs. When possible, feature brands of different sizes and from different industries.
Most businesses would not turn down a case study, as it is an advantage for them personally, too. After all, it is almost like a dual advertisement for both parties, as the client gets to highlight their product or service as well.
Don't be shy – incorporate both video and text in your case studies like we did with the example case below.