11 Best WordPress Testimonial Plugins Compared
Let's move on and look at the actual plugin comparison.
We have compiled a list of 11 testimonial plugins for WordPress.
Some of them are premium plugins while some are more simple and free to use.
The basic features that we compared were:
Is there a free version?
Are video testimonials offered?
Built-in testimonial collecting
Testimonial importing
Testimonial widgets
Integrations
You can find the unique benefits of each plugin in the end of the section.
#1: Trustmary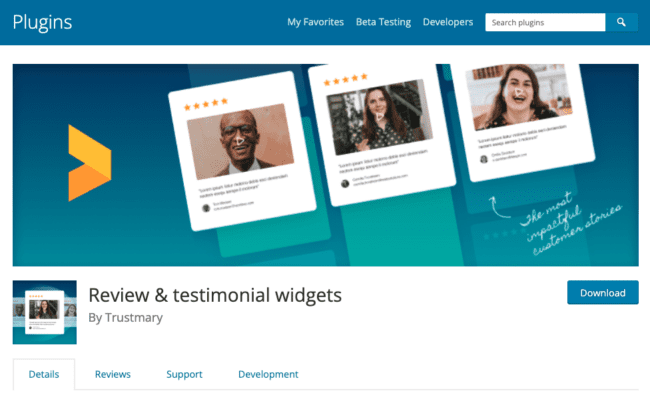 Trustmary is a multifaceted software that gets you much more than just testimonials and reviews.
You can use Trustmary even without the plugin, but it has one major advantage.
If you use Trustmary without the plugin, you'll have to install a Trustmary Tag for your website's header script using Google Tag manager. Depending on who is managing your WordPress website, this can turn out to be a problem.
When you implement the plugin, you don't have to do the previous steps. Anyone with the typical admin credentials can install the plugin and start immediately using Trustmary's widgets.
Now, let's see how Trustmary App works.
The interface is easy to use and navigate. You don't have to be a technology pro to get the most out of it.
Install widgets simply with a copy-and-paste code snippet directly to your WordPress website.
Trustmary provides Help articles and fast customer support in case you have any trouble with using it.
Free Trustmary Solo includes:
The paid version gets you:
All the above benefits
More widget views
More reviews collected
Integrations
Automation
Much more!
Unique benefits of Trustmary
Video testimonials are what makes Trustmary stand out from the competition.
Additionally, you can embed Trustmary widgets on any website. It is not limited to WordPress only.
Trustmary is constantly developing and adding new features. What you see now is just the start!
The free version of Trustmary lets you get familiar with all Trustmary's features.
And you can easily start using it! Here's a quick tutorial:
#2: Testimonial Slider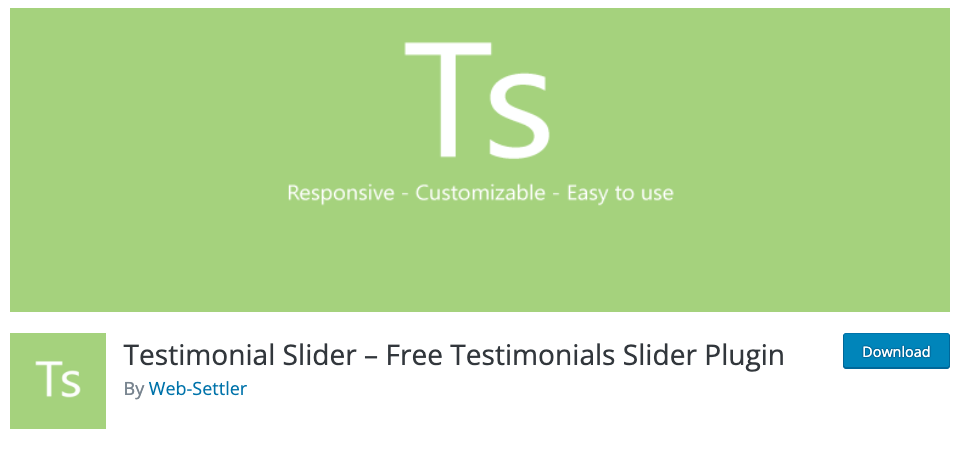 Testimonial Slider is a free plugin for WordPress testimonials. There is also a premium version that gets you some additional features.
The plugin is a simple tool for displaying written testimonials.
Features of free plugin include:
Unlimited testimonial sliders
Slider customizations
Widgets supported
Premium version (starting at 17$) also includes:
Testimonial form
Testimonial list view
More slider layouts
Unique Benefits of Testimonial Slider
Testimonial Slider plugin allows you to add and delete testimonials directly on your WordPress dashboard.
#3: Strong Testimonials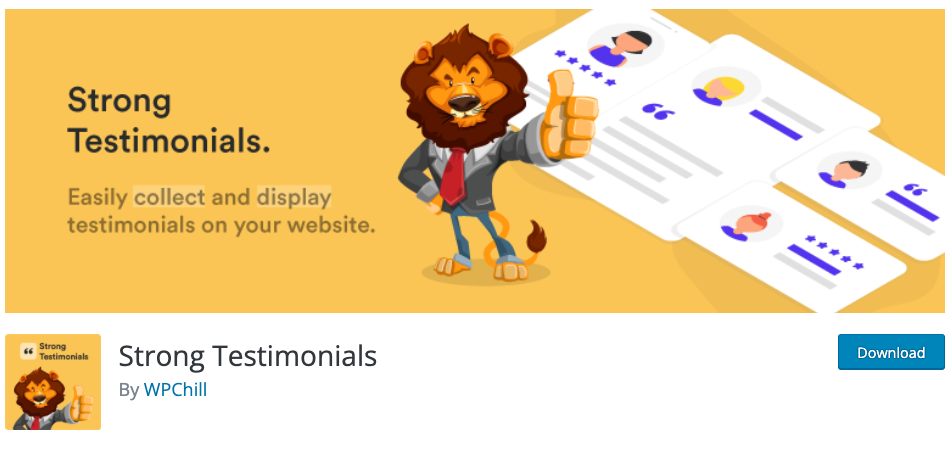 Strong Testimonials is a WordPress testimonial plugin that allows you to collect and display written testimonials.
You can get started with a 14-day free trial that gets you:
Testimonials for one site
Testimonial collecting with one form
The freemium plugin includes only a few designs and they are based on your WordPress theme. More personalized styles can be done with custom CSS.
The premium licenses Plus (69$) and Business (99$) have more features such as:
Testimonial importing
Integrations
More sites
Professional testimonial templates
Unique Benefits of Strong Testimonials
The plugin is compatible with WPML, Polylang and Globus, so it is a functional option for multilingual websites.
#4: Testimonials Showcase
Testimonials Showcase by cmoreira is one of the more premium WordPress testimonial plugins.
Testimonials Showcase regular license costs 19$.
You can display customer testimonials, reviews and quotes in a grid view or slider view.
Other features include:
Collect testimonials with front-end submission form
Rich snippets compatible
Shortcode generator
There is no possibility of integrations or testimonial importing.
Unique Benefits of Testimonials Showcase
Testimonials Showcase plugin has advanced link options.
You can add a link in the subtitles or the featured image. The link can lead the viewers to e.g. a case study.
#5: Site Reviews
Site Reviews is a review plugin similar to TripAdvisor or Yelp.
It allows your customers to leave your products star ratings.
Free version includes following features:
Collect testimonials from logged-in visitors
Integrations to Slack and Woocommerce
Testimonial importing
Unlimited widgets
Templates
A premium license for a single site is 89€ and it offers:
Review filters
Custom review forms
Add images to reviews
Drag-and-drop theme builder
Unique Benefits of Site Reviews
The visitors must be logged in to leave reviews. This can limit the number of reviews but also limit the number of spam messages.
You can block messages by certain keywords, IP addresses, or users.
Lets you submit responses to the reviews.
#6: Easy Testimonials
Easy Testimonials plugin works well with WordPress 5 and Gutenberg Editor. It is one of the most used WordPress testimonials plugins.
The plugin lets you collect written client testimonials with pictures attached, but no video testimonials.
Free plugin version includes:
Unlimited testimonial widgets
Insert testimonials on specific pages
Pro version (99$) offers e.g.:
Collect testimonials with forms
Export and import testimonials
More themes, fonts and transitions
Unique Benefits of Easy Testimonials
The Pro version includes over 100 testimonial themes.
You can create different transitions for the testimonials, such as scrolling, flipping and tiling.
#7: Real Testimonials
Real Testimonials is a testimonial and review plugin for WordPress.
The plugin offers various customization opportunities and considers the smallest details, such as navigation arrows and pagination dots.
Free version features:
Unlimited widgets
Customization options for testimonial displays
Star rating system
Pro version (starting at 39$/yr) includes e.g:
Video testimonials
Collect testimonials with unlimited forms
Rich snippets compatible
More testimonial layouts
Import and export testimonials
Custom Css field
Unique Benefits of Real Testimonials
Testimonials are easy to translate to other languages. The plugin is RTL ready, so it can be localized to Arabic or Hebrew as well.
The plugin is speed optimized and works efficiently on any site.
#8: BNE Testimonials
BNE testimonials is a testimonial and review plugin that includes freemium and premium plugin.
Each client testimonial includes title, image, tagline, website URL and message. The testimonials inherit their style from your WordPress theme.
Freemium version offers:
Unlimited widgets
REST API integration
List and slider display
Premium version (25$) features include:
Import reviews
Submit testimonials with form
Additional layouts and themes
Custom styling
Unique Benefits of BNE Testimonials
The BNE Testimonials plugin features various hooks for custom programming.
#9: Stars Testimonials
Stars Testimonials plugin lets you add testimonial grids to your WordPress website.
It is compatible with various WordPress page builders.
With the free version you can:
Up to 5 testimonials
Display testimonials and reviews in grid view
When you purchase the paid version (starting at 19$/yr), you get:
Unlimited testimonials
Collect testimonials
Slider and wall display
More styles and colors
Unique Benefits of Stars Testimonials
Stars Testimonials offer significant discounts for renewed yearly plans. They also offer lifetime support and updates for a discounted price.
#10: Thrive Ovation
Thrive Ovation is a testimonial tool for collecting, displaying and managing written testimonials.
Thrive Ovation can generate testimonials from WordPress comments, social media posts and testimonial forms on your website.
The plugin alone costs 47$/year per site. You can also use it if you have purchased Thrive Suite, a collection of WordPress plugins (299$/yr).
What the plugin gets you:
Testimonial collecting
Testimonial importing
Unlimited testimonial widgets on one site
Thrive Ovation is not suitable for video testimonials.
Unique Benefits of Thrive Ovation
Thrive Ovation allows you to convert WordPress comments into testimonials.
#11: Ultimate Blocks
Ultimate Blocks is a multi-purpose WordPress plugin that comes with a collection of useful blocks. These blocks allow you to create beautiful and engaging blocks.
One of the blocks is Testimonial. It lets you add professional-looking testimonials to your WordPress site in no time. Besides, there are 20+ blocks available for other purposes like image slider, review, star rating, and more.
The tool is completely free to use.
Features of Ultimate Blocks include:
Unlimited customization
Device responsive
Zero coding knowledge required
Includes a wide range of blocks to create exclusive content
Compatible with other popular WordPress themes and plugins
Unique Benefits of Ultimate Blocks
The testimonial block of Ultimate Blocks is simple; anyone with zero developing knowledge can create a testimonial within minutes.