If you have a WordPress website and a few fresh Google reviews, you should add the reviews to your website right now.
There are no more excuses, as this list contains many free WordPress plugins (and paid ones) for adding Google reviews to your WordPress website.
Pick one, install it, and call it a day!
If you want a quick fix right away, simply download Trustmary's review plugin from WordPress plugin library.
Those who first want more information, read further.
What Are The Benefits of a Google Review Plugin for WordPress?
A Google reviews WordPress plugin is an add-on application that helps you display Google business reviews on your website.
The plugin is installed on your WordPress admin panel, where you can access and manage it.
The fact that you are here shows that you already know all of this. You also know that a WordPress plugin for Google reviews can:
Add credibility to your business.
Increase trust in your company.
Boost your website's visibility in search engines.
Result in a higher conversion rate on your website.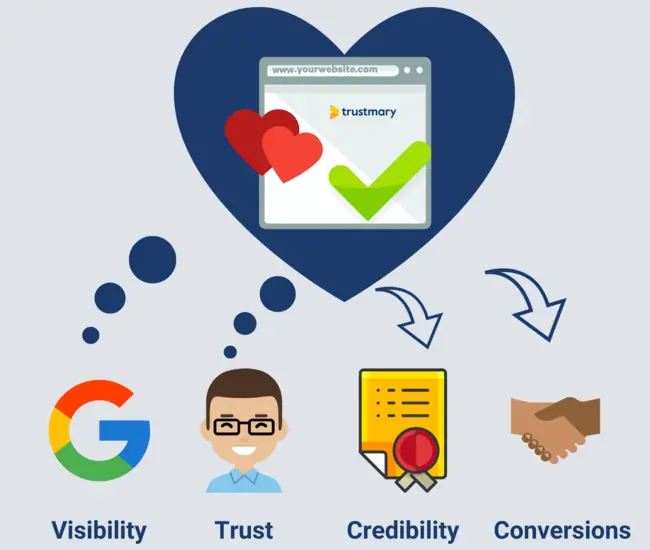 So, instead of telling all about the benefits of WordPress Google reviews plugins, I'll cut to the chase and help you choose the best fit for you.
How to Choose the Best Google Reviews Plugin for WordPress?
There are so many different Google reviews plugins out there. It's a task to find the best one for your WordPress site.
Here are some factors to consider when choosing a plugin for your website.
1. Compatibility
First things first: which WordPress version are you using? And what theme are you working with?
If you don't know, you can look it up on your WordPress admin page. Go to your dashboard and see the "At a Glance" box. It will give you answers to both of these questions.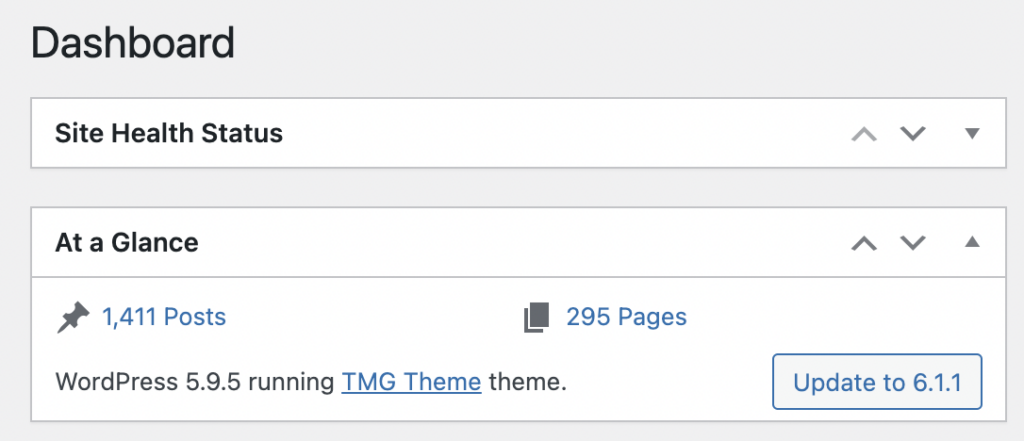 This is crucial information, as plugins need to be compatible with your theme and your WP version.
Luckily, most plugins are compatible with most themes, although there might be some theme-specific solutions available.
Sometimes, a plugin might be too old or too new to work with your current website version.
2. Simple to Use
Generally, plugins are simple to use. Any everyday marketer or entrepreneur can relatively easily add advanced features to their website with a plugin. Without one, they would need to hire a professional web developer.
However, there are differences in the usability of each widget. You can read reviews to find out which plugin is the easiest to use, but be aware that many of those commenters might possess advanced web development skills.
Depending on your skills and experience, you might be looking for plugins that are easy to work with even without any coding skills.
3. Connecting Your Google Location
Many Google review WordPress plugins require you to search for the Google Place ID from your Google Business page's backend settings.
It's not a difficult task, but for someone with no technical background, it might feel intimidating.
In this case, opt for plugins that have other ways to connect with your Google My Business page, such as searching for the location or pasting a URL.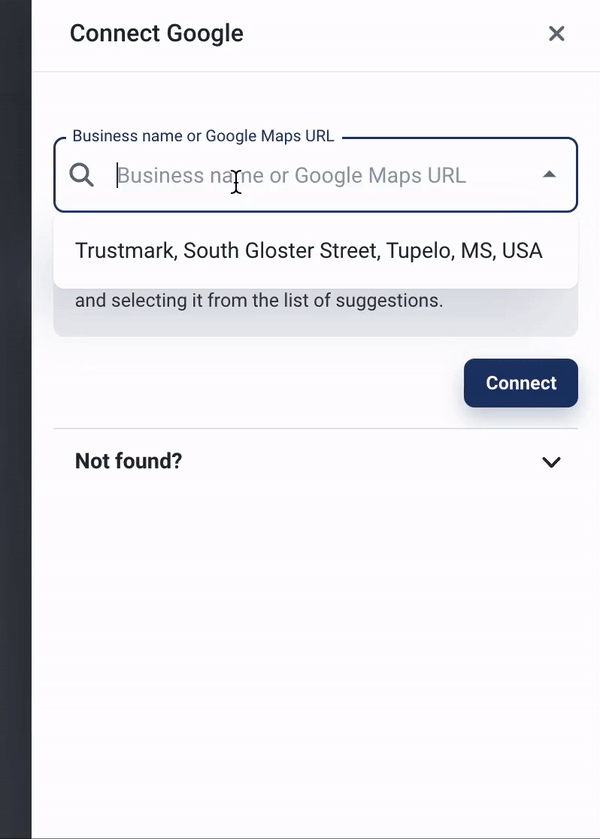 4. Customization Options
Customization options can be very limited with some plugins unless you know how to add custom CSS to modify the styles.
If that's not your cup of tea, you want to search for a plugin that offers customization options in a widget editor on a separate platform.
At the same time, pay attention to what kind of and how many different widget templates and designs the WordPress Google reviews plugin offers.
5. Search Engine Optimization
One of the biggest benefits of a Google reviews widget on your website is that it will increase your SEO efforts.
There are a number of ways how they affect your website:
Relevant content with keywords. Reviews include information about your business, which helps Google figure out what your website is about and rewards you with better rankings.
More time spent on the page. When people read reviews, they will spend more time on your website, and that is a signal to Google that your website is responding to the search intent of visitors. That means you can rank better.
Rich results add interest. Star reviews and ratings can appear on Google as "rich results" which draw more attention to your link. This will result in a better click-through rate and thus higher rankings.
If you want to tap into all these benefits, especially the third one, you need to be able to activate the Review schema markup on your Google review widget.

Some Google reviews WordPress plugins have this feature, but not all of them. Pay attention to this detail as well!
There are also some factors that might negatively affect SEO if you choose the wrong plugin:
Long load times
Unresponsive on different devices
Slows down your page overall
6. Review Settings and Sorting
Not all Google reviews are worth showcasing on your website. The plugin you use should have at least one of these capabilities:
Choose reviews to showcase
Hide reviews
Automatically show the best reviews
If none of these are available, there's a risk that you end up highlighting Google reviews that are not favorable, irrelevant, or even fake.
The best solutions utilize intelligent algorithms that find your best reviews.
7. Responsiveness on All Devices
Your Google review widget must be visible to all website visitors, despite the device they use.
Make sure that your chosen plugin works well on desktop and mobile.
8. Regular Updates
Some plugins are abandoned by the creators, meaning they are not actively updated to respond to the new WP versions.
Additionally, the best plugins are continuously improved according to user feedback.
9. Embed Google Reviews Without a Plugin
Plugins can make your life easier, but let's face it: sometimes they cause more problems!
Plugins might be incompatible with each other or with your current WordPress version. Thus, it's good to know your alternatives.
You can opt for a Google review widget that is used without a plugin.
Here's how to use it:
Search for your location on the search bar below and sign up.
Copy the embed code.
Paste the code to your website.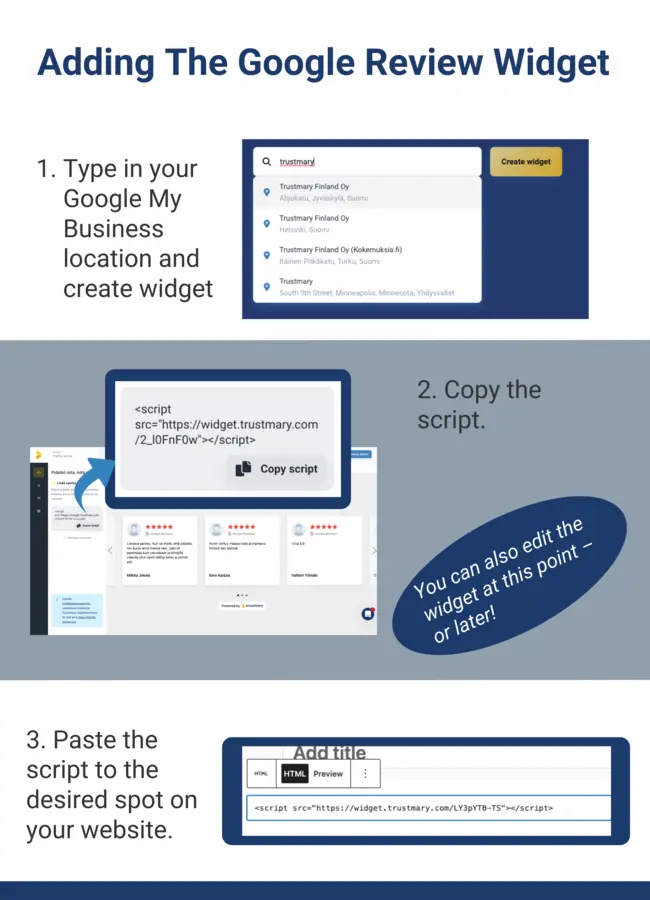 And you are ready! Of course, you can customize the widget as much as you'd like, and the changes are automatically updated on your website.
If this sounds like your next endeavor, get started by creating your Google review widget.
The downside of this option is that you might need to install a head script to your website. Depending on your technical skills and who is managing your website in the first place, it might be a problem. Plugins help you avoid this part of the process.
Which Google Reviews Plugin Is the Best?
Let's get to the list of the best plugins for embedding Google reviews on WordPress.
Here are the main criteria I have used to evaluate the plugins:
Usability
Design and templates
Extent of features
Value for money
User reviews
While doing this list, I kept in mind the "average Joe" marketers and entrepreneurs.
1. Trustmary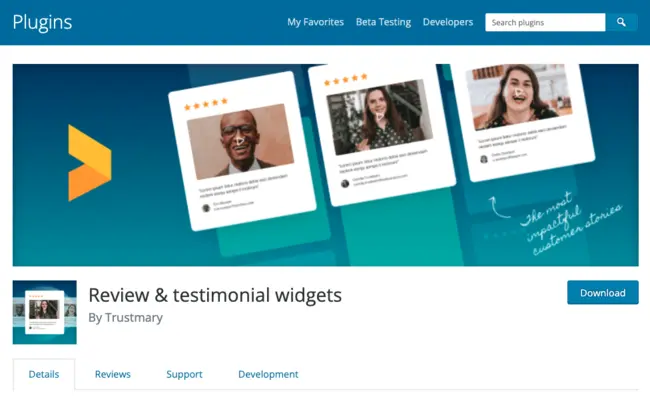 Trustmary's Review and Testimonial Widgets plugin gets you all you need for review marketing. It's a beginner-friendly option as you don't have to have any coding or web development skills to use it.
Connect Google location easily with a search bar and business name – no need to fetch Google Place ID from your Google location settings.
Modifying your Google reviews widget is easy in a widget editor. It's located on a separate platform to guarantee smooth and real-time preview. You can sort and filter reviews with intelligent algorithms that find your most effective reviews.
You can activate review schema structured data to boost your SEO efforts, direct visitors to leave new Google reviews, and offer responsive widgets on all devices.
There are multiple solutions for each budget and need, starting from showcasing Google reviews to building an extensive automatic feedback and review collection process.
The plugin is a newer solution on the market, and the team is ready to answer any questions and improvement suggestions from users.
Features:
Compatibility: All themes, WP version 4.2 or higher
Price: Prices range from free to full-suite review and feedback plans. Have a look at the different pricing options.
Best suited for: Companies who want to thoroughly tap into review marketing and need a simple way to do so. This tool requires no coding skills, so it's perfect for the marketing team or entrepreneurs with no technical background.
2. Plugin for Google Reviews by RichPlugins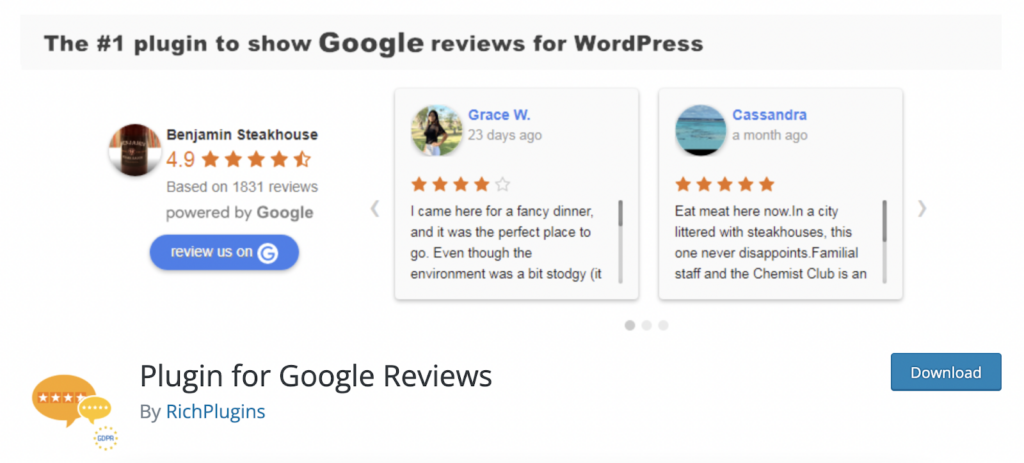 Plugin for Google Reviews by RichPlugins is one of the most used Google reviews plugins with a long history, lots of reviews, a high rating, and active development. They offer support in multiple languages and are good at responding to and solving users' issues.
This Google reviews plugin allows you to add Google reviews or Google rating badges to your website and collect new Google reviews with a CTA button.
You can add your Google reviews to the sidebar to keep them visible to the visitor at all times.
User feedback shows that the plugin is easy to use and customize. However, most users seem to be developers and webmasters. If you don't have a technical background, finding and adding your Google Place ID to connect with the tool can feel complicated. Also, customization requires some coding skills.
The plugin is strictly for showcasing Google Business reviews – unless you opt for the paid Business version. It includes other platforms as well, including Facebook and Yelp.
Features:
Multiple widgets and Google places
Responsive slider for all devices
Collect Google reviews
Hide reviews when needed
Multi-language support
Compatibility: Most themes and builders, WP versions 2.8 or higher
Price: Free, paid Business version available
Best suited for: Webmasters and web developers who want a simple solution to work directly with WordPress. For marketers and entrepreneurs with no technical background or help, there are simpler solutions, like Trustmary above.
3. Reviews and Rating – Google My Business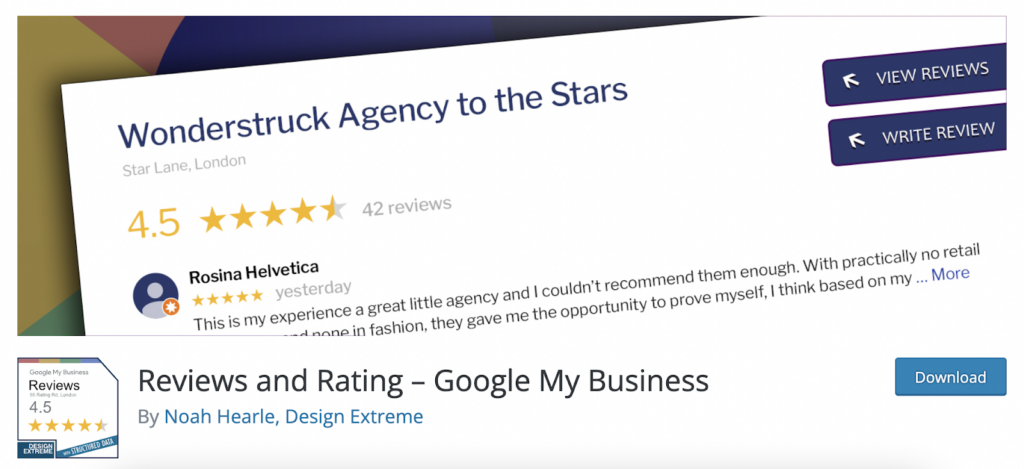 The free Reviews and Rating – Google My Business plugin has an extensive amount of Google reviews widget templates and customization options. It's a great option for those who want to play around with different designs.
User reviews show that the creator offers prompt support for problems and is active in updating the plugin.
This plugin needs you to enable billing on Google in order to work long-term. It has confused some users but is still free to use. Additionally, you need some understanding of how to use Google API keys and the Place ID.
Features:
Display Google reviews and ratings on your website
High number of templates available
Extensive customization options
Structured data supported
Review sorting and filtering
Compatibility: WP versions 4.6 or higher
Price: Free
Best suited for: ​​This plugin is suitable for anyone who has a bit more experience and patience with technology, especially regarding Google. It's also a great choice for design-minded users who value extensive customization possibilities.
4. WP Google Review Slider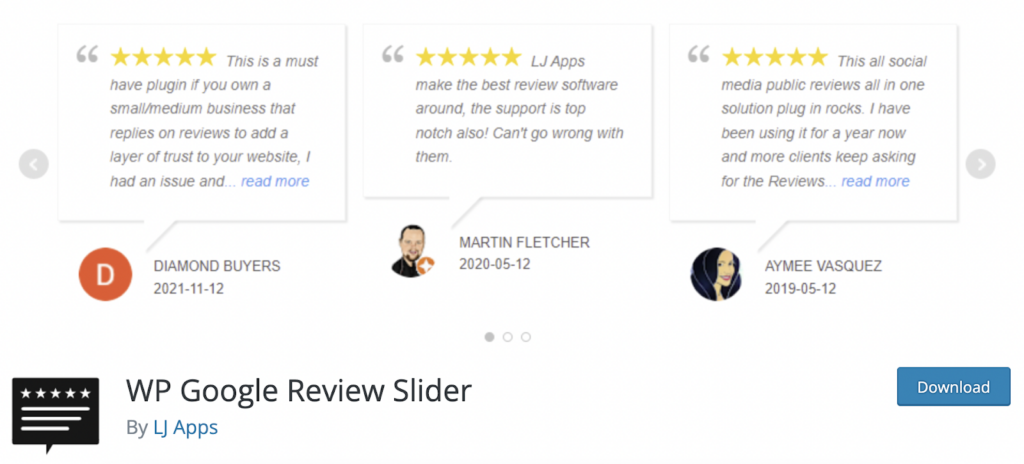 WP Google Review Slider is also one of the most popular plugins available. It allows you to display Google Business Reviews even without a physical location: it works with service area businesses as well, unlike many other plugins on the list.
You can connect your Google account with a place ID as well as by searching for your business with keywords.
The review widget is relatively easy to customize directly in WordPress, with a preview of how it will look. However, the design options are quite limited. The widget is then added to the website with a shortcode.
The recent reviews are all positive: the few negative reviews are from several years back when the plugin might not have been as developed as today.
Features:
Create a Google reviews slider
Choose to display the newest or most effective reviews
Modify the slider directly in WordPress
Sort reviews or show random reviews
For further personalization, use custom CSS
Compatibility: WP versions 3.1 or higher
Price: $29
Best suited for: Companies that want a basic, stylish, easy-to-use Google review widget for their website and aren't interested in advanced customization and design. Suits people with no coding experience.
5. Everest Google Places Reviews

The Everest GPlaces Business Reviews plugin has been praised, but in 2023, it might be time to move on. The plugin has not been updated for the new WordPress versions, and it's unclear if you would still receive support.
The unique benefit of this plugin is that you can connect several Google Places and showcase their reviews on your website. It's a handy feature for businesses with multiple locations.
The basic plan has limited widget templates and restricted customization options. Also, you can only showcase up to 3 reviews with the basic plan.
Features:
Connect multiple Google locations
Showcase Business information with badges
Collect Google reviews with a button
Publish up to 3 reviews
Limited number of templates available
Compatibility: WP versions 4.5 to 5.8
Price: $18
Best suited for: Companies with multiple Google locations that use an older WordPress version (but not older than 4.5). However, it's recommended to update your site regularly if there is no clear reason for keeping the older version.
Conclusion
This article explored some of the best Google reviews WordPress plugins to embed Google reviews on your website.
It's important to choose a solution that fits your needs, budget, and skills. Pay attention to the plugin's features: a good Google reviews plugin can truly elevate your WordPress website and get you more sales, but a bad one can even harm your SEO and customer experience.
Further Reading
FAQ
What is the best Google review plugin for WordPress?
The best solution depends on your unique needs, your budget, and your skills. Some plugins require advanced technical understanding and skills, while others are suitable for less experienced users. For example, Trustmary's Google review plugin is very easy to use and has lots of features. It includes everything you need from a Google reviews plugin and is free to use.
How to embed Google reviews on WordPress?
You can embed Google reviews on your WordPress website by using a plugin. Install a plugin through your WordPress admin panel, and start using it!
There are also plugin-less options to add Google reviews to your website, such as this free Google review widget. Just import Google reviews to the Trustmary platform, get a widget automatically from your best Google reviews, and add a short embed code to your website.
How do I add Google reviews to WordPress without plugins?
There are a number of ways to add Google reviews to WordPress without a plugin. You can copy the embed code directly from Google, use screenshots, or copy and paste the review's content. However, these strategies leave you without the SEO benefits of having a review schema on your website.
The best way to embed Google reviews without a WordPress plugin is to opt for a Google review widget. Just sign up to Trustmary, connect your Google location, import reviews, and create a widget that automatically shows your best reviews. Then, simply add a short embed code to your website.
What are Google review plugins?
Google review plugins are applications that you can add to your WordPress. They help you showcase and possibly collect more Google reviews on your website.
How do Google review plugins work?
Google review WordPress plugin is independent application that connect with WordPress and Google. You install the plugin on your WordPress website with just a few clicks. The plugin has its own instructions for connecting to Google locations: in some cases, you have to find your API key and Place ID yourself, while other plugins allow you to simply search for your location and connect that way. The plugin uses data from your Google Maps listing to show reviews on your website.
What are the benefits of using a Google review plugin on my website?
Google review plugin is an easy way to add social proof to your website. That results in:
More trust in your business
Added credibility
Increased conversion rate
Search engine optimization benefits
How do I install a Google review plugin on my WordPress site?
Click on "Plugins" on the sidebar.
Add new.
Search for the plugin, such as "Trustmary"-
Install the plugin.
Activate the plugin after installed.
Start using it!
Can I customize the design and display of the reviews with a Google review plugin?
It depends on the plugin in question. Many plugins have limited possibilities for customization, or they require adding custom CSS to modify the styles. With Trustmary's Google review plugin, you can easily modify the design of the reviews in a separate widget editor. It requires no coding skills at all!
Can I display reviews from other platforms, such as Yelp or Facebook, with a Google review plugin?
Depends on the plugin. With Trustmary's Review and Testimonial plugin, you can showcase Google, Facebook, Yelp, G2, Capterra, and TripAdvisor reviews. New review sources can be added on request.
How often are the reviews updated with a Google review plugin?
Most plugins update Google reviews automatically whenever there are new reviews on your site. Trustmary's Google review plugin makes sure you are always showcasing the best reviews, and new glowing reviews are added to your widget in real time.
Is it easy to manage and moderate reviews with a Google review plugin?
Most Google review plugins include a feature to hide undesired reviews from your Google reviews widget. However, you can't delete reviews from your actual Google review page using a plugin.
How do I ensure the authenticity of the reviews displayed on my website with a Google review plugin?
Trustmary's Google review plugin always showcases the real Google reviews you get on your Google reviews page.