Case aTalent Recruiting – Each individual's work becomes visible with Trustmary
aTalent Recruiting is a recruiting company that believes in the power of constantly developing its customer experience. They think Trustmary is a great tool for measuring customer experience, collecting customer feedback and using recommendations. By using Trustmary's services, they have been able to make each individual's work visible both within and outside of the company as well.
Originally, aTalent Recruiting was founded by student and alumni organizations of Aalto University, and it is now a 16-year-old recruiting company. They are specialized in recruiting highly educated experts in technology, and finance.
– We operate mostly in the capital city area, but we also work in all cities from Helsinki to Oulu that have a university, says the Sales Director, Kaisu Korolainen.
From the upper floors of Kamppi Autotalo, one can see far beyond the roofs of central Helsinki. In this aTalent Recruiting office, there are a dozen professionals that work either on recruiting or on acquiring new customers.
– We currently have around 50 employees. We do around 600 recruits annually, Korolainen summarizes.
Quality of Service as the Focal Point
Candidate experience is being valued at aTalent. The Marketing Manager, Mikko Matikka, says that they strive for complete customer and candidate satisfaction during each job application process.
– We aim to promote a better work-life as a whole. Our key values stem from our owner base, from the student organizations, Korolainen continues.
– Our salespeople used to struggle with collecting customer feedback. We wanted to have a tool for making the customer feedback collection systematic. We came across Trustmary and it immediately seemed to answer all of our needs, Korolainen reminisces.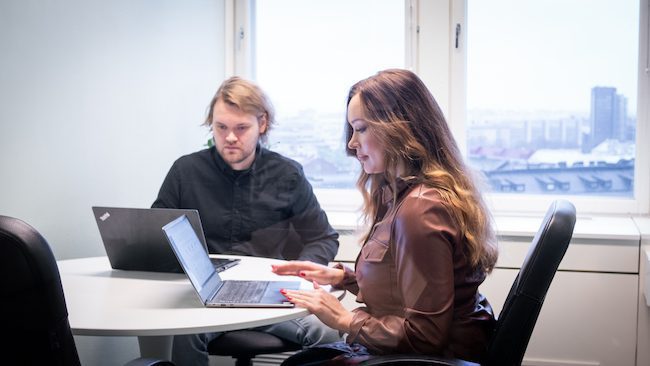 Test phase to kick things off
Trustmary's social media presence had made an impact on Korolainen and when aTalent's team was introduced to the idea of starting to use Trustmary, they decided to try it out with a test phase.
– The test phase underlined the fact that the service is just the right one for aTalen'ts needs, Matikka says with a smile.
– It was a ready-to-use solution and they thoroughly trained us on how to use it. The quality of the customer service was excellent right from the start. We felt that all of our questions were answered immediately, Korolainen praises.
More results with automations
With Trustmary, collecting customer feedback, measuring the quality of the customer service, and publishing testimonials happen almost automatically.
– If we compare our current situation to the time when our salespeople were randomly sending out questionnaires to only some of our clients, a lot has changed. Nowadays, we send out a customer feedback form to everyone that we are in contact with, which also means that we get significantly more reviews. In less than a year, we have received over 400 answers to our feedback forms. I think that is a pretty good number, Korolainen says and smiles.
– Measuring NPS systematically was an impossible task before using Trustmary. We are now able to measure the quality of our service and then develop it accordingly, Matikka continues.
Korolainen says that their customers also give them plenty of open feedback in addition to the numeric evaluation. The received feedback includes both positive and negative comments and each of them is highly appreciated. The automations ensure that each feedback is published on their internal communication platform, Slack, where all employees get to see and comment on the received reviews.
– Each individual's work becomes visible, when we use Trustmary, Korolainen concludes.