Improve the Customer Journey with NPS
Think of the customer journey as a flywheel. In order to get to the next phase, you need to keep the wheel moving.
How to make sure that the wheel is moving? Improve your service at every turn.
How to know what to improve? Ask the people who know it best: your customers and prospects! And do so consistently throughout the whole customer journey.
When you optimize every stage of the customer journey, you can not only keep the flywheel rolling, but also speed it up!
While you get valuable feedback, you can also use the feedback as social proof: make it into reviews and testimonials to showcase online.
Remember when we discussed the principle of consistency? After your customer has already stated that they would recommend you, what stops them from telling why they would do so?
This is easy when you are using Trustmary's NPS survey tool. Try it out!
Stages of the Customer Journey
There are many ways to model a customer journey. Whether you think of it as a wheel or a funnel, the principle is the same.
A customer goes through the following stages:
Awareness
Consideration
Acquisition
Service
Loyalty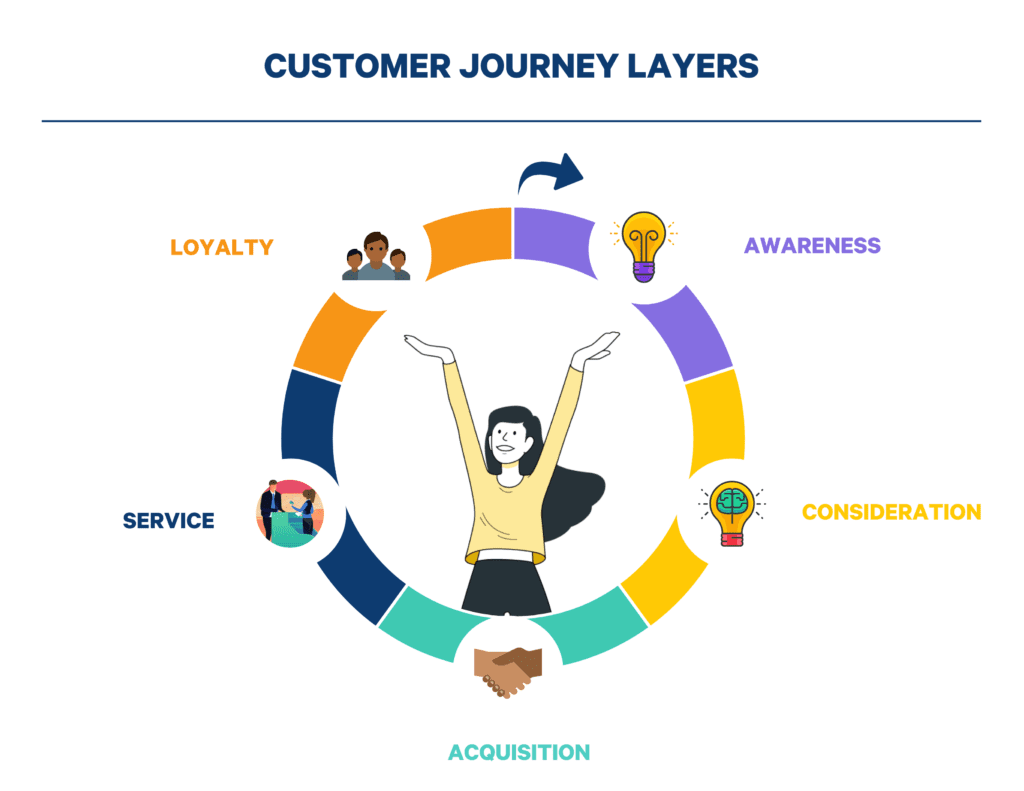 Awareness
During the awareness phase, the customer is only a stranger that is learning about your product or service.
Maybe the stranger has seen your advertisement, maybe your sales people have contacted them, or maybe they had a friend recommend your product to them.
Consideration
If interested, the customer turns into a prospect. The prospect might browse your website and search for experiences about you.
At this point, social proof is one of the most powerful ways to capture this prospective customer. Showcase reviews and testimonials online to capture this prospect.
Acquisition
Once you notice the prospect is qualified, the Sales take over. If the sales process is successful, and you are able to guide them through the acquisition stage, the prospect will become an actual customer and move to the next stage.
Service
Next, you need to provide outstanding service in order to turn your customer into a promoter.
Loyalty
The promoters are loyal customers who are happy with your service and like to say so.
The promoters might be just the people who trigger the next stranger into becoming aware of your product or service.
So the circle is closed… ideally.
How to Close the Circle with NPS and Social Proof
Let's recap: new prospects are lured into your sales process by social proof and other measures.
The existing loyal customers generate social proof for your new potential prospects to see.
But often the experience is not that smooth. Businesses do not know how their prospects and customers are feeling about their journey, and new customers cannot find recommendations from existing ones to support their decision-making process.
This flaw might well stem from thinking about the customer journey as a funnel rather than a circle or wheel.
Trustmary helps you solve this problem and make your flywheel roll smooth and fast.
By utilizing easy NPS surveys and other tools that Trustmary software offers, you can start collecting feedback and social proof, and automatically featuring them in your website.
You will no more have to worry about missing out on the influence that your loyal customers have in the customer journey of future clients, and you will no more have to wonder how your customers are doing.