Beginners Guide to Search Engine Optimization
When as much as 51% of all internet traffic is generated by search engines, you should know everything about Search Engine Optimization (SEO).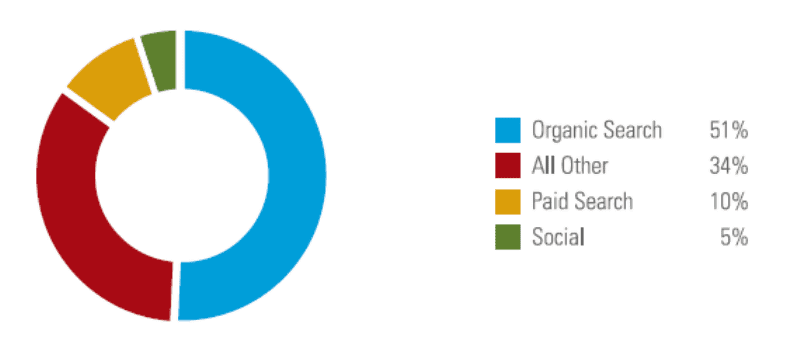 SEO isn't complicated. The problem is that website owners don't have enough knowledge about SEO. When you don't know a lot about it, it will become hard for you.
If you're new to SEO, interested in learning SEO, or interested in driving more traffic from search engines to your website, this is the guide for you.
It covers everything about SEO that will help you drive more organic traffic to your website.
(Pro tip: How did we use SEO at Trustmary and increased our monthly visitors from 2,000 to over 50,000 in 11 months, 85% being organic? Listen to Augurian's 'How I Work' episode with Trustmary USA Inc CEO Arttu Haho.)
What is search engine optimization?
According to Moz, SEO is the practice of driving targeted traffic from search engines to your website. Your target audience uses a search engine to find a solution to its problems. You need to make sure your website ranks for search terms that your target audience uses.
For instance, if you're selling used laptops, you need to make sure your website ranks in search engines for search terms like use laptops, how to buy used laptops, where to buy used laptops, etc. These are the search terms your primary target audience is most likely to use.
In order to improve your website's ranking in search engines, you need to optimize your website for search engines. The better your website is optimized, the higher it will rank.
Why ranking higher is important?
Because the first result on Google receives 31.73% of traffic, the second result receives 17.6%, third receives 11.4%, and the 10th search result (the last result on the first page, generally) receives 2.4%.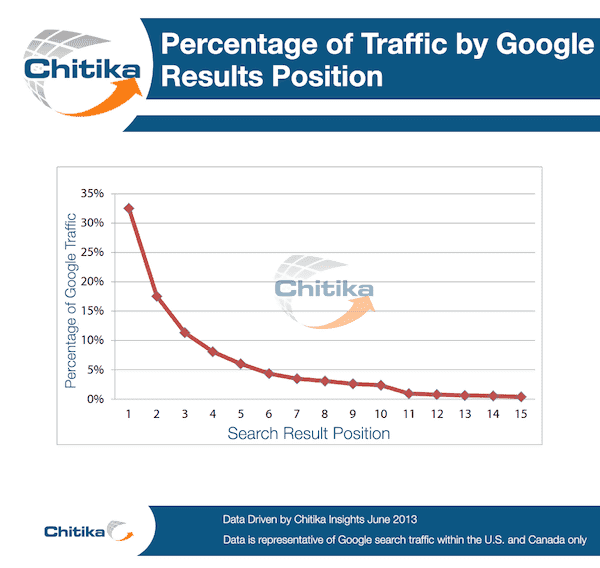 SEO pushes your website towards the first position of search results where you are expected to receive the maximum traffic for your preferred search query.
Types of SEO
Search engine optimization is divided into two broad categories:
On-page SEO includes practices of optimizing your website and web pages to improve search engine traffic. It involves all such practices that you take on your website.
Off-page SEO, on the other hand, refers to the practices that you take or others take off your website. All such practices that impact your website's ranking in search engine results page (SERP) that are taken outside of your website.
Both on-page and off-page SEO have their unique importance, therefore, you need to have a clear understanding of both if you're interested in improving organic traffic.
Let's explore these two SEO types in detail.
On-Page SEO
There are several on-page SEO practices that you can use to improve your website's crawlability, indexing, and ranking. Here is a list of elements that you should optimize and details on how to optimize them.
1. Awesome content
Your website is all about content whether it is text, images, videos, graphics, and more. The content on your website has to be informative, unique, and valuable. It has to be awesome.
Search engines use content to rank websites. It is used to determine your website's relevancy for a searcher's query. Websites having relevant and quality content outperform their counterparts.
Here are a few tips on how to publish better content:
Use Skyscraper technique. This is the best technique to write content that both readers and search engines will love.
Use 10x content technique to write content that hasn't been published anywhere else on the internet.
Content needs to be relevant to the title of the webpage.
…Including Reviews and Testimonials
Reviews and testimonials are not just great for increasing trust and credibility of your brand – they also affect your SEO efforts.
They are especially important for local businesses, as Google reviews are the second most effective factor for the SERP ranking for them.
However, also online businesses experience a dramatic increase in organic page views when they add customer reviews on their websites.
What is this phenomenon based on?
Customer reviews most often include relevant keywords for your business, and that's what the search engines like!
Additionally, when people talk about your business (aka write reviews), Google notices that you are a legitimate actor and starts to value your website more.
2. Improve site speed
Your website's load time is more important than anything else. It is a critical ranking factor which means sites having slow load time are pushed down the SERPs.
Google has an amazing free tool that will let you check your site load time with tons of recommendations to improve it (if it isn't doing well). Click here to access PageSpeed Insights.
3. HTML tags
HTML tags help search engine crawlers and readers to make more sense of the content and your entire website. These tags define the structure of individual HTML pages.
The leading tags that you should optimize include:
Title tag
Meta description
Alt tag
Heading tags
Off-Page SEO
On-page SEO is easy to control. You can control everything about it. That's not the case with off-page SEO. You don't have a lot of control over off-page SEO practices. Interestingly, the impact of off-page SEO on rankings is way more than on-page SEO.
Here are a few essential off-page SEO practices.
1. Backlinks
Backlinks are the most essential component of off-page SEO. Backlinks are one of the most important ranking factors.
If a lot of authority (popular) websites link to your website, it will improve your website's ranking significantly. However, these links have to be natural.
A natural link is one that is added without any influence or action of the website owner. And when you acquire links, that's where things get a bit tricky.
You can acquire links but they aren't as powerful as the natural ones.
Things that affect the SEO impact of your backlinks:
Authority of the website who is linking to you. Domain rating is a great indicator of the authority of a website (although it is not fool-proof).
The more the better (only applies to natural and quality links). The first search result on Google has 3.8 times more backlinks than the second result. And if you are able to collect even a small number of backlinks, you are already winning. 95% of pages don't have any backlinks.
Variety of backlink sources. Even if you get several backlinks from the same domain, it is no better than having a few from diverse sources.
Whether you get backlinks to a specific page is not that important: URL rating of an individual page is not a significant factor in SEO. The overall authority of the site (domain rating) is more important.
NoFollow links (those links that you tag as something you don't endorse, thus not giving search engine credit to the link source page) are a controversial topic in SEO. Some experts say they can harm your domain authority. However, many marketers use the NoFollow code on paid links to "fool" Google, and it is considered a good practice for linking untrusted third-party websites.
Natural, relevant links and their placement. A backlink must be placed in a natural place in the content. If many links come across as out-of-place, it can harm your ranking. Also, if you have lots of links on low-authority websites that are not even related to your industry, it is seen as negative by Google. So, avoid link farms and unrelated blogs.
Get rid of broken links. Use a link checker tool to go through your broken links once in a while.
Here are a few best techniques for acquiring backlinks:
Guest blog for backlinks.
Content marketing is a great way to acquire natural backlinks by creating and publishing high-quality content that people will link to.
Infographic distribution helps you acquire backlinks easily. Anyone who will share your infographic will link to your website.
Broken linkbuilding technique involves reaching out to websites that have linked to invalid or 404 pages that don't exist anymore. Provide them with an alternate (yet better) page on your website and get a free backlink.
Outreach refers to reaching out to webmasters and showing them your awesome content. If they like it, they're more likely to share it and link to it.
Resource page links let you get your web pages and blog posts listed in resource pages published on other people's websites.
2. Social signals
This is yet another important off-page SEO technique. Social signals have a positive impact on SERPs. This means of your website is active on leading social networks, you publish posts regularly, and there is a lot of activity on your posts (likes, shares, etc.), this gives search engines signal that people like your content and thus your website.
This makes search engines to improve your website's ranking because search engines want to show quality results to the searchers that they will love.
Here is how it works.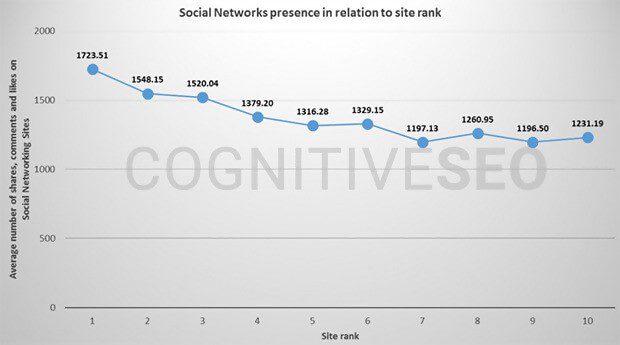 Besides, social signals let you get backlinks as social activity improves brand awareness and online visibility.
Where to Begin
Now that you know the basics of SEO and how you can improve your website's ranking, it's time to get started. This guide covered the basics only. There are several on-page and off-page techniques and practices that you can use.
However, you need to start off with the ones discussed in this guide. Don't complicate it for yourself. Keep it simple.
Remember, SEO isn't difficult. The way how you do it makes it difficult.
Stick with the basics.
Further Reading
FAQ
What is search engine optimization?
Search engine optimization (SEO) is the process of trying to improve your website's ranking in the search engines.
Why should I do search engine optimization?
Those pages that appear high in the search engine result pages (SERP) get more traffic. In fact, they get most of it. If you don't rank in the first few SERPs, you get barely any traffic to your website.
How to improve search engine rankings?
There are numerous tactics to search engine optimization. To sum it up, everything that makes your website useful, enjoyable, and legitimate will most likely improve your ranking.