Hold on to your seats, this is a big one!
You can now create beatiful ready-to-share images of your reviews in Trustmary. At the moment, you'll find templates for Twitter, LinkedIn, Instagram, and Facebook. You can also customize the review to your liking by for example, adding your logo and a background image.
You can access the feature from the Reviews section by clicking on Share on a review card. Check it out here!

You can also read further and learn why you should share reviews on social media, what are some of the best practices for sharing them, and how to do it with Trustmary.
Reviews as social media content
Reviews make great social media content. Here are some reasons as to why:
They offer info about your company/products/services, and who would be better at describing that info than your customers? Reviews sometimes include the best copy you could ask for.
Reviews work as social proof. They show that your brand is trusted by others, which makes people more drawn to you.
Customers are crazy about user-generated content, which reviews are. They are more authentic in your audience's mind that your own posts.
Posting a review gives you a chance to tag your customers in your posts. Algorithms pick up this activity and show your post to the tagged user's audience as well. More reach for your post, and more eye balls that might become customers one day.
On top of everything, reviews can be easily branded to fit your social media feed. Every social media marketer's dream!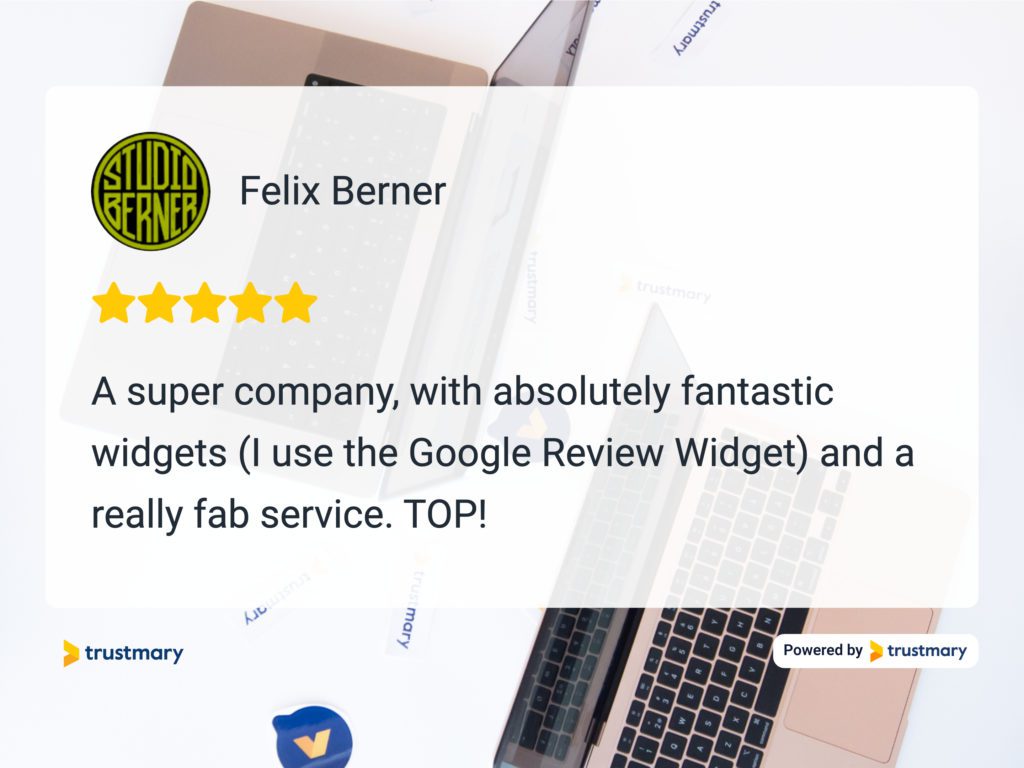 Best Practices
Before you start sharing reviews, keep in mind these best practices.
1. Have permission to use the reviews.
It would be not cool to share what someone said in an unofficial setting.
This is never a problem when you use Trustmary to collect and showcase reviews. You always have the written, formal consent to use the reviews in your marketing channels.
2. Make them visual.
Social media is all about skimming and browsing. You have to be able to capture the attention of your audience in just one swing of a thumb.
That's why images and videos are the winning strategy in social media. Pair the review with an image to make a first impression that makes people want to read the post as well.
3. Suit the platform in question.
Different platforms have different capabilities. It's best to optimize the review and image for the preferable size. Use tall images for Stories, wider ones for LinkedIn and Twitter, and square images for Facebook or Instagram feed.
Trustmary has ready-made templates for various image sizes. Whatever image you choose to include, it's scaled to fit the chosen platform.
4. Create short and sweet captions.
Accompany the reviews with suitable captions. Don't make them too long, and remember to be appreciative of the review. Speak positively of your reviewer, and don't miss the chance to tag them!
Especially in B2B cases, it's a good chance to pass around positive word-of-mouth to each other.
It might even encourage more reviews for your business. When your other clients see that the reviewers get free visibility in your social media channels, they might be willing to leave social media-worthy reviews for you!
5. Personalize for your brand.
If you care about the "vibe" of your Instagram feed, you probably won't miss the chance to customize the review for your unique style.
Even if you aren't that picky about the look of your profile, you should try to make your brand visible by giving the post your brand colors and adding a logo.
It makes old followers instantly recognize your brand and helps establish brand awareness for new audiences.
How to easily share reviews on social media
Trustmary is the easiest tool for sharing reviews on your social channels.
All you have to do is choose the review from the platform and edit it in the easy editor. Next, you can download the image and post it on your chosen channel.
You could do it without Trustmary, too. Here's what the process would look like:
Find a review (that's a job in itself if you don't have them consolidated on one platform).
Get consent to use it.
Screenshot the review or copy the text.
Sign up for a graphic design tool like Canva.
Adjust the image size.
Choose the fonts, font sizes, colors, etc.
Find a suitable background.
Import your logo, brand colors, desired image(s).
Arrange the elements on the page.
Download the image.
Post.
It's doable but involves a lot of steps.
You can skip all the cutting, cropping, adjusting, and planning when you use Trustmary. It took me maybe 10 seconds to create each of the examples for this article.
Get to work!
Test out this new feature in Trustmary. Feel free to tag us when you share reviews on social channels!