Step #1: Create Your NPS Survey
It's a no-brainer step. You need to create an NPS survey to get started. There are multiple variables that need your attention at this stage.
First, decide the survey type. It could be on-site or a standalone NPS survey.
An on-site NPS survey is distributed through your website. The survey is triggered when pre-defined conditions are met. For instance, you can choose to send a survey to customers from a specific location or to customers who have purchased or ordered a specific product.
Here is an example of how to create an on-site survey and the right time to send it: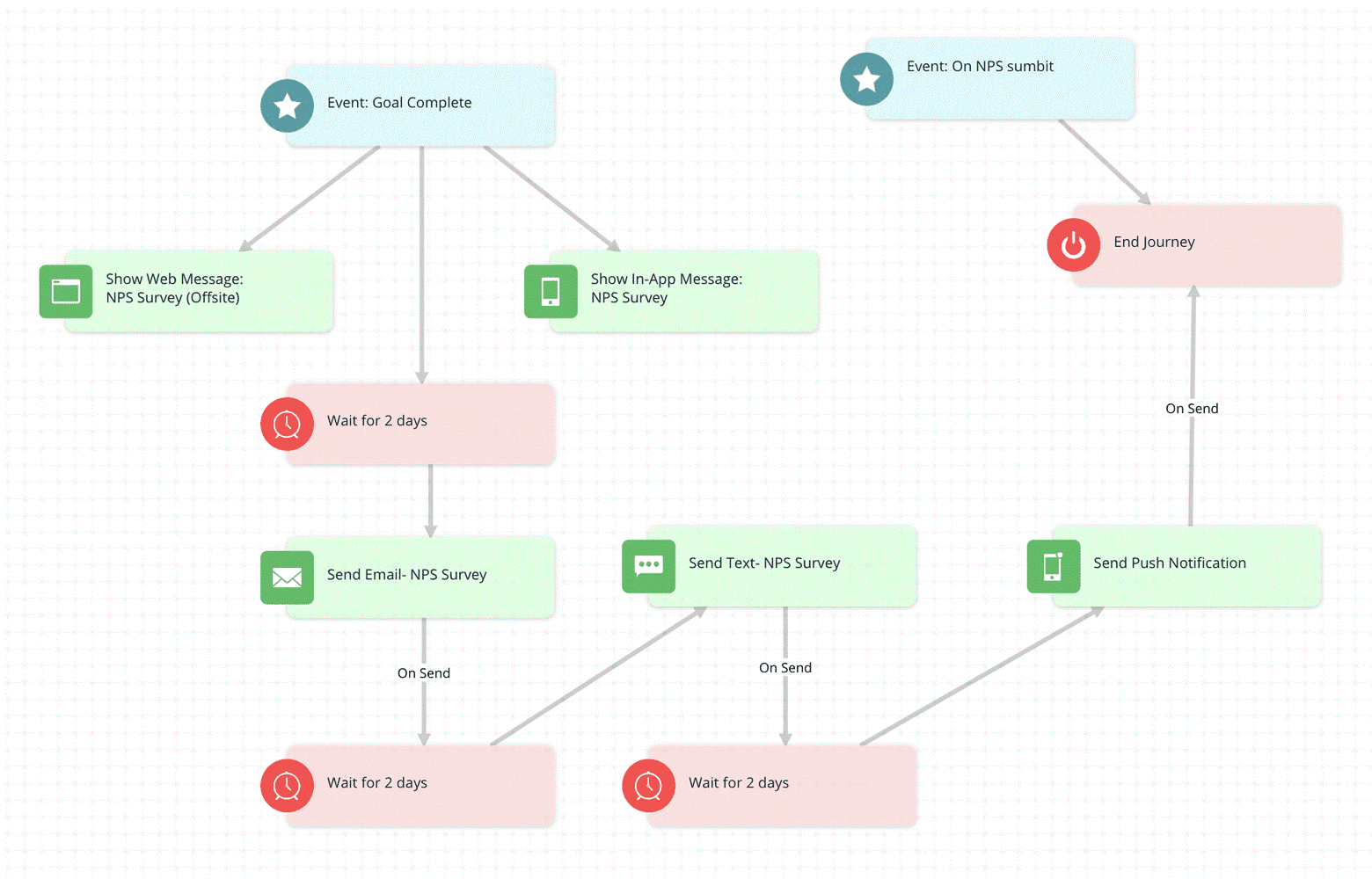 You need to ensure that the survey is sent to customers – and not website visitors. Sending the NPS survey to website visitors will yield a poor score, that is not really actionable because a first-time visitor doesn't really know your company and won't recommend you or give any actionable feedback.
A standalone NPS survey, on the other hand, is more flexible. You can send it via email, SMS, or any other channel.
When creating your NPS survey, make sure to ask feedback from the customers with an open-ended question. Here is an example of how to get additional feedback: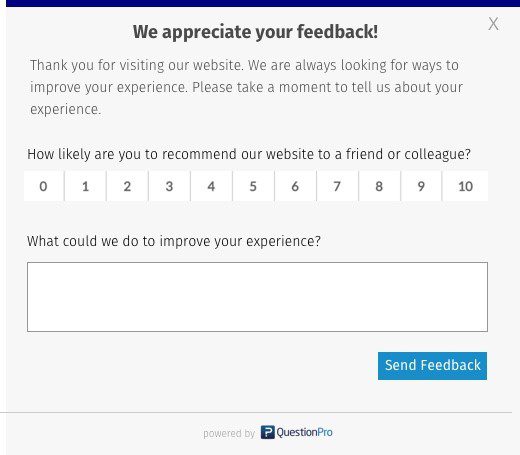 Second, choose an appropriate NPS software. Here is a list we have made about the best NPS tools that you can choose from. You can use any survey tool or even Google Forms to create an NPS survey, but a good idea is to use specialized NPS software.
Why?
When you use a survey tool that is not specifically built for NPS, you'll have to do a lot of work manually such as calculating NPS, finding the number of promoters and detractors, and managing feedback. A specialized NPS tool will handle all this for you. The score will be calculated, responses will be categorized, and everything will make much more sense.
Here is an example of our NPS tool. It shows you all the details via its intuitive dashboard.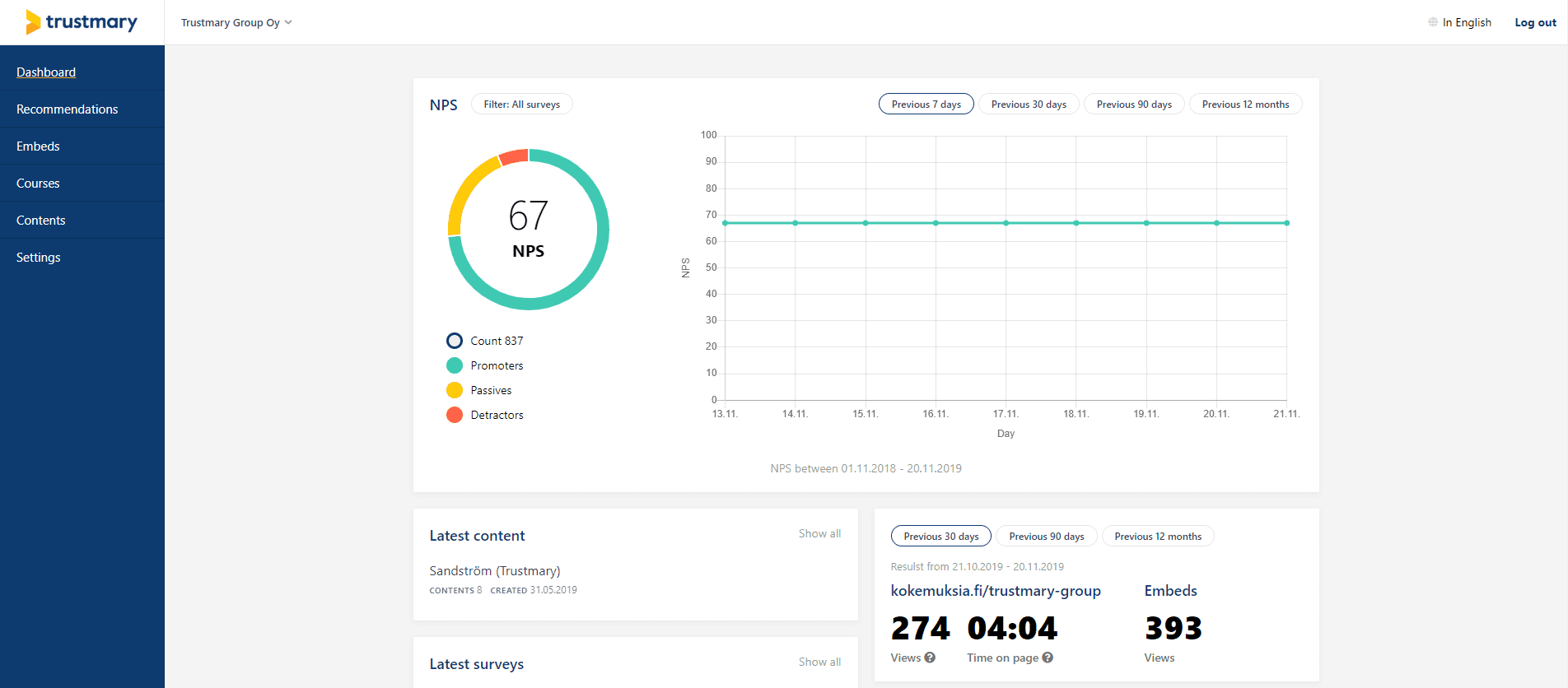 When choosing an NPS software, you need to make sure that it can be integrated with your CRM and email marketing tools. As it is usually the easiest way to send targeted NPS surveys to your customers and analyze responses at an individual level.
Step #2: NPS Survey Distribution
Using an NPS app has another benefit as it can also make survey distribution easier. This obviously depends on the tool, but usually, the tools take a lot of the workload away with automation.
Ask yourself: What distribution channel you'll use and why?
Why you are sending surveys via email, and why not via SMS?
Here is a list of the most popular NPS distribution channels:
Email
SMS
In-app
Phone
Website
Chatbots and messenger
Offline
Email: Works well in almost all types of situations but has a relatively low response rate. The best thing about email is that it is non-intrusive, integrates with CRM, trackable, and has a wide outreach.
SMS: SMS NPS survey is ideal when high response rate is a priority. However, SMS-based NPS survey distribution is expensive and has limited scope because not all customers share their phone numbers.
In-app: An in-app NPS survey works best for SaaS and businesses having an app. The scope is, therefore, limited. In-app surveys have a high response rate and you get immediate feedback. The biggest issue with in-app surveys is that they're intrusive and might end up ruining your CX.
Phone: NPS survey via phone is more of an interview that's intended to get in-depth insights. The response rate is very high. The best thing about phone-based NPS surveys is that you get a chance to get in-depth customer feedback that helps you reduce churn. However, it is expensive, intrusive, and can make the NPS not so reliable as a single metric, if done incorrectly.
Website: Your website is a good place to distribute NPS survey in some specific cases. It requires advanced targeting to show the survey to customers only, but it can be worth it.
Chatbots: Messenger and chatbots provide you with another amazing survey distribution channel. It works automatically, provides you with in-depth feedback, and yields a high response rate. On the downside, a lot of the time it is hard to link it to your CRM and it is expensive.
Offline: It works best for businesses that have physical stores and offices.
And remember, you don't have to necessarily stick with a single distribution channel. You can use multiple channels. For instance, you can send the survey via email and send a follow up through text message. Here is an example of how to use email and text message to boost response rate: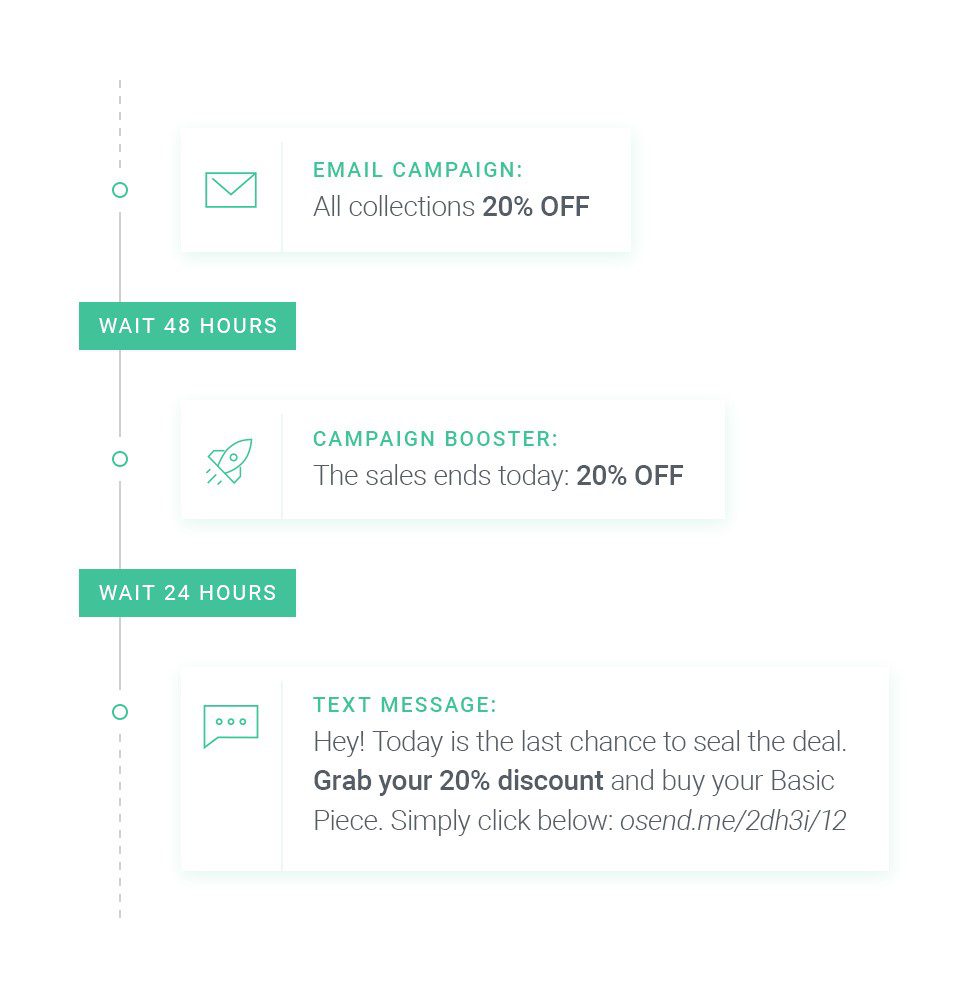 Using multiple channels is ideal and works better than using just one channel but there is usually one channel that will bring most of the responses – find it. In most cases, email works best. It is simple, cost-effective, has a wide reach, and can be easily integrated with the leading CRM tools.
Integration with CRM tool is essential because it lets you analyze responses at the individual level. It lets you see what category a customer belongs to and what technique to use to engage with him. This is one of the most important points of NPS to offer an individualized experience to customers that will persuade them to stick with your company.
And don't forget to add follow up in the loop. It increases the response rate to a great extent.
Step #3: NPS Calculation
When you have distributed the NPS survey, responses start rolling in. Your NPS tool will calculate the score automatically in real-time. You'll get to know the exact number of promoters, passives, and detractors.
If you have distributed the NPS survey offline, you have to calculate the score manually. You need to enter data into an Excel sheet. Create macros for the surveys and start adding data into the sheet. Or, you can just upload the file to your NPS software for further processing (provided your tool has this feature).
Step #4: Analyze and Compare
Analyzing the scores and categorizing responses into promoters, passives, and detractors. If you are using an NPS tool, data analysis gets easier. Everything is calculated automatically for you and you get to see it in the analytics dashboard.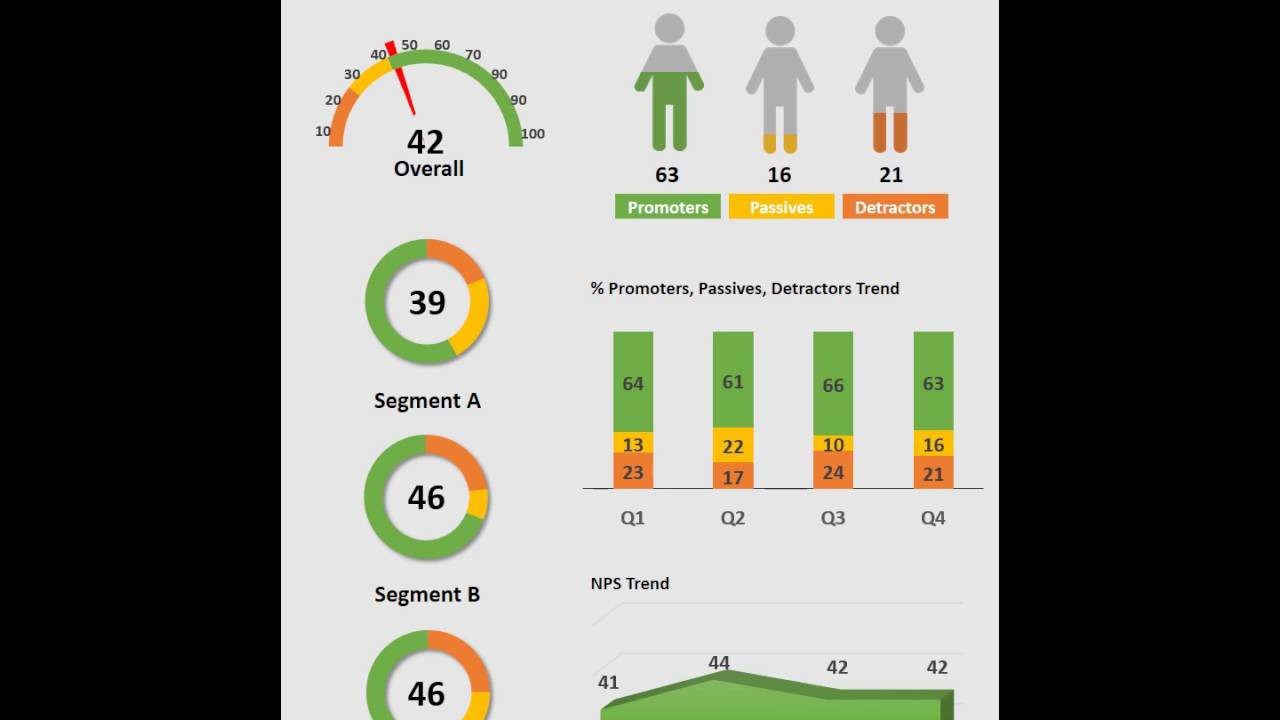 Depending on the tool you are using, the dashboard and reporting style will vary. You need to look at the following data for in-depth insights.
NPS: The first thing that you need to calculate is the Net Promoter Score. If your tool doesn't do it automatically, use the formula to calculate it yourself.
Response frequency: Find responses by rating. How many customers responded with 0, 1, 2, and so on. This will reveal frequency distribution that helps in identifying patterns and where most of the customers fall.
The number of promoters, passives, and detractors: This is another critical report that you should generate to find the number of promoters, passives, and detractors in your sample. Find their percentage for comparison.
Demographics: Demographic analysis can be done if you have integrated your NPS tool with CRM or other software that has the necessary data available. You can analyze responses on the basis of gender, age, location, purchase history, and other variables. For instance, segregate responses on the basis of gender and see if women are more loyal than men or vice versa? Some NPS tools also have this feature, so you dont have to necessarily do any integrations.
Customer tenure: Does customer tenure relate to NPS? Are customers who are new any less loyal than long-term customers?
Customer feedback: Analyze customer feedback. Not all customers share their feedback so it's essential to carefully analyze the feedback that you have received. Look for trends and common issues that customers have raised. Use qualitative data analysis techniques like thematic analysis or content analysis.
In the end, if there is one thing to focus on it is your NPS-score. NPS is relative, so compare it to your industry standards. There are different NPS benchmark reports available out there that can help you with the comparison. These include: Satmetrix, Forrester, Retently, Qualtrics, Trustmary, and several others.
When you compare your score with an industry benchmark, you get to know where you stand and how well you are doing in terms of other businesses in your industry. Let's assume you are in the airlines industry and your NPS turns out to be 32. Compare this to a benchmark report to see how good or bad 32 is.
According to the Satmetrix NPS benchmark, the average score of the airlines industry is 39. Your score of 32 is below average. This shows you have lot of room for improvement. Remember 39 is just the average, you should aim for above average.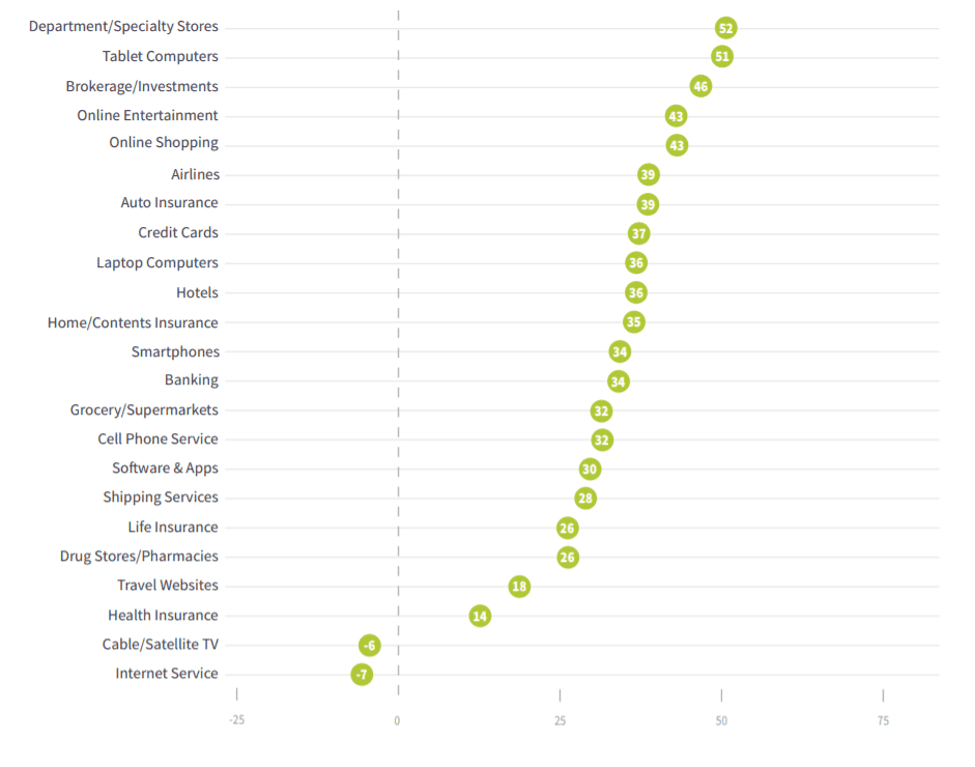 Usually you should compare your score against multiple benchmarks. One tool you can use is Delighted they have an easy-to-use dashboard to compare your NPS. Enter your score, select industry, and click Compare your NPS.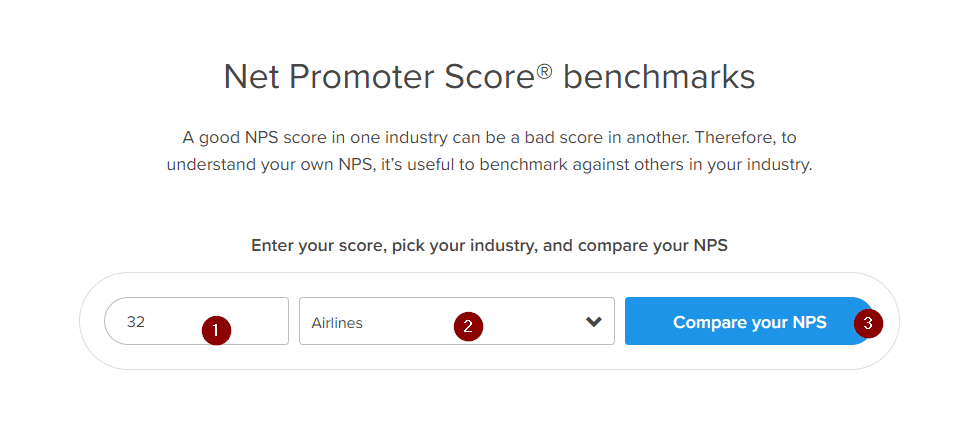 You'll see where you stand in the industry on the next page.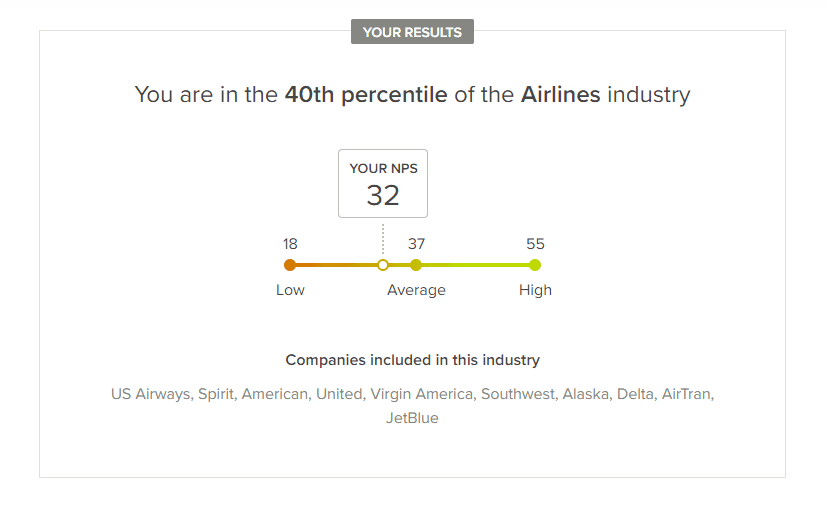 You'll see low, average, and high NPS in your industry along with your percentile. It also shows you leading companies in the industry that help you figure out if you have selected the right industry. The 40th percentile means that 40% of businesses have NPS less than your score. This means you have a lot of scope for improvement. Ideally, you should aim for a high score to reach the top of your industry.
Step #5: Close the Loop
Closing the loop means following up with your customers who have shared their feedback. When you get back to the customers immediately it shows them that you are committed, you care for your customers, and you can solve individual customer problems.
Consequently, it usually increases NPS right away. The faster you follow up, the better. Why? Because it shows your commitment and that's one way of converting detractors into promoters.
You can follow up via email or a phone call. However, a phone call is ideal because it lets you get additional feedback from the customer and you to better understand and solve the issues.
Feedback comes from all types of customers and you have to close the loop for all the customers including promoters, passives, and detractors. Here is how to do it:
Promoters: These are happy customers who share their feedback. You can send them 'Thank You' emails, reward them, ask for referrals, offer an exclusive reward, etc. Don't ignore promoters when they share feedback because not getting back to them might make them switch. If you can't do anything else, send a simple thank you email.
Passives: Only 37% of passives share their feedback so it's important to act fast with the follow up for passives. Else they are likely to churn. Passives are usually price-sensitive customers so the easiest but not necessarily the best way to retain them is by offering discounts. In general, solving the problems the customer has is probably the right way to go about it.
Detractors: Most detractors won't share feedback, so the ones that do are actually quite valuable. That is why you need to act on the feedback that you receive quickly. It is hard to please all the detractors as every case is unique. Focus on treating everyone individually. Usually, a good percentage of detractors will complain about similar or related issues so it is all about categorizing feedback so you can follow up with all the detractors who had a similar complaint more cost-effectively.
Closing the loop is an essential step in your NPS campaign. The whole point of the NPS survey is to get actionable information through which you can make changes to increase your NPS. Simply measuring NPS isn't enough.
Step #6: Repeat
This is the final step in the NPS campaign process that is often ignored. The whole idea of creating a systematic approach to measuring NPS is to simplify the process and make it repeatable.
Identify issues in the process as you manage the campaign. If there aren't any issues, that's OK. In that case, no tweaks are needed. However, it is common to find issues related to the NPS software, functionality, third-party integrations, distribution and administration of the survey, and other things.
You need to identify all such processing-related issues and fix them before initiating a new NPS campaign. Continuously tweak and update the process and the steps of the campaign. Having a process for the Net Promoter Score campaign helps you run campaigns without any issues.
How often you should run the NPS campaign?
There isn't an ideal time, but most businesses run a campaign every quarter. You can do it every month too. It depends on your industry, distribution channels, business growth, budget, etc.
For instance, if you tweaked your e-commerce store's design, it will be a good idea to run a campaign after implementing the design to get feedback from the customers and to check their response.
If you conduct NPS survey too often, your customers can get irritated and the response rates can drop. So, what you should do is keep test and find the best NPS interval for your business.