Lead Generation Process – Definition
A lead generation is a process of finding your prospective customers and getting their contact information.
The process includes multiple steps and can include various strategies.
I will guide you through two of the most crucial parts of the process: lead capture and lead qualification.
This way we acquire the right words that help us understand the sales funnel process.
1. Find and Capture Leads
Leads are people or businesses that could be potential customers.
They have some kind of need that your product or service can fulfill.
Sometimes leads are warm (=inbound leads) and have found your business by themselves by proactively searching for a solution for their problem.
However, many times leads are cold (=outbound leads) and don't necessarily even know that they have a pain point, much less that you could help them. This is especially true for B2B clients.
Thus, you need to adapt different tactics to be able to reach both kinds of leads.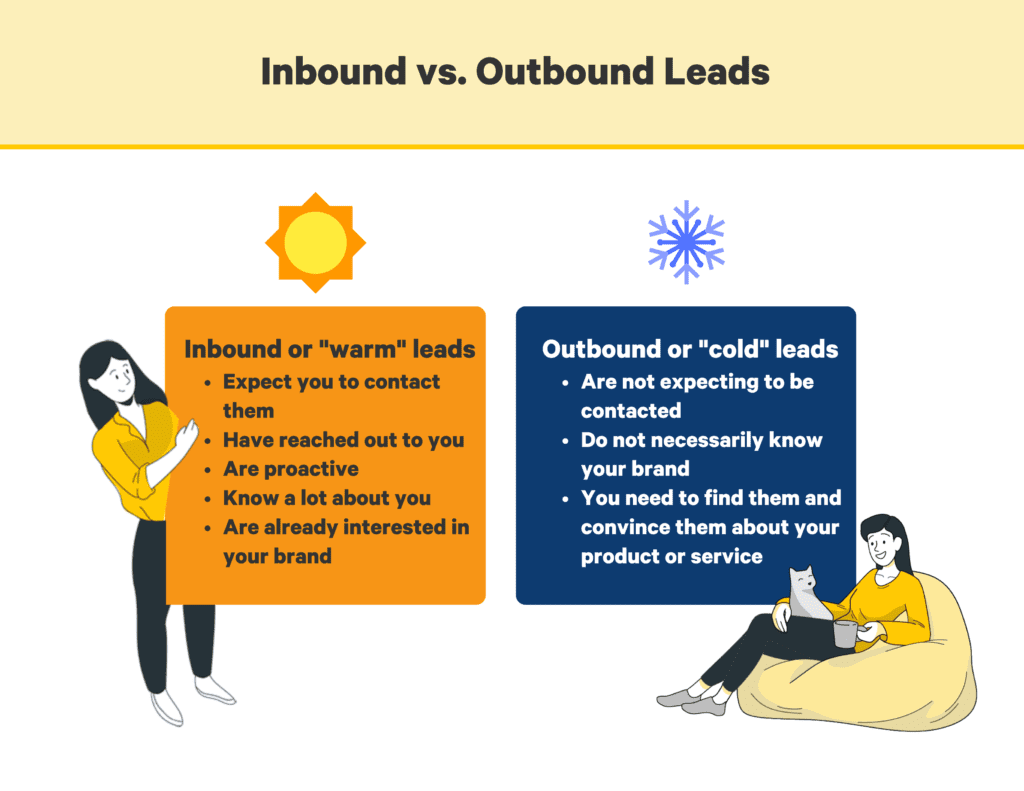 Inbound Lead Generation
In order to get warm leads, you'll need to create awareness of your product or service. You can do this through marketing and advertising.
To capture leads, create an attractive lead magnet that brings in people who are interested in the topics around which you work.
A successful lead magnet is something that
1. Creates value for your target audience
2. Pulls people organically to your website
3. Is so interesting that people are ready to exchange their contact information for content
4. Highlights your expertise in the field
Another great way to get warm leads is to have your existing customers recommend your services to their friends and network.
Outbound Lead Generation
In order to capture those cold leads, you have to contact them and convince them about your expertise.
Cold calling, cold emailing and paid advertising are one of the most used outbound lead generation tactics.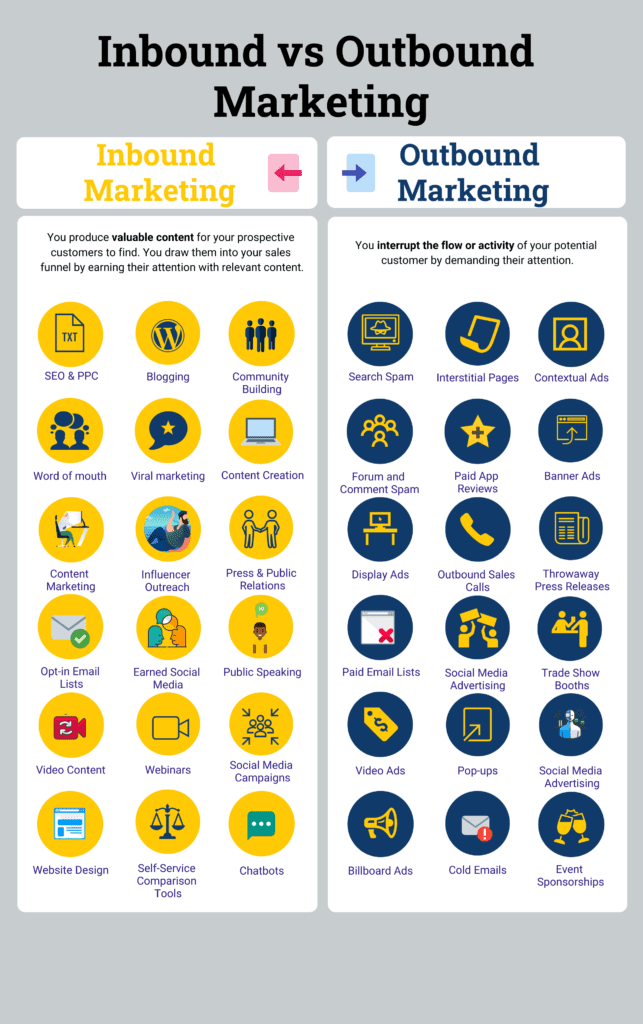 Are you looking for the best lead generation tools for your lead generation process?
See our list of best tools for lead generation and lead generation websites.
See also tips on an effective lead generation strategy for
2. Qualify Your Leads
There are different types of leads, and some of them are closer to an actual purchase than others.
| | |
| --- | --- |
| Type of lead | What it means |
| Marketing Qualified Lead (MQL) | Is interested in your business but not ready to purchase. Nurture these leads further down the sales funnel. |
| Sales Qualified Lead (SQL) | Has expressed willingness to purchase. Start negotiating! |
| Product Qualified Lead (PQL) | Someone is using a free trial of your product and service, but not bringing in money. Find out if they would be interested in purchasing. |
| Service Qualified Lead | Has interacted with customer service, and might be interested in a purchase. Be in touch! |
There are three factors that tell you who is a high-profile SQL:
Need: they have a need that you can fulfill or problem you can help solve
Interest: they are especially interested in your product or service over all other options
Capability: they have the means to buy from you. They must have the budget and authority to make a purchase, and if the service is location-based, they must be located near you.
If any of the three factors is missing, you are probably not going to get a deal.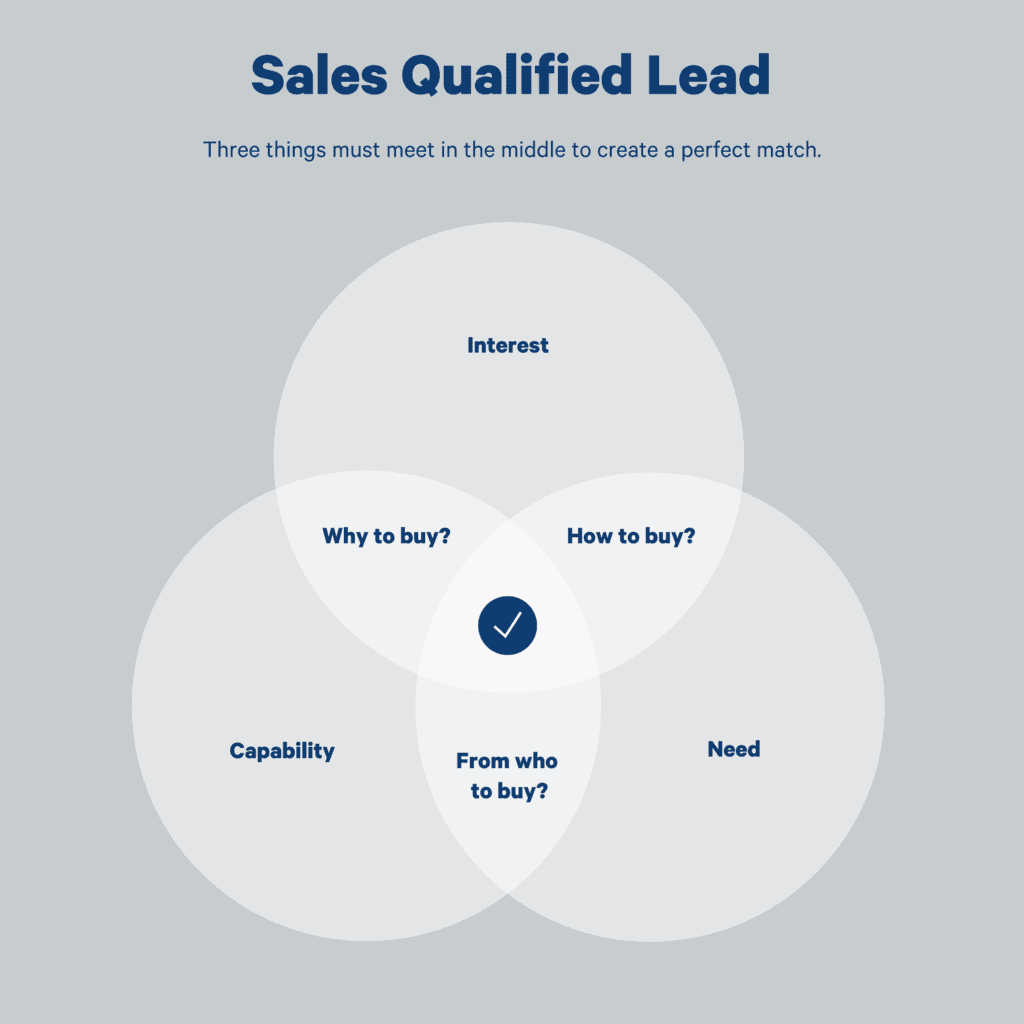 To find out who are the most qualified leads, you need to learn more about the prospective customer.
Usually it is the marketing team who brings in the leads, and the sales team needs to do the qualification. This can take lots of time and cost you money.
However, there are tools that let you oursource at least part of the lead qualification process.
Try lead generation forms or lead generation chatbots.
You can plan the forms and chatbots to ask the right questions that help you find more qualified leads.
Sign up for a free trial at Trustmary and start creating your own lead generation forms, popups and chatbots!
You can also try different lead scoring methods to find out who the most lucrative potential customers are.