5+1 Key Elements of High Converting Lead Generation Form
There are 5 key elements in creating high converting lead generation forms. However, the last element can really make a difference in turning those leads to sales.
Let's get to it.
1. Form Fields
Form fields and how they are shown are probably the most important aspects to take into account in lead generation form design.
The easiest way to improve lead generation form conversion rates is to remove most form fields so that the threshold of filling the form gets lower. This is a double edged sword though, as the quality of leads worsens with fewer form fields.
One clever way to generate leads with longer forms is to show one form field at a time. As the person commits to the first form field, filling the second form field is not that big of a deal anymore. These are called multi step forms.
Lead generation chatbots are something that do this very efficiently.
2. Copy Used on Lead Forms
The actual copy used is the second most important element in high converting lead generation forms.
Copy used refers to
the title
all the fields
Basically, all written text you have on the form
You need to ask yourself, what specific information you are asking for. Only then you can create effective lead gen forms.
Below is couple of examples of how not to write copy to lead forms:
"Leave a contact request!"
"Subscribe to our newsletter!"

"Download our guide!"
Usually the best converting copy is something that actually communicates the value the customer will get, for example:

"Book a free consultation and get a free conversion rate optimization consultation!"
3. Clear Call to Action
Having a clear call to action (CTA) is one element which a lot of form designs are missing.
Remember, if potential customers don't know what to do next, they won't do anything.
Even though copy used near and as the CTA are important, they aren't the most important factors.
The most important thing in creating a clear call to action is to make sure it stands out from its background. In other words, the color difference between the button and the rest of the form.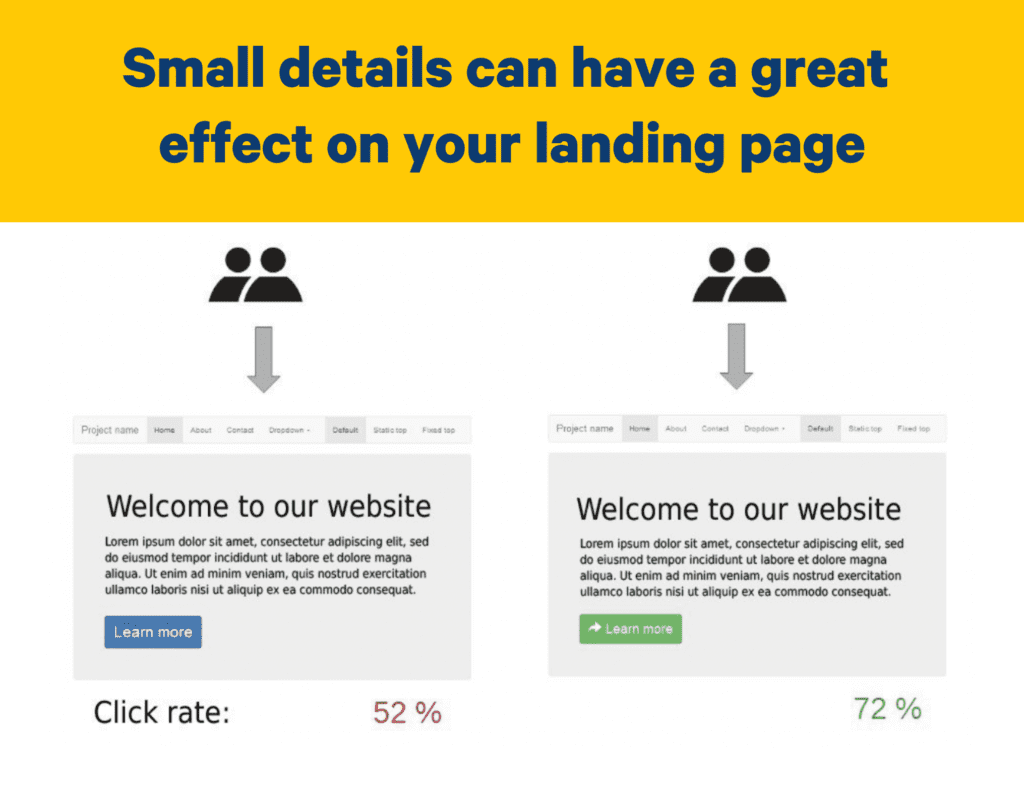 4.Social Proof
Social proof is one of the most overlooked elements in high converting lead generation forms.
Social proof is a psychological phenomenon which explains why the actions and behaviors of other people affect one's action. To put it simply, people assume a behavior to be correct when they see others performing it. It's equally effective to showcase what others (the masses) have already done.
If a potential lead is unsure if they should or should not fill the form, social proof is usually the factor that really moves the needle.
Easiest way to leverage social proof in lead forms is to highlight some happy customers that have done the same action the potential new lead is considering.
5. Context
Context of the lead generation form means the place the lead generation form appears.
The key thing is that all kinds of lead generation forms don't work in all places. The lead generation form used needs to match the stage the potential customers are in their buying process.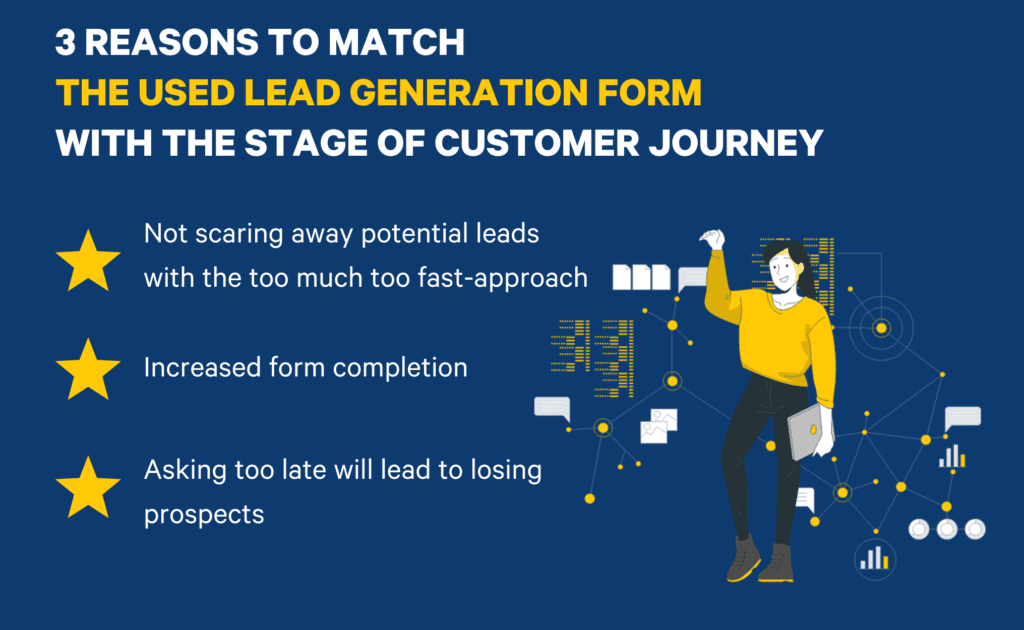 Too big of an ask too early will scare potential leads away. (Possibly for good)
A badly formed request won't yield form completions and
Asking to late will lead to losing prospects
When a potential customer is ready to buy, they want a clear form in which they can add all the relevant information to and press the submit button. Make the final hurdle easy to overcome.
However, if they are only considering converting into a lead, offer them the option to opt for more information or just an ebook.
This is incredibly easy to do with multiple choice questions with an optimized lead form.
6.(Hidden Fields)
Hidden fields are something that very few people use in their lead generation forms, but I would argue everyone should.
With hidden fields, you can gather different important information from your leads, without the lead having to manually submit them.

Landing page, referrer data, UTM tags…
All of this data will:
Make it easier for your sales team to close the lead to a deal with additional accurate information
Clarify which channels are actually bringing in the highest quality leads
Which in turn allows you to double down on focusing on the right tactics that actually work.