5 months of SEO progress for Trustmary – What kind of results did we get? (732% growth)
Online there is all kind of Search engine optimization masters and legends. Others declare to teach how to make $ 20,000 in passive income in just 3 months through search engine optimization and affiliate marketing.
While the other extreme is calmly telling you that Search Engine Optimization is a long-term process, and that there are no instant gains. We should talk about years rather than months.
I personally do not consider myself to be a seo-guru of any level, although have studied it quite a lot. However, there are thousands of smarter seo-gurus who have much more experience than I do.
For this blog, I have now compiled my experiences with Trustmary SEO and what I am looking to do in the future.
Will also go trough our SEO for Finland and Sweden, but focus mainly on our English -site.
The results are from August to December in 2019. I only look at the figures on a monthly basis so that any small fluctuations are excluded. And I also focus on the people who land on the site, not so much on our rankings on Google and the impressions we get.
SEO Results summarized
English version organic visitors: 143 -> 1190, growth 732%
Swedish version organic visitors: 17 -> 57, growth 235%
Finnish version organic visitors: 802 -> 1592, growth 98,5%
English version SEO results more specifically (trustmary.com)
August 2019: 143 organic visitors.
September 2019: 201 organic visitors.
October 2019: 353 organic visitors.
November 2019: 766 organic visitors.
December 2019: 1190 organic visitors.
Below were the pages with the most visitors from August to December 2019: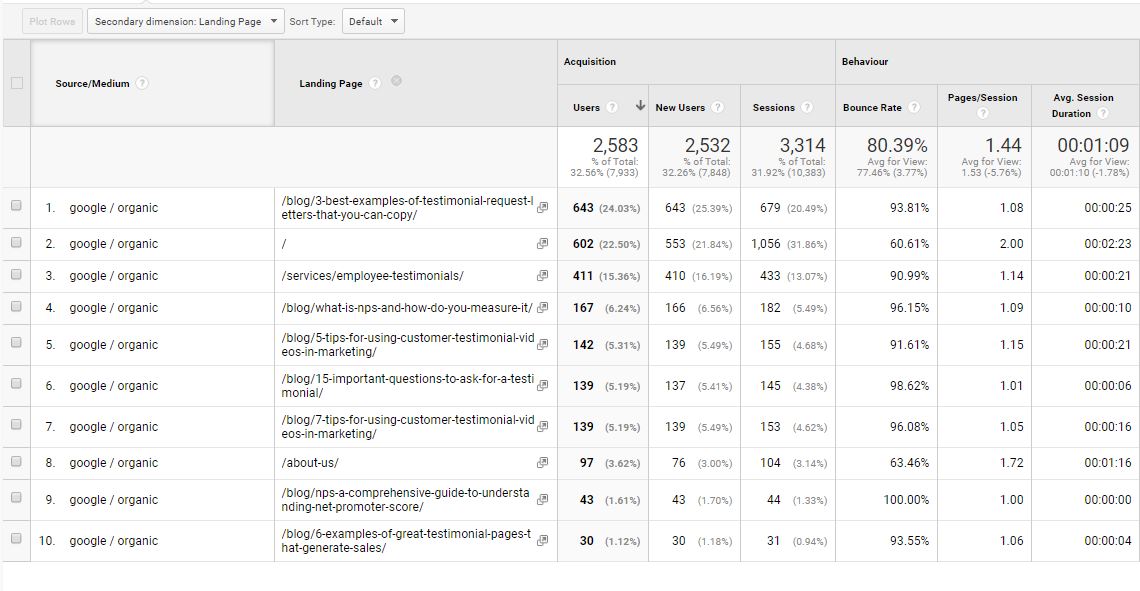 Below is the organic visitor trend over the same period:

What are the aspects of search engine optimization?
I have split our SEO to four areas:
1. Content
This is mainly blogging. As I took a quick look at wordpress, there are a total of 68 English blogs including 12 scheduled blogs. About ¼ of these were released before August, mainly in July. But most in August or after. It could roughly be said that from August until now, there has been 40 blogs released in English.
There will continue to be lot of work with content in the future and many mistakes have been made with content this far. The choice of topics has been a bit random and could have been more focused. So the focus has been more in the quantity than the actual subjects.
So the goal was not really to rank every blog, but rather to write so much that some would rank.
2. Internal Linking and structure
Internal linking is something I develop once in a while, maybe once in two months or so. Have not always been that spot on with it when publishing new blogs.
Structure wise there has not been any big changes in the time period.
3. Page speed and technical stuff
I have not really focused on this one. Have done the basic packaging images and stuff, but that's about it. But the basic technical stuff has been quite okay on the site.
We are also using Cloudfare, which helps with speed.
4. Link building
Link building is something that I have been learning a lot about lately. I have focused exclusively on white hat ling building and trying to build the site on the long term.
Link building is probably the most time consuming part of seo aside from the actual content creation. And is something I will be also doing in the future.
How much resources have been spent on search engine optimization?
Here are rough estimates on resources used for SEO:
Planning and management of SEO + Internal linking –2000€
Content creation – 2900€
Web development – 500€
Link building – 1500€ (this is mainly my time writing content and contacting blogs for guest posts)
Total costs: 6 900€, so 1 380€ per month.
There are estimates, because I do not have accurate calculations of my time usage, but I believe they are quite close.
What exactly did we do for our SEO?
1. Keyword research
Base of all our seo efforts has been keyword research conducted with Keywordtool.io. I have actually moved now to use Ubersuggest as it does same stuff for free.
2. Content production
Based on keyword research, we started producing content. Content that could potentially rank with different search terms was written. Sometimes texts ranked well, other times not so well.
I focused on the content being good enough, not perfect. More important than the grammar was that the content would actually offer some added value to the reader. There could have been stricter standards for the quality of the content and the focus of the content could have been much better, but sometimes the focus is easier to find by doing than by thinking.
Mostly written content focused on writing more than 1,000 words for a particular search term. Some shorter, some longer. If the content was written directly in English, it would cost around 80-100 € / thousand words, but the cost for translated content was much cheaper. These are again estimates, but should be close enough.
3. Link building
I didn't have a very reasonable plan to get the links right from the start. However slowly I built fairly good routin for link building. Getting links required mainly content production and contacting different blogs. So links were obtained through guest blogs, which typically included a presentation of the author and then got link from those to my homepage. Obviously also our content got organic links also.
I focused on brand anchors, did not do any anchor text tricks, as wanted to stay as far a way from black hat as possible. (Tough am not saying that different anchors would be black hat at all.)
What pages got most traffic?
506 visitors via organic search in December.
Employee Testimonials -service page
187 visitors via organic search in December.
144 visitors via organic search in December.
95 visitors via organic search in December.
81 visitors via organic search in December.
52 organic visitors via organic search in December.
27 visitors via organic search in December.
25 visitors via organic search in December.
5 Months of SEO summarized
1190 unique visitors per month is much more than 0 unique visitors per month. But you cant really make business with that 1190 yet. However, for a beginner SEO, this will provide a good base from which to continue, towards hundreds of thousands of visitors.
I didn't really have a picture of how tough the competition is in the search results internationally, but now some sort of picture is starting to appear in my head and it does not seem like an impossible task at all to rank globally.