3 Amazing Facebook Word of Mouth Marketing Features
Marketing can take any form, but nothing works better than word of mouth marketing and word of mouth advertising. According to a 2019 survey, word of mouth marketing is one of the most credible marketing channels for 86% of consumers, and 74% go to their friends for recommendations of everyday products.
Bedraoui Oumayma's 2020 survey also showed that 85.4% of respondents believed that social media influenced their purchasing decisions.
It all goes to show how crucial social networks like Facebook are for generating trust by creating positive word of mouth marketing.
Facebook word of mouth marketing comes in several shapes
You can run an influencer marketing campaign on Facebook to capitalize on word of mouth, you can publish customer video testimonials on your Facebook page, or you can run Facebook ads to highlight customer reviews to generate leads and sales.
However, Facebook also provides businesses with special word of mouth features that work pretty much on autopilot without your interference.
The three unique Facebook word of mouth marketing features are:
Getting recommendations
Discovering local events
Taking action
Let's cover these three features in detail and see how they work.
1. Get Recommendations
Facebook users can get recommendations and suggestions from their friends by turning on the Recommendation feature. It gives them advice on where to eat, where to find good local stores, the best workshop in a specific area, etc.
A simple post can be converted to a recommendation post by the users and get your brand cookies from Facebook you can use to get followers.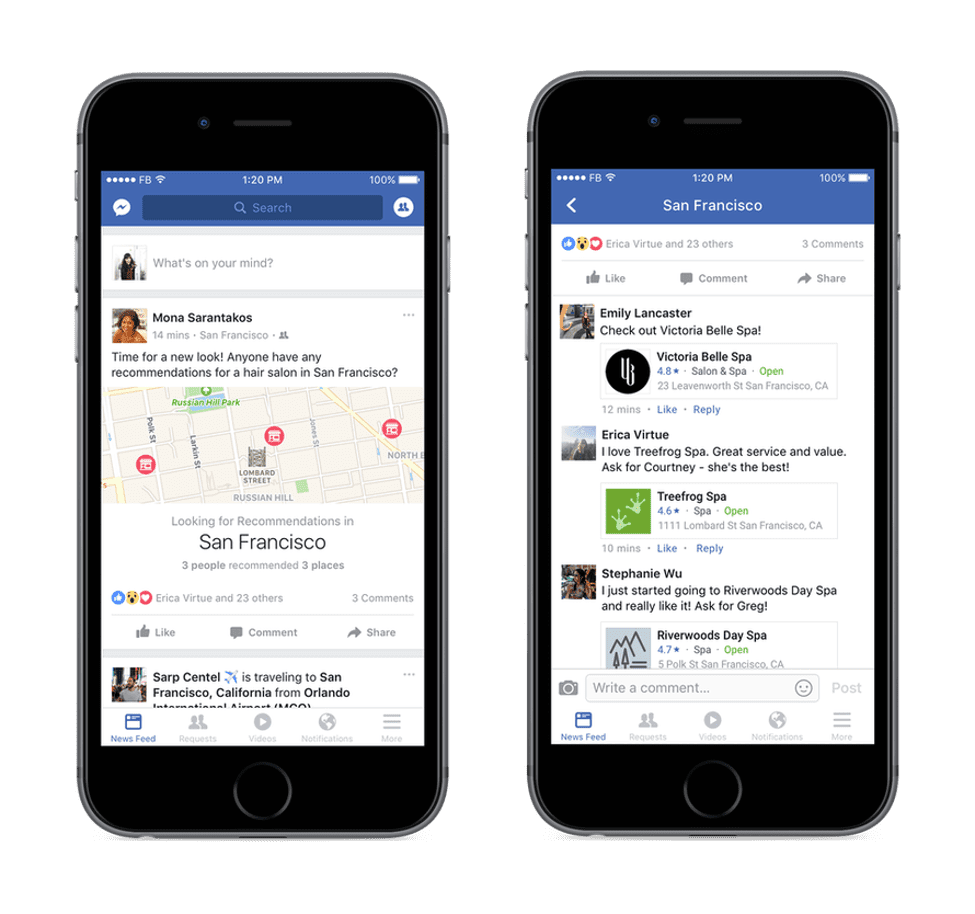 When users ask for recommendations, a callout appears in the post that notifies their connections that they need suggestions. The post clearly mentions, "Looking for Recommendations":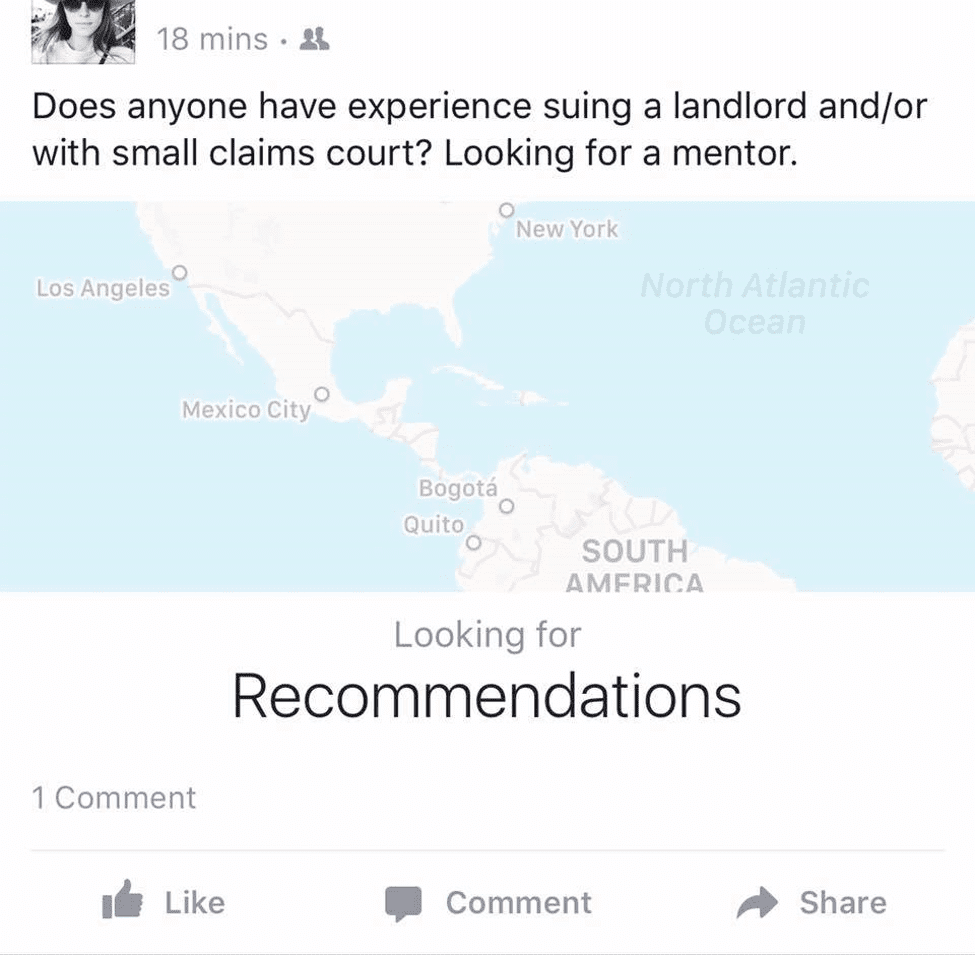 If the query is related to a specific location, it will highlight the map of the area. If the query isn't related to a specific location (as in the example above), it will still show the map, but a general one.
How to Use This Feature for Word of Mouth Marketing
A recommendation post is a perfect way for businesses to get some Facebook word of mouth marketing. You can use it to promote your business organically on Facebook in several ways.
Here are a few techniques to capitalize on this feature:
Complete your Facebook page by adding all the details, especially physical address, timings, phone number, email, and website.
Encourage your fans and customers to leave a review for your business on Facebook. Share the URL with them. DOn't forget to respond to positive reviews, as well as the negative ones.
Actively engage with your followers on Facebook and build your audience. The more followers you have, the more recommendations you'll get from them.
Actively involve yourself in social listening on Facebook. Search for public recommendations where you can mention your business.
Hire local influencers who will ask for recommendations about your business and encourage their followers to do business with your brand.
Creating a post is not hard but making one that's relevant in the coming months is, so tools like these can help you improve content on Facebook and move the process forward. Don't forget to keep your message consistent and that the ultimate goal is getting traffic to your website.
2. Local Events
Facebook lets users discover local events around them, especially ones that their friends have shown interest in. Facebook has created an Events bookmark on the user's homepage: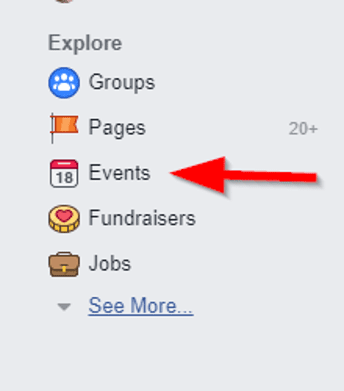 It shows users events based on their interests, recent searches, pages they've liked, and their friends' interests. Whenever someone shows an interest in attending an event or leaves a comment, it shows up in the News Feed of the user's connections, thus increasing the reach of Events.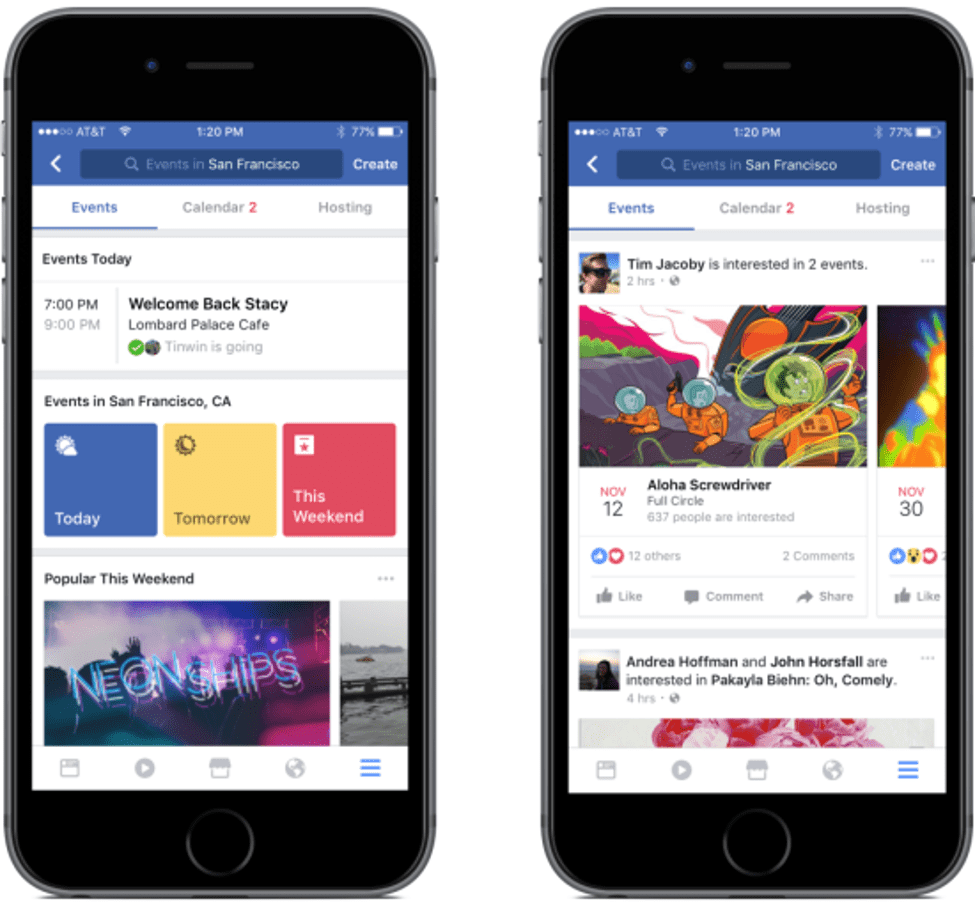 How to Use This Feature
Local Events is an exciting feature by Facebook that helps businesses generate Facebook word of mouth marketing. You just need to create an event to get started. Here is how to do it:
Use your Facebook page to create your event.
Add a 1920×1080 cover photo with less than 20% text. The cover photo has to be customized and not a simple stock photo.
Describe your event, adding as many details as possible. Choose an attractive event name that makes sense and is catchy.
Add location and time. It helps you connect with the appropriate audience.
Select the right event category. It helps users find the event and makes it easier for Facebook to recommend it to the right audience by matching it to their interests.
Once you've created an event, it's time to post and promote it. Invite people. The more people show interest in your event, the better it is. Be sure to respond to questions on the event page and allow people to post comments as it will increase your event's reach.
Running local events regularly will help increase your brand's word of mouth marketing via Facebook.
You can use "Facebook help", personalise content and many companies leverage this for better reach on social media but also personalise content and services, give better advice, optimize certain features and improve focus.
3. Take Action
Facebook has made it easier for users to take action once they've found something they're interested in. Instead of leaving Facebook, users can now place an order, get a quote, or complete an action right on the Facebook Page of the business.
What type of actions does Facebook support?
The social media giant supports four types of actions as of now:
Get Quote is available for local businesses that allow Facebook users to get a quote from their page.
Request an Appointment works for local businesses that need their clients to take appointments. Businesses have to update their services and the dates and times of day when they offer appointments to use this feature.
Buy Tickets is for businesses that sell tickets for events such as movie screenings in theatres. It also works for local events. This feature works for businesses that use Fandango, Eventbrite, or Ticketmaster.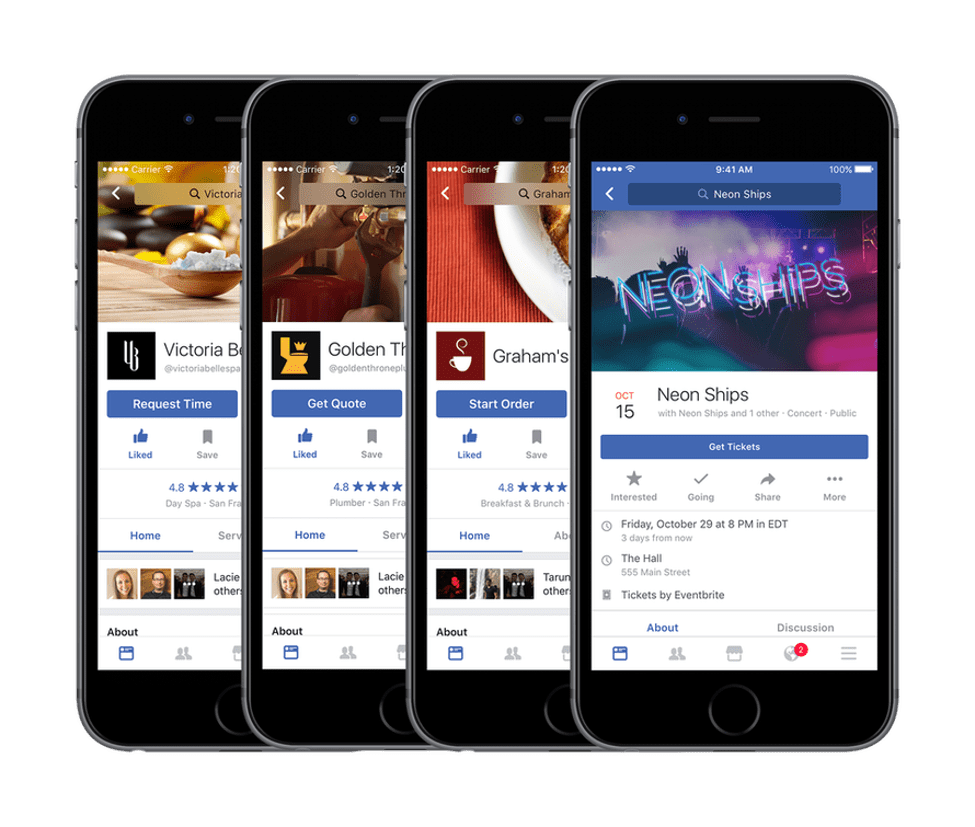 These are excellent features that allow any business to generate leads and sales directly from its Facebook Page.
How to Use This Feature
If you want your followers and target audience to connect with your business on Facebook by taking action right away, you need to ensure that you are doing all of the following:
Complete your Facebook Page, and keep it updated all the time.
Register with Facebook partner sites to use these features. For instance, if you own a restaurant and want your followers to order from your page, you must register with Delivery or Slice. Otherwise, you won't be able to use this feature.
Tell your target audience that they can order from your Facebook Page. Posting a short video or screenshot will work great.
Hire micro-influencers who will buy via your Facebook page and recommend that their followers do the same.
Final Words on word of mouth marketing in Facebook
Facebook word of mouth marketing is getting easier with every single day. New features and partners are added regularly, and you need to keep track of all the changes.
Be one of the first companies to use the new word of mouth marketing features. Facebook provides you with several ways to connect, engage, and promote your business. You have to decide what methods and techniques you'll use for your business.
Of course, you'll need to get first-hand feedback for all this to work but consider this to be the newest in the series of tools that you'll need to reach a wider audience.