How to Get Customer Feedback For Service In 3 Steps
Collecting customer feedback may seem daunting at first, but actually most customers are happy to talk about the service you provide, either directly or indirectly
This step-by-step guide outlines how you can capture customer feedback on service you provide.
Step #1: Plan Your Customer Feedback Strategy
Before you start collecting customer feedback, ask yourself this: what do you want to achieve from the feedback?
Perhaps you're looking for ways to improve your service, or you simply want to know what your clients think of your business, or you want to design a sophisticated feedback system for your support team.
The answer to the question will help you plan a customer feedback strategy that lays out your objective, who you need to ask, and how to ask them.
For example, if your goal is to improve your customer support function, then you'll want to start collecting feedback from people requesting support, after every support call.
In this case, it doesn't make sense to ask for feedback from new visitors to your website.
When developing your strategy, don't forget to think about how you'll measure the success of your feedback strategy.
In the above example, a 10% increase in 'very satisfied' or 'satisfied' responses would be a great indicator that your team is providing great customer support.
Step #2: Design Your Questions
Now that you've developed your customer feedback strategy, it's time to start designing your customer feedback survey.
Different objectives will mean asking different types of questions when measuring customer satisfaction.
To make it easy for you, I've outlined some template questions that can be used when collecting feedback.
Be mindful of your customers' time though – don't ask 15 questions when 4 will do!
General Questions
How would you rate our service today?
Why did you give that score?
How would you describe your experience with us overall?
What do you like about your experience with us?
What could we do to improve our service?
Acquisition Questions
Where did you hear about us?
Why did you choose us over the alternative?
What do you most value when looking for [x] service?
Usage Questions
What do you use our service for?
Why do you use our service?
How long have you used our service?
What benefits did you see after using our service?
What was missing from our service today?
Is our service worth the cost?
Retention Questions
Have you used our service before?
Would you use our service again?
What concerns do you have about using our service?
Would you recommend us to a friend?
Follow-Up Questions
Is there anything else you'd like to share?
Can we contact you for more information about your answers?
Can we use your answers for marketing?
Find out more about how to write great customer feedback questions.
Step #3: Find the Best Method To Collect Customer Feedback
Just like there are different types of customer feedback, there are also a few different ways you can gather customer feedback for your service business.
Let's explore the different ways you can collect customer feedback.
Feedback Forms
At its simplest, a feedback form allows customers to share their thoughts on your business or service.
For example, an online feedback form can be used to capture indirect feedback as part of a contact page on a website.
The feedback form provides an open channel of communication between the customer and the company, and can be as structured or unstructured as necessary to fulfill your objectives.
Explore how to create a good customer feedback form.
Feedback From Website or App
Feedback can also be captured from your website or app to collect specific feedback.
Back to the customer support example that I mentioned earlier, a pop-up could collect customer feedback as soon as a support chat window is closed.
Embedded feedback functions across your digital channels can help you build more detailed feedback data to base business decisions on.
In fact, some of the best customer feedback tools have features that help you automate how you collect customer feedback and share with your wider business.
Get to know your customers with Trustmarys website feedback forms. Book a meeting with the team to find out more.
Customer Surveys
Want to get a pulse of what your customers think about your service at that particular point in time?
Then do a customer feedback survey.
These could be long-form based surveys that explore many different aspects of your business and services, or shorter surveys that are sent out regularly when measuring customer satisfaction to benchmark customer loyalty.
A long-form survey can be extremely valuable to finding quality feedback as it lets you really open up themes that you want to explore with your customers.
But keeping the survey relevant and focused can sometimes be a challenge.
Two of the most common shorter surveys sent by businesses are used to measure customer satisfaction: net promoter score, and customer satisfaction survey.
Net promoter score (NPS) measures how likely customers are to recommend your business or service, whereas a customer satisfaction survey asks how satisfied your customers are.
Check out our ultimate guide to surveys to find out everything you need to know.
Review Sites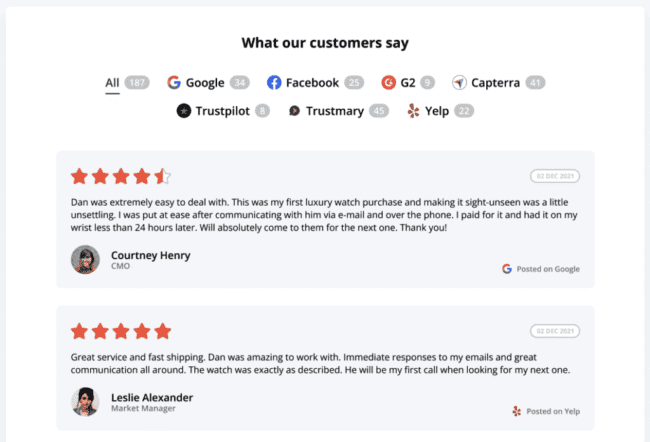 There's a good chance that your customers are sharing feedback about you somewhere already.
If it's not with you, then it's probably with each other.
Review sites, such as Google, Capterra, Yelp and G2 are the best places to find customer feedback about your business.
Customers are encouraged to share their experiences with you which then contribute to your business profile.
Don't forget to collect feedback from review sites, and respond to reviewers too!
Find out how to get reviews and make the most out of them.
Customer Conversations
Nothing beats a good old-fashioned customer conversation.
Taking time to sit down with your customers to get views on your business is a proactive method of getting feedback, but not particularly scaleable.
Whether you have a phone call with an unhappy customer to find out what you could do better, run through a customer feedback survey with a new key account, or conduct a focus group with your most loyal customers, less is more when it comes to customer conversations.
To maximize the resource that it takes to set up customer conversation, you could use this time to explore some of the feedback data you've received from other sources in more detail.
And on the subject of a good old-fashioned chat, book a meeting with the Trustmary team to find out how we can help you get more reviews.