Eilakaisla's most important measure of quality is customer satisfaction
Eilakaisla is a Finnish family business founded in 1971, which offers all recruitment services, HR services and personnel services under one roof. Eilakaisla's customers represent a wide range of industries and the service packages range from individual assignments to multi-year cooperation and outsourced customer solutions.
Eilakaisla and Trusmary have been collaborating with customer testimonials since the summer of 2018, and in December 2019, Eilakaisla also started using Trustmary's online service to facilitate the systematic collection of feedback and recommendations from customers.
Example recommendation from customer below:
"In acute personnel needs, we have always found a suitable person through Eilakaisla, who has later also been hired as a permanent employee. The process has worked well, efficiently and reliable. We are happy with the service." – Anne-Mari Keskitalo – Viessmann Oy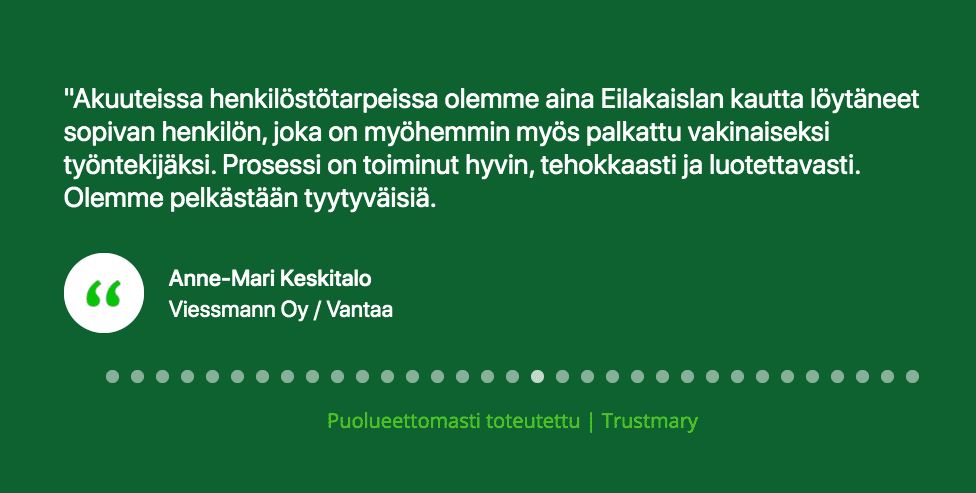 Eilakaisla asks for feedback from its customers in a targeted manner after the delivery of services, using Trustmary. There are plans to expand the use of Trustmary more strongly in the future to the personnel side as well.
"We want feedback from our customers to give us the most honest and real-time view of the current state of our operations. The satisfaction of our customers is the most important measure of quality for us, and we are glad that many people want to share their recommendations as well." says Petra Tiirikainen, Eilakaisla's growth marketing manager.
Example recommendation from customer below:
"Everything worked well again, even though our contact changed. There was a feeling that they were working hard to find the best solution." – Juha Aalto – AIDE Europe Oy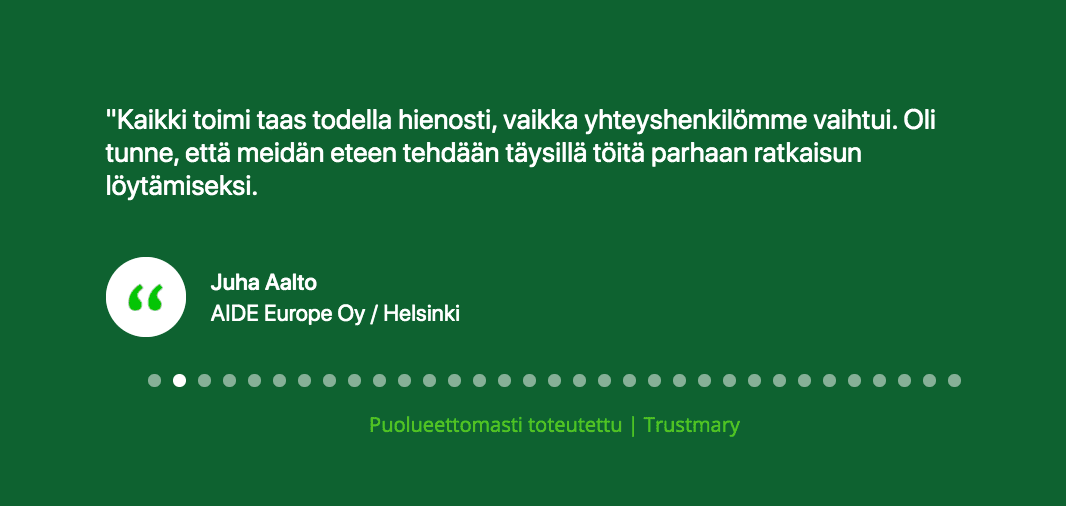 Eilakaisla's NPS (Net Promoter Score), is 86, which indicates a really satisfied customer base. In addition, more than 20% of all respondents who have accumulated in less than a year are recommending Eilakaisla publicly. The Customer Recommendations received by Eilakaisla run as a carousel on both the front page and the reference page of their website, and these recommendations have already received more than 50,000 impressions in less than a year.
Despite the excellent results, Eilakaisla wants to continuously develop its operations in an even better direction and look at current operating models in the light of customer feedback.
"It's great that our customers are happy and the recommendations are naturally nice to receive. However, I consider more important than good feedback that we also have access to possible development points through feedback and our customers have the opportunity to leave us a contact request so that we can start solving possible bottlenecks and develop our daily work, "says Antti Jussila, Eilakaisla's Sales Director.