Stages of Customer Journey
Traditionally, you can look at your customer journey in five different layers.
Awareness
Consideration
Acquisition
Service
Loyalty
Next, we'll look at the typical characteristics of each layer.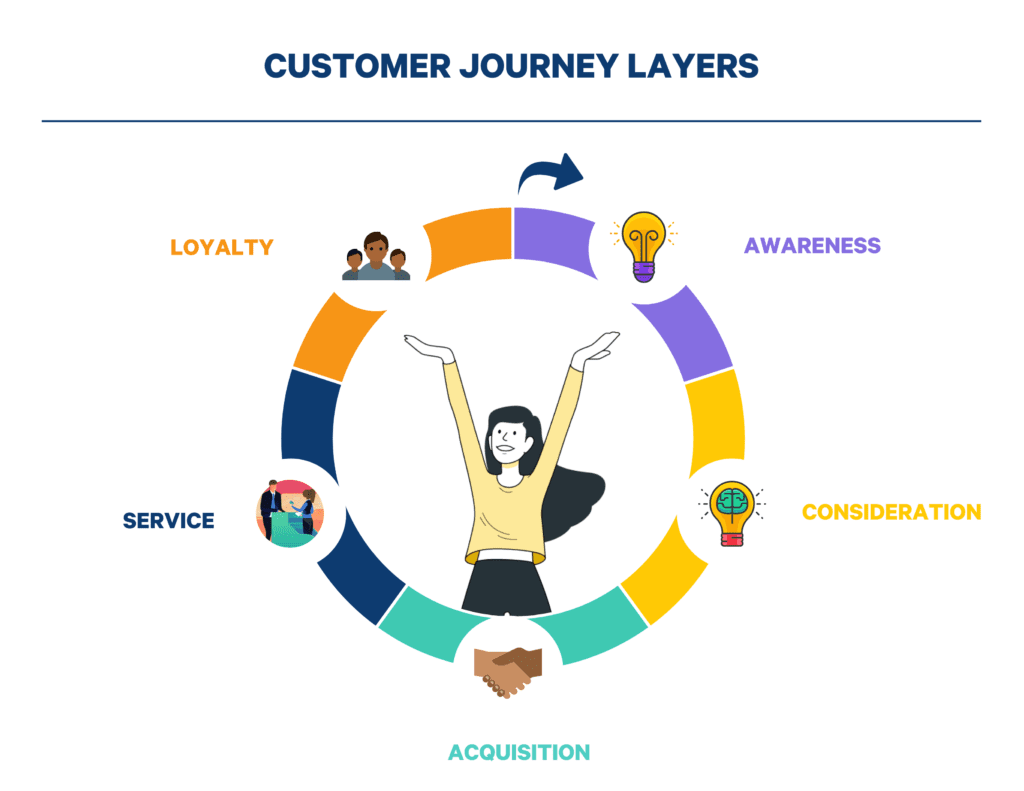 Awareness Stage
In the awareness phase, the customer is either aware that they have a specific problem or they might also be completely unaware that you could solve their problem.
At this point, the potential customer searches for services or successful marketing strategies are able to make them aware of this problem.
Based on our customer surveys, we have compiled seven successful approaches taken by different organizations in the awareness phase.
1. Focus on Digital Marketing
2. Location and Physical Presence
3. Sales Activity
4. High-quality Marketing Content
5. Websites with Great UI
6. Familiarity with the Brand
7. Testimonials
Digital Marketing
As expected, creating effective digital marketing campaigns has become an important factor in raising awareness. This includes both awareness in social media as well as in search engines.
It's clear that ranking high in Google search results will, for example, help you gain awareness among potential customers and the general public. In addition, interviewed clients often mention that they have first heard of organizations through social media, such as Facebook advertising.
Location and physical visibility
In addition to digital visibility, local visibility also matters. The location of a business is often a significant factor in the awareness phase. Some customers appreciate the opportunity to visit a business live. Some want to support local businesses. Physical visibility, such as roadside or light advertising, is also a way to reach potential customers. For example, a company may have memorized a potential customer because their commute passes through the company premises. In this case, the company may appear familiar and more approachable than its competitors.
Sales activity
The role of the salesperson in the customer path may already begin with awakening awareness. Some customers hear from service providers for the first time through a cold call. The seller can make the customer aware of the need for the service by presenting ways that could help the customer.
One great way to do this is to use existing customer reviews and customer feedback!
High-quality Marketing Content
Customers pay attention to the quality of your marketing content.
Quality content builds the reputation of organizations and builds brand credibility. A good reputation builds trust, and reputation is often mentioned in our customer surveys as a reason to work with a particular organization.
In the awareness phase, potential customers narrow down the options on the smallest of grounds. Poor or uneven quality of marketing content may be the reason for not wanting to cooperate.
Conversely, successful and quality content can be the biggest reason for becoming a customer.
Website with Great UI
The patience of a potential customers is often not very long. If the contact information to the company isn't easily found on the company's website, the threshold to go to a competitor's website is quite low.
Therefore, it's worth paying attention to the clarity of the communication methods. Websites should also present products or services in a sufficiently comprehensive manner so that the potential customer can evaluate whether the services adequately meet their needs.
Familiarity with the Brand
It's common to end up cooperating with your former workplace, for example.
Likewise, cooperating with friends' companies or workplaces is normal.
These are some of the ways in which information on organizations' activities passes through networks.
Testimonials
People talk about their work and partners to their relatives. This is called social proof and it can be digitized with the help of testimonials.
Very often, people we interview say they've heard about a partner organization from a friend they know, whether it's a neighbor, friend, or other partner.
The customer may have seen the car of a repair company in the yard of their neighbor and then learned about the neighbor's experience of that company. (Check out our guide for using testimonials in marketing.)