Lead Generation in Digital Marketing: Definition
Lead generation in digital marketing means a process of making potential customers interested in your brand with the help of digital marketing tools and tactics.
Digital marketing happens online: on websites, social media, email, and so on.
We can contrast it with marketing that happens in "traditional", "offline", or non-digital media, such as newspaper advertisements, billboards, and TV commercials (this one's tricky, but generally TV is not regarded as digital marketing).
The digital marketing lead generation pipeline could look something like this:
First, there is an internet user who is unaware or uninterested in your brand.
Later on, they become
A website (or social media) visitor who becomes interested in your brand.
A lead who has expressed interest in your product or service and given you their contact information. They can be further divided into a marketing qualified lead, sales qualified lead, product qualified lead, service qualified lead…
Possibly an opportunity who would potentially purchase your product or service.
Eventually, a customer.
Another way how the lead generation process can be defined is through the steps of the customer journey.
Out of the five layers of the customer journey, lead generation covers the awareness and consideration stage.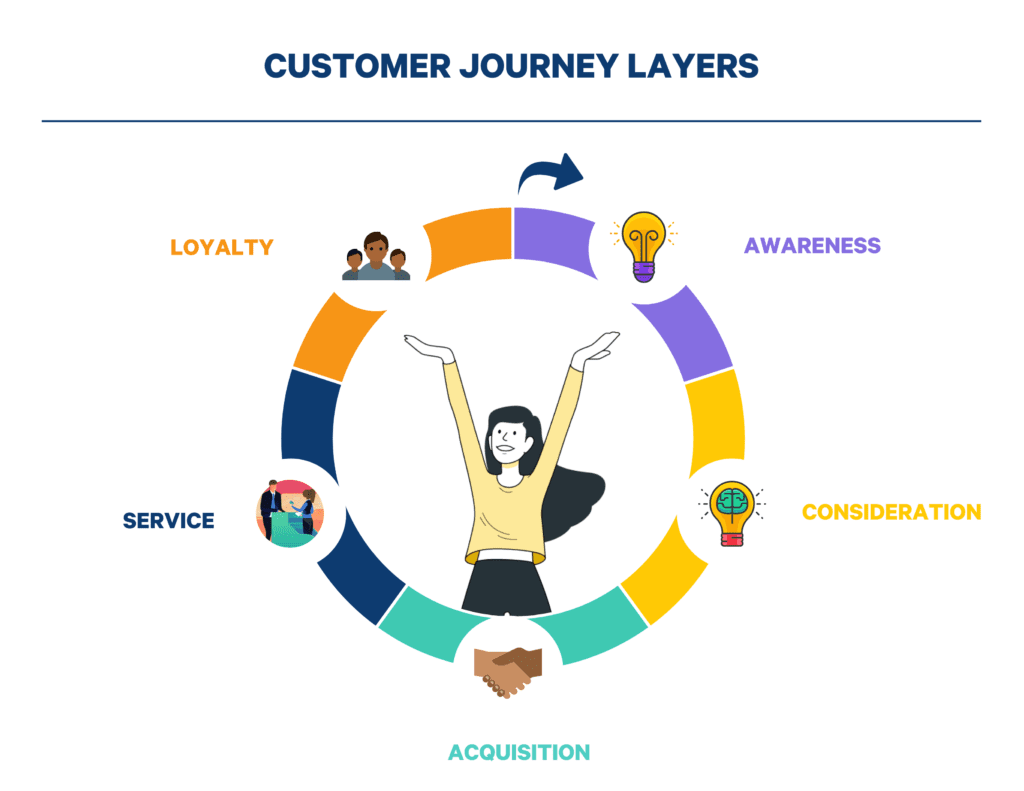 As a marketer, your job is to reach and convert internet users into leads.
The sales team continues from there and finds out if the lead truly is a potential customer, and pursues a deal with them.
Methods to Generate Leads Digitally
As mentioned in the introduction, this blog doesn't focus too much on individual lead generation methods or tactics.
However, let's refresh our memory of these tactics before we see how they can be improved with the three upcoming techniques.
Website SEO
Search engine optimization is one of the most important, if not the most important lead generation tactic for digital marketing.
It's the method that helps so-called warm and qualified leads find your website through search engines.
In other words, you can attract people who were already looking for a solution to a specific problem.
The SEO process includes technical details as well as content strategies.
Content
It's fitting to mention content marketing next, as it related to SEO quite a lot.
While content marketing can take place on multiple platforms, its role on websites is important for search engine optimization and creating visibility for your website.
Powerful content is also something that makes your potential customers appreciate your expertise and trust you more.
Paid Advertising
Paid advertising on social media and ad banners on websites can increase brand awareness online, and keep your brand in potential leads' minds.
A paid ad can disrupt the internet user's experience and they might notice your brand for the first time.
Or, many times, the paid ads are targeted at people who already visited your website. The goal is to establish your brand as the go-to solution whenever the potential lead comes to the consideration phase.
Social Media
Social media can be an effective lead generation channel, especially if you get people to engage with your content.
It's your chance to showcase your expertise with great content and participate in industry discussions. To achieve this, you can utilize social media tools and consistently create engaging posts in a creative manner.
If your followers share, like, and comment on your social media posts, they can potentially spread to a much wider audience.
Conversion Rate Optimization
When you have driven traffic to your website with the above-mentioned methods, make the most of it by optimizing your website conversion rates.
Conversion rate optimization means the process of perfecting your website so that it can reach its full potential – get more leads and customers out of the website visitors.
CRO marketing ensures that the hard work and money you put into getting website traffic is not going to waste.
Email Marketing
Email marketing is a way to nurture the marketing qualified leads you have already collected.
These people have signed up for your email list because they are interested in your brand and/or content. It's your chance to convince them to make a purchase.
Choosing the Right Tools
When planning your lead generation campaign, take into account your target audience, where to reach them, and what kind of content they would value.
Analyze the customer journey and find the right ways to impress your audience.
Remember to follow the results and adjust the strategy if needed.
Whichever of these tactics you are using, there are ways to make them more effective.
Time to dig into the powerful digital marketing lead generation techniques.