Use These Interactive Content Ideas to Generate Leads
Interactive content is the secret weapon for lead generation.
Try these tactics to attract the attention of prospective customers.
Chatbots
Chatbots are an alternative to a basic lead generation form.
Imagine the situation for yourself. You go to a website, get interested in the company, and would like to leave them a contact request.
You start looking for some kind of form, or scroll down the page and click on the standard "Contact Us" tab (ugh) to indicate that you are interested.
But what if you didn't have to do that?
What if there was a chatbot that is easily accessible on the screen, always visible on the corner of the page? It would welcome you to the website and provide a chance for you to find out more about the company.
Chatbot is almost like a nice little quiz that helps you navigate the website.
When you script the chatbot smartly, you can create lots of different flows for the conversation, which makes the experience very personalized.
A well-structured chat conversation can even largely qualify your leads for you!
Quizzes and Polls
Everyone loves quizzes. While they can be fun and games, they can also teach us valuable lessons and help us digest new information.
(Not me competing with my mom about who gets more points in a grammar quiz or who would pass a fifth grade math exam.)
Especially if you sell a variety of products and services, you could help your potential customers figure out which one they should purchase by providing a short questionnaire about their needs and wants.
Add a hint of social proof by showing some statistics on what results other visitors have gotten in the quiz, or set up a poll in which you ask what is the best service your customers have gotten before.
On top of helping the visitor, lead generation quizzes collect valuable data that you can use to evaluate the lead's quality.
(Interactive) Videos
When I first read about interactive video, I was blown away!
Basically this means that you can create videos that include quizzes or other "clickable" elements. According to the viewer's clicks and choices, the video gets a different turn.
Here's a super cool example:
The future is right now, isn't it??
When you place a couple smart CTAs in a video like that, the leads come flying.
If interactive videos are a step too far, regular videos are also very effective. People spend two more minutes on a website with video compared to websites with no video content.
Here's a wild idea: instead of regular written reviews, you can show your prospects video testimonials from happy customers and increase conversions by 80%.
Interactive Calculators
If you are offering services that require big decisions and lots of consideration, it is wise to ease this burden for your customer.
Offer calculators that your customers can use when thinking about which option is the best, or whether they have the means to purchase in the first place.
"Use the calculator to find out how much you save if you purchase now!"
The calculator can also provide surplus value or information on how something works.
Here's an example from our article The Definitive Guide to NPS. Click on the link to try and use it yourself!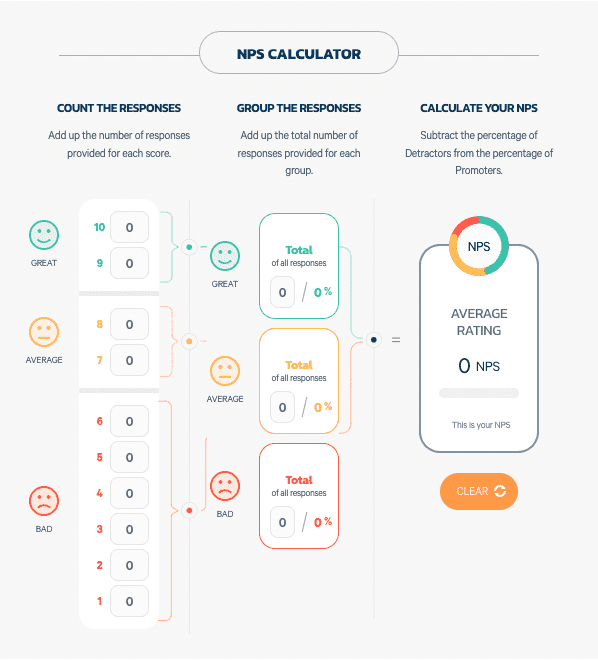 Data and FOMO Widgets
We already know that FOMO pop ups like visitor counters and real time activity pop ups work wonders.
Personalize the website visitor's experience by showcasing the right kind of widgets at the right time (e.g. exit intent pop ups when they are about to leave, a product recommendation when they are browsing a specific page, a few customer testimonials when they are considering a purchase, and so on).
For example, EKO has these cool effects on their landing page.
The widgets are activated when the visitor scrolls down the page.
It is almost like the numbers are updated live, and they surely capture the website visitor's attention.
When the visitor sees how well your products work for others, they will feel more encouraged to try them!
Interactive Infographics and Images
Images are always great, but they can be quite skimmable and not keep visitors on the website for a long time.
What if you enriched your images, PDFs, maps, charts and infographics with interactive features?
"Click icon to reveal more about the topic, hover over the image to see details, click here to start a free trial."
This way you get the visitor to explore the content for a longer period of time. They also get the feeling of agency as they can choose which information they want to focus on.
See e.g. Our World In Data, who have great statistics, maps and charts in interactive form:
Shareable Content and Giveaways
Encourage your prospects to interact with your content and share their own input about the topics.
Make it easy for them to share your blogs (or other types of content) on different social media platforms. Include share -buttons next to your content and add smart CTAs.
If your customers do share your content, don't forget to react to it! It will boost engagement and help your potential customers develop brand loyalty.
Offer giveaways or organize a lottery for people who share your content. It can help with getting those social shares.
The best thing about those shares is that they generate social proof and can get you even more leads through the customers' networks!