Review Widgets: Highlight Customer Testimonials
Review and testimonial widgets are a great way to showcase your existing customer's experiences on your website.
You can use them to embed reviews from Google, Facebook, Yelp, and other review platforms, or collect them on your own with testimonial forms.
Trustmary's widget library has something for every business, regardless of where and how you want to showcase them!
The widgets are, of course, customizable. You can change the colors and titles to fit your brand.
Here are some highlights and real-life examples.
P.S. If you are doubting the power of reviews and why you should add them to your website, I suggest you take a look at our case studies.
1#: Carousel
One of our most popular and beloved testimonial widgets is the carousel.
It requires only a little room but is able to showcase many testimonials. It also adds a dash of interactivity to the website.
That's why it's a perfect fit for a landing page!
Here are some creative solutions used by Trustmary's clients.
Windward Software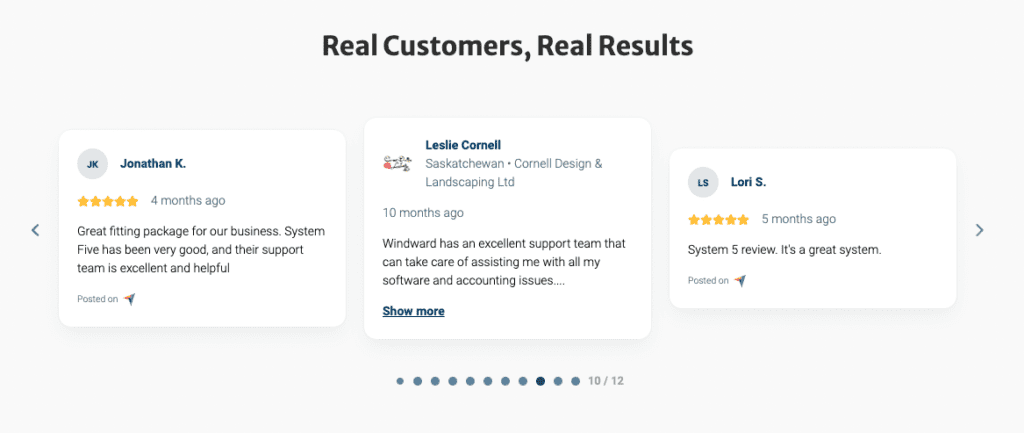 Windward Software has opted for a simple carousel where they showcase imported reviews from sources like Capterra, and also testimonials collected with Trustmary.
Prince Men's Wear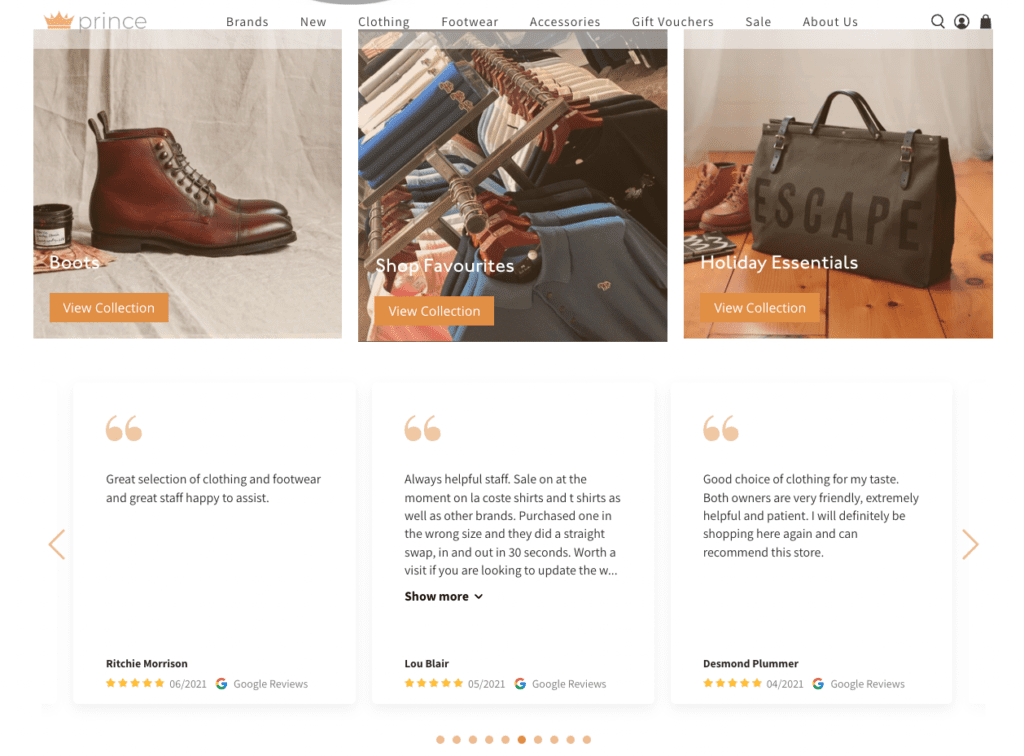 Prince Men's Wear clothing store has included a stylish Google review widget under their product category links. The colors have been modified to fit the brand beautifully.
Rukapalvelu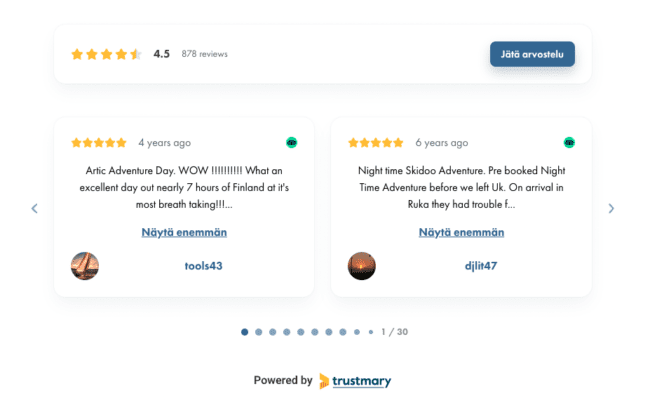 Tailored Adventures Rukapalvelu has embedded Tripadvisor reviews on its website. The widget includes an overall star rating as well as a CTA where visitors can click to leave their own review.
Thus, Rukapalvelu has hit two birds (the review display and review collection) with one stone!
Terveystekniikka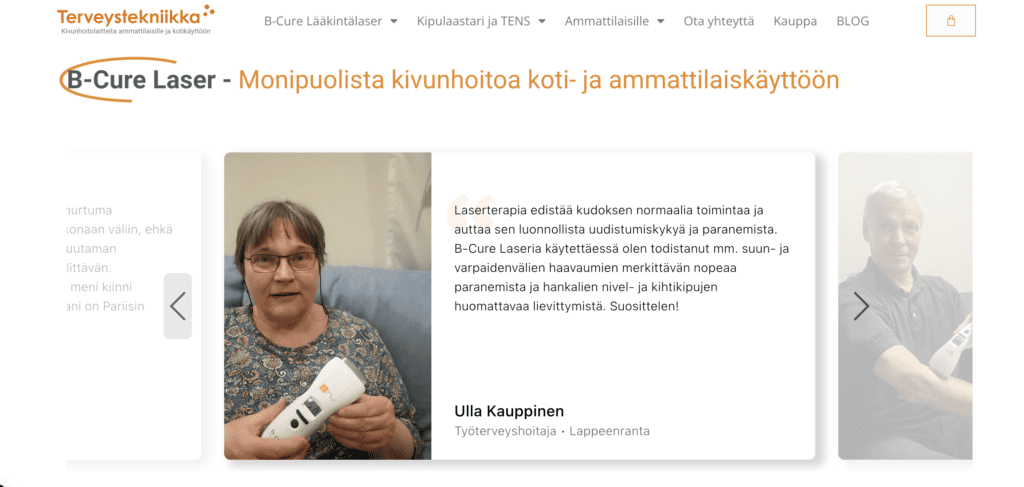 Terveystekniikka has one of the most prominent testimonial carousels out there. They have added customers' experiences as the very first element on their website.
Their widget highlights customers' pictures and includes quotes from healthcare professionals as well.
2#: Wall of Love
The Wall of Love widget is great for showcasing any type of testimonial, be it a star review or a video testimonial, in one love-filled element.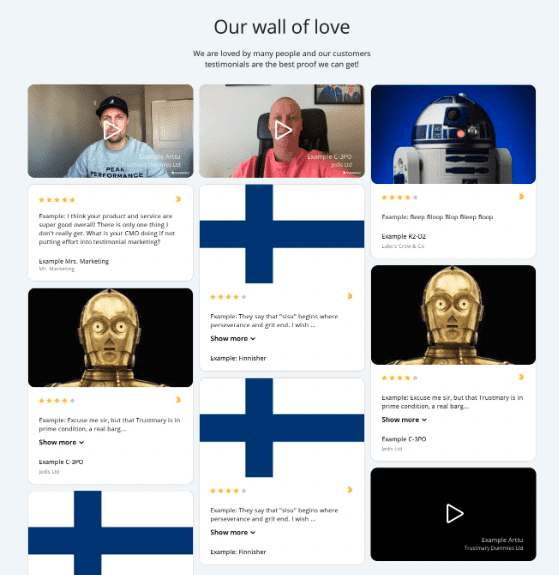 This type of large review widget is best suited for a dedicated testimonial page. It allows the prospective customer to really dig into your reviews.
Here are some examples of how our Finnish customers use the widget in real life!
Pesurivuokraus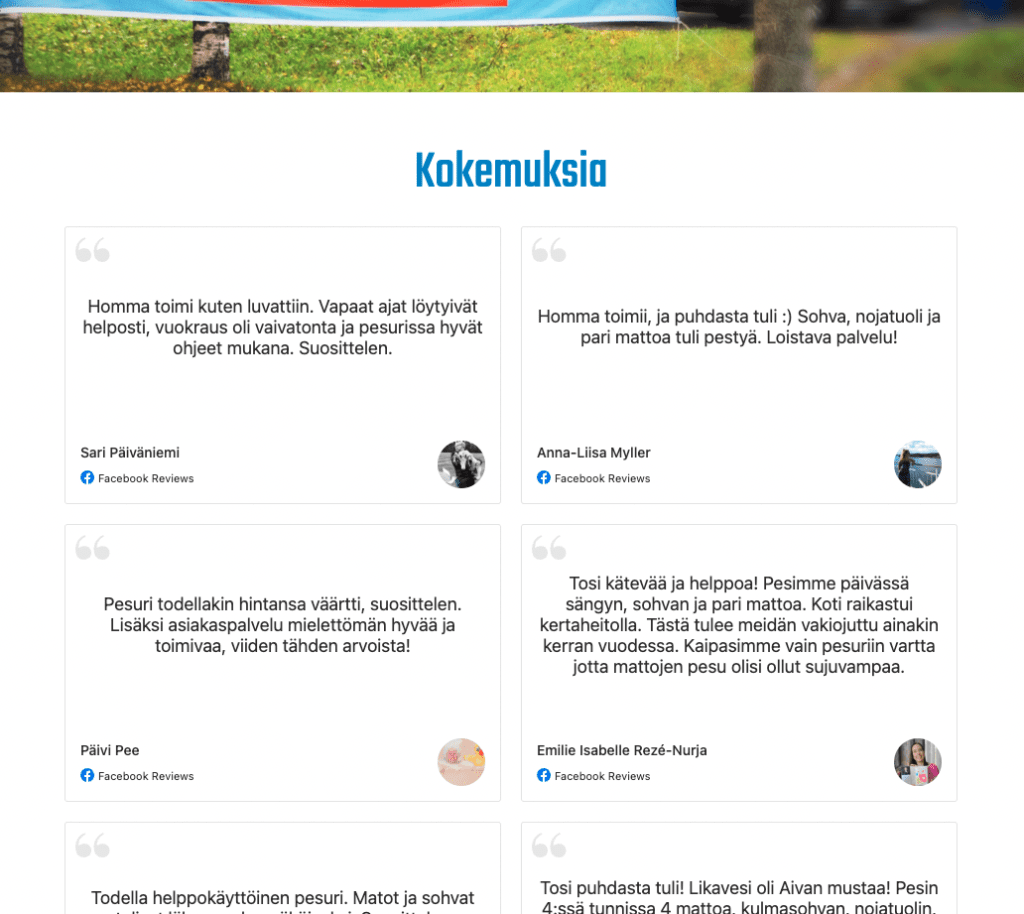 Pesurivuokraus has imported Facebook reviews to showcase on a page titled "Experiences". They favor a simple style.
Facebook reviews enable the usage of reviewers' profile pictures, which makes the reviews extra trustworthy and appealing for potential customers!
Porkkana ja Keppi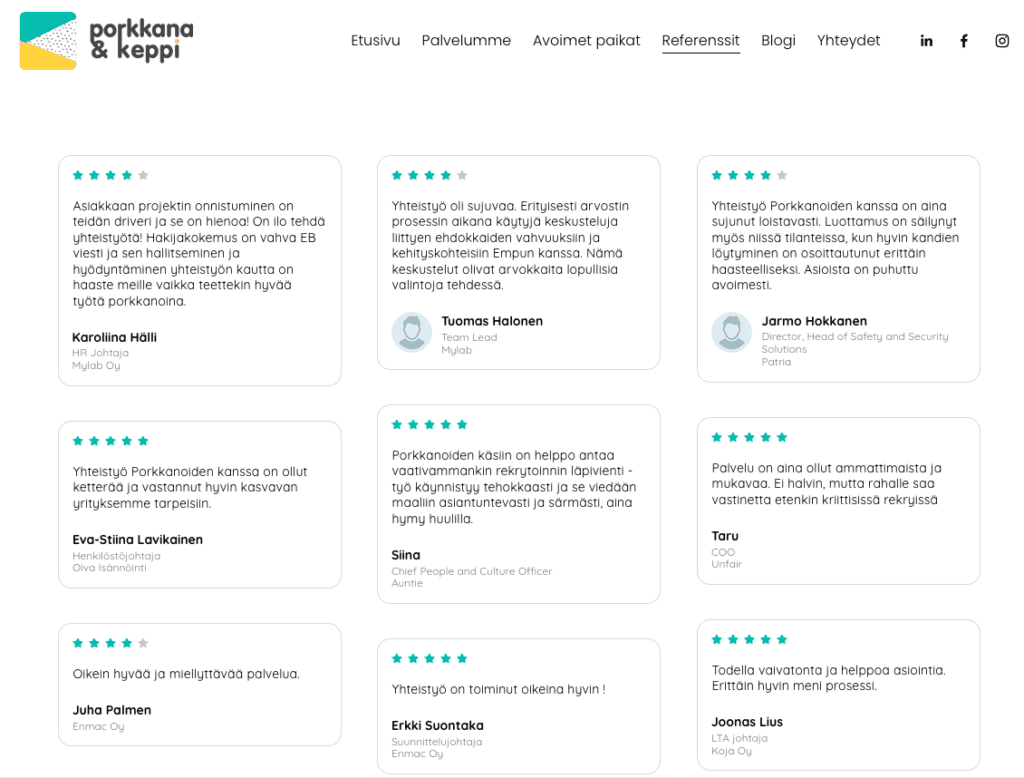 A recruitment company Porkkana ja Keppi also likes to keep it simple. They have rounded the edges of the review cards and added a branded color for the star ratings.
3#: Testimonial wall
The testimonial wall is an impressive widget for showcasing many customer reviews.
The blocks of reviews move in opposite directions, which truly gives a wow factor to your website!
I recommend adding this type of widgets on your homepage or landing pages: wherever you want to showcase relevant testimonials in a compact space.
4#: List
If you have a separate testimonial page, the inpage list is a great widget choice for it.
When you have lots of testimonials, you can form a convincing reference page with this widget.
And hear me out: how about a reviews list on one side of the page, and other types of content on the other side? It would create a nice effect of continuous social proof while the visitor scrolls down the page.
Of course, you can also apply it with a smaller number of testimonials. Just hand-pick the ones you want to feature.