7. Leadfeeder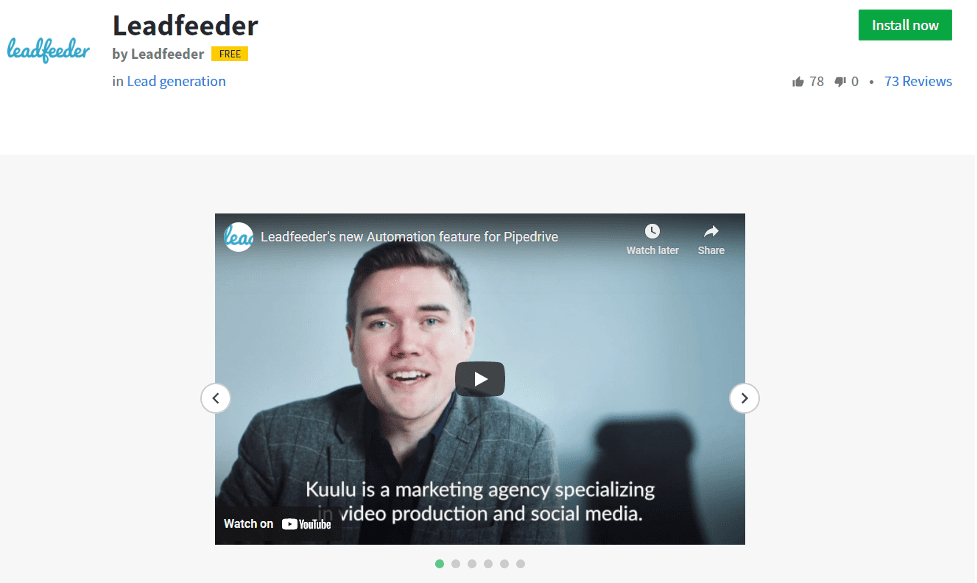 At some point, your leads will come to your website to look for information. You can learn a lot from their behavior online and make accurate assessments of their current position in the funnel. With this knowledge at your disposal, your sales reps can make smarter decisions and know exactly what to do to move the lead down the funnel.
A tool that can help you do it is Leadfeeder. It's a simple website visitor tracking app. It tracks, records, and stores the following: who is visiting your site, what pages they spend the most time on, where they come from, and which devices they use.
Once you connect Pipedrive with Leadfeeder you can pull all the Leadfeeder data to your Pipedrive dashboard. All those qualified leads you never knew existed and their contact information are now available to your sales team.
The data continues to feed to your Pipedrive account, and your sales teams will receive updates regarding already captured leads and new ones as well. Your sales rep will know precisely when to reach the lead and what information to provide, which results in higher conversion rates and more sales.
Pros
Easy to integrate and use
Add leads to Pipedrive automatically
Suitable for demand generation and account-based marketing strategies
Cons
Integration is only available to premium Leadfeeder users
8. Surfe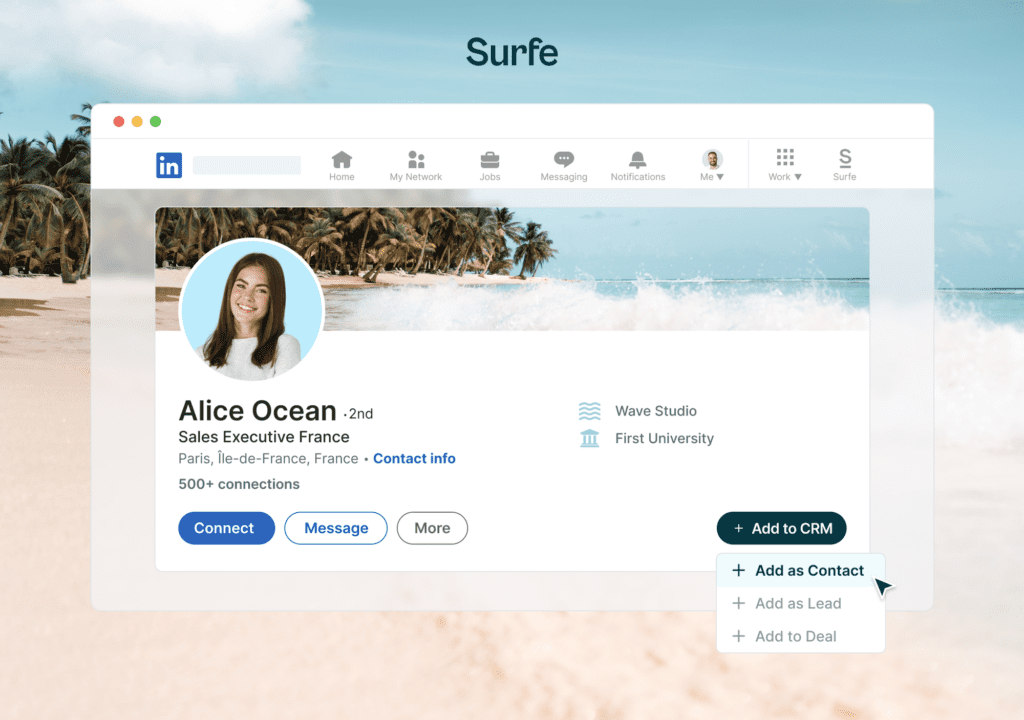 Sick of copy and pasting information between LinkedIn and Pipedrive all day? Say goodbye to manual data entry and hello to Surfe. Surfe (prev. Leadjet) is a simple browser extension that connects LinkedIn and Pipedrive, allowing you to simultaneously update the CRM while working on LinkedIn.
With Surfe, you can create and enrich contacts, find qualified emails, synchronize LinkedIn conversations, and update custom fields and deal statuses directly from your prospect's LinkedIn profile. All of your actions are recorded and synchronized with Pipedrive, eliminating the need to perform these tasks manually. For enterprise plans, Surfe will also notify you when Pipedrive contacts become outdated and update the stale data accordingly with the click of a button.
Surfe maintains data hygiene by keeping Pipedrive up to date, ultimately eliminating time off of your work week which can be reinvested into the things that really matter – like building relationships and closing deals. Source prospects, nurture your leads, and streamline your workflow with confidence, knowing that your CRM data is 100% accurate and up to date with Surfe, a GDPR compliant tool.
Pros
Also connects to HubSpot, Salesforce, Salesloft, Copper, and Sales Navigator
Features are customizable to better suit your needs in the Surfe dashboard
Tracked analytics
100% GDPR compliant
Cons
Strictly for LinkedIn users
9. Appy Pie Connect
Appy Pie Connect has been the go-to option for most enterprises when creating workflow automation for their business processes. With its dynamic interface, users can easily create a wide range of Pipedrive integrations by developing planned workflows to simulate or enhance existing processes.
Basically, what it does is that it allows applications to interact and share data. To automate your tasks, you can develop and implement triggers and responses on Pipedrive without having to write even a single line of code.
By integrating Pipedrive with Appy Pie Connect, you'll be able to integrate over 600 enterprise-grade apps and streamline business-critical processes with ease. Many enterprises use Connect to integrate Pipedrive and help their internal teams to coordinate and collaborate more effectively.
Pros
Facilitates no-code workflow automation
Set up automatic data sharing between applications
Offers affordable plans
Cons
Some integrations are for premium members only