2. Decide on the Type of Survey You'll Be Using
There are different kinds of customer satisfaction surveys you can conduct to get useful data for your business. The type of customer satisfaction survey must depend on your goal. Do you want to ascertain if the customer is loyal to your brand, or do you want to learn if they are happy with your customer service? Are you interested in seeing how your product meets the needs of customers?
Each type of customer satisfaction survey will provide you with unique insights. This is why picking the right type of survey is crucial if you want to get the answers you're searching for.
The most frequently used surveys by businesses to track and analyze customer satisfaction today are:
1. Net Promoter Score (NPS)
As we mentioned previously, this survey type is used to ascertain the general satisfaction level of your customers concerning your business' offerings. This is a very swift survey where users are asked a straightforward question and given a choice between 10 (1-10) or 11 answers (0-10).
Let's take a look at some NPS customer satisfaction survey examples now. This is what most NPS surveys look like.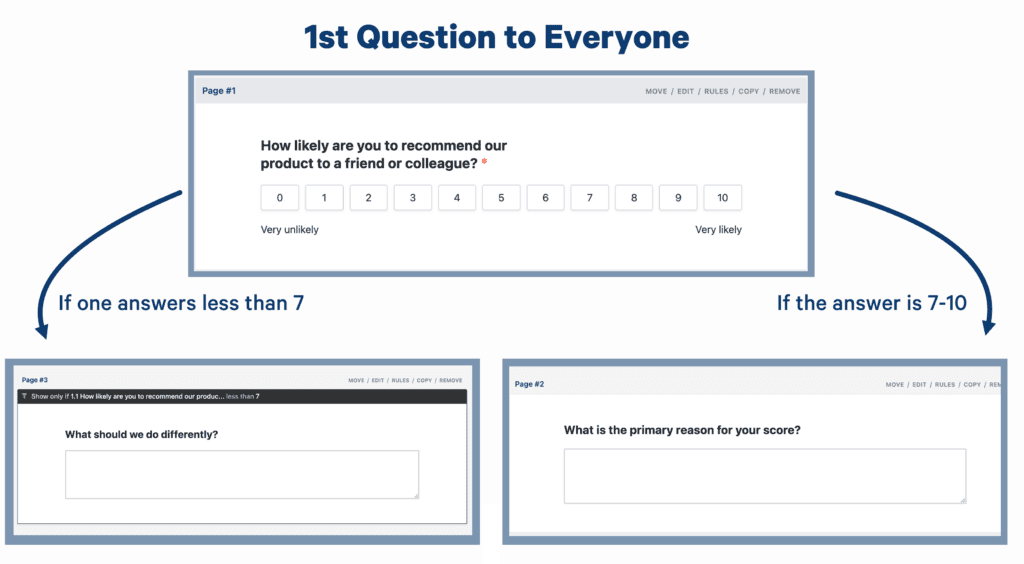 When you get the answers to this survey, you can separate the respondents into different categories. The main categories are the detractors and promoters, while you'll also have a group of people in the middle.
Those in the middle aren't necessarily detractors, but it is also unlikely that they'll promote your brand. They are also very easy to sway toward a different brand since their opinion of your company is neither bad nor great.
When to Conduct NPS Surveys
This type of survey is good to conduct if you want to learn whether or not the customers are content with your business, product, or customer service in general. You won't get any specific information from them in this case, but you can figure out how many brand advocates you have.
2. Customer Satisfaction Survey (CSAT)
This type of survey is used to measure the satisfaction level of your customers with your products and services. In other words, it will tell you how content customers are with what you've provided to them.
If you compare this to the NPS survey we discussed above, it is rather similar. In this case, though, you are exploring the satisfaction level instead of looking for promoters or detractors.
When you use a CSAT, you'll be asking customers to choose between different numbers. In most cases, it is between numbers from 1 to 5. One refers to 'highly unsatisfied', while 5 refers to 'highly satisfied'.
Or, it can appear in the form of emojis.
When to Conduct CSAT Surveys
This type of survey is amazing when you want to learn how many people are unhappy with your brand. You can later proceed to ask them what made them unhappy with your offerings, and do your best to convince more people to choose the higher numbers on the scale.
3. Customer Effort Score (CES) – Different Types Explained
The CES survey tells you how much effort it takes a customer to interact with your support, purchase your product or services, or use what you're offering. If you make the process difficult for them, this can seriously affect their customer satisfaction – and in a very bad way.
Just imagine this scenario. You go to an online store and find a product you want to buy. You add it to your cart and proceed to buy it. The website asks you endless questions and has many hoops for you to jump to confirm your identity, confirm that you are human, confirm your email, and much more.
In the end, this turns out to be more of a hassle and less of a great product find. In such cases, many of the customers won't stick around to purchase the product. Those who stuck around will probably look elsewhere the next time they want to buy the product.
According to the Harvard Business Review, 94% of customers are willing to re-purchase from a brand that requires low effort to get this task done.
To conduct a customer effort score survey, you need to ask questions like:
But, that's not the only customer satisfaction survey design method for the CES forms. You can also go at it another way:
When to Conduct CES Surveys
CES surveys are aimed to give you customer feedback after the person in question has completed a purchase or any other activity on your website. Naturally, you can't ask them about the complexity of the ordering process when they haven't ordered yet. You also shouldn't wait for too long, considering that people might forget about the process if a lot of time has passed.
3 Different Types of CES Surveys
There are many sub-types of CES surveys. Here are the three most common.
1. Post-Purchase Survey
Just as the name tells you, this type of customer satisfaction survey is sent after customers used your service or bought your products. These forms determine the customer experience right after or a certain amount of time after the customer's action.
The post-purchase survey is very different from the NPS survey. While the NPS surveys aim to get a broader picture of the customer satisfaction, the post-purchase survey is more concentrated and explicit on the interaction between the customer and your company.
In most cases, post-purchase forms have an open-ended question like:
"Are you satisfied with the product you bought from our service?"
The options for answers can also vary but, in most cases, they are similar to those of CSAT survey (from very dissatisfied to very satisfied).
When to Conduct Post-Purchase Surveys
You should create post-purchase surveys to discover 3 aspects:
Quality of the checkout process
Quality of your products or services
Quality of your support service
2. Product Development Survey
Marketers sometimes define the product development survey as 'concept testing' because it is conducted right in the start before the product is launched or as soon as it gets out on the market. Naturally, you don't want to spend a fortune on a product that you aren't sure your audience will like.
This is why product development surveys are executed – to test the potential customer satisfaction and see if people like the idea of your new product or service.
This survey is a bit more complex to create and execute. To do this, you need to show the participants a model of the product you have in mind. You can send them a sample or, if possible, send them the model online. In addition to the product, you need to tell people about the price.
Once you do this, you can freely ask questions about your product idea.
When to Conduct Post-Purchase Surveys
When you have a ready idea and possibly a tangible product that people could use and have their opinions on, it is time to conduct a product development survey.
3. User experience (UX) or usability survey
UX surveys will tell you how simple it is for your customers to use your product, service, and other solutions and features you are offering. You can ask all sorts of questions with this type of survey. Some ideas are:
In addition to this, you can ask some demographic questions to see who is using your product or service, as well as ask them why they decided to purchase that exact product.
When to Conduct Usability Surveys
Usability or UX surveys are mostly used on websites and for apps when you want to understand how easy or difficult it was for people to navigate them or use your services.