5 Ways to Use Testimonials in Hospitality Business
#1) For customer retention
While every business continually seeks new customers to thrive, keeping current customers happy is a big win as well. Testimonials help to secure customer retention.
Guess what happens when they suddenly come across a testimonial from your company? When a customer hasn't been in touch with your brand for a while? – It immediately serves as a reminder of how great your services were the last time – and why they should continue to use your services.
Unfortunately, companies will often make the mistake of de-emphasizing the relationship with their current customers when they're looking to acquire more business and sales,
However, note that the best kind of customers is those that use your services not just once, but again and again. Well-structured and detailed testimonials will help to boost customer retention.
A couple of tips that can boost the gathering of customer testimonials:
An awesome case study of a company that did the above successfully can be seen in this video from Westgate Resort and Casinos.
Focusing on customer retention via testimonials and instant feedback will help you build a lasting relationship with your customers.
#2) To build trust
If you were driving past a new hotel and you saw a poster that said: "we have the best accommodation in the state" would that be enough motivation to convince you to spend some days there?
Probably not.
However, if you asked around and an acquaintance mentioned that they had stayed there and thoroughly enjoyed the services, you'd most likely rethink and try the place out.
That's because hearing that social proof from your acquaintance has built some level of trust in that particular company.
You were able to ask that acquaintance-specific questions and got answers that very likely addressed your concerns. Hearing from someone that you know will always be more authentic than the advertising copy some marketing people put on a poster.
Advertisements vs. Testimonials
No matter how convincing an advert sounds, it's paid for and intended to convince you. That's not the case with your social circles.
Real people aren't paid to praise a product or service. That's why prospective customers tend to trust the opinions of past customers. Seeing testimonials from happy previous customers is very likely to turn visitors into hot leads or even customers.
Customer testimonials are a piece of evidence that a hospitality business is delivering certain standards toward and meeting the expectations of its customers. This further indicates that your company is versatile and may be able to satisfy its own unique needs as well.
The fact is, potential consumers, don't know you. They are basically taking a risk when they spend their money buying your service.
When they come to your website and see all the advertising copy that sounds like every other company out there, what guarantee do they have that everything written on your website is truthful.
If they can find just one testimonial from a past or current customer in addition to your ad copy, that testimonial can impact their trust and buying decision positively. Up to 72% of customers confirm this.
Word of mouth (through testimonials) is even more powerful when your audience considers that the testimonials are given by real people with no profit or hidden agenda tied to their recommendations.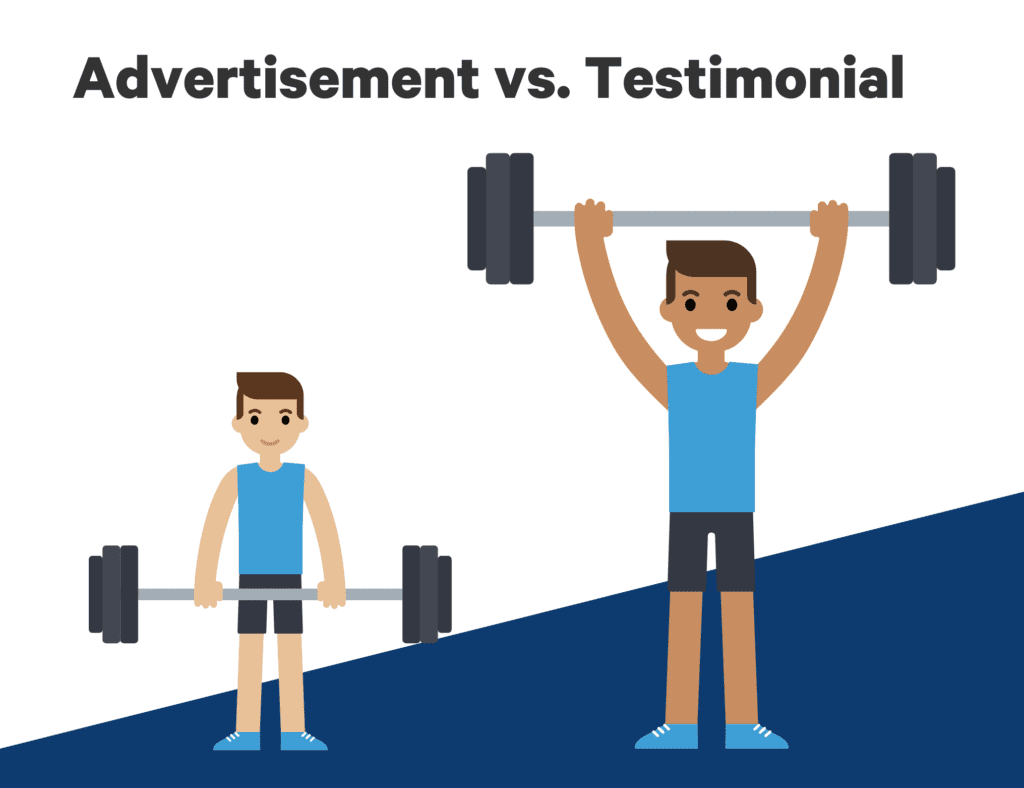 #3) Sell without selling
While it can be beneficial to persist when trying to sell a product or service, it quickly becomes annoying.
At some point, all of us have probably encountered a seller that simply refuses to quit. Annoying salespeople aside, people generally dislike being sold to by complete strangers.
Because testimonials focus on the benefits to someone just like them, they stand out to prospects as unbiased accounts of how well your services work.
Essentially, consumers' attention span is getting shorter, and no one wants to see another impersonal-sounding and formulaic sales pitch. Especially if they recently had a poor experience after trusting what seemed like a fantastic-sounding advert.
Instead of publishing more and more perfectly crafted ads, hospitality companies can utilize testimonials to reach their audience without sounding like pushy salespeople.
In testimonials, your customers use simple everyday words to subtly sell your services on your behalf. These testimonials help you to get their attention first, before launching into glowing descriptions of your services.
#4) Build better audience connections
People respond better when a testimonial is from someone that has experienced the same things as them. Thus, hospitality companies can use testimonials to connect with their targeted audience.
For example, imagine that you once dined at a restaurant with substandard maintenance. If you see a video testimonial about another restaurant where the customer mentions impeccable restaurant maintenance, that video would immediately grab your attention.
If they further proceed to describe how this new restaurant eliminated the exact discomfort that you faced previously, the chances you'll want to check things out in this new place are high. When the reviews and opinions are positive chances of both trying the place and leaving a tip in your tip jars are high.
Testimonials can also help you speak to a particular kind of clientele.
If you are a hotelier and your company's main target audience is an older, more established clientele, try to get testimonials from as many of your current guests that fit this description.
This approach can work with a much younger crowd as well – it can work with any demographic group.
#5) Increase social media engagement
Did you know that up to 43% of consumers use social media to research new brands or products?
With the continuous proliferation of smartphones and other mobile devices, companies that ignore social media stand the risk of losing out on its immense benefits.
Similar to how testimonials help to build trust, posting testimonials on your social media outlets can get your business dramatically higher visibility and engagement rates.
As a start, active social media management on your part can encourage and enable satisfied customers to tell your prospects what your business has done for them.
Additionally, they're also telling your prospects what you can now do for them as well. This will save you some of the work and expense of more traditional advertising.
Again, social media engagement works like a prompt and a direct conversation between you and your prospects. There's no middleman, misinterpretation, or stringent rules to adhere to.
What matters most is responsiveness, transparency, and honesty on your part.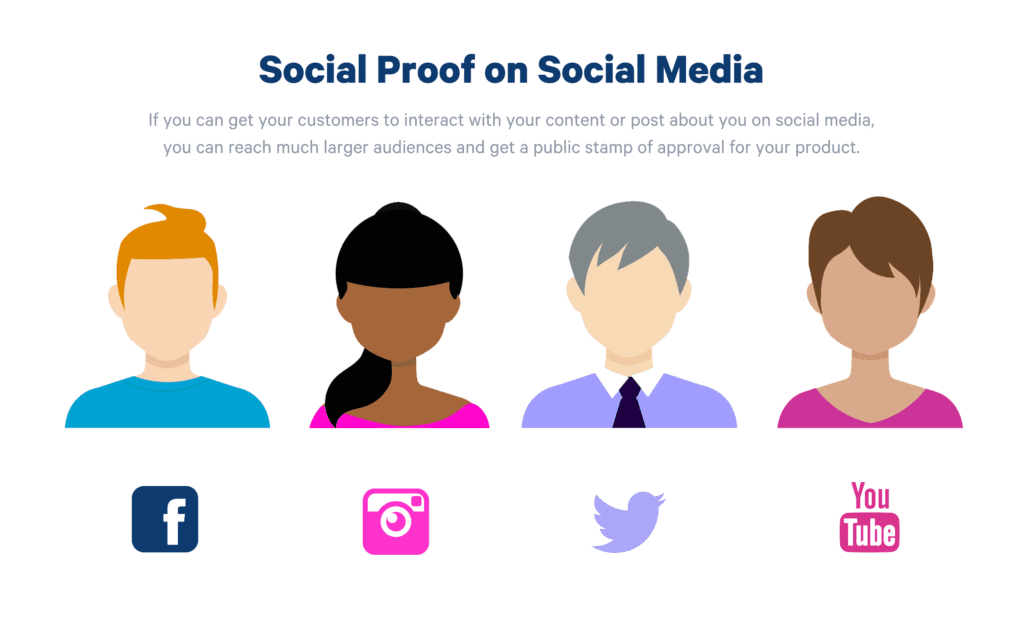 Create unique content and engage with your audience
One way to catapult your social media presence to the next level is with user-generated content like testimonials, reviews, and recommendations.
Your customer posts a comment, and immediately gets your attention – you're now listening.
You respond and
they react again, sometimes within minutes.
This exchange demonstrates the magic and sheer power of social media interaction.
Interestingly, unlike in decades past, your customers don't need sophisticated audiovisual equipment to capture their testimonials – a modern, internet-enabled smartphone is usually adequate.
Not only does this save you a lot of time, but it also makes it easy for your happy customers to share their testimonials online with a few clicks in whatever format works best for them (video, text, or audio).
If you're not leveraging social media in this way yet, you're leaving money on the table and missing out on a significant audience.
In every industry out there, an active social media presence has become a proven foundation to build deeper customer relationships, convert leads, and form long-term relationships.
Another angle to social media engagement is that it can help your business secure loyal brand ambassadors who'll talk about your services enthusiastically.