3 Word of Mouth Marketing Examples to Supercharge Your Marketing Campaigns
Word of mouth marketing is one of the best forms of marketing your company could have. Consumers are naturally tuned to talking about brands and products they use, like, and dislike. They are tuned to it.
It's natural. The phenomenon is also referred to as social proof.
According to HubSpot, consumers discuss brands casually 90 times a week. It isn't always about recommending a product, it is a casual discussion where people mention or refer to brands that they use. For instance, your friend asking you about the new smartphone you just purchased or your neighbor asking about the ease of use of the mowing machine you have.
You should aim to digitize your social proof and start using it.
Most of the times, worth of mouth marketing is unintentional and not planned. Nugget Boy is a perfect example. Carter Wilkerson (aka nugget boy) asked Wendy's on Twitter back in April 2017 that how many retweets should he get to qualify for a year of free chicken nuggets? The company responded with 18 million. Carter then posted the screenshot on his Twitter and people started retweeting so he could get free nuggets.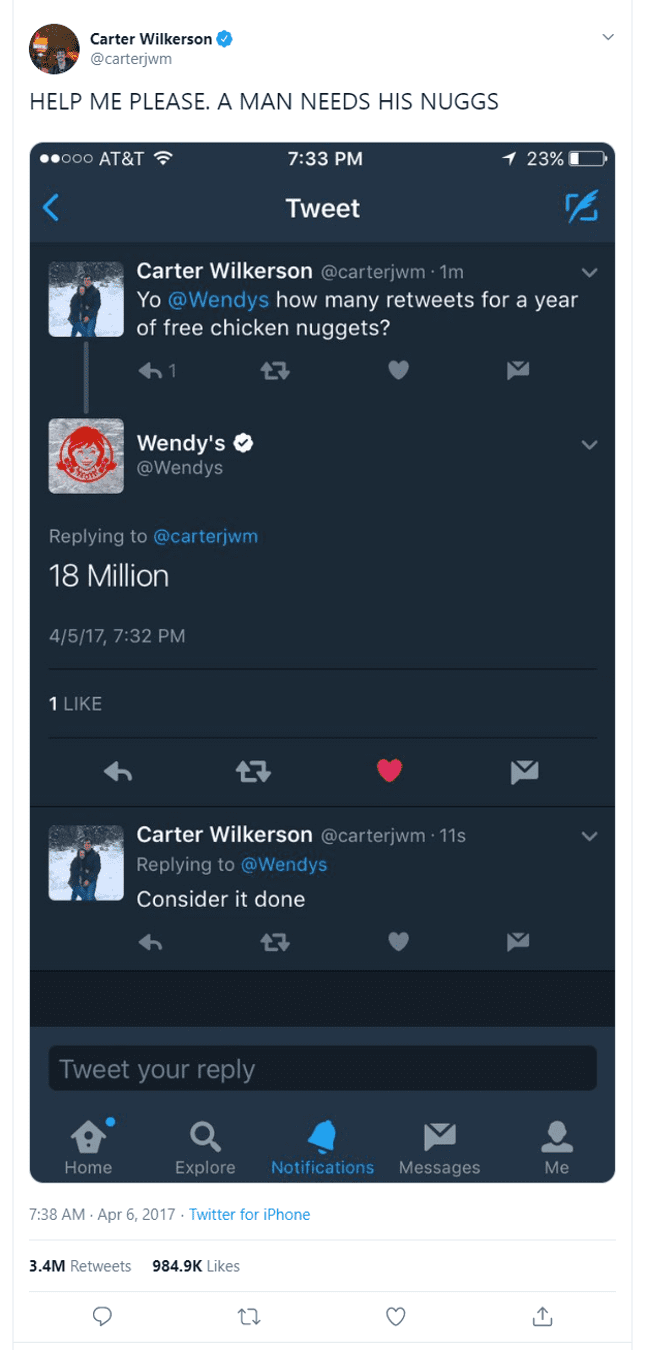 As of today, there are more than 3 million retweets that he received. Wendy's received a lot of brand awareness without spending a single penny. That's what word of mouth can do to your company.
Word of mouth marketing has several types and examples which means it can be done in multiple ways. What are these examples, let's find out?
What is Word of Mouth Marketing?
So what exactly word of mouth marketing is? According to Shopify, it's an unpaid marketing technique to generate natural discussions about your company or its products. People tell others about your brand and how much they like it.
Word of mouth is triggered when customer experience is exceeded either positively or negatively. It isn't always positive.
People will discuss your company in both positive as well as negative way. If their experience has been great with your brand, they'll share their positive experience. In the case of poor customer experience, they'll engage in negative word of mouth marketing.
You need to ensure that your customers are satisfied with your brands and your products. Though word of mouth is natural, you have to control it. In fact, you need to use different techniques to generate positive buzz about your brand.
Word of Mouth Marketing Examples
You can use the following word of mouth marketing examples and techniques to control what people say about your brand and to create positive word of mouth marketing.
1. User Generated Content
The content your customers and users create is the biggest source of word of mouth marketing. User-generated content includes social media posts, comments, videos, blog posts, and anything that a customer shares about your company.
Here is an example from Buffer that uses #BufferCommunity to highlight user-generated content. Its users share pictures with the hashtag and these photos aren't promotional at all.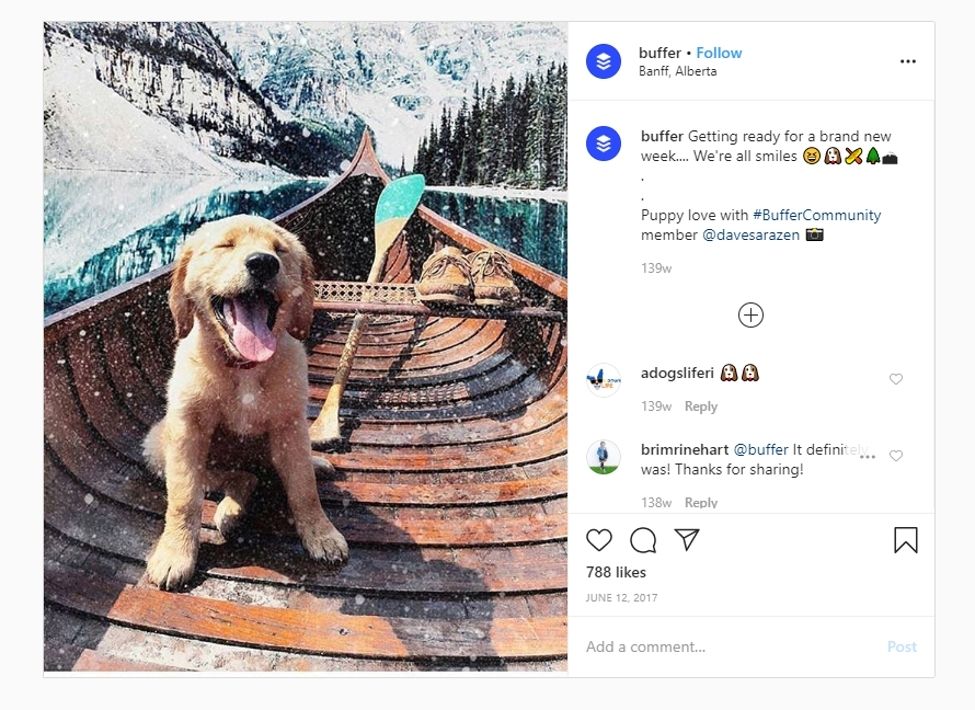 User-generated content is the purest form of word of mouth marketing. You can't sit back and expect your customers to share content. That will never happen. You have to take steps to engage with your customers. Build a community. Provide opportunities to customers so they share content. Reward them. Encourage them. That's how it will work for your brand.
2. Customer Testimonials
Customer testimonials generate word of mouth as they represent your customers who have used your product and are satisfied with it. Again, your customers won't share testimonials no matter how happy they're, unless you reach out to them.
Once you get the testimonial, you can use it on your website, social accounts, and marketing campaigns. Orabrush uses video testimonials on its homepage:

The same is the case with customer reviews. A good chunk of your customers will leave reviews on several other websites such as Google Maps, Yelp, and niche review websites. Your job is to create business accounts on all the leading review sites where potential customers can leave a review.
And when you get a positive review, remember to respond to it!
Follow these tips to encourage customers to share testimonial and/or leave a review of your product:
Send emails to your customers and ask for their willingness for a testimonial.
Compensate customers for their time. Reward those who share a testimonial.
Add links to third-party review sites in the weekly newsletter, email signature, social media accounts, and on your website and blog.
Make it super-easy for them to leave a review.
Invest in social listening to find brand mentions and encourage those people to share a testimonial. People who have already written about your brand on the internet are more likely to leave a testimonial.
3. Influencer Marketing
Influencer marketing is a rapidly growing industry. The Instagram influencer market is expected to reach $2.3 billion by the end of 2020. You have to collaborate with an influencer to talk about your product, post its image, or recommend it. This is a perfect technique to create brand awareness, generate sales, and create positive word of mouth.
Influencer marketing is an effective technique that generates positive word of mouth about your company. Imagine a celebrity or an expert with huge following shares a photo of your product, how will it impact your brand?
Here is a photo shared by Sperry from one of its micro-influencers as part of the influencer marketing campaign: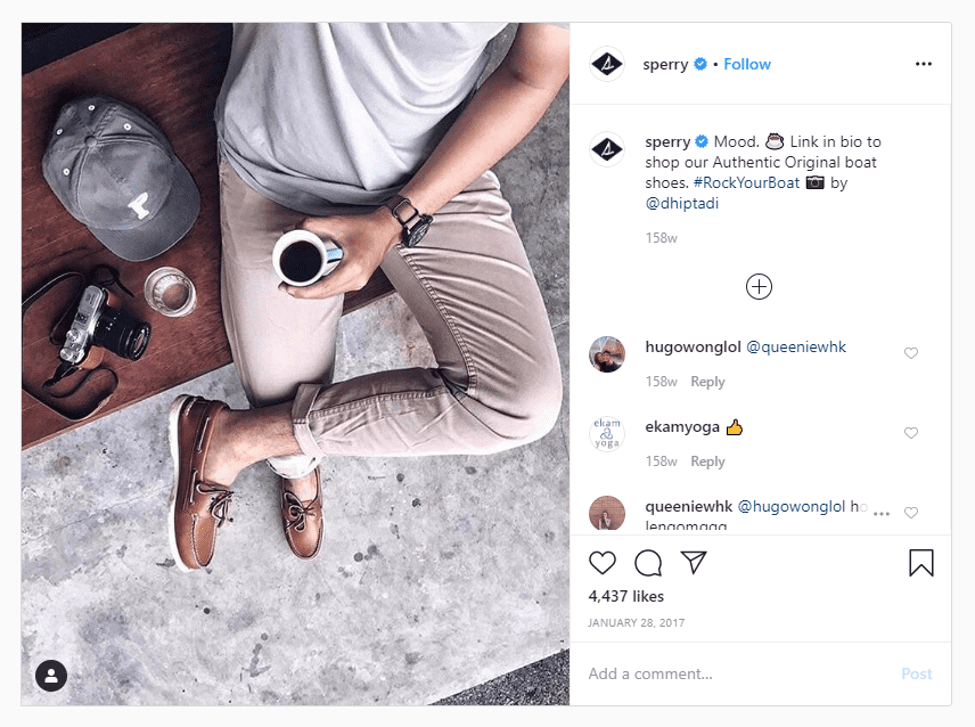 When you hire an influencer, your product actually gets positive word of mouth by the influencer which is more effective than word of mouth generated by a random customer. Not only the influencer's followers will engage with the post and will buy your product, but non-followers will be engaged too.
The only downside of influencer marketing is that it costs you money. Some influencers charge a lot for posting a single photo or a review. But at the end of the day, it pays off.
Final Words on Word of mouth marketing
Word of mouth marketing is the best marketing technique for any business. It doesn't matter what industry you are in, it will always work for your company.
Where to begin?
Choose one of the word of mouth marketing examples from the article and start working on it. If you want to create customer testimonials, create a campaign and start collecting testimonials. Or integrate a video testimonial tool with your CRM to get the best results. You can integrate Trustmary with, for example, HubSpot and Pipedrive to automate all video testimonial and review collection processes.
You don't have to use all the word of mouth marketing techniques all at once. Choose one and master it.
It is better to master one technique instead of wasting resources on multiple approaches that will lead you nowhere.