You have a website on the WebSite X5 platform. Your website is visually appealing, you have hired a professional copywriter to perfect the copy, and you have made sure that the website is working well.
But still, your website is not converting as well as you would like. Something is missing.
The missing piece is social proof. The most important aspect in building more trust and persuading visitors to contact you or buy your product.
But how can you implement it? Where to get the social proof, and how to use it on the website?
This guide lets you in on the easiest way to implement reviews on your website and harness the full potential of your WebSite X5 site.
Understanding the Role of Reviews on a Website
Let's look at why reviews are important, how they affect the customers psychologically, and why you should use them on your website.
Why are Reviews Important?
Online reviews are a significant part of digital marketing and SEO strategies.
They play a vital role in building brand trust and credibility.
Here's why.
Boosts Customer Trust
Most consumers trust online reviews as much as personal recommendations.
Reviews offer real customer experiences, which helps build trust among potential customers.
In fact, statistics show that 93% of consumers read online reviews before making a purchase and 58% of consumers would be ready to pay more or travel further to visit companies with good reviews.
Improves Local SEO
Search engines, like Google, value original and fresh content.
Regularly updated reviews can help your site rank higher in local search results.
Furthermore, adding reviews to your website and activating a review schema markup can make your site come up higher in search results, and improve your click-through rate.
Read more about why reviews are important for SEO.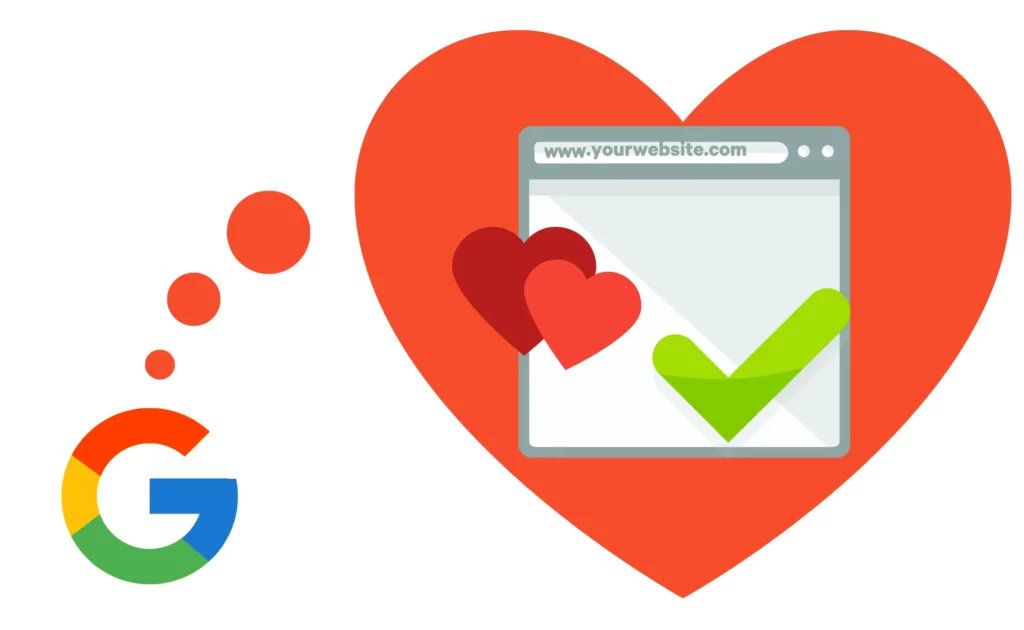 Builds Brand Image
Positive reviews can strengthen your brand image.
They can even help you position yourself in the competitive field.
When people underline specific features of your business in their reviews, you build a unique competitive advantage in that area.
Don't forget that how a business responds to negative reviews shows its commitment to customer service, which can also positively affect the brand's reputation.
Gathers Customer Feedback
Reviews provide valuable feedback, letting you know what's working well and where improvements can be made.
No business can be great without listening to its customers.
Collecting reviews is the first step towards a customer-centric successful business.
How Reviews Influence the Customer's Buying Decisions
Building trust is a key objective on a website, and reviews do it better than anything.
Reviews significantly impact customers' buying decisions via psychological mechanisms and by providing security.
Here are some factors.
Pre-Purchase Research
When buying a new product, one can never be too sure about its quality, and whether it suits one's needs.
Positive reviews can reassure customers about the quality of your product or service.
You can try to convince people yourself, but people won't believe you – they want an objective opinion.
Social Proof
Reviews act as social proof, showing customers that others have purchased and enjoyed your product or service.
This can help potential customers feel more confident in their decision to buy from you.
It's all based on a psychological phenomenon that makes people follow each other in new situations.
Risk Reduction
Purchasing a product or service online comes with inherent risks.
Is the seller trustworthy? Will I get scammed?
Positive reviews that show other people's good experiences can help reduce perceived risk and make customers more comfortable making a purchase.
However, make sure your reviews are authentic and honest. Otherwise, you'll be perceived as a scammer.
Informing Purchase Decisions
Reviews often provide detailed information about products or services that may not be readily available from the business's descriptions.
This information can help customers make better-informed decisions.
Even if you provide extensive information on your website, you look at your products and services from a different perspective than the potential customers.
Customer reviews underline aspects that other customers want to know.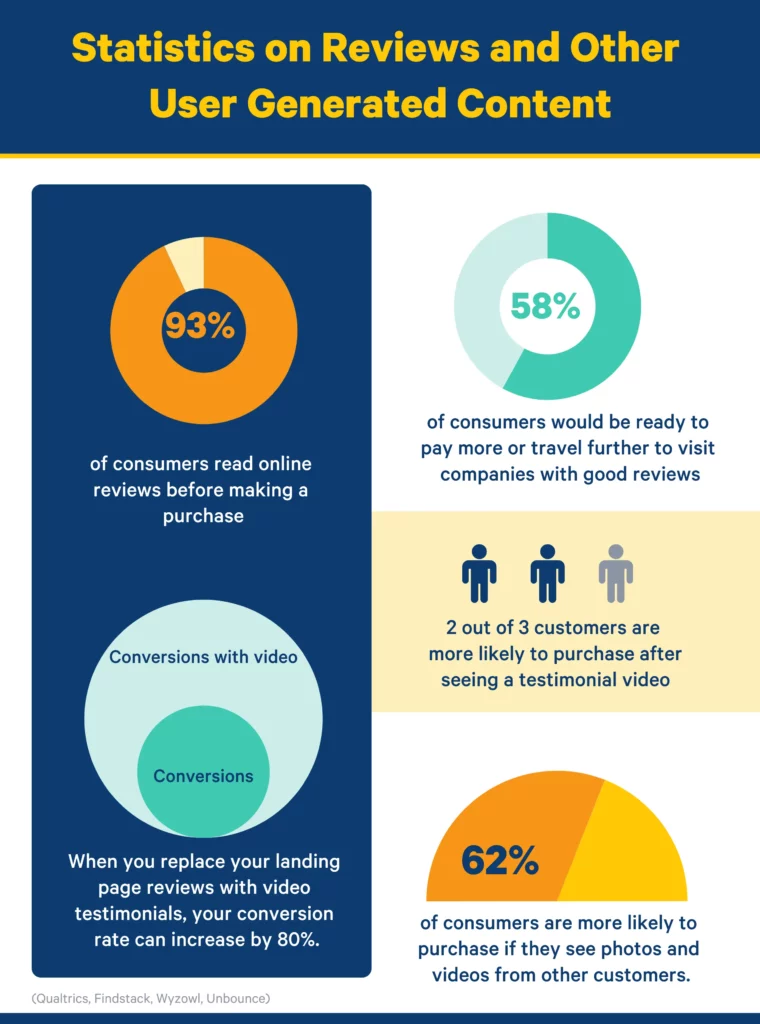 Why add reviews on WebSite X5?
WebSite X5 has many qualities that make it a great website builder and CMS.
Some of the advantages include:
With a single license, you can create as many websites as you want.
The license is a one-time purchase, so you don't get monthly or yearly subscription fees.
You don't need any coding knowledge or technical expertise to use the WebSite X5 platform effectively. Just create your perfect website through a 5-step wizard guide.
With WebSite X5, you can create landing pages, blogs, and even online shops, so it's highly versatile.
Your WebSite X5 license includes webspace, simplifying the process of exporting and publishing websites online.
All in all, you save money and effort, when you have one solution to take care of your various needs.
Adding reviews to your WebSite X5 site amplifies its effectiveness. Beautiful visuals, good usability, and powerful copy take you far, but adding social proof seals the deal.
How to Embed Reviews on Your WebSite X5 Site
Let's go through some ways in which you can embed reviews on your site.
All of the below methods can be done with Trustmary.
Choosing the Right Review Widget for WebSite X5
Choosing the right Review Widget type is essential to make your website user-friendly and to produce the best possible outcome.
Here are some of the styles you can choose from, and which pages they fit best.
1. Review Carousel
Review Carousel is the most popular way to add reviews to a website.
It's stylish and interactive, and able to showcase many reviews in a small space, which makes it a popular choice for landing pages.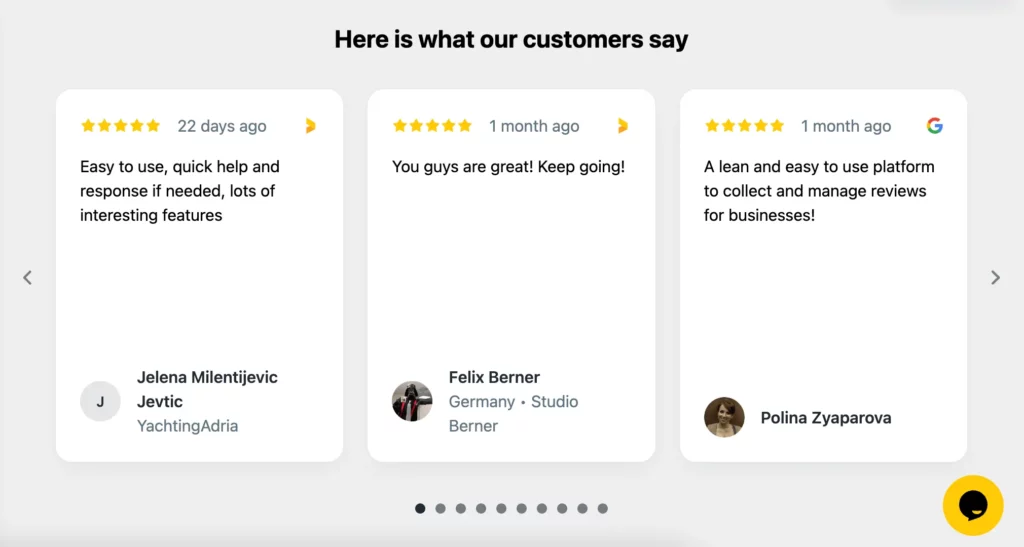 2. Masonry
A masonry-style review widget is suitable for separate review and testimonial pages.
It's a great way to showcase reviews, video reviews, and customer photos with a visually appealing design.
However, it requires a lot of space and is not the ideal widget for landing pages or a home page.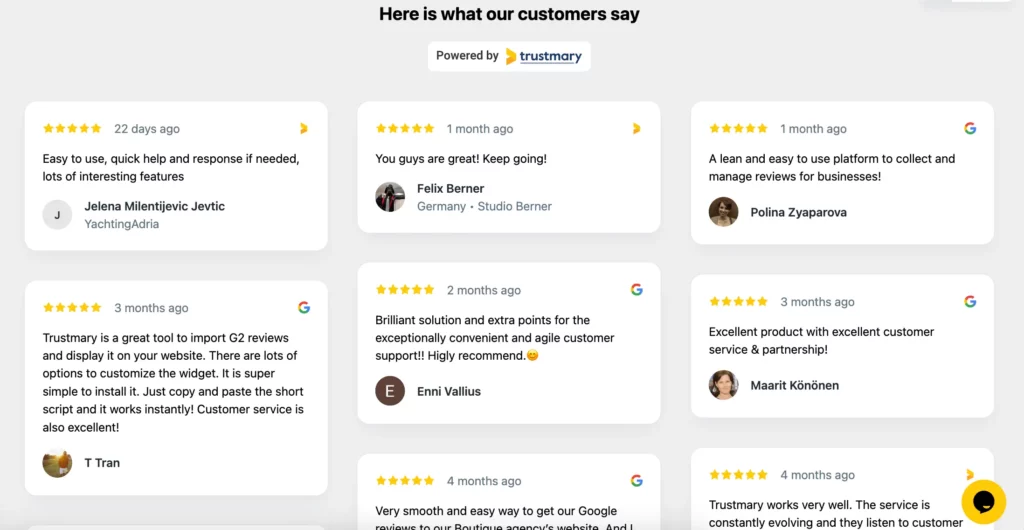 3. Wall
A review wall is an eye-catching element that is suitable for pages that don't have too much space to spare for reviews.
However, this type of review widget is best used with shorter reviews. Otherwise, people won't have enough time to read the review before it disappears.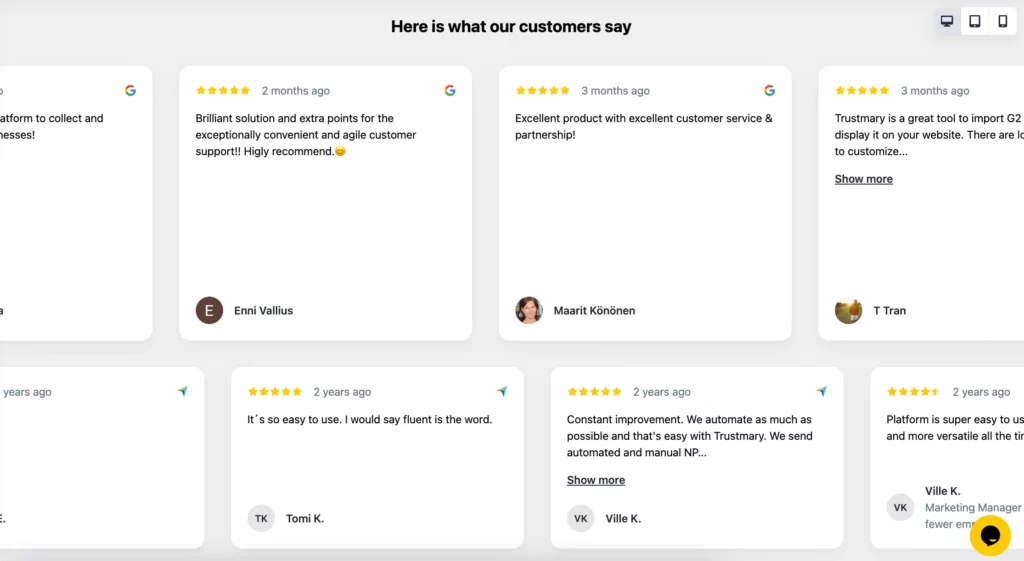 4. List
A list of reviews is a unique solution that is best suited for websites that have multiple columns on a page.
You can e.g. add the review list to a side column while the center of the page is reserved for other information.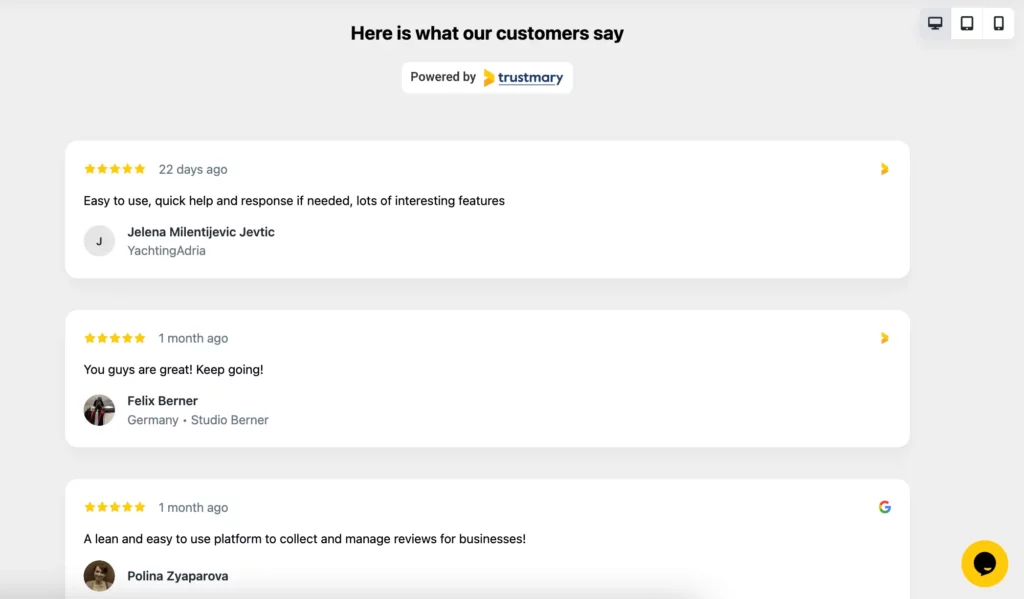 5. Review Pop-up
Pop-ups can be used to showcase reviews as well.
The advantage is that you can better grab the visitor's attention and launch the pop-up at a desired moment, such as:
After certain amount of time
After the visitor has scrolled the page to a particular spot
Upon exit-intent
You can also target pop-ups and create more personalized experiences.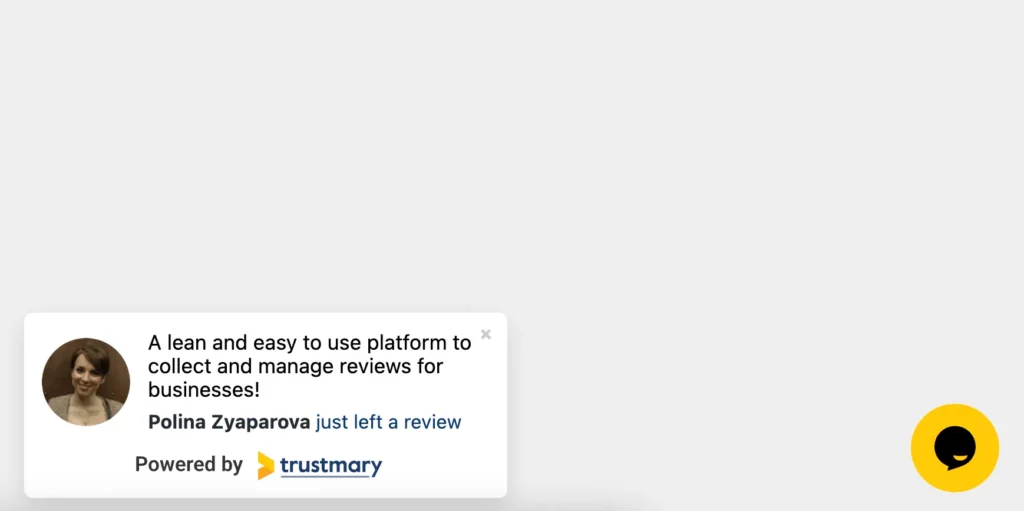 Setting up the Review Widget
Creating review widgets with Trustmary is simple.
Step 1: Import reviews from Google, Facebook, Yelp, and many more platforms to Trustmary.
Step 2: Choose your widget template from the extensive widget library.
Step 3: Modify the widget template to your liking – or simply let the system import styles from your website and use those in your widget.
Step 4: Add the widget to your website by copying and pasting a short code snippet.
Integrating the Review Widget into Your WebSite X5 Site
There are two methods to add a review widget to your WebSite X5 site: as an in-page widget (such as a carousel, wall, list, or masonry) and as a pop-up.
Adding an In-Page Widget
Adding an in-page widget is straightforward in the settings of your site.
It only involves a few steps.
Copy your widget code in Trustmary.
Go to Step 4 "Pages" on your desired page's settings on the WebsiteX5 platform.
Insert an HTML Object anywhere in the grid. Any code you insert here will be placed in that exact place on the final page.
Paste the HTML code into the field.
Now you are all set!
Adding A Pop-Up
Implementing a pop-up review widget is extremely simple as well.
All you have to do is create the pop-up in Trustmary's widget editor and then go to "Targeting" tab.
Here you just add the website URL(s) where you want to use the pop-up and exclude the pages where you don't want to show them.
You can also choose when the pop-up is launched, add UTM tags, and configure further settings.
Conclusion
Embedding reviews on your website is crucial if you want to use your website's full potential.
By adding reviews, you increase trust and credibility, ease your customers' purchase decisions, improve your SEO efforts, and leverage social proof.
Adding reviews to your WebSite X5 website is easy and can be done in various ways.
Trustmary is the best solution for implementing reviews on WebSite X5 pages.
FAQ
WebSite X5 is a website builder by Incomedia. With WebSite X5, you can create websites, online stores, and blogs in an easy 5-step process that doesn't require any knowledge of coding. With one-time purchase, the license is at your disposal for lifetime and you can create unlimited number of websites.
Why should I embed reviews on my WebSite X5 site?
Any website that tries to sell something needs three factors: good visuals, good copy, and social proof. The two first aspects are easily done with WebSite X5 and a professional copywriter, but social proof is tricky. Embedding reviews with Trustmary is the solution that takes the problem out of your hands.
Reviews can:
increase trust and credibility,
ease your customers' purchase decisions,
improve your SEO efforts, and
help you leverage social proof.
How can I embed reviews on my WebSite X5 site?
Embedding reviews to a WebSite X5 site is best done via Trustmary. All you need to do is import Google, Facebook, Yelp, or other reviews to Trustmary, and add them to your website with a stylish review widget. It's all done in just a few clicks.
Can I choose which reviews to display on my WebSite X5 site?
Yes, you can pick the reviews you want to showcase, or you can let Trustmary prioritize them automatically.
What is the best location for reviews on my website?
The best location for reviews is pages where people make purchase decisions. Some key locations are:
Home page
Product/service pages
Check-out
Separate reviews page
How frequently should I update the reviews on my WebSite X5 site?
When you use Trustmary, your new reviews are automatically updated on your website.