If Facebook reviews are crucial for your business and industry, I got you. Also, I'll tell you exactly how to find a Facebook review link, to get more Facebook reviews AND how to get FB reviews to show on Google search.
Firstly, let's go over what your Facebook business page is looking like at the moment.
Facebook Business Page: Overlook
Navigate to Facebook, and log in.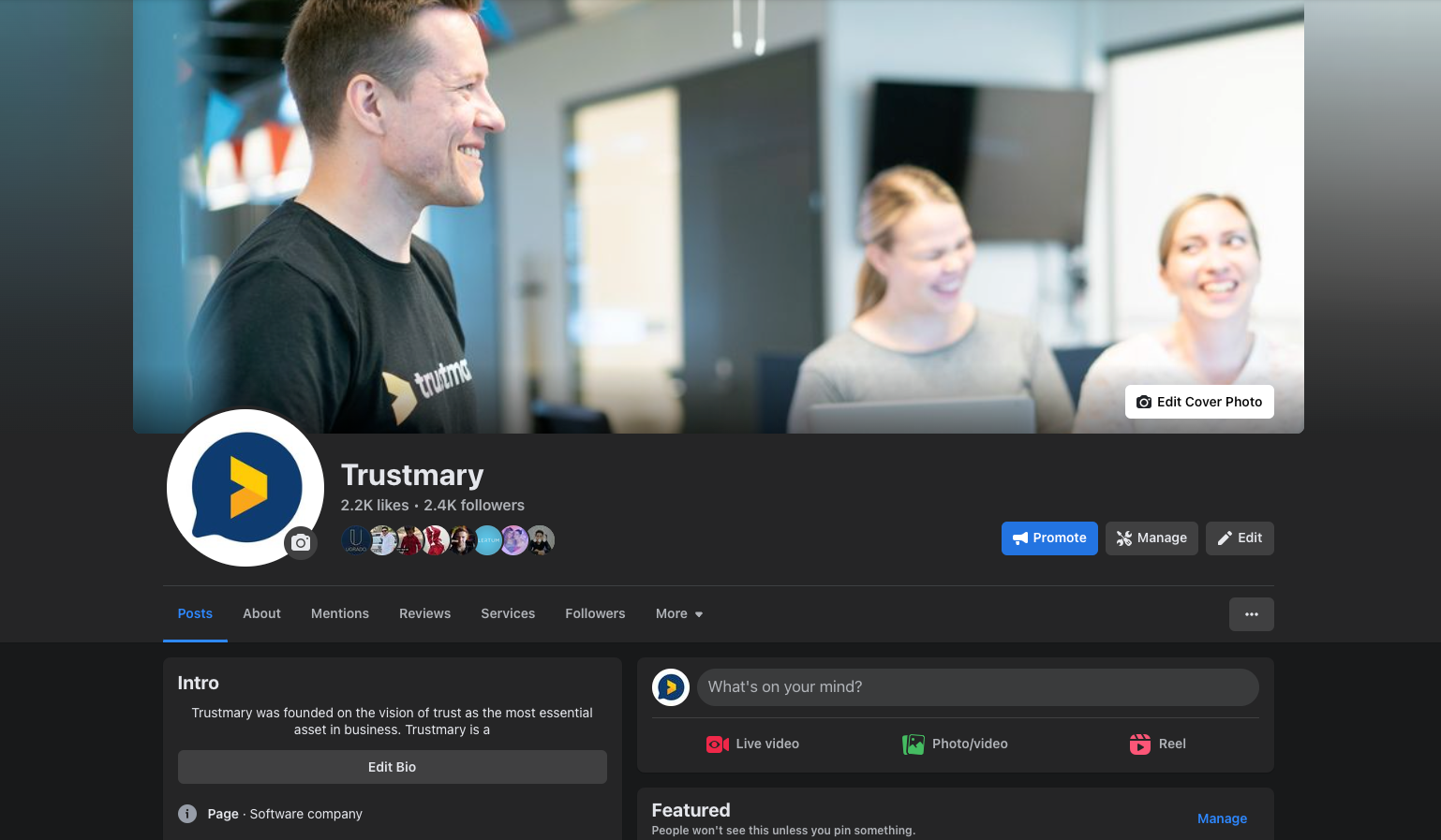 Start checking that your Facebook profile is on point.
Or if you don't have your business on Facebook, create a Facebook page for it now, and check the list below.
Checklist for Facebook Business Page:
Add opening hours
Check links on the about page
Add a description of your business page
Are the photos relevant and fresh?
Do you have a clear profile picture? Using your company logo is recommended
Are your address settings up-to-date? How to reach you via email and where you can be found
Check that you've allowed customers to leave reviews and recommendations
Engage with Your Audience
After you've checked that your Facebook profile is up-to-date, it's time to make sure you've responded to each and every comment, mention, review and message on Facebook messenger.
This is important, because Facebook boasts a massive user base, making it a valuable platform for businesses to connect with their target audience.
Positive reviews not only boost your brand's credibility but also attract new customers. Moreover, Facebook reviews contribute to higher search engine visibility, helping your business rank higher in search results.
When you communicate with your existing customer base and potential customers, you're actually doing online reputation management while being helpful.
Trust me, this is all great social proof, when prospective customers see how you interact with current customers.
Creating a Facebook Review Link
If you want to, for example, send Facebook review requests via email or add a QR code to your FB review page, you need own Facebook review link.
There are two ways to get your Facebook review links:
Facebook Reviews Tab – The Simple Way
Log into Facebook business.
Go to the reviews tab
Copy the address

Create Review Links – Manually
Access Your Facebook Page
Retrieve Your Page's Username or Vanity URL

In the browser's address bar, you'll find your Facebook page's URL. If it includes a series of numbers, you need to set a username or vanity URL for your page. To do this, go to the "About" section of your page, click on "Edit Page Info," then click on "Create Page @Username." Follow the instructions to set a username that reflects your business name.

Add /reviews/ to Your Username

Once you have your username, add "/reviews/" to the end of it. This will create your Facebook review link.

Share Your Customized Review Link
No matter which way you use, the actual link will look something like this:
https://www.facebook.com/trustmaryfinland/reviews
You can now share your customized review link on your website, social media profiles, email signatures, or any other medium that allows direct access to your Facebook page.
Add Existing Facebook Reviews to Google SERPs
If you add a Facebook review widget to your website, you can actually get those reviews to pop up on Google search.
The process can be done to both Google reviews as well as Facebook reviews.
How to Add All Positive Reviews to SERPs?
Log into Trustmary
Import reviews from review sites
Create a review widget
Enable "add review schema" tab
Embed review widgets to your website
Check with Google's rich results test that the reviews appear there
Ask for reindexing the page from Google's Search Console
Then you can just wait for search engines to add those star ratings and comments to SERPs.
Optimizing Your Facebook Review Link for Maximum Visibility
To optimize your Facebook review link for the keyword "Facebook review link," consider the following strategies:
Incorporate the Keyword in Anchor Text:
Whenever you refer to your Facebook review link, use the anchor text "Facebook review link" instead of simply writing the URL. This signals search engines that your link is relevant to this keyword.
Share the Link on Relevant Platforms
Promote your Facebook review link on platforms such as your website, blog, and social media profiles to increase its exposure.
Encourage Customers to Leave Reviews
Actively ask your satisfied customers to share their experiences on your Facebook page. Consider offering incentives or rewards to motivate them further.
Respond to Reviews
Engaging with customers who leave reviews shows that you value their feedback. Always respond promptly, positively, and professionally to strengthen your brand's reputation.
Monitoring and Managing Facebook Reviews
It's crucial to actively monitor and manage your Facebook reviews. Here are a few key steps:
1. Enable Review Notifications
Configure your Facebook settings to receive notifications whenever someone leaves a review. This ensures you can respond promptly and appropriately.
2. Regularly Check and Respond to Reviews
Dedicate time to regularly checking and responding to both positive and negative reviews. Show appreciation for positive feedback and address negative reviews with empathy and a willingness to resolve any issues.
3. Flag Inappropriate Reviews
If you come across any reviews that violate Facebook's community standards, you have the option to flag them. Facebook will then review the reported content and take action if necessary.
Get More Facebook Reviews
Harnessing the potential of Facebook reviews through an optimized Facebook review link is key to enhancing your brand's reputation and attracting new customers.
By following the steps outlined in this guide, you'll be well-equipped to generate and leverage your Facebook review link effectively. Embrace the power of online reviews and watch your business thrive in the digital world.
With Trustmary, you can easily start getting more Facebook reviews.
FAQ
What is a Facebook review link?
A Facebook review link is a personalized link which you can use to collect more reviews for your Facebook review page.
Where do I find my Facebook review link?
You can find your Facebook review link by:
Sign into Facebook business page
Go to reviews tab
Copy the link
How do I get Facebook reviews to show up on Google listing?
If reviews on Facebook business pages are your top-tier marketing materials, you probably want them to appear on search engines too. Here's a simple way to do just that – for free and in minutes.
Log into Trustmary
Import Facebook reviews
Create a widget
Enable review schema from the widget editor settings
Add the review widget to your website