Survey theme customisation (colors and fonts)
You can now customise your survey theme through your settings at Trustmary.
To access the survey theme settings click "Open settings" found from the top right.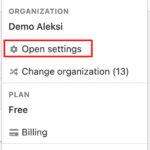 After that choose "Theme" under which you can find list of available fonts, primary color and page background color.
You can also choose the style of the survey which affects the way the primary color is used in the survey.
All the changes made on the settings will affect all surveys you have created in Trustmary.